Биткойн-блок 687249 который содержит аж 4075 транзакций. | Bitcoin block 687249 which contains 4075 transactions.
Здравствуйте! Hello!

По данным OKLINK, 12-го числа появился биткойн-блок 687249, содержащий 4075 транзакций. В истории редко бывает, чтобы блок содержал такое большое количество транзакций. Причина в том, что Китай ограничивает майнинг, а снижение хешрейта приводит к замедлению производства блоков.

According to OKLINK, on the 12th, Bitcoin block 687249 appeared, containing 4075 transactions. It is rare in history that a block contains such a large number of transactions. The reason is that China restricts mining, and a decrease in hash rate leads to a slowdown in block production.

Это повлиял переезд майнинг ферм из Китая?
Стоит ли сейчас начинать майнить биткоин?

Was it influenced by the relocation of mining farms from China?
Should you start mining Bitcoin now?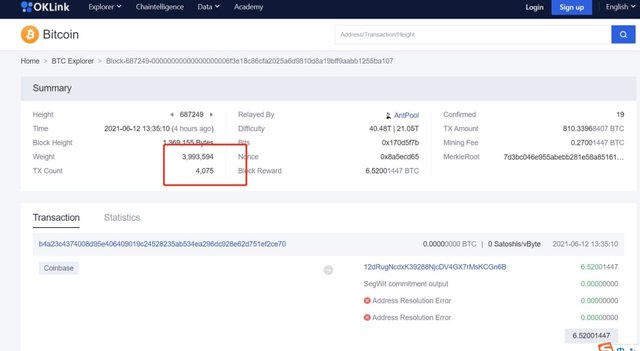 Информация предоставляется в ознакомительных целях и не призывает к действию.

The information is provided for informational purposes only and does not call for action.

Ваш Стимит Банк.

Your Steemit Bank.