Development Update - CREDITS, Dark Mode, Price History Tool and More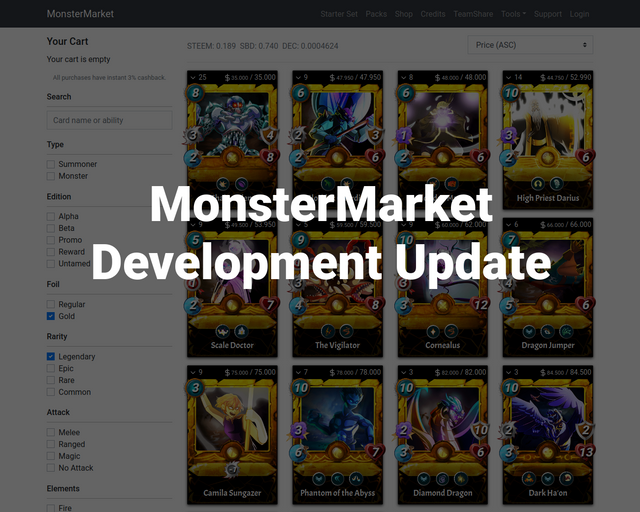 Greetings Splinterlands Warriors! I would like to welcome you to a post full of development updates. :)
CREDITS
We now support Splinterlands CREDITS in cards and packs purchases. CREDITS is launched to ease the process of purchase using external cryptocurrencies and USD.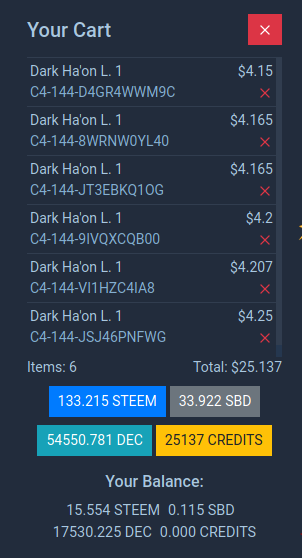 You can also buy CREDITS using STEEM or SBD from our CREDITS page. CREDITS purchase has a 2% automatic cashback similar to packs purchase.
CREDITS are non-transferrable so they may only be used from the account they were bought in. When you use CREDITS to purchase on our market, you are also eligible for our cashback too. As CREDITS purchases are DEC purchases under the hood, cashback will be sent in DEC.
Dark Mode Beta
You wanted it, we delivered. You now can enjoy your favorite Splinterlands market without hurting your eyes. 😉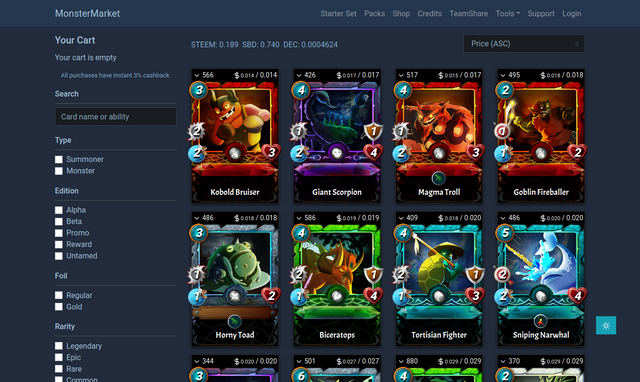 If you are on the light mode click the 'MOON' button to switch off the lights, if you like to switch on lights again, click on the 'SUN' button from the bottom right of your screen.
The next time you visit, your preference will be remembered. Dark mode is in beta, so if there is any color contrast issues, please us know.
Our newest tool developed in association with @azircon is a historical price visualization tool for every Splinterlands card.
Search for a card, select edition, select card's foil, click Search to see last 30 days of price history for the card. When you select a card, only available editions for that particular card could be selected. In future you'll also be able to see any of 30, 90, and 180 days charts.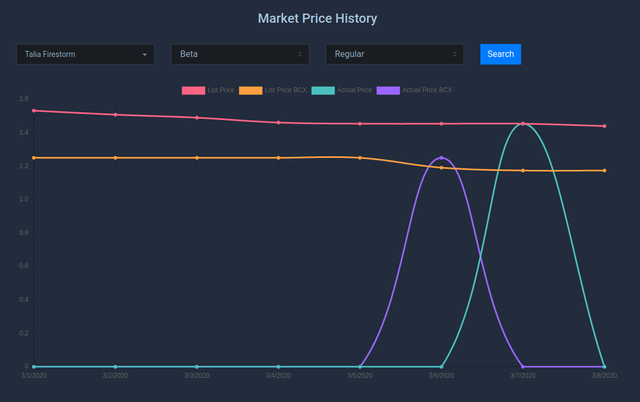 The chart shows 4 price information for each card -
List Price - Average list price of a single BCX of a card
List Price BCX - Average per BCX low price of a card
Actual Price - Average of the actual single BCX sales price of a card
Actual Price BCX - Average of the actual multi-bcx sales price of a card
N.B.: If a card is not sold on a particular day, it's actual price and actual price BCX is shown as zero.
We do our best to ensure that the data is accurate but we cannot be held liable for omissions or inaccuracies.
Search
Our search features now updated to search on all available cards and abilities, in all editions. This was one of the most requested updates. In the past search was dependent upon selected filters but now it is global with the ability to filter search results.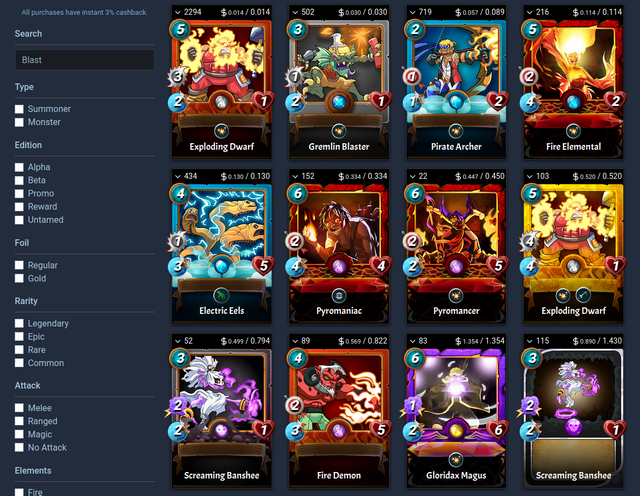 Here is the blast ability search which shows all blast ability monsters across all editions.
There were all the notable updates. Few more updates and new tools are coming soon. Thank you for being with MonsterMarket! :)
Why use MonsterMarket.io?
We are sharing 60% and 40% of our revenue from the cards and packs purchases with the users respectively. All cashbacks are instant. You don't have to wait or purchase a set amount to get better cashbacks.
If you have any suggestions or there is a problem please reach out to us in Discord.

All card images and icons shown are property of Splinterlands