I thought this would be an excellent reason to make my first post in the Lovecraft community. Today is the day H.P. Lovecraft's The Color Out of Space hits theaters! It stars Nicolas Cage, Joely Richardson, Madeleine Arthur, Brendan Meyer, Julian Hilliard, Elliot Knight, Josh C. Waller, Q'orianka Kilcher and Tommy Chong. What a cool cast. If you haven't heard of it, I highly recommend the short story as well. Read it for free here
SUMMARY:
The Gardner family has traded city life for the country after they inherit a rural family estate located near Arkham, Massachusetts, where they attempt to raise alpacas. Nathan (Nicolas Cage) tries his hand at raising produce and livestock yet fails to yield any desired results. That changes one evening when a small meteorite crashes in the yard. The purple-glowing orb soon withers into dust, but not before infecting the local water supply. The alien presence soon begins to have an ill effect on the Gardner family, which brings out various body horror events. From Wikipedia
I've been waiting for this since the teaser. Here is the full trailer!
POSTER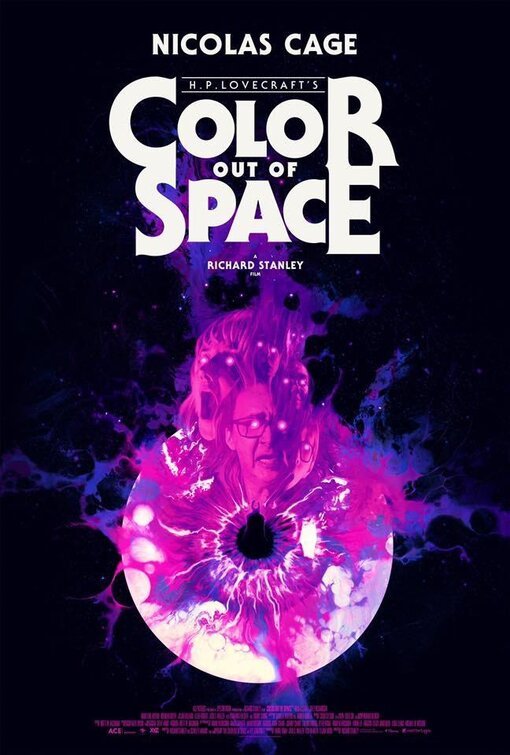 It's being produced by the team that helped bring Mandy to life, one of my all time favorite horror films. I sincerely hope this effort elevates this version of the classic short to new, heretofore unknown heights for Lovecraftian lore. Other attempts to adapt this story dramatically fell short of anything worth remembering, despite Will Wheaton's presence in the first adaptation, The Curse. I remember watching that film with my father, and despite some excellent scenes and the foreboding we come to expect with cosmic horror, it's a very messy film that doesn't tickle the imagination and terror bones like I'm hoping this one will. The aesthetic and effects and casting are leagues beyond any of the previous attempts.
If you haven't read the short, I hope you enjoy it. There's a small chance I'll be able to actually see it on the big screen, but with my new responsibilities, I doubt I'll make it out. Hopefully it comes to streaming very soon.
Stay scary and long live Cthulhu.