IRISnet Has Retraced At Golden Ratio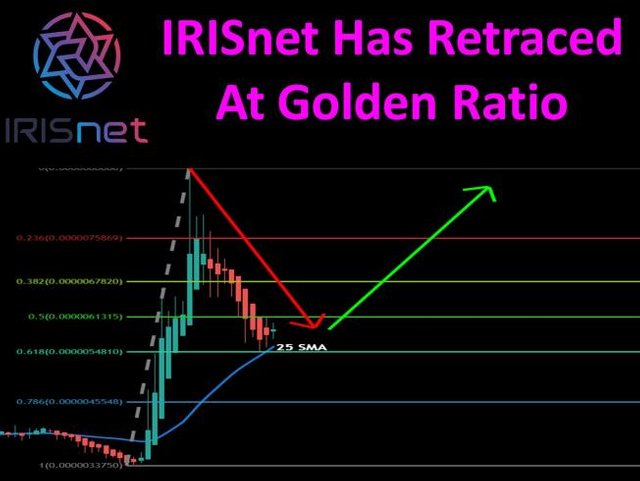 Hi, friends hope you are well and welcome to the new update on IRISnet. This coin had two major events in the past. Recent was the Binance listing on 21st July.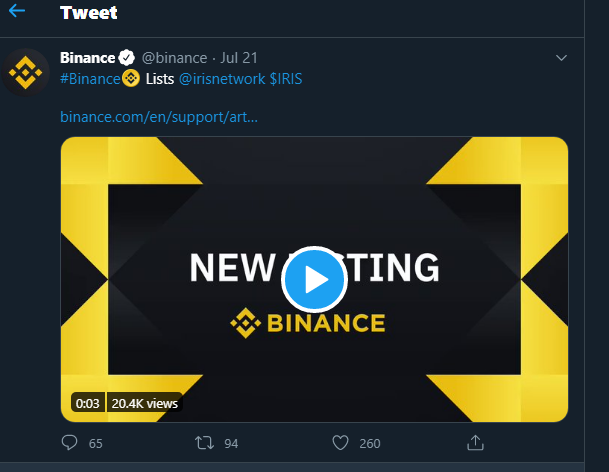 https://twitter.com/binance/status/1285509053708288002
And before that IRIS had another big event that was the China Gov integration on 23rd Jun 2020.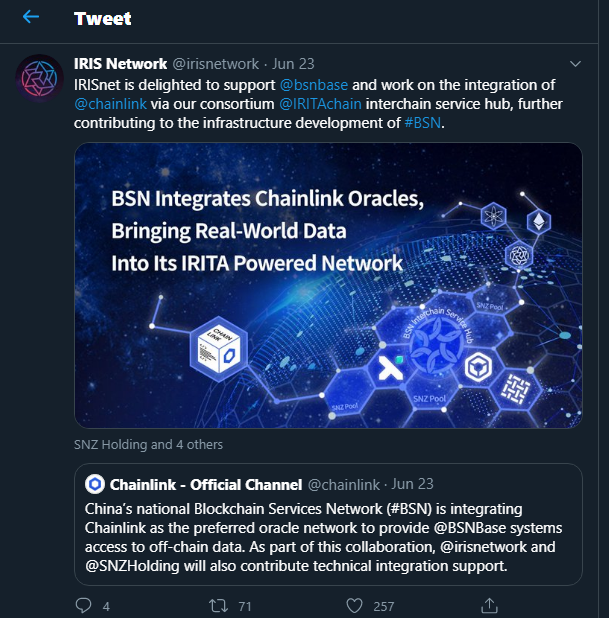 https://twitter.com/irisnetwork/status/1275415959088410624
 Now if we watch on the market cap of IRIS coin then since after first announcement the market cap of IRIS is getting increased every day. As we can see on 23rd June it was 15.8 million and now it is increased by 41.8 million as per coinmarketcap data. So the market cap IRISnet is increased by 170% in total.

https://coinmarketcap.com/currencies/irisnet/historical-data/?start=20200623&end=20200724
The effect of price action:
Now if We move to the live daily chart then it can be easily seen that after the first announcement of China Gov integration event the price action rallied by 115% and after 2nd announcement of Binance listing the price action again moved up by 163%. So in total, it is increased by 278% since after 23rd June 2020. During this bullish move, the price action has crossed up all the simple moving averages with the time period of 25 50 100 and 200. At this time the 100 simple moving average is likely to form a bull cross with 200 simple moving average that can be another a bullish signal that can be really helpful for the next move to the upside.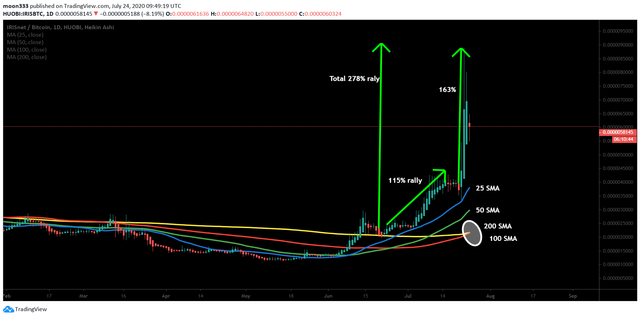 The support of SMA and retracement at golden ratio:
Now if we switch to this small-time period 4-hour chart to take a closer look at the price action. Then it has dropped on the support of 25 simple moving average and retraced up to 0.618 Fibonacci retracement level. That is considered a golden ratio and from here we can expect the next upward move very soon. However, if the price and will be failed to retain this support of 25 simple moving average then it can move more down even up to 25 simple moving average on the daily chart as well.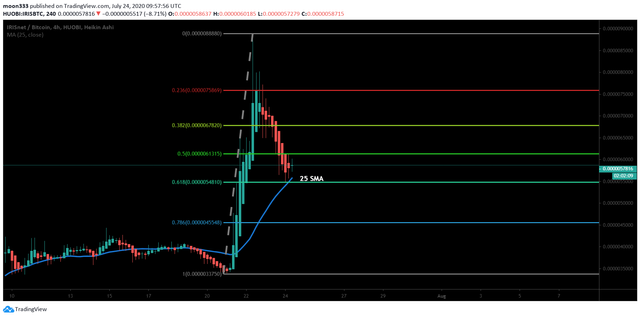 A down channel formation:
Now if we switch to the more small-time period 1-hour chart. Then it can be easily observed that the priceline of IRIS has started its move within a down channel and it is moving in this channel for the last 2 days. Therefore, for the people who want to buy IRISnet here, I would suggest wait for the breakout from this channel and then place their buying orders accordingly.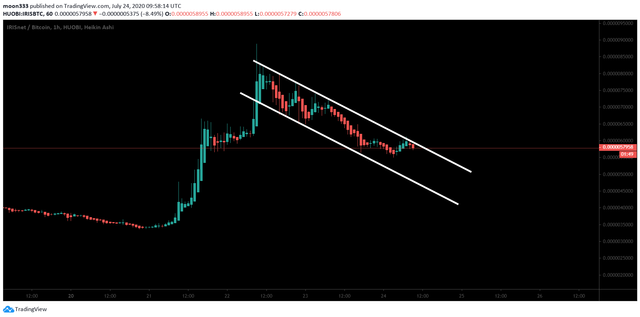 Click here to create free account on tradingview to watch and play the chart on realtime
Conclusion:
Even though the IRISnet started its rally based on the strong news. And it has been retraced on the small-time period chart up to 0.618 golden ratio. But on the daily chart, it is retraced up to 0.382 Fibonacci retracement level. Therefore in the long-term and midterm, we can expect some more downward move if it will be failed to retain the support on the small-time period chart.
Note: This idea is education purpose only and not intended to be investment advice, please seek a duly licensed professional and do you own research before any investment.
---