Bolognese sauce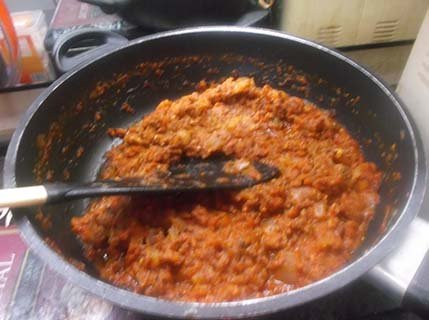 Bolognese sauce
Although today, we can find Bolognese sauces on supermarket shelves and some are quite successful, nothing like preparing it ourselves, with the ingredients we want and without strange additives.
As I usually cook only for two people and the other day by mistake we defrost half a kilo of minced meat, in addition to having a surplus of garden tomatoes, it occurred to me to prepare a Bolognese sauce, but in industrial quantity, so we will use whatever we need to eat some Macaroni, from a package that we have open, and the sauce that we have left over, we will keep in the freezer, distributed in several containers, for future recipes.
Before storing the leftover Bolognese, in the freezer, we used one part to prepare the macaroni with Bolognese sauce and another part to fill a zucchini and a small aubergine with Bolognese sauce and there was still left over for a couple more days.
Ingredients:
½ kg of minced pork and beef
1 kg of tomatoes
1 onion
1 large Italian pepper
1 dessert spoon of sugar
Oregan
Ground black pepper
Olive oil
Salt
preparation:
Place a generous splash of olive oil in a large frying pan and heat over medium heat.
While we peel and julienne the onion, adding it to the oil.
We wash, discard its seeds and chop the pepper, adding it to the onion.
We add salt to help the vegetables sweat.
When the vegetables begin to be soft, we add the minced meat and wait for it to take color.
While we wash and chop the tomatoes, passing these through the blender.
We add the tomato when the meat is colored.
Add the sugar, oregano, and black pepper and rectify the salt.
When the sauce thickens we will have it ready, we can taste it and rectify the point of salt and spices.