Dear Justin Sun - (@justinsuntron / @justinsunsteemit) - My (@steemitrecipes) open letter to you!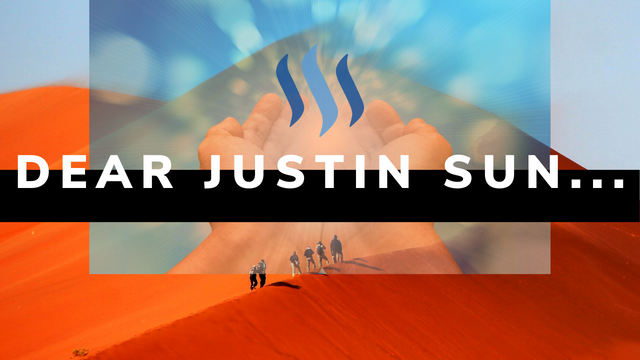 Dear Justin Sun,
Congratulations! You bought Steemit Inc. and a nice stash of ninjamined STEEM!
The good news for you, is that you could easily onboard new real humans to a TRON related company.
Now, the bad news for you. You see, Steemians are not Steemiters! I know it sounds confusing, my user handle @steemitrecipes may have confused. You actually damaged my user account, because the STEEM community is preparing to leave you alone on your site, with your company and with your stash.
At this point I wish there could be some solution for your stupid actions, but unfortunately I guess not. So you keep your empty shell and we move on while still STEEM ON.
PS: "Dear Justin" is just a standard formality.

Tagging: @alitas @gringalicious @foodwhale @elfkitchen @jerrytsuseer @olga.maslievich

HOW TO JOIN IN:
GENERAL INSTRUCTION:
Create a post titled: Dear Justin Sun – (@justinsuntron / @justinsunsteemit) - My (@YOUR.USER.NAME.HERE) open letter to you!
PLEASE COPY AND PASTE THIS TITLE AND THEN ENTER YOUR OWN DETAILS
Publish your post to the Power House Creatives Community so we can EASILY support it!
Use the tags: SteemHostileTakeover, DearJustinSun, Steemimpact - and then whichever additional ones you want.
ONLY make use of the cover image provided in this post.
Please copy and paste these "GENERAL INSTRUCTIONS" into your post.
Tag 5 people to join in on the initiative.
Share your post to twitter (if you are on twitter)
Share your twitter link and Steem post link in the comments of @jaynie's "Dear Justin Sun" post.

Sources for images used in this post:
Cover Photo: Image by @jaynie