#club75 Steem-Travelers || Climbing to the top of Mount Rinjani
Good evening members of the #Steem-Travelers community may you always be in good health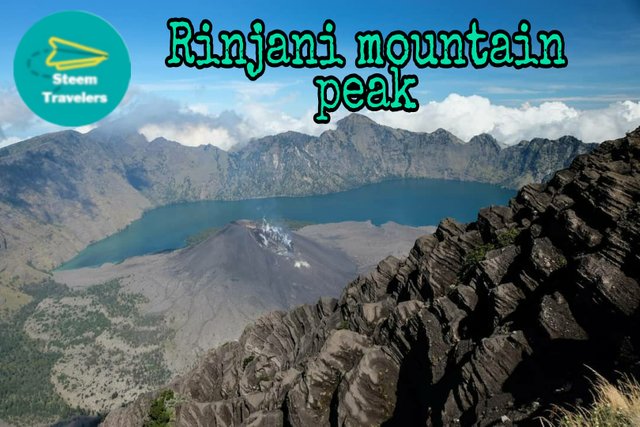 Maps
Mount Rinjani
is located in Sembalun, east Lombok,Nusa Tenggara barat, Indonesia.
This mountain is a mountain of merapi in Indoensia, this mountain is the 2nd highest in the country of Indonesia, for the location of this mountain friends #Steem-Travelers can see the location above, and for other information friends can also find on the internet.
Almost everyone who has a hobby of mountain climbing will have a dream to conquer this rinjani mountain.
This trip I did when before covid-19 occurred, for additional information he said during this pandemic this trip to Mount Rinjani will be closed for a while until things can return to normal.
| | |
| --- | --- |
| | |
| | |
| --- | --- |
| | |
For the climbing path we agreed to take the sembalun path from the experience of friends who have done climbing this path is a very safe and easy path, therefore we choose this path, for its own travel distance.
On this semablun path has 4 posts along the hiking trail, this post is useful for us to rest and also to do other activities such as bathing and others.
To do this climb, all friends must take the right decision must also think well whether or not to climb even you have to have good mental and physical strength and most importantly our own health. because here we do a group trip if we do not have bad health then one group will be void to go to the top of rinjani.
| | |
| --- | --- |
| | |
After a 8-hour hiking trip until we were all in lake sagara children, we decided to set up a tent and spend the night here, almost all climbers will rest in this lake, this is where we can get new friends new experiences and also new knowledge, because we can interact with people from all over Indonesia with different cultural backgrounds
When we reached the top of mount Rinjani which is at an altitude of 3,762 meters above sea level, we all did not expect to succeed in reaching this mountain, all our feelings mixed between happy, moved happy fans, more importantly we can all see a very beautiful scenery without any shortage of members of our group, What is interesting about this mountain is the beauty hidden behind the mountain and its cliffs and to enjoy this beauty we had to travel a very long journey and full of sacrifices, friends who like to climb must know things like this, and also know what it's like after conquering a mountain.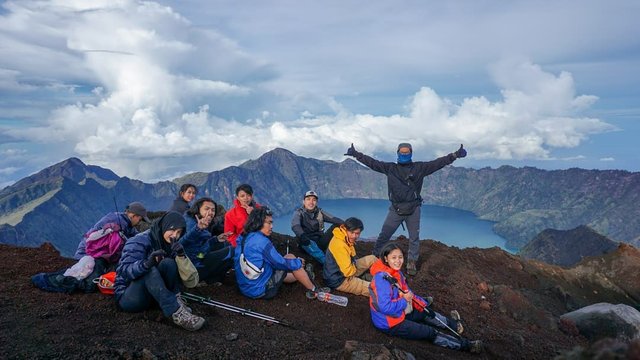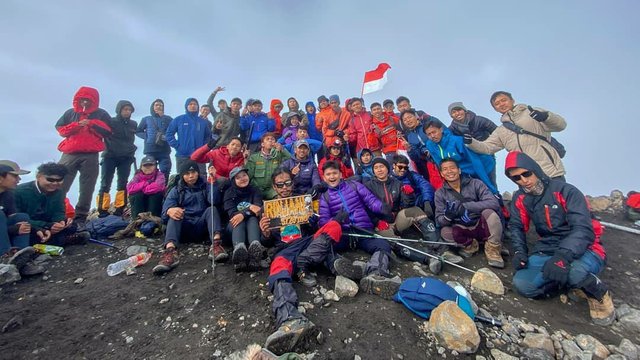 Here you do not need to naim the plane just to see the clumps of clouds, even you are right above the clouds and sensations like this take hard work to enjoy it, every corner of the mountain has its own beauty I feel all the struggle that I did paid off all once it reached the top of this mount rinjani.
And this is a precious memento for myself and also my best friend, every trip there will be new things that we will learn, and every effort will not betray those results.
If there is something wrong in the writing of this article I apologize profusely, may all friends be entertained by this post of mine.
cc:
Warm regards from me @farady08