Steemit Engagement Challenge | S7W4 | A Meeting with The President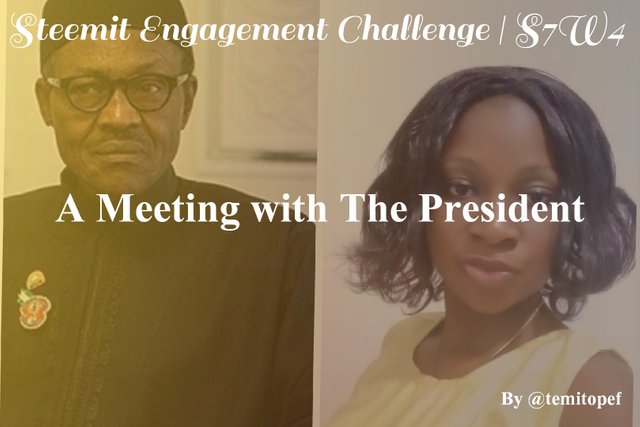 Cover Image Created using Poster Maker
---
---
Good day Steemians and happy new month guys. I'm so excited to participate in this contest topic "A Meeting With The President". Like every other citizens of my country, some things are not making me and many citizens of this country happy and I hope there could be a change in it, so meeting the President now, I am glad I will be able to voice out my concerns and what I feel would be the solution to all the problems. Ride with me as I proceed with the discussion.
---
---
Hello Mr. President, I'm Adigun Fatimo Temitope from Osun State Nigeria, I'm so delighted to meet you in person and have this special and one on one discussion with you. I know ruling and presiding over a big country like Nigeria can be so stressful and even though you have some cabinets appointed to oversee each department and aspect of the country yet you might not know how well they perform in all these segments.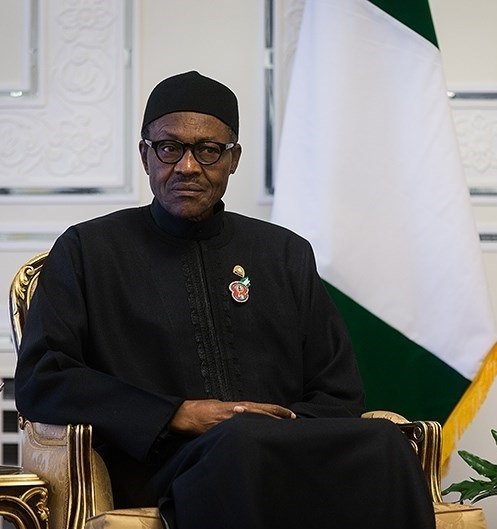 Picture of our President taken from Wikimedia
Today I brought these three important discussions of how our country is lagging behind and suggestions that can benefit the citizens as well as bring peace to you and the country as a whole.
---
---
The Problems affecting our country
---
Below are the three problems I felt our country is facing as of now and how it is affecting the citizens of the country and I will discuss them.
Economy.
Insecurity.
Unemployment.
Economy: Mr. President, our economy is very poor and it is badly affecting the country, and this is because about 95% of what we used is import-based, not like other countries almost all of what they used are export-based which makes their country's currency stronger, the value of our Naira is very bad that even the citizen prefer keeping their money in other currencies like Dollar, Euro, Pounds and many more.
The value of 1 dollar to naira in 2018 was #361 but now it is #750 per dollar which is like twice as before and now there is a cost-push on all the goods we bought as there is an increase in the price of all goods and there is no increment in the minimum wages of workers.
Furthermore, the rate of corruption contributed greatly to the economic issues and poverty rate in the country, money meant for a project which can boost our economy is being embezzled and diverted for personal uses.
Unemployment: The rate of unemployment in this country is quite alarming, youth spent years in the university, graduated and has no job for years. They had to do everything possible to feed themselves and ensure they survive in this country and this leads some of them going into fraud and other illegal dealings which serves as a further threat to the country.
Insecurity: The citizens are very afraid of staying in this country because they feel that nowhere is safe as the rate of kidnappings, killings, robbery, terrorism, threatening, bombing, raping, burglars, ritualists and many more are now much. One can not travel on the road in peace for the fear of their vehicle being hijacked by these evildoers, sleeping in one'a house with one eye while using the second to be watchful of the surrounding.
The whole country is in fear, you can not help the needy who seek help with peace of mind because evil people are now using the same trick on people and the economy contributed greatly to this insecurity issue. Some people in the thirst for survival have turned to a beast and the security personnel that is meant to keep the country secure did no such thing but going about on the road collecting money from all the commercial buses and motorcycle like it's their right. Now people are putting in great effort to ensure they obtain a visa abroad because they felt their own country can not keep them safe anymore.
---
---
My suggestion for how to solve all these problems
---
The rate at which we export our goods and products to other countries should be higher than the rate at which we import goods
Nigeria is a country that is blessed with crude oil and some raw materials such as cocoa, rubber, organic oil, palms, cashew and so on that are being exported to other countries, if we can grow all these agricultural products in large and sell abroad, it could boost our economy.
Furthermore, all the companies making foods in our country should make it with the quality standard so that people would not bother going for foreign food because they felt ours is not rightly made, many people ignore our rice because it is not stone free.
The minimum wages of workers should be increased too so that workers can live a good life and all the corrupt politicians that embezzled any fund should be brought to justice, regardless of his/her post, let them refund the money back and also go to jail so that there can be transparency in the government.
Let there be employment opportunities for the citizens, let the government build more industries, lack of industries is a major cause of unemployment, also the industries built are short of staff, let's take a hospital for example, the workers are small compared to the patients they are receiving. The government should also prioritize the implementation of some policies that encourage entrepreneurship because youths in the country has amazing entrepreneurial skills but lack of funds render them unemployed.
Also, the lack of electricity and water has caused some setbacks to the country as no foreign company that works with electricity would love to establish themselves in the country where electricity is not stable and them building their industries in the country is a way of getting more people in the country to be employed.
Furthermore, the government should work on encouraging foreign investors to come and establish in the country because through their establishment the government would get more tax revenue while the youths get employed.
Control Population: Government should give laws that control the birth rate in this country because some people see giving birth to as many children as possible, some takes it as an achievement even when they can not afford to cater to all the children, and we all know how overpopulation has been affecting this country. Let some laws and penalties go against giving birth to many children, it can be placing a tax on additional children.
Putting an end to Insecurity issues: One of the ways to fighting insecurity in the country is to adequately equip the security officers, and give them proper training so that they can have the confidence to go and confront all these terrorists and whoever is caught disrupting the peace of the country should not be pardon no matter whom their godfather is or how powerful they are without spending most of his life in prison or even sentence to death.
---
---
Conclusion
Nigeria has been a great country that is blessed with so many mineral resources and has been a peaceful and loving place for people until we start to encounter some setbacks such as economy, unemployment, and insecurity which causes many citizens to be running away from the country. I believe if the voice of the masses is heard, and the government overcomes all these problems, the country will bounce back to being great again.
Mr. President, I want to appreciate you for giving me this opportunity to sit with you and have these discussions and I would be glad if you can work towards all these issues and ensure the peace of our dear country is restored.
---
I invite @ruthjoe, @josepha, and @jasminemary to participate in this contest.