Steemit Engagement Challenge | S7W2 | My Celebrity Crush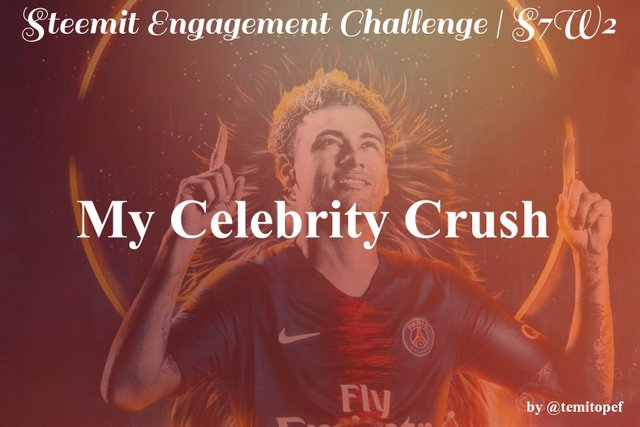 Cover Image Created using Poster Maker
---
---
Good day, Steemians, I'm so excited to be here again and participate in this interesting contest with the topic My Celebrity Crush. There is this young, handsome celebrity that I've been crushing on for some time now and today I will be so glad to reveal him to you all.
---
---
Who is your celebrity crush?
---
The name of my celebrity crush is Neymar da Silva Santos Junior, popularly known as Neymar. He is a professional footballer who hails from Mogi das Cruzes, State of São Paulo, in Brazil, he is playing for Ligue 1 club Paris Saint Germain and always play for his country (Brazil) national team. He is a handsome man that has done well for himself in his field of profession, he is fast, quick and has excellent control of his body which has helped him in his profession.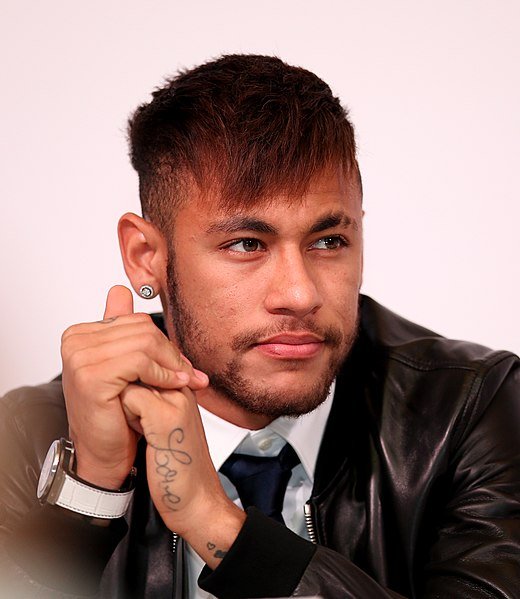 Neymar Image taken from wikimedia
He is 30 years old born on 5 February 1992, and he will be 31 in a few weeks. He is energetic and I can say that looking at him from afar, he seems like a lovable person who brings excitement wherever he is.
---
---
Give the reasons why are you impressed by him/her.
---
There are many reasons why I am impressed by him and some of the reasons are:
His physical (facial) appearance: Though I'm not a big fan of football, with the little I had watched I have seen a series of players the first time I saw him while watching football, I got captivated by his gorgeous face and appearance to the point that I had to tell a friend beside me that I find him cute.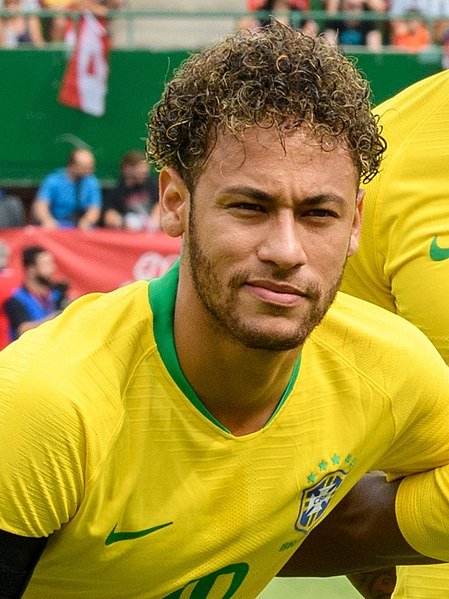 Neymar Image on field
His Performance on the Field: That day I got to see how excellent he played, he is a skillful player, he was so fast, he is good at dribbling, and always has control of his body and the ball, he plays forward, he scores, assist and do play the attacker role, he always put his best into all the match.
His personality: I read more about him and I realized how courageous and determined he is, even though he came from a poor family, because of his determination and great effort he made himself and his name known throughout the world. His story serves as a motivation to me that with hard work, determination, and God by my side, my success is certain.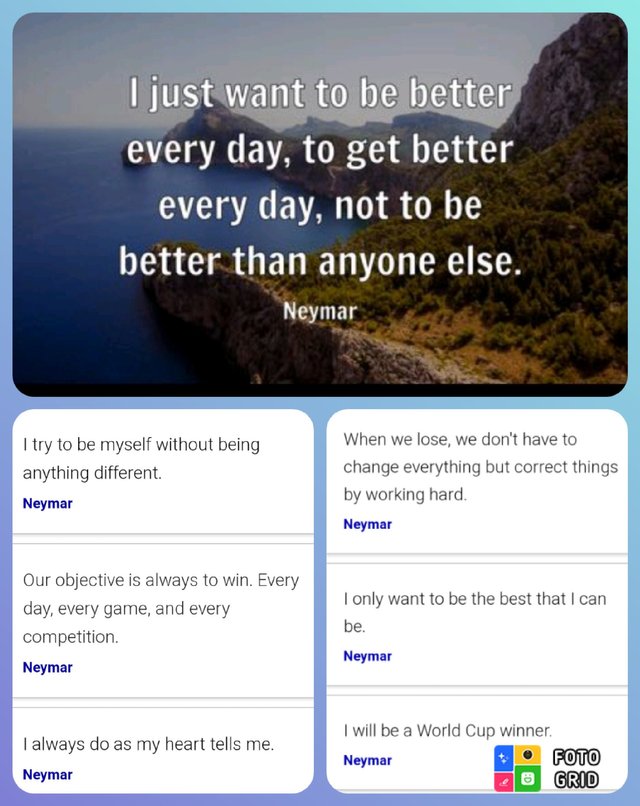 Compiled Quotes of Neymar Created using FotoGrid
His quotes also encourage me to keep on trying because even though he has made name for himself, he still mentioned that he wants to be better every day which shows he is not relenting in his effort in bringing the best out of himself, also he explains that he always tries to be himself and do what his heart wants which is one of the ways of living a good and happy life.
---
---
Give details of his/her popularity in the respective field.
---
Neymar is a very popular football player known all over the world for his speed when playing, dribbling, passing, and many of his achievements in the world of football. Furthermore, he was on the number 5 of Stu Holden's Top 50 players at the last World Cup, that is the 2022 FIFA Men's World Cup that took place in Qatar. He is also playing in one of the top football leagues in the world, the Ligue 1 and the club Paris Saint-Germain and he plays for Brazil's national team.
---
Write any message for him/her?
---
Hey Neymar, I am so excited writing this note to you, I wish to see you face to face and commend your effort in the course of your career and also tell you how your handsome face enchanted me completely the first time I was watching a Brazil football match. I was sad after your match with Croatia which eliminated your team from participating in the semi-final match in the last concluded world cup despite your effort, and I saw how sad it makes you but life continues.
I wish you all the very best in life and your career, I wish you all joy, peace, and greater achievement. Continue doing exploits.
---
---
Write about the popular achievement of that celebrity. (Any award, any popular show, any popular style, or anything else.)
---
He collected a Gold medal in a men's tournament at the 2016 Summer Olympics. He has been on Guinness World Record twice, once for the fastest goal in Olympic history for a male soccer player and the second for his transfer from Barcelona to PSG.
He has scored 77 goals for Brazil and over 400 goals throughout his career, he has won many trophies in his journey as a professional footballer, some of his awards are World Soccer Player of the year in 2011, Bola de Ouro (2011), FIFA Puskás Award (2012), UEFA Champions League Top Goalscorer (2015), FIFA FIFPro World XI (2017), Samba Gold (2017), Trophées UNFP du Football Ligue 1 Player of the Year (2018) and so on. with all being said you also can see he has made himself known in his profession and achieved a lot.
---
---
Conclusion
Neymar has been my celebrity crush since the first time I set my eye on him, his achievements and how well he performed in his profession impressed me more about him and I always look forward to his match, I wish him well in life and career. Thanks to
@steembloggers
for bringing this interesting contest that present me an opportunity to express myself to my celebrity crush. Thank you all for reading.
---
I invite @josepha, @fredquantum, and @jasminemary to participate in this contest.