"Steemit Engagement Challenge | S4W4 | All About Your Blogging Devices "

Hello Everyone. I am @mostofajaman
From #Bangladesh

All About MY Blogging Devices
Hello friends how are you all? I hope all the users of this platform are doing well. Today I am again going to participate in an engagement challenge where I am going to share about my blogging device. I want to start my post by thanking everyone first because a contest is an important one for us bloggers.
I use two devices for blogging one is my mobile and other hand is laptop. Because if I do blogging with both then my work benefits a lot. I would like to thanks Steem4Bloggers for such a unique contest.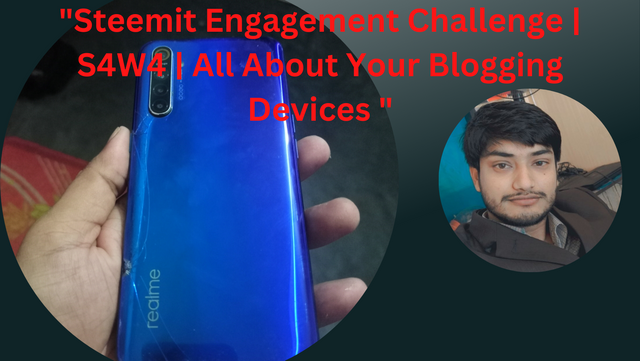 Share with us the company and model of your mobile phone including the price and how long you have been using this mobile phone?
I bought the mobile phone that I am currently using from our neighboring country India two years ago. This is our unofficial phone of Bangladesh. I went to our neighboring country India India and I bought this mobile because this mobile was my favorite mobile device at that time. Bangladesh did not come to the market. My mobile device name is REALME X2.
---
---
The price of the mobile when I bought it was 21000 rupees. According to the Steem rate, I have to spend 954 steem to buy the mobile.
| | |
| --- | --- |
---
---
Currently there is no person who does not have an Android mobile. Everyone has an Android mobile in their hand. Everyone uses mobile for different types of work. Some for taking selfies, some for photography, some for talking. But currently I am using my mobile for photography and blogging. Since I have two devices, I am getting a lot of benefits from both devices.
---
---
Are you satisfied with the working system of this mobile phone or you want to change it? Share your preferred device with us.
To be honest, the 64 megapixel lens of the mobile I use helps me a lot in taking great photography. A beautiful picture is very important for a beautiful blogger. So for working on Steemit for blogging and it made my work very easy indeed the mobile gave me great satisfaction. The gaming processor of snapdragon 730G kept my device running very well and works very fast.
| Dvice Name | Realme x2 |
| --- | --- |
| Brand/ Company | Android Version 11 |
| Colour | Blue |
| Display Size | 16.2cm screen 6.4-inch (16.2cm) dew-drop Fullscreen Super AMOLED screen texture 91.9% screen-to-body ratio 2340-by-1080-pixel resolution |
| Camera Quad | 64MP AI Quad Camera with Ultra Wide-angle, Macro Lens and Portrait Lens 32M front camera, support four in one |
| Selfie | 32M front camera Megapixel |
| Sensors | In desply fingerprint |
| RAM | 6 GB |
| ROM | 128 GB |
| Android Version | Android 11 |
| Battery | 4000mAh |
| Charging | Fast charging 18W |
| Price | 21000 Rupee (954 steem) |
---
---
Which device do you use for blogging on Steemit? A computer or a mobile phone or both? Please share with us.
| | |
| --- | --- |
| | |
| --- | --- |
I first take photography from my mobile phone for Steemit blogging. Mobile devices are very useful for me to take pictures beautifully. And the most important thing is that when I write Steemit posts, I use a laptop. Through the laptop, I can open different pages and work very easily. Two devices are very important to me. Two devices I use for Steemit for different tasks.
Through me, I can read and comment on various posts anywhere at any time. And the laptop is big so it can't be used all the time, it takes time to sit. I use laptop to do big work. I don't waste my time by using mobile for small and laptop for big work. It made my job much easier.
---
---
How many telecommunication service providers (Sim Networks) are present at your country? Which of this providers is best in connecting to the internet using your device?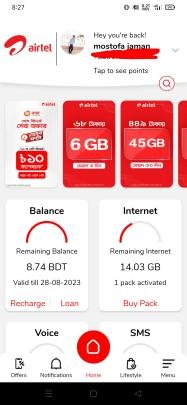 At present there are three to four SIM companies providing internet services in our country. The most powerful Airtel 4G I use, the network is very good everywhere in Bangladesh, that speed is available. My mobile is always connected to airtel internet. I use my mobile hotspot to connect my laptop to the internet.
There is an airtel tower very close to my house from where I get a good support of full speed internet. Okla Speed ​​Test Airtel 4.5G is one of the network provider company in whole Bangladesh.
---
---
What is the importance of your mobile phone on your daily life activities?
Nowadays mobile users are living in a different kind of addiction. The importance of using mobile for all kinds of work whether good or bad is immense. Currently, there is no person who does not have an Android mobile.
Mobile is very important for me to use it I trade and blog on steemit. Moreover, it can be used to talk to communicate and through various apps I can find solutions to various problems. It has brought advancement in my daily life and without mobile I would be immobilized now.
Moreover, mobile is one of the best companions to pass the boring time. Spending time alone is no longer boring because the whole world is at your fingertips if you have a mobile phone. I can find all the information I need through the internet. All things considered mobile device is very important for me and its importance is immense to me. I keep the mobile with me 24 hours a day and keep it very carefully because I understand its importance and how much it means to me.
---
---
I invite @shahariar1 @vivigibelis @msharif to participate in this contest.
Here is the contest link - Steemit Engagement Challenge | S4W4 | All About Your Blogging Devices
25% reward of this post will be #burnsteem / burn @null.
---
---
---
---
With best regards,
@mostofajaman