Steemit Engagement Challenge | S4W3 | All About Steemit Blogging Communities.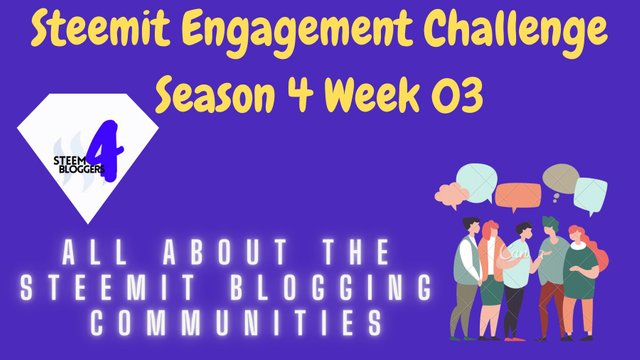 Created On Canva
---
Another good week has come to an end and today we are at your service with a new contest. We deeply apologize for the mistakes we made last week and assure that they will not be repeated in the future. This week's topic is going to be very interesting and hope to see a lot of amazing entries this week.
---
---
CONTEST THEME
---
---
Steemit platform is one of the most popular blockchain platform that is based on the cryptocurrencies ecosystem. There are many communities that are working very great. In this post we want to know about the likeness of the users about their favourite community on the platform. We think this would be a great experience to know about these things.
---
---
CONTEST HINTS
---
---
Which is your favourite community. Give a brief introduction of that community.

What are the reasons behind the selection of your favorite community.

Which type of content is accepted in the community and for how much time you are working there?

Which type of content do you like to share on the platform.

Do you think, there could be some improvement in that community? (Changes you would like if you will be the MOD of that community)

Which type of content you are still missing on the Steemit platform (could be health, medical, gaming, or any other).
---
---
IMPORTANT RULES FOR THIS CONTEST
---
---
Post must be unique and more than 350 words.

User must be bit bot free and verified.

Your post should be titled "Steemit Engagement Challenge | S4W3 | All About Steemit Blogging Communities".
Plagiarism of any kind will not be tolerated, and anyone caught doing so will be disqualified from the contest.
Subscribe steem4bloggers community and Invite 3 of your friends to participate in the contest.
Please resteem this post and leave your entry link in the comment section of this post.
Take your own photos and otherwise take from free websites if you use from internet.
This contest shall run till Sunday, september 18, 23:59 PM UTC.
---
---
OUR POST CHECKING TECHNIQUE
---
---
Dear @username, thank you for sharing your Quality Blog with our community in the Season 4 Week 03. Your Post Information has been given below:
---
| Period | Last _ Month |
| --- | --- |
| Power Up | xxx STEEM |
| Transferred Out | xxx STEEM |
---
| Valid Comments | xxx |
| --- | --- |
| Total Votes | xyz |
| Voting CSI | ...... |
---
---
---
---
---
REWARDS FOR WINNERS
---
---
| 1ST PLACE | 10 STEEM |
| --- | --- |
| 2ND PLACE | 10 STEEM |
| 3RD PLACE | 10 STEEM |
Note : All rewards will be given in the form of Steem power.
---
---
STEEM4BLOGGERS TEAM
---
---
---

Please vote for our witness @stmpak.wit
---
https://steemlogin.com/sign/account-witness-vote?witness=stmpak.wit&approve=1
OR
https://steemitwallet.com/~witnesses

Contest Organizers @malikusman1 and @steemdoctor1.
Best Regards;
Steem4Bloggers Team