Creartekids-Workshop -05 / Closure of the first stage of the Crearte-Kids Project / ¡¡ 30 STEEM in prizes !! [Español /English]10% to @draftcrearte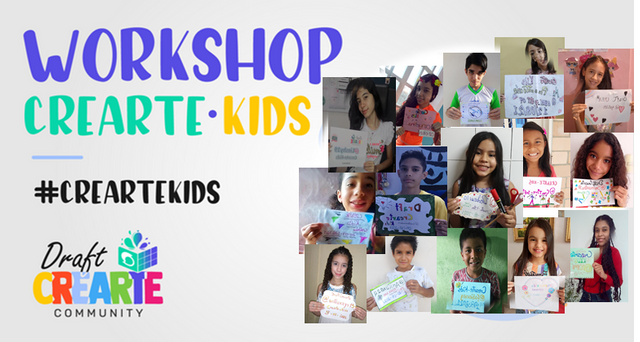 Hello friends of the DraftCrearte Community, welcome to Crearte-Kids. Today we have completed the first stage of our Project with its modality of weekly workshops, with the participation of 23 children where they have learned different techniques in art.
Hola amigos de la Comunidad DraftCrearte, bienvenidos a Crearte-Kids. El día de hoy hemos finalizado la primera etapa de nuestro Proyecto con su modalidad de talleres semanales, con una participación de 23 niños donde han aprendido diferentes técnicas en el arte.
To close this first stage, I invite all the children of Crearte-Kids who participated in the workshops, to make a video where they will tell about their experiences and anecdotes.
Para cerrar esta primera etapa, invito a todos los niños de Crearte-Kids que parciparón en los talleres, a realizar un video donde contarán sus experiencias y anécdotas.
Tell us in the video
What is your name and what is your username?
Birthdate
What do you think of the Crearte-Kids project workshops?
What was the workshop that you liked the most and why?
At the end, show your Crearte-Kids poster and invite other children to participate.
Cuentanos en el video

Cómo te llamas y cuál es tu usario
Fecha de Nacimiento
Qué te han parecido los talleres del proyecto Crearte-Kids
¿Cuál fue el taller que más te gusto y porque?
Al final muestren su cartel de Crearte-Kids e inviten a otros niñnos a participar.
Post structure
| MAIN IMAGE | VIDEO | GUESTS |
| --- | --- | --- |
| The main image of your publication should be your selfie with your poster "Create-Kids", your works can also appear. | The video. | The users of the children you mentioned in the video. |
Estructura del Post
| IMAGEN PRINCIPAL | VIDEO | INVITADOS |
| --- | --- | --- |
| La imagen principal de su publicación debe ser tu selfie con tu póster "Create-Kids" también pueden aparecer tus obras. | El video. | Los usuarios de los niños que nombraste en el video. |
Suggestions:
Prepare a place where you will record the video, place your arts and the Crearte-Kids poster
You must make the video in your own words, be authentic and natural.
Sugerencias:
Prepara un lugar donde grabarás el video, coloca tus artes y el cartel de Crearte-Kids
El video lo debes realizar con tus propias palabras, se auténtico y natural.
Rules:
Ask your representative to help you comply with all the rules.
The title of the publication should be: Creartekids / Closing of the first stage of the Crearte-Kids Project By: @usuario.
Includes tags: # creartekids-workshop5 #draftcrearte #creartekids #contest #steemexclusive, in the same order.
Be sure to post your entry in the DraftCrearte community.
Copy the link of your entry in the comments of this contest.
It is important to comment on the other publications of the other participants in the workshop.
"Resteemed" this post.
Invite 3 children who do not belong to the Crearte-Kids project to participate.
If you do not comply with any of the rules, you will not enter the list of participants.
Reglas:
Pídele a tu representante que lo ayude a cumplir con todas las reglas.
El título de la publicación debe ser: Creartekids / Cierre de la primera etapa del Proyecto Crearte-Kids Por: @usuario.
Incluye etiquetas: #creartekids-workshop5 #draftcrearte #creartekids #contest #steemexclusive, en el mismo orden.
Asegúrese de publicar su entrada en la comunidad DraftCrearte.
Copia el enlace de tu entrada en los comentarios de este concurso.
Es importante comentar sobre las otras publicaciones de los otros participantes en el taller.
"Resteemed" esta publicación.
Invita a participar a 3 niños que no pertenecen al proyecto Crearte-Kids.
Si no cumple con alguna de las reglas, no entrará en la lista de participantes.

30 STEEM will be distributed among the best publications.
🏆
30 STEEM se distribuirá entre las mejores publicaciones.
🏆

Entries will be received until Tuesday, September 14 at 11:59 pm (Venezuelan time) and the winners will be announced the following day.
Las participaciones se recibirán hasta el martes 14 de septiembre a las 11:59 pm (hora de Venezuela) y los ganadores se darán a conocer al día siguiente.
---
---
Links to support our DraftCrearte community via SP.
Social Media:


Thanks @steemcurator01 for the support.
.