Achievement 4 by @punicwax Task : Applying Markdowns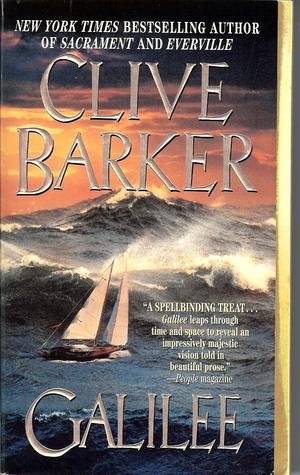 Galilee by Clive Barker
I previously was looking for a Book online that I had read when I was like 16, and for years I could not remember the name. Then someone on Reddit knew what it was. Here is the post about that.
https://www.reddit.com/r/researchchemicals/comments/8lr48s/i_am_looking_for_a_book_i_read_as_a_kid_about/


So I wanted to bring up another book. I read a lot of Fiction when I was a kid now I read non-Fiction primarily as I have found some non-Fiction is just as interesting as Fiction. This one I already remember the name of, but forgot about it until today. Galilee by Clive Barker, I read it in 9th grade.
https://m.barnesandnoble.com/w/GalileeClive-Barker/1128005830?ean=9780061744327
My Review
It was written by a gay guy, and some of it reads like a Romance Novel for Women to read and never talk about, but then it is also like a Drama and a Historical Fiction and many other things.
I read it 14 years ago at age 14, so I may have forgotten some things, but the concept of Punic Wax was just recently revealed to me serindipidously by the Carthaginian Gods, Tannit, etc. when researching gums, resins, and enzymes. And then I remembered this book today.
From what I remember it is about a family of Gods who have existed throughout Human Civilization, but themselves are very Human but Immortal and Magic. The Matron of the family is a Goddess who had children with Thomas Jefferson, which was the most recent Human affair of a long line, and if I remember correctly Galilee is Black, so it may be a play on the fact that Thomas Jefferson does have Black descendants. He had built a Manor, and the family of Gods and Demi-Gods lives there. Galilee himself is a free spirit, who goes around the globe pretty much just doing whatever comes to need to be done. The main character if I remember is a Demi-God in a Wheelchair, and is writing a History of the Family. He gets the most information from his Cousin I think it was, who lives in a guest house on the back of the property smoking Marihuana. Which then leads him to learn a bunch of things about the family which he hadn't even begun to know. And at some point he goes out on a boat and drinks until he is dehydrated and sun burnt hallucinating, and in another part he goes to a room full of Religious Paintings or Mosaics which then come alive or release light or something to heal him as they give him visions and he speaks with his Mother the Goddess.
Other Reviews
https://www.goodreads.com/book/show/52639.Galilee
https://www.publishersweekly.com/978-0-06-017947-2
I just wanted to know if anyone could expand on what is on the internet, because the Wiki is very lacking, and other reviews are rare.
This is the Movies, Media and Books group on Steemit. Join here and post about Books and stuff.
https://steemit.com/trending/hive-109267
This whole post was originally written by me on Reddit today
https://www.reddit.com/r/books/comments/j019yf/galilee_by_clive_barker/