Family Time - In my favourite flooded Lime Kiln.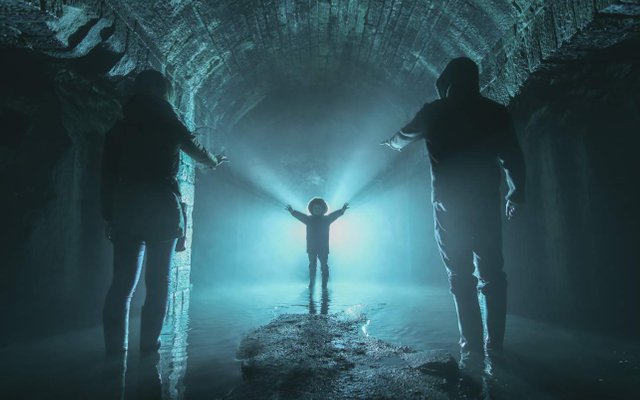 Good evening Steemworld and I hope you are all doing well.
Not your average family portrait here I grant you but probably my favourite to date with the three of us in.
I had already formulated the plan for this one and thankfully everyone's wellies were in the boot of the car, as were my tripod and light stand. Funny that :)
I placed the tripod down framing the shot so there was perfect symmetry in the architecture. This was important as the three of us were going to stand in a symmetrical manner. I used do be a tiler so symmetry is in my DNA. I placed a single Yongnuo 560iv on a stand behind my son gelled Peacock blue, blew a small amount of vape from my e cigarette in the air to provide good background separation for when the flash went off.
This was a super fast shutter speed for me at 1/250th. I wanted to avoid the light from outside the kiln spilling in and ruining the feel. I wanted high contrast and stark silhouettes.
It was more luck than judgement that the drop shadow from Riley's hands line up with Lauren's and mine almost perfectly.
Happy days out with the family in a dank and dingy hole in the ground on a Sunday morning. Plus a shot in the camera which I'm really proud of.
Although this isn't lightpainting please give Lightpainters United a follow and you will be introduced into the amazing world of light painting.

Join us at Discord
Happy days.
Posted using Partiko Android