MEMBERSHIP ASSIGNMENT-UPDATE 03-07-2021
Welcome to the Official Blog of HeartChurch Ministry International.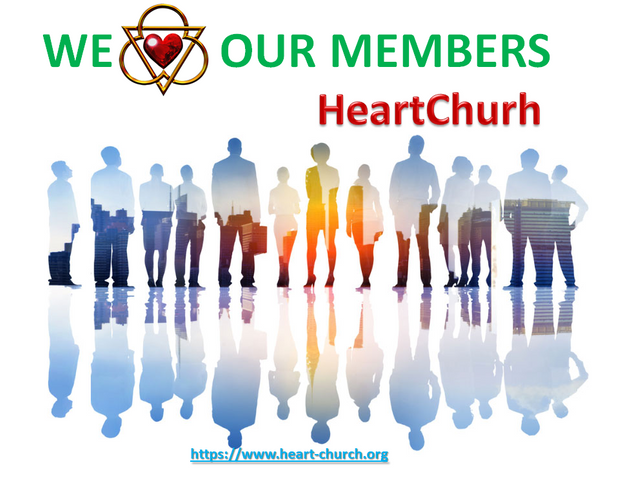 Happy Sunday everyone, today with excellent news after a long time we granted the official membership of HeartChurch, in advance we want to thank the people who write every day and have supported the different stages of our community.
We must remember the characteristics of a community is that of a group of people linked by common perspectives and joint actions. We must be understood in time and exercise the call as a responsible member, these are the first members, if you are not on the list and want to be part of HeartChurch you can communicate through the available channels.
Telegram:@steemchurch,@darlenysugas
Among the joint actions of the members is to promote all the activities of the community, share ideas or suggestions with other members and remain active in all the networks and technological platforms where the community is present.
As a member you will also have the benefits that the community brings, but it is subject to performance, for the curation of blogs the conditions remain the same.In case of violating the community rules, the membership can be revoked.
Actual activities:


1.-Dailytelos
2.-Promotion of Heart Farms.
3.-Publication of blogs with topics of interest.
4.-Support with new user registrations.
MEMBERSHIP ASSIGNMENT
1.-@ricci01
2.-@coronadoedgar
3.-@doumerromero
4.-@elion
5.-@giacamila777
6.-@jehovajireh
7.-@marialara
8.-@mariela
9.-@maxdevalue
10.-@tomas.enrique
11.-@xioran
12.-@uyobong
13.-@pelon53
14.-@felixgarciap
15.-@evegrace
16.-@elpastor
17.-@praise-eu
18.-@opeyemioguns
19.-@cruzamilcar63
20.-@glotokens
21.-@olawalium
22.-@oppongk
23.-@homer27
24.-@mamidalia
25.-@voclab
26.-@fatherfaith
27.-@imaluv54
28.-@enilekcays
29.-@nattybongo
30.-@Elyon
31.-@mamidalia
Criteria that were taken into account for the assignment of membership.


1.-Fidelity.
2.-Support at all times.
3.-Responsibility.
4.-Action
5.-Content Promotion.
6.-Participative.