COMMUNITY WARNING- UPDATE MAY 2021
Welcome to the Official Blog of HeartChurch Ministry International.
Happy start to the week for all members and guests of the HeartChurch community, as it has been and is our commitment throughout the years, and on behalf of many people who are inspired every day to write with dedication and excellence, we remember the position on plagiarism.
We know that in recent months we have been growing with the inclusion of new members, and people who write every day, with a little more than 2,500 subscribers and a great community project underway such as HeartFarms and the Bread From Heaven dining rooms, we cannot encourage the use of the platform for plagiarized content, for this reason we want to give members and invited people the opportunity to improve their blogs, once again offering guidance, in this case we invite you to read the general rules of the community.This type of practice should not flourish in our community and for this we believe that it is best to provide information about it.
METHODS OF INTERACTION AND GENERAL RULES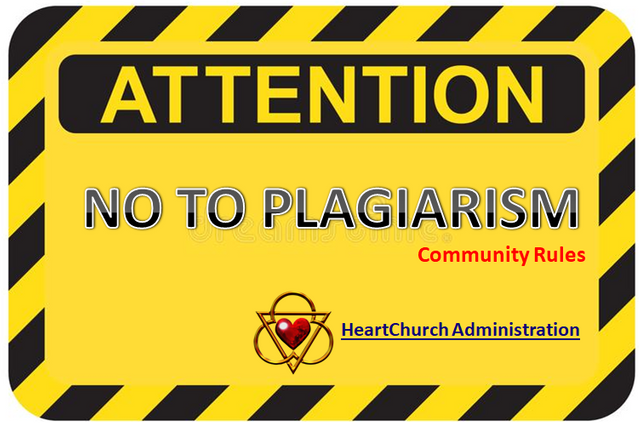 There is an explanatory post by @steemitblog, for new users, you can read on the link below.
Newcomers Guide
There is a world of opportunity in all the technological tools and grace that we have received at this moment in history where necessity, telecommuting, and financial freedom is an indispensable way of life.
Our call is to all the people who write in the community and on the platform in general to use the orientation publications, in the same way, from this moment on we will begin to make use of negative votes for those people who continue with this type of work. .
The HeartChurch community is an open community for daily living as testimonies of life, we not only base the blogs on theological or religious topics, so it is important that those who wish to participate in it, be authentic, show their true facet of life, their skills and talents.
We have been blessed, countries in extreme poverty and need have found a helping hand to establish themselves, expand their territories, and we are changing part of many family histories.
Oin Us On Our Telegram Channel:
@steemchurch.
You can take a look at the community Newcomers' Community, you will find information of interest that will help you on your initial journey.
There are a series of achievements that will make your stay easier, I invite all newcomers to HeartChurch to participate in them, we are a team and we want many people to join us, to learn from their life experiences.
Attentive to all the activities and contests that we will be doing in the next few days, check the community posts on the main blog so that you are updated with the land auction, painting contest, the start of the farms in Venezuela and the Bread From Heaven dining rooms.
In the next blog we will be discussing how new users will be received and their validation.
Websites of Interest.
HeartChurch
Goldsmith.money
HeartFarms
TWITTER
HeartChurch1
HeartFarms
This post was written for HeartChurch by @darlenys01
---
_----------
Cc: @steemcurator01
@steemcurator02