The Nigerian Parish fully supports @HeartChurch Expansion and will help to grow the Vision


Blessings from the cross of our Lord Jesus Christ to His church redeemed by His blood. It is a great privilege to write to you all parishioners of the Nigerian parish of @Steemchurch and the entire @Heartchurch community. We still celebrate the great love of God which faileth not even in moments as this when the whole world is in panic. For us the believers, our stories should be different for the only report we believe is what God says. God has never abandoned His people and He will never. We are glad that we still expand or reaches as a community of love and faith in Christ Jesus.
This is actually the first blog made by @Sc-n since the creation of communities on steem blockchain and the subsequent expansion to the hive chain. It was not meant to be so. Thank God that we have been strengthened from the things that did discourage the building of this community and it's not late to resume our supports. @Sc-n had long defined her roadmap which was in line with the visions of @Steemchurch. We failed over the last months but are ready to mend it.
We all know that the Heartchurch is thriving by the grace of God and it's only powered by @Sniffnscurry. For two years, we should have been able to raise another supportive and strong curation account. We would not cry over spilled milk, but would ensure things get fine. Never again would this blog be dormant in the coming days.
---
I therefore call on parishioners to use the comment section of this post to share their suggestions on how to build @Sc-n on steem and on hive chains.
---
Let's God word in Deut. 1: 6-8 be our motivation:
The Lord our God spake unto us in Horeb, saying, Ye have dwelt long enough in this mount: Turn you, and take your journey, and go to the mount of the Amorites, and unto all the places nigh thereunto, in the plain, in the hills, and in the vale, and in the south, and by the sea side, to the land of the Canaanites, and unto Lebanon, unto the great river, the river Euphrates. Behold, I have set the land before you: go in and possess the land which the Lord sware unto your fathers, Abraham, Isaac, and Jacob, to give unto them and to their seed after them.
WE HAVE A NEW PARISHIONER
It is my joy to welcome @Geeteeth to the @Sc-n family and the @Heartchurch ecosystem. Please head on to her introduction blog and show her some love.

RESOLUTIONS
We will resume our daily curation of HeartChurch community and #sc-n tags with resteems and upvotes. We will also consider giving out some steemengine token tips to quality blogs. We want to inform everyone that we want to enforce quality contents in our community and we would give energy to encourage only quality blogs. We will be sharing tutorials too to help our parishioners.
Now, our Telos, Peeranha and hive homes are up and active. We will engage in more promotional activities to show value and love to the world. #seedsoflove will be our train to achieve this.
TARGETS
As a community, we hope to raise a good Steem Power to be able to curate quality blogs shared to #steemchurch #sc-n. Our target for year 2020 would be to reach 5,000 Steem power. We will also ensure that our parishioners get to know the promotional activities ongoing here.
UPCOMING PROJECT
While exposing the first strategy for our grand project in Nigeria, #ChristOurHope, we did elucidate in this post, the specific steps to be taken in @Sc-n towards restoring hope to Nigerians as follows:
Discipleship trainings educational institutions and churches to open up Christians to the true knowledge of God and God's expectation. We hope to raise men like Daniel, Joseph, who will rise to the ranks in politics and governance , yet will NOT compromise their faith.
Blockchain Awareness Campaigns in Schools and Public places.
Educational/School Support programs.
Environmental Rehabilitation programmes
Agricultural Innovations and developments.
Life Skills acquisition trainings

2. Delegate SP to @Sc-n
4. Resteem our submissions for wider reach.
5. Declare your Membership to @Sc-n and @Steemchurch

This is our Second Blog in 2020 created this day 27/03/2020
Long Live @Steemchurch International Ministries
Long Live Steemchurch Nigeria - @Sc-n
Long Live Nigeria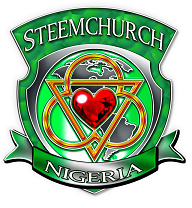 UYOBONG
Your Chief Servant