YOU ARE NOT DISADVANTAGED AT ALL.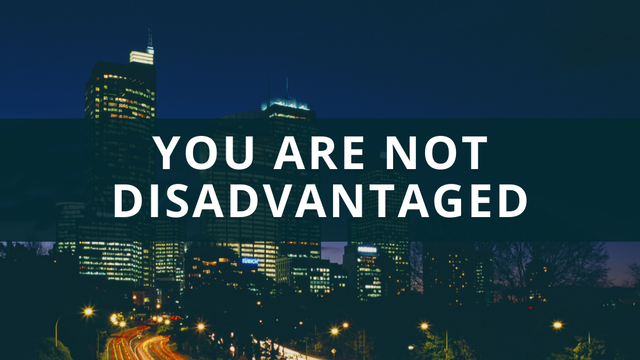 Credit: 1.bp.blogspot.com
There are those who see themselves as so disadvantaged for any form of meaningful progress in life. They focus so much on things they don't have and they are never able to see good coming in. what saith the scriptures? "Acquaint now thyself with Him, and be at peace: thereby good shall come unto thee" Job 22:21.
The inflow of divine goods into any life is not factored by an acquaintance with any human or earthly connection; but, on God for Who He is and what He represents. In the midst of all the "without" you seem to be encumbered with; you can become that person God has ordained you to be. The Psalmist in Psalm 27:10 proclaimed,
"When my father and my mother forsake me, then the LORD will take me up".
If you seek to go up; all you need is God. A right acquaintance with Him is the guarantee you have for the inflow of His goodness.
Away with what you feel your background can deliver to you, away with what you feel you can get from men. Scriptures overrule, that "vain is the help of man" Psalm 60:11.
God has what it takes to engage men and resources for your upliftment. When He "roars", men lose power of objection. When He becomes all that you have and all that you don't have; you are set to becoming all He has created you to be. Don't focus on your inadequacies, focus on who you are in Him: "Christ in you, the hope to glory" Colossians 1:27.
You don't have to sit back bemoaning opportunities you claim not to have or opportunities you seem to have lost. Your background notwithstanding, your deprivations notwithstanding; God can make it happen for you.
A Word from God can rewrite your history and change your story forever. You are not as bankrupt as you think. There is something in you waiting to announce your appointed season from God. There is something in you waiting to be acknowledged by you, to enable the world around you celebrate the hand of God upon your life.