BEEING LED BY GOD'S SPIRIT HELPS YOU KNOW THE WILL OF GOD.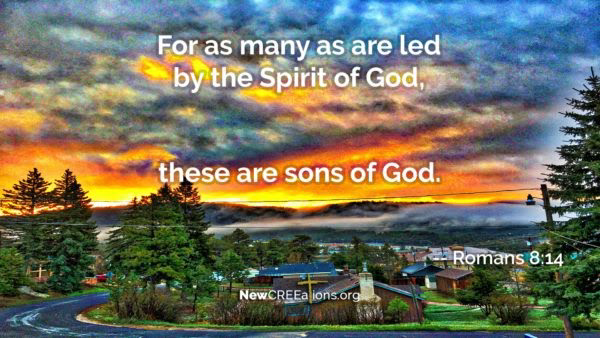 Credit: newcreeations.org
Romans 8:14: "For as many as are led by the spirit of God, they are the sons of God".
Everything happening in our society today is a wake up call for the church. I believe that God can still protect his people and deliver them from trouble. The scripture says in Psalm 46:1
"God is our refuge and strength, a very present help in trouble".
He is a very present help. He never jumps ship or abandons his own. He is always there. He is a present help in the time of need and in all situations but the problem with us is that we are not alert or cautious.
We are too careless. Paul admonished in Ephesians 5:15 that we walk circumspectly, not as fools, redeeming the time because the days are evil. He also said in verse 17:
"Wherefore be ye not unwise, but understanding what the will of the Lord is". In other words, He doesn't want you to be ignorant.
Question is: what is the will of God? How do I know the will of God when I run into difficult situations and I need to take a decision?
How do I know God's direction at that point in time? When you are in a confused state, it is not the best time to take serious decisions about your life. You must get God's perspective about any situation.
John 14:26 says the Holy Spirit will give you direction and when you receive direction, it will draw peace to your heart. You will not be drawn in between two opinions but you will rest knowing what He wants for you. Amen.