FEAR NO EVIL...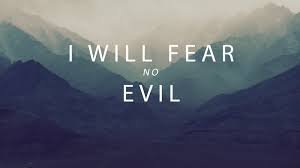 Source - Google
I want us to pay close attention to this bible verse.
2 Timothy 1 - 7
Paraphrase : For God hath not given us the spirit of fear, but of power, love and of a sound mind.
There are certain things i want u to learn. which is one!
1 - when God wants to bless a man, he gives him the spirit of the blessing.. The bible is talking about the spirits component of things, Fear has a spirit, Power has a spirit, same thing applies to love and sound mind.. That is to say, there are distribution of spirits but when you pay close attention you will notice that 'God Does not give the spirit of FEAR '.
Now, for anyone to receive something here on earth.. be it anything, the spirit component of such must be receive first before the manifestation of that physically. The spirit takes hold of u psychologically then you start reacting to it. That is to Say, " ALL Spirits are Given, ALL Spirits are received ".
Anything given, must be received for it to have expression.. E.g " As Many as receive Him..., You shall Receive power...". Simply put, What ever you have not gotten the spirit, you have not gotten the reality. The spirit is what empowers you to act on the knowledge in you '.
God starts to lift people, by introducing them to the spirit component of what he has in store for them. he will guide the person by granting access to the spirit component of that reality.
That is to say:
Life is a spirit
death is a spirit
Favour is a spirit.
Spirits are entities that use mind and bodies to function..(Always know this)...Now, one major fact is, some do receive this spirits without knowing that they have received it. These spirits are higher then men understanding therefore it gives them power to compel people to work to its bidding.
FEAR:
Fear is a spirit, that and it is very dangerous to human existence if neglected.. Look how God deals with it with this tripartite combination ... He Gives u spirit of power first, then of love and of a sound mind before conquering fear.
That is to say, There is a relationship between weakness and fear, and also if you don't have the revelation of God's love it gives room to fear too..and three there is a relationship of depraved understanding and fear too.
There is one thing i want u to understand, every spirit waits for fear to step in before it works..The bible says and to deliver them which through fear has subjected themselves to bondage.
Many people fail in life not necessarily because of ignorance but of fear..
The fear to take steps...
The fear to arise..
The fear to do so many things...
Fear is a catalyst which i urge all believer to resist with everything in you...