Heart Farms Devblog 2021-08-27 - Mobile & Desktop Wallet Update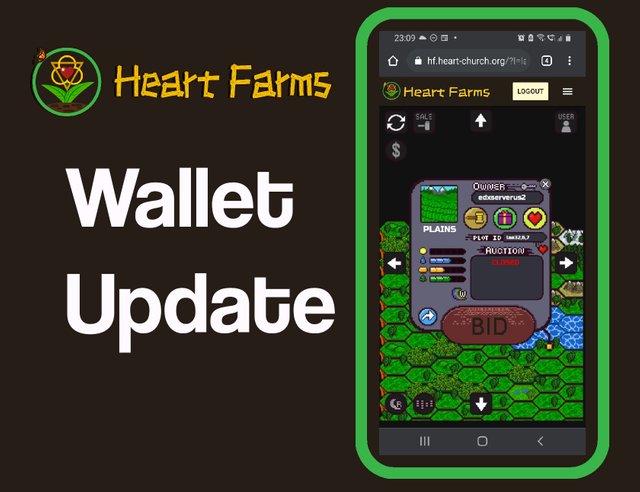 The Heart Farms team has just completed an update which brings the project up to date with some of the latest features on the Telos Blockchain.
The updated changes create a far simpler user experience when interacting with the Telos blockchain. This is done through wallet logins.
See the updates here: https://hf.heart-church.org/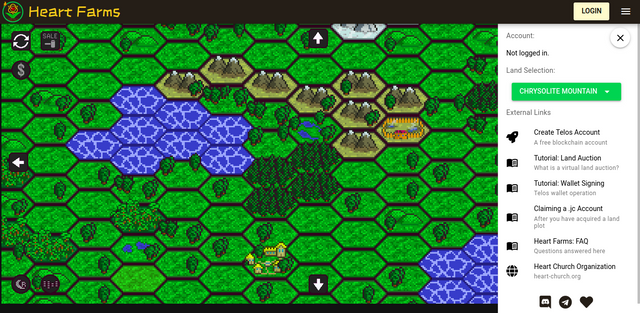 ---
Wallet Logins (Anchor is recommended)
Clicking "LOGIN" at the top will now give you options to login to Heart Farms. We now recommend using Anchor wallet. Anchor is the best operating EOSIO wallet, and works perfectly for Telos blockchain.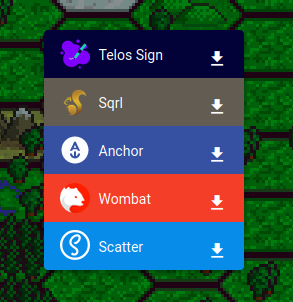 Anchor for Android
Anchor for iOS
Anchor for Desktop
Sign-in using a wallet.
For mobile devices only Anchor and Telos Sign will work.
---
Easier Use
When bidding on a land plot, if you are logged in, it will automatically prompt you from your wallet to send funds. This is a secure and far easier way to handle signing requests.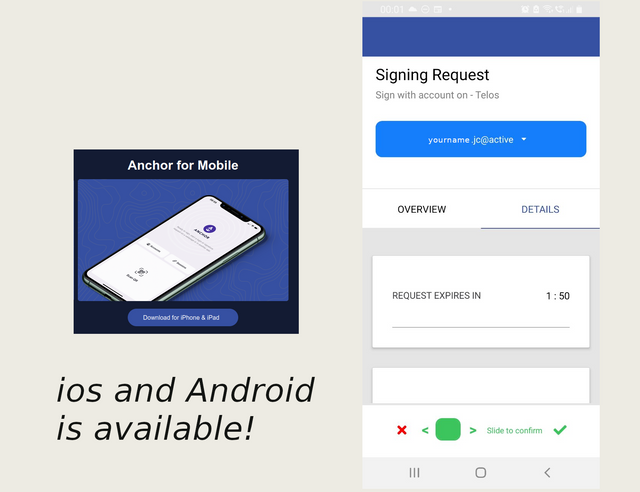 Slide right on mobile to approve your land auction bid when using Anchor mobile.
---
Additional Functionality
In addition to easier use, three buttons have been added.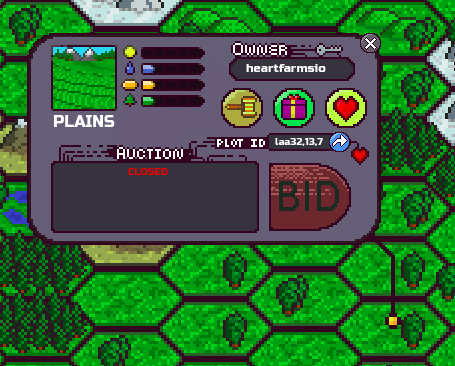 Auction Plot


This button allows you to auction your land plot. Heart Church charges a flat percentage fee if your land plot successfully auctions (8% at the time of writing this.) Be careful, once your land plot auction begins there is no way to stop it. However, anytime before your auction starts, the owner of a land plot may click this same button and stop their auction from starting. This is done using "End Auction" which pops up when you click this button, before your auction starts.
aucreserve - Set this value to determine the minimum purchase price someone must pay for the land in the auction. This value is always in HEART.
Give Plot


This button allows you to give your land plot. No fee is charged (at the time of writing this) to give your land plot to another Telos account.
receiver - Set this value to the exact Telos blockchain account you want to give the land plot to.
Create .jc Account


This button automates the creation of a .jc account by using your wallet to create it. This will only work for land plots that still have a full red heart below their PLOT ID.


new_account - Set this to the name of the Telos blockchain account you want to create, it must end in a .jc
The name must use only a-z or 1-5 values. It has a maximum of 12 characters in total (including the .jc).
As an example, heartme11.jc is valid.
heartme17.jc is not valid.
Share Button


This button creates useful share links to share your land plots on social media. Clicking on the link will bring you to the exact land plot.
An example of Topaz city share link: https://hf.heart-church.org/share/?l=laa22&p=8,10
On social media, it will display your land stats and ownership.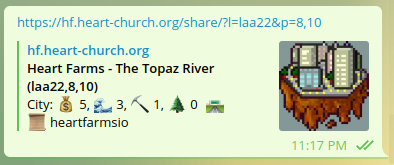 ---

---
I am thankful to Heart Church and Heart Farms contributors!
@darlenys01 @marcelo182 @goldsmith.money @rubenmedina182
Thanks to Jesse for the UAL system we are using: https://github.com/telosnetwork/telos-oracle-dashboard