Steemit Crypto Academy | S4Week3 - Blockchain Technology in the Healthcare industry
The Health industry which is also known as the Health economy or medical industry is one of the vital and popular global industries. It consumes about 10% of developed countries' GDP. Healthcare is currently a major global topic of discussion because of the still ongoing Covid-19 Pandemic. Healthcare is a priority for every nation. It includes companies that render clinical services, Manufacture drugs and medical equipment and those that provide medical insurance. Such companies help in providing treatment, diagnosis, nursing, management of illness, disease and injuries.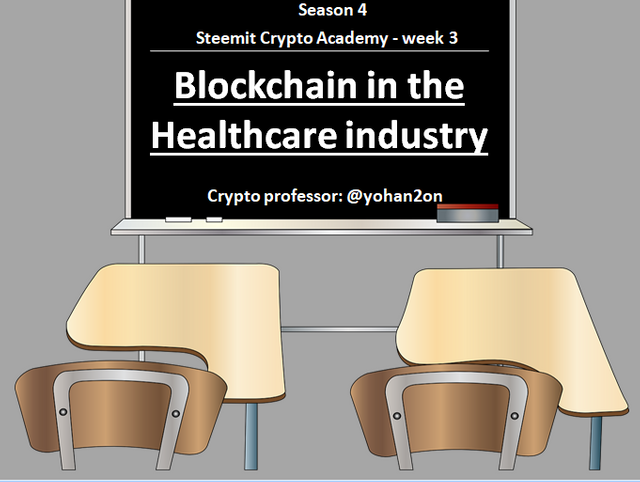 Background image:Pixabay
Blockchain technology is one of the innovations that is being adopted and incorporated in the Healthcare industry. With such technological advancement, the healthcare industry is expected to continue growing in the future due to the reduced operational costs, well-enhanced data security, improved quality of health care and so on.
According to the quote from PR Newswire
The most prominent beneficiaries of blockchain technology will be the pharmaceutical companies, which lose approximately $200 billion to counterfeit drugs each year. By enabling complete visibility and transparency throughout the drug supply chain, blockchain will allow tracking of drugs to their point of origin and thus, help to eliminate falsified medication, reducing revenue loss by up to $43 billion annually for pharma companies
About Blockchain Technology
Blockchain is simply defined as a publicly distributed ledger of information arranged in form of blocks and highly secured by Cryptography. What is Pivotal about Blockchain is "decentralization and data encryption." Since it involves the elimination of the 3rd party, it allows trustless collaborations amongst all network participants, all interactions with the Blockchain system are public hence a high degree of transparency in the ecosystem.
---
Major issues in the Healthcare that can be resolved by Blockchain Technology
---
High Administrative costs
The current centralized healthcare system is faced with a challenge of high administrative costs that include payment of intermediaries that help out with the manual work of tracking and processing certain medical transactions. Medical record-keeping and management require a lot of paperwork and personnel to help out in all the tedious work of filling up and managing the medical data. Such high administrative costs are a setback in the growth of the Medical industry in that plenty of time and resources are wasted in the process.
Lack of Privacy to patients' medical records
Every patient is required to fill in a form about his/her medical records concerning a certain illness. Patients tend to repetitively fill such forms as they keep switching to other new doctors in other hospitals. In the process, their medical data records are publicly laid out to the various medical personnel. Such data can easily be compromised by the medical personnel by selling off their data to other medical organizations without the consent of the owner (patient).
Inefficiencies in the Drug supply chain
There is a challenge in trucking counterfeit drugs in the medical industry. This is due to data breaches in the current medical industry which hackers tend to utilize for their crooked deals of making and supplying counterfeit medical products. With the current centralized medical system, such counterfeit drugs are not easily traceable given the tedious manual processes involved in their trucking.
---
Homework task
---
Research and Discuss the potential applications of Blockchain in the Health care industry
---
Rules and guidelines
---
Post your homework article in the steemit Crypto Academy
Only steemexclusive articles will be curated
Do not reproduce the information I have provided in my course article. Expand your knowledge "Be original and Creative"
Your article should range between 600– 1000words. (Be straight to the point)
Use an exclusive tag #yohan2on-s4week3 and also tag me @yohan2on so that I can easily find your article.
Clearly reference your work in case you have directly borrowed any content from other sources. Otherwise, be original and as creative as possible.
Plagiarism and spinning off other users' articles will not be tolerated in the homework task. Otherwise repeat offenders will be blacklisted and banned from the Crypto Academy.
Use only copy-right free images and showcase their source.
To participate in this task, you should have a minimum of 600SP and your reputation score should not be less than 65.
This homework task runs till 25th/09/2021, Time: 11:59 pm UTC