Meme Tokens - Crypto Academy / S4W7 - Homework Post for @wahyunahrul
Meme tokens as a topic is really quite interesting. This was a good job on the part of the professor in person of
@wahyunahrul
. Well done. Here is my entry for the homework task.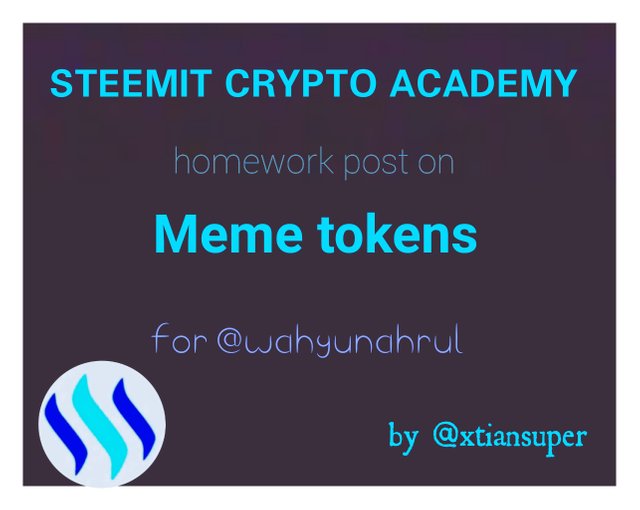 ---
---
1). Why Meme Tokens could be one type of cryptocurrency that will have a big impact on the cryptocurrency market in 2021?
Meme tokens could be one category of token that will leave a very big impact in the cryptocurrency market before 2021 runs out. This is because the token has already gained popularity because of the important personalities and VIPs that are interested in the coin.
When it comes to business and investments, Elon musk is a very big and respectable name. He has shown so much interested in meme tokens, especially Dogecoin. Apart from Elon, other celebrities such as Ronaldinho have taken to their social media handles, posts that promote meme tokens. This fact has created an opportunity for these coins to soar and impact the cryptocurrency market.
Many investors get attracted to coins that are popular and meme coins are one of such. Looking at some of these coins, their trading volumes are already on the high side. With continuous promotion of these coins by these great personalities, meme tokens will not only have a space in the cryptocurrency market, but its impact will be felt.
In addition to that, people love fun... The love to get along with the trending jokes that will make them happy. It has been a lot of fun as they get to buy these tokenized memes, turning these jokes into something profitable. Some meme tokens are not just made out of jokes as the present some functions.
Therefore, like every other cryptocurrency,meme tokens have come to stay, and with the way it is going, it will do amazingly well in the cryptocurrency market.
---
---
2). Do you think Meme Tokens is a type of cryptocurrency that shouldn't need to be created?
Most meme tokens are just made out of jokes. The sole purpose of their existence cannot be defined. So what exactly do they stand for? Nothing actually. These coins may just skyrocket in price once a statement is made by a high profile individual. This will only be beneficial to people who held the tokens right from scratch.
Meme tokens are a clear definition of the phrase, "pump and dump" as prices tend to fly high, and then all of a sudden, it falls back. Comparing core cryptocurrencies with meme tokens, normal coins are purpose driven and this is not the case with meme coins.
Sometimes, the developers of these coins just want to create a coin to compete with other coins without taking time to create a proper project. Others create this coin for their own personal interest and pay celebrities to promote them.
In a nutshell, these coins do not function in any way. Therefore, I am of the opinion that only the main cryptocurrencies should exist. There is no need creating meme tokens. Meme should only be used for fun as that is what it was known for.
---
---
3). If you had to choose to invest or trade on Meme Tokens, which would you choose? Explain your choice in detail and provide strong evidence for your choice.
The decision to choose which meme token to venture into, as well as whether to buy short or make a long term investment can sometimes be confusing since there are a lot of meme tokens created on a regular.
Looking at the meme cryptocurrencies available, these tokens always increase once a statement is made, especially by someone with great community influence. In this case, it would be reasonable to buy and hold the token, with the hope that once in a while, those influencers will make a promotional post that will make the price of the token to pump.
About the meme token to select, I'd go for an investment in Safemoon. The greatest and most important reason for my choice is because the transaction fees charged when transactions are being carried out with the token, are distributed to all the wallets that have the Safemoon token in it. This feature seem to be more beneficial to holders than traders.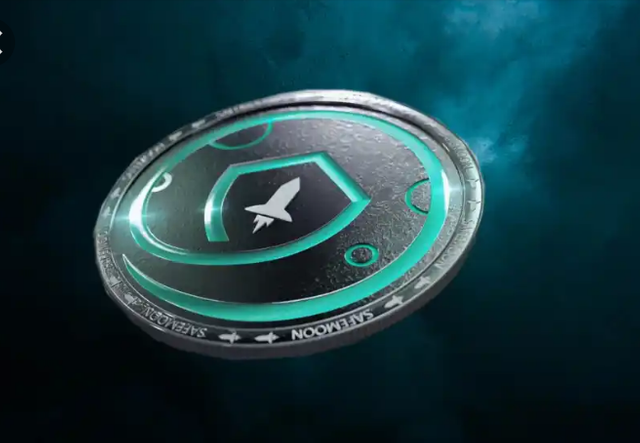 Image
There's another transaction fee that is distributed to the liquidity pools of the token on several platforms, this distribution seek to increase the liquidity of Safemoon token. You can agree with me that if I were to trade, I'll have to bear more transaction charges. But as an investor, I'm entitled to a percentage of these transaction fees.
In addition to this, the market performance of this token is impressive, leaving a message that the coin can yield a higher return with time.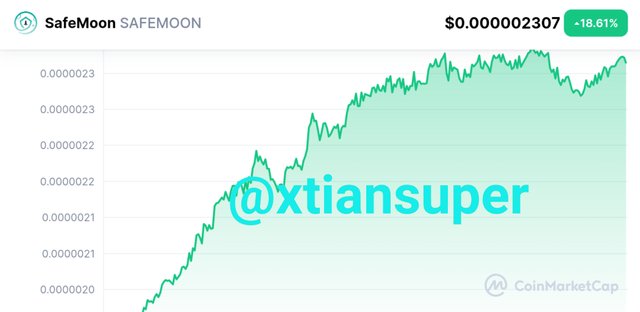 screenshot taken from coinmarketcap
According to coinmarketcap, Safemoon has a current market price of $0.000002 and a circulating supply of 777 trillion tokens, with a market capitalisation of $1,358,630,310.80 at the time of writing.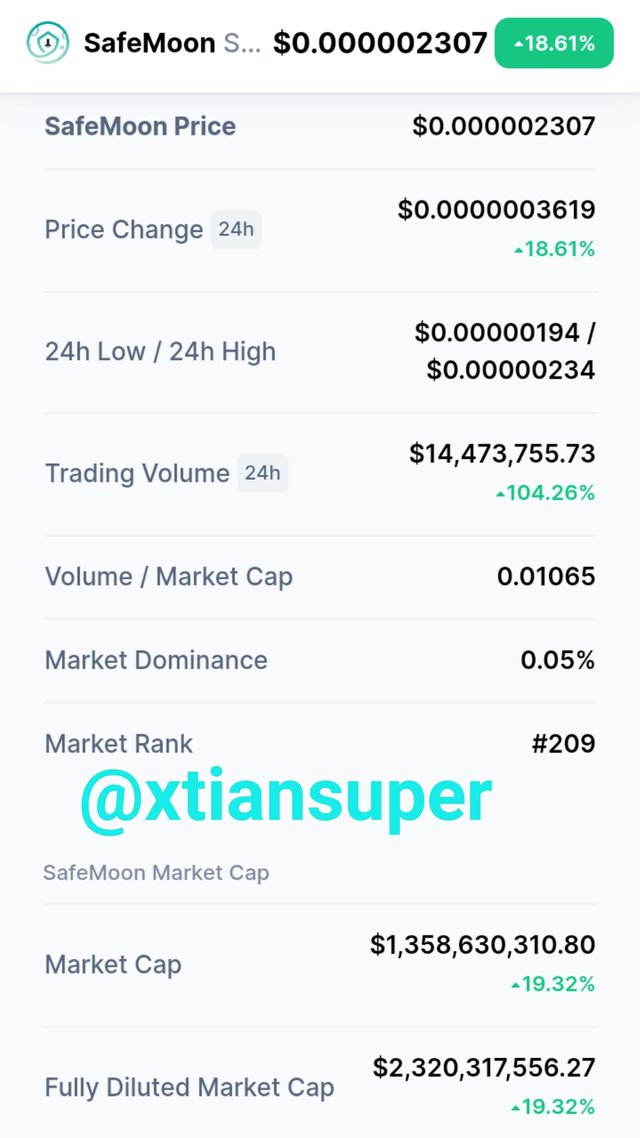 screenshot taken on coinmarketcap
Also, trusting a third party is one of the greatest factors to consider when making an investment decision. Safemoon runs on Binance smart chain (BSC) using Proof-of-Authority, a consensus mechanism. This has proven that projects and transactions in the chain are a lot safer and should be trusted to an extent.
---
---
4). Choose a Meme Token (except Dogecoin and Shiba Inu) and do an analysis of the Meme Token with the following conditions:
If in question number 3 you choose to invest, then do a detailed fundamental analysis of the Meme Token you choose to prove that the Meme Token of your choice is a good investment tool. (Screenshot Required)
SAFEMOON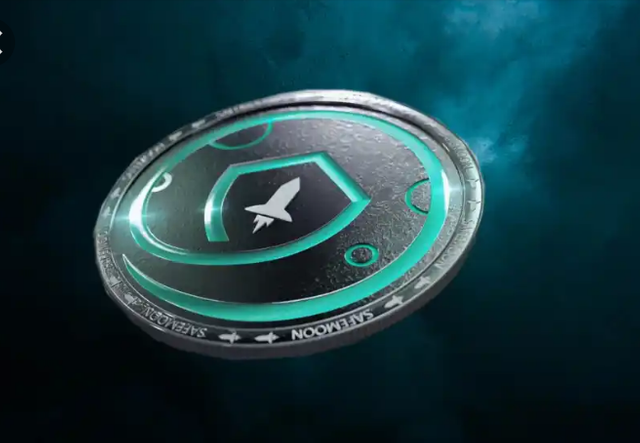 Image
SafeMoon Protocol is a DeFi token that was launched in March, 2021. The Chief Executive Officer of Safemoon is John Karony. Safemoon has three key functions namely; Reflection, Token burning and Lp acquisition. The protocol has an auto liquidity generation system, with future intentions of adding an NFT market, educative Cryptocurrency applications and other charity projects.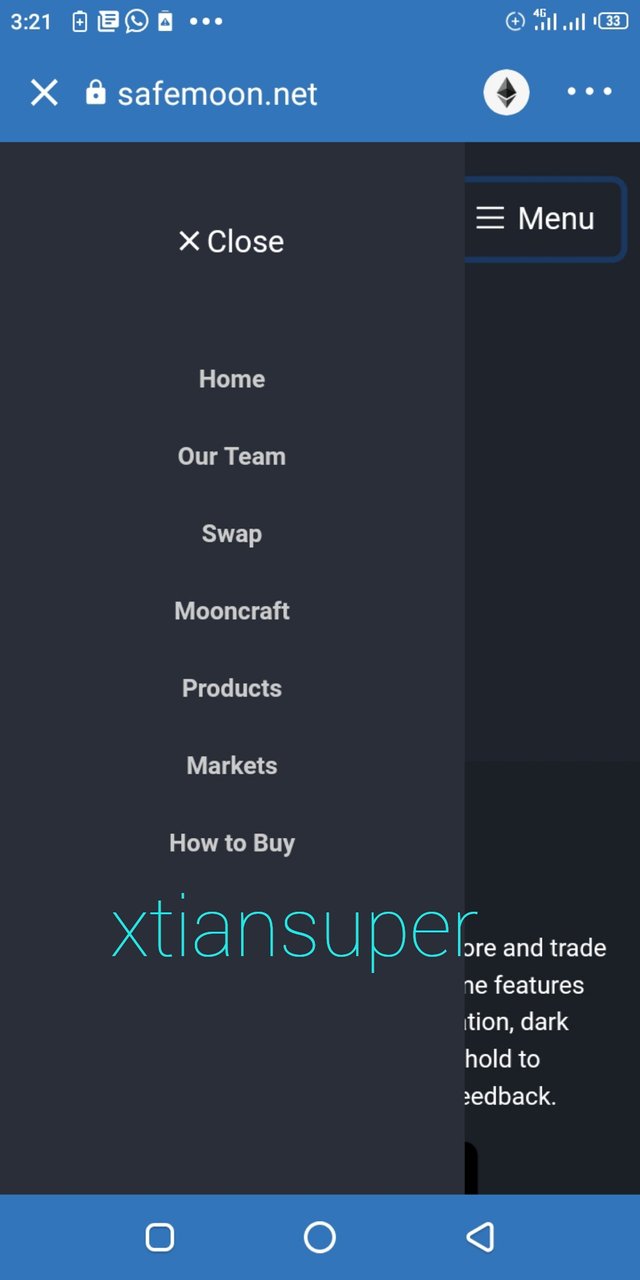 Source
There are other features and functions that, if analysed fundamentally, would present the token as a fully attractive investment tool. Let's look at them specifically.
Coin Burning: Investing in Safemoon give token holders an avenue to earn more SAFEMOON relative to the amount of tokens they hold, which could be up to an APY of 80%. The coin burning strategy will most likely give the coin a higher value with time. This is because SAFEMOON itself is a deflationary currency.
Expansion:
SafeMooon Protocol has also planned on an expansion before the end of 2021. This include integrating a launchpad to enable users create their own new tokens, as well as an NFT market into the protocol. They also wish to increase their partnership with other bodies. This development is likely to boost the popularity of this token, leading to a future increase in the price.
Static Reward:
The aim of the Safemoon protocol is to use a static reward system which allow users to earn reward in proportion to the volume of token they hold. With the manual burn strategy and automatic LP, there is a price floor for token holders in order to maintain stability and help the holders in the long run.
Security:
The Safemoon whitepaper has supplied several plans concerning the protocol's safety. First, all the tokens in the dev wallet were burned before the token was launched. Also, the LP was locked on DxLocker which will last for four years, and every other LP that is generated when a transaction takes place is locked on PancakeSwap.
Coins in circulation:
The Safemoon protocol has a total of 1000 trillion coins supplied, and 223 trillion Safemoon Dev coins were burned before its launch, leaving the token supply at about 777 trillion tokens.
Reflection:
This is a function of the Safemoon protocol where transaction fees of 10%, charged on every transactions are being split into two. 5% goes to the wallet of the token holders while the remaining 5% are divided into two again. While 50% is paired with BNB to be added to PancakeSwap to increase the liquidity pool, the other 50% is sold into BNB by the contract.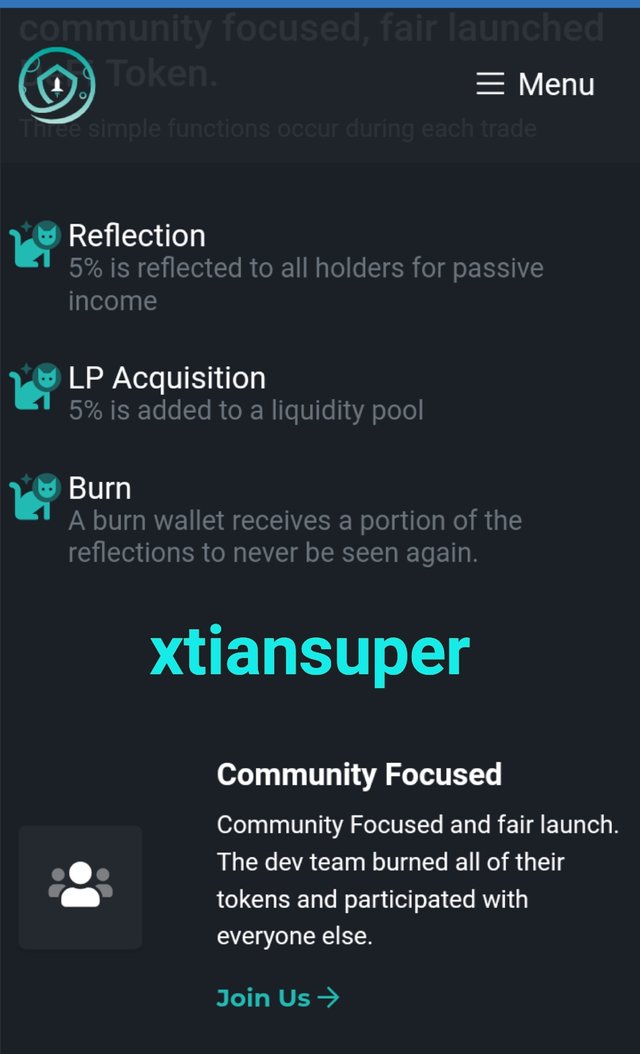 Source
Market performance:
Taking a quick look at the market performance of Safemoon, there is a potential long run profit. The current market capitalisation of Safemoon according to coinmarketcap is $1,358,630,310.80. This high capitalisation and coin supply gives it an appealing benefit. Also, the current market price of the token is $0.00000036, which is quite affordable for smaller investors. The coins current rank is #209. All of these and many more are the reasons why I'd venture into an investment in the token.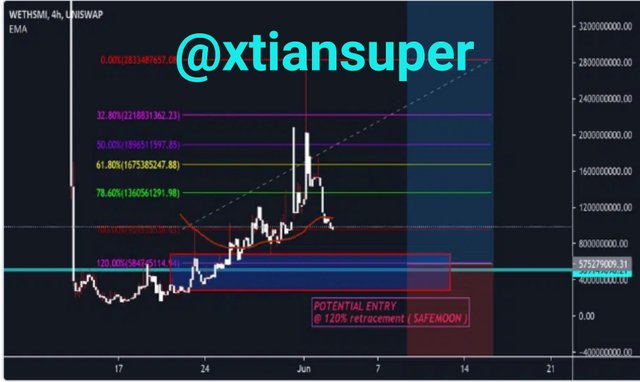 Source
Conclusion
Meme tokens are a type of token that has made ways into the cryptocurrency market in recent years. These tokens represent some funny memes they were made out from. Most of these tokens do not have use cases, rather, they were randomly created out of jokes. The decision as to whether to invest in them or not depends absolutely on individual preferences. In as much as there are factors that will likely make these tokens to increase once in a while, the downside of investing in these tokens should also be considered appropriately. But in all, it was nice learning about meme tokens.
Thank you so much for having me! Special thanks to professor @wahyunahrul.