🗞 Daily Crypto News, May, 4th💰
Welcome to the Daily Crypto News: A complete News Review, Coin Calendar and Analysis. Enjoy!
Ether is excelling while the bitcoin sideshow is barely making gains. BNB breaks out on DeFi, going past $100 billion in market capitalization Monday.
Ether's 24-hour range: $2,941-$3,300 (CoinDesk 20)
Bitcoin (BTC) trading around $57,366 as of 21:00 UTC (4 p.m. ET). Clmbing 0.76% over the previous 24 hours.
Bitcoin's 24-hour range: $56,427-$58,929 (CoinDesk 20)
Ether well above the 10-hour and the 50-hour moving averages on the hourly chart, a bullish signal for market technicians.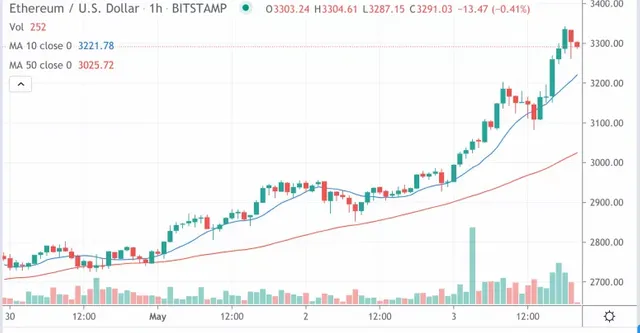 "Ether has accelerated to new highs, reaching the targeted level of ~$3,000 from its April breakout far sooner than indicated," noted technical analyst Katie Stockton, in Fairlead Strategies' Monday market update. "It is not wise to fight momentum, so we are reassuming a bullish near-term bias, somewhat reluctantly."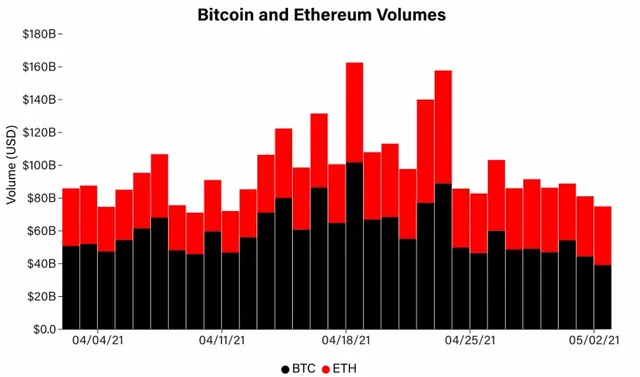 Meanwhile, over $20 billion in locked value inside decentralized finance, or DeFi, has been gained in the last month, according to data aggregator DeFi Pulse. The value of ether, combined with traders looking for yield that exists for parking crypto in DeFi, is a fundamentally bullish sign for the Ethereum network overall.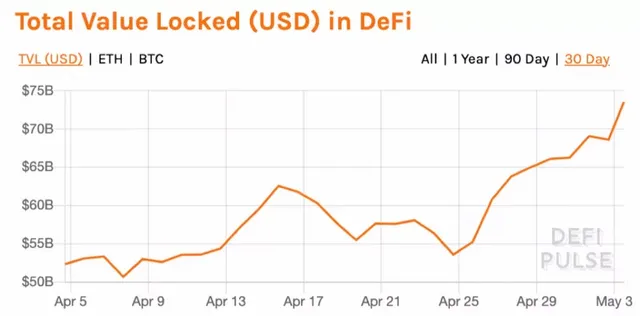 Bitcoin ekes out a gain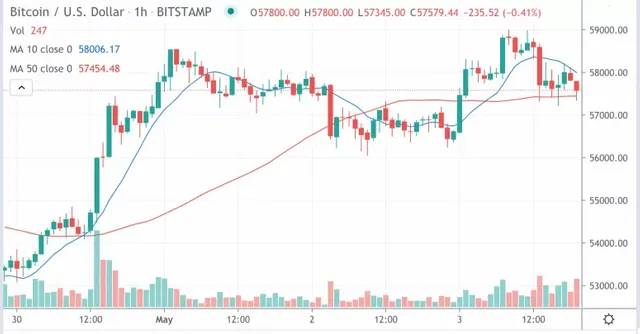 The price of bitcoin climbed Monday, going as high as $58,812 around 13:00 UTC (8 a.m. ET). That's still over $6,000 off the record high for the world's largest cryptocurrency, $64,829, set April 14.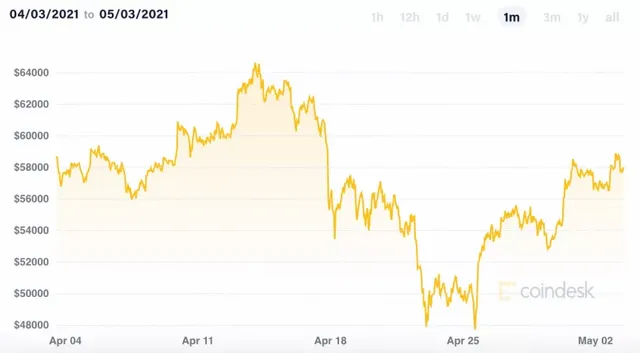 BNB, MKR and other markets
According to data aggregator CoinGecko, the Binance coin token (BNB) has surpassed $100 billion in market capitalization, reaching as high as $104 billion as of press time. It's currently priced at over $673 per coin.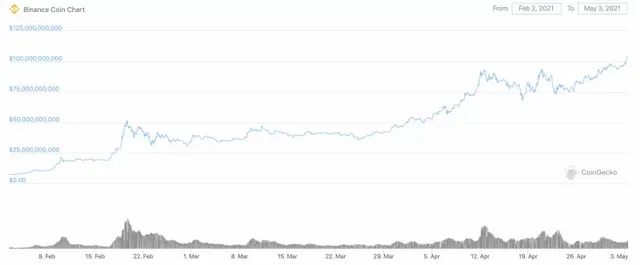 S&P Dow Jones Indices launched its first three cryptocurrency indexes Monday, according to documents reviewed by CoinDesk.
The crypto indexes, S&P's first, carry ticker symbols SPBTC, SPETH and SPCMC – one for bitcoin, ether and a "MegaCap" combo of the two. An accompanying methodology document stated the trio are using data from partner firm Lukka.
In an FAQ, S&P said it uses Lukka Prime's "Fair Market Value Pricing" methodology to render an asset's price in points, not dollars. The methodology yielded the following point valuations Monday afternoon: 7,611 for BTC, 24,811 for ETH and 5,617 for MegaCap.
Digital avatar developer, Genies, has raised $65 million to build an NFT marketplace for digital avatars on the Flow blockchain led by several heavyweight investors, including Flow's developers, Dapper Labs.
SEC filings dated May 3 reveal the California-based company recently closed a $65 million Series B funding round led by investment firm Bond, alongside Coinbase Ventures, Tull Investment Group, Breyer Capital, and Dapper Labs.
The $65 million is slated to fund the development of Genies' NFT Marketplace, which will allow users to create and trade tokenized avatars, in addition NFT clothing worn by the avatars. Genies expects to launch its marketplace in beta during the third quarter of this year.
Nasdaq-traded Mogo, a digital payments/fintech company, said it bought about 146 ether (ETH) at an average price of $2,780 as part of its plan to allocate up to 5% its cash and investment portfolio to cryptocurrencies.
Mogo said it's already purchased about 18 bitcoins to date in open-market transactions at an average price of $33,083.
Yesterday, the price of ether crossed $3,000 for the first time ever, and it set an all-time high of $3,204.06 early Monday. In recent trading, the second-largest cryptocurrency by market cap was changing hands at $3,121.91, up 6.88% in the last 24 hours. Year to date. ETH is up 324%.
🗞 Daily Crypto Calendar, May, 4th💰
"BitMart will list Vancat (VANCAT) on our digital assets platform on May 4 at 10:00 AM (EDT), VANCAT/USDT"
Testnet Upgrade
"Justin Rice, VP of Ecosystem @StellarOrg , will moderate a panel of key ecosystem players as they explore Stellar."
MANA at 50% Discount , Start of subscription: May 4, 2021, 11:00 KST"
"Playboy's first-ever NFT collection, Liquid Summer by Playboy x Slime Sunday is coming to Nifty Gateway May 4th"
"Genesis Vision Protocol launch Programs with GV Liquidity on BSC (Binance Smart Chain)."
"AMA with the Founder of Swissborg, Live on Youtube at 7 PM CET. All Community Is Waiting for Big Announcements and Upcoming Plans."
➡️ Leofinance
➡️ Youtube
➡️ LBRY
➡️ Twitter
➡️ Publish0x
➡️ Den.Social
➡️ Torum
➡️ Spotify
➡️ Be paid daily to browse with Brave Internet Browser
➡️ A secure and easy wallet to use: Atomic Wallet
➡️ Invest and Trade on Binance and get a % of fees back
➡️ Check out my video on Unstoppable Domains and get 10$ off a 40$ domain purchase
➡️ Get 25$ free by ordering a free Visa Card on Crypto.com using this link or using this code qs4ha45pvh