Blockchain Trilemma - Crypto Academy / S5W2 - Homework post for nane15.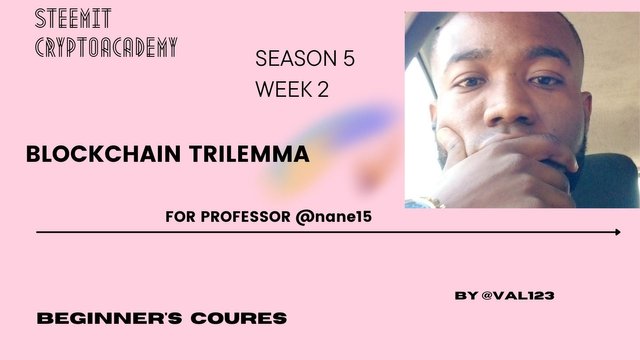 Good day steemians!
I welcome you all to season 5 week 1 of the steemit crypto academy. The lecture was about the blockchain trilemma. The problem blockchain is having. Professor @nane15 has impacted some knowledge to us through this wonderful lecture. Below is my homework post for prof. @nane15.
---
EXPLAIN IN YOUR OWN WORDS WHAT THE BLOCKCHAIN TRILEMMA IS?
---
Now, we will, first of all, have an understanding of what trilemma means so that we can get the inkling about the blockchain trilemma very easy.
What is a Trilemma?÷ A trilemma could be seen as something that consists of 3 different options, in which you can select only 2 options among the 3. This means, you can never have the three of them to achieve what you want.
NOW, LETS CONSIDER WHAT BLOCKCHAIN TRILEMMA MEANS
Similarly, a blockchain trilemma also consist of three different options which are
Decentralization
Scalability
Security
Meanwhile, you can never have the full three features, you will only select two among them and sacrifice one. This has been a very big problem to blockchain technology. This above listed features are needed in blockchain but can't be possible to have them all at once. Just like having decentralization and security but will not be scalable.
Now, before developers will build blockchains, the will be forced to give out among decentralization, security and scalability in order to get produce a new block. In a simple understanding, the blockchain trilemma is seen as a confidence in blockchain or decentralized network, whereby they have two and gives out 1. Trilemma was invented by Ethereum maker named Votalik Buterin. Developer are working very hard to get a solution to the problem blockchain is having once and for all.
---
IS THE BLOCKCHAIN TRILEMMA REALLY A TRILEMMA?
---
Like i explained before, a trilemma are features consists of three, whereby you can only make use or choose 2 among the 3 features. This is similar to blockchain trilemma, which also consist of three features whereby you can only have two features among the three features. These features are- Decentralization, security and scability. For example when we arr talking about Bitcoin and Ripple, in bitcoin, they are very secured and also decentralized, no third party involved , but they are not scalable i.e no scalability, involved it. Meanwhile Ripple are scalable, they are secured but they are seen not to be decentralized. The trilemma does like that, same as blockchain trilemma. So i can say that the blockchain trilemma is really a trilemma.
---
DEFINE THE FOLLOWING CONCEPT IN YOUR OWN WORDS- (DECENTRALIZATION, SCALABILITY AND BLOCKCHAIN SECURITY)
---
In blockchain technology, decentralization means that users are having full control of their transaction being carried out without involving any third party to monitor transaction that is going on. This work theough peer to peer system.
Running transaction in a decentralized platform need three different representative or negotiatitors in order to carry out the transaction on blockchain network. Now we have the users, validators and programmers. I will explain their different task.
The Users÷ They are the owner of the transaction that is about to be carried out i.e they provide the projects.
The validators÷ They keep in the record of all the transaction that is being carried out.
The programmers÷ They modifies and as well vote for thr code going on.
Scalability in the blockchain is seen as the process to carry out more transactions that are coming or going on. So, what we always consider in blockchain scalability are, huge transactions and the amount of or how many transactions are being carried out in a given timeframe.
In an easy understanding, scalability is defined as the ability to carry out or run transaction. Scalability relates to how fast s business can grow snd how much earning potential it has. This is similar to blockchain scalability, which also relates to how fast transactions can be processed and how many transaction can be achieved in a given period.
Security in blockchain simply means that the system will be very secure and no bad guy or hacker can tamper with our asset or wallet. So keeping the system secure is very important in blockchain to prevent hacking it.
In other words, blockchain network supposed to be immutable or permanent safeguarding so that it can be hard to tamper with.
---
BASED ON YOUR KNOWLEDGE, EXPLAIN AT LEAST TWO VIABLE SOLUTION TO THE CHALLENGES POSED IN THE BLOCKCHAIN TRILEMMA.
---
Blockchain Trilemma has been s big issue to the blockchain networks ans there are ways in which this problems can be solved.
---
ALGORAND
---
Algorand founder, created a solution to the blockchain trilemma i.e this company /platforms has been able to discover a movement in which blockchain trilemma can be solved. How does algorand aims to solve this issue blockchain is facing? Algorand platform has been able to create a pure proof of stake with collaboration or cooperation. Algorand also solve this problem theough choosing those that record transactions processed out of those that hold tokens. Algorand was therefore created to allow new types of applications which are powered by cryptocurrency to be generated or produced by developers. In my opinion, i will say that algorand are able to solve this blockchain trilemma by making transactions to be fast in given period of time.
---
FANTOM
---
Fantom is also known as (aBFT) which means Asynchronous Byzantine Fault Tolerance. This fantom help in solving the blockchain trilemma concerning Decentralization, scalability and security through authorising the outstanding exceptional feature and guarantee. Fantom solves this problem by allowing transactions to be very fast i.e it add the speed and they also have bee able to achieve security and decentralization i.e with no rules or headers invloved, anyone can unite with the network. Fantom aBFT consensus allows thousands of transaction to br carried out in a given time, since they have achieved security and decentralization.
---
CONCLUSIVELY
---
Blockchain trilemma which consist of three features, decentralization, security and scalability has been a problem to blockchian network. Where you can have two among the three features in order to produce a block and developer are not satisfied with this. Well, with time there will be more solutions to this problem blockchain is facing callee Blockchain trilemma
Cc-
Professor @nane15