[Bitcoin, Cryptocurrencies, Public chains.] - Steemit Crypto Academy Season 4 - Homework Post for Task 5.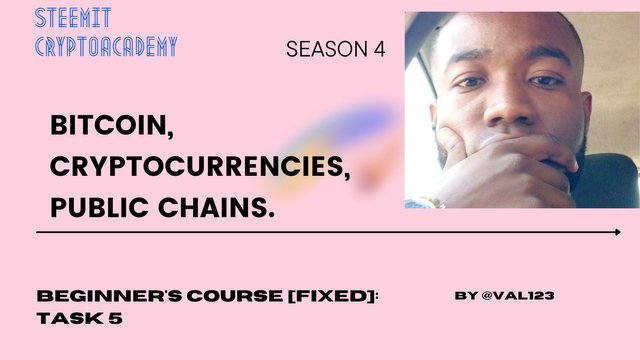 IMAGE CREATED BY ME USING CANVA
---
QUESTION
WHAT IS CRYPTOCURRENCY AND HOW YOU WOULD LIKE TO SEE CRYPTOCURRENCY IN THE FUTURE?
---
WHAT IS CRYPTOCURRENCY
---
First of all, we have a site where you can view all cryptocurrency values and all their details. As we all know, there are lots of cryptocurrency. Explore Coinmarketcap to see all cryptocurrencies and there values.
---
WHAT IS CRYPTOCURRENCY?÷ Cryptocurrency are online digital assets which are used to make payments online without involving an third party or institutions like bank. People using cryptocurrency have full control of their money and can use it anytime there wish. Unlike banks, sometimes they might be having issues with server / network, which can make transaction to stop working for the moment, so it's not like that in cryptocurrency.
Actually, cryptocurrency was invented in the year 2008 but started individuals started making use of it's first coin Bitcoin in 2009. Satoshi Nakamoto was the one who invented cryptocurrency. Using bank account to run transactions is sometimes delaying, individuals using bank account dont have full access to their money, the money is being controlled by bank, but cryptocurrency was created for us to have full access in our money and make use of it anytime.
Making payments with cryptocurrency is very fast and very easy to confirm and transaction fee are low, unlike bank that charge high fee when transferring huge amount of money to another user.
Today, cryptocyrrency is becoming more popular in the world, many online platform or company make use of cryptocurrency as their method of payment both some sport online betting platform like Socios.com used token to place bet online. Cryptocurrency are volatile, that means, it's not value are not stable, so one can buy crypto assets and stock it, once the value increases, he or she can sell it off and take profit.
---
Despite all this, cryptocurrency has advantages and disadvantages. We will first of all look into or list some of the advantages of cryptocurrency and then followed by the disadvantages.
---
ADVANTAGES
---
No third party are involved in cryptocurrency, so making use of cryptocurrency, you have full access to your money.

Using cryptocurrency, transactions are very fast, unlike bank that may have server issues sometimes during transactions.

Transferring cryptos to a particular address cost low transaction fees no matter the huge amount you are transferring.

All transactions carried out are being record and it uses cryptograghy, it said to ve very secured, no one can fool the blockchain.

you can transafer as many crypto you wish to transfer a day, unlike bank that have transaction limit per day.
---
DISADVANTAGES
---
Cryptocurrency i just being anonymous, what i mean is that, when running transactions and you mistakenly send it to a wrong address, you can't reverse it back and you dont know who has the address.

Once you loose your wallet keys, that means all your assets are gone, because you can't retrieve your keys.

Their values are not stable, it goes upwards and downwards. One might invest on a particular cryptocurrency and then the value of the coin bearished more than before, this can make you loose some of your money if you arent patient to wait for the market to reverse.

A scammer can receive payment or receive money without being tracked.
---
HOW YOU WOULD LIKE TO SEE CRYPTOCURRENCY IN THE FUTURE?
---
Well, unlike fiat money, it can be used to purchase physical things around us snd also can be used to purchase products online, cryptocurrency would need to make some improvement in these kind of things in the future. Purchasing thing around us with cryptocurrencies is not that possible to do. We can't use cryptocurrencies to buy something like food around our area and some other stuffs.
Many countries all over the world are in opposition about using cryptocurrency as a means of payment or method of payment i.e to say, cryptocurrencies are banned in many countries like Algeria, Nepal Ecuador and more of them. So i will like, in future, cryptocurrency can be accepteable to all the country and become the means of payment. Another thing is that, when you loose your wallet key, you can't retrieve it again, so i would like it to improve in that. Also, i will like the value of cryptocurrency to be going up instead of falling. As we all know that the value of cryptocurrencies are not stable.
---
IN CONCLUSION
---
Cryptocurrency is the fast method of making payments online and will be good if all this i appointed in the last question are fulfilled, that will make cryptocurrency to be much better than now. I really thank professor @stream4u for a well detailed snd benefitting lecture.