Audius - Decentralized Music Platform | Crypto Academy / S5W3 | Homework Post for @wahyunahrul
---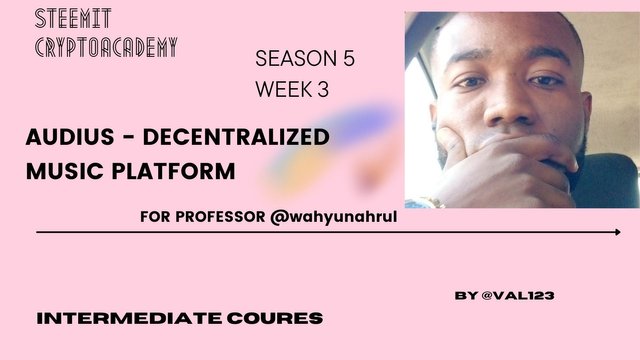 CREATED WITH CANVA
---
INTRODUCTION
Hello steemians!!
You all are welcome to season 5 week 3 of the steemit cryptoacademt. Prof.
@wahyunahrul
has impacted some knowledge to us about a decentralized music platform called
Audius
. Lets dive in!!
---
No.(1). WHAT DO YOU THINK ABOUT THE PRESENCE OF THE AUDIUS PLATFORM IN THE MUSIC INDUSTRY?
---
Music has been a very big entertainment which many people all over the world loves listening or doing. Like me, i love music, its just part of me. In the other hand, not every artist in the music industry have been able to publish their music and make the world hear them out. Some music creators also create music but doesn't make any profit from it. Many upcoming artist are not able to upload their music due to financial purpose. As we all know that some people usually copy other music and claims it to be their own. This might be a bit confusing for listeners, because they don't know the right person that owns the song. All this are what audius platform have been able to solve.
Audius is a decentralized music platform that aims in promoting or streaming musics. This platform was invented by two people named Roneil Ramburg and Forrest Browning in the year 2018. Audius being decentralized means that a music have full control and can be able to manage his music with any third party involved in it.
I think audius platform is best is idea in music, because in this platform, music creators and listeners also can interact with each other. We all know that a music that is centralized, before any artist or music creator can be able to stream his or her music, he or she must communicate with a promoter or promoting site in other to help out in streaming the music and this can cost a lot of money. Meanwhile any profit that came out in the music, the third party involved will also have its own share, so a music creator wont have full profit of he music. This why audius platform is more unique than others, because a music can manage his or her songs.
In audius platform, when people are listening to your music, you will be get paid with their token called AUDIO, this sounds great. So i think this is a great improvement in the music industry, because publishing and distributing music was be very fast because no third are involved in it.
---
No.(2) WITH THE GOVERNANCE SYSTEM USED BY AUDIUS, DO YOU THINK THAT SYSTEM HAS MADE AUDIUS A FAIR AND FULLY DECENTRALIZED PLATFORM? IF NOT, PLEASE PROVIDE YOUR PERSONAL SUGGESTIONS FOR THE SYSTEM THAT AUDIUS USES TO MAKE IT MORE FAIR AND DECENTRALIZED.
---
Well, audius is a decentralized music platform. I must say that the system is fair and fully decentralized, because artists have full control and management their music without any third party invloved. Not like other music platform that charges artist some amount of money in order to promote their music and also once there is any profit made, the platform will also have their own percentage of the money. Now audius platform avoid this. This is one of the reason why the audius plaform is fully decentralized owing the fact that music creators can promote and upload their tracks by themselves.
---
No.(3) EXPLAIN HOW TO DO 2 TYPES OF STAKING ON AUDIUS COMPLETE WITH ILLUSTRATIONS. (IMAGE REQUIRED)
---
I will explain steps to stake on audius platform. I usually visit the coinmarketcap and search on audius. There i will see their official website. Then i explore it.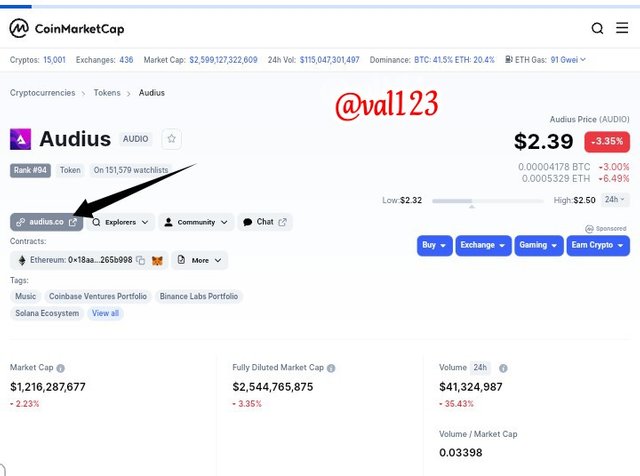 COINMARKETCAP
So, now i have explored the official site. Lets begin the staking procedures. The screenshot below is the hompage of audius platform.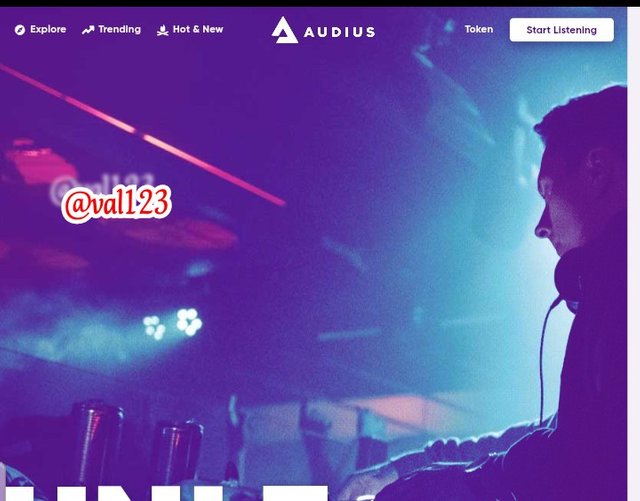 AUDIUS.ORG
Now once the homepage has displayed , the next step is to click on token, which is located at the top right side of the page.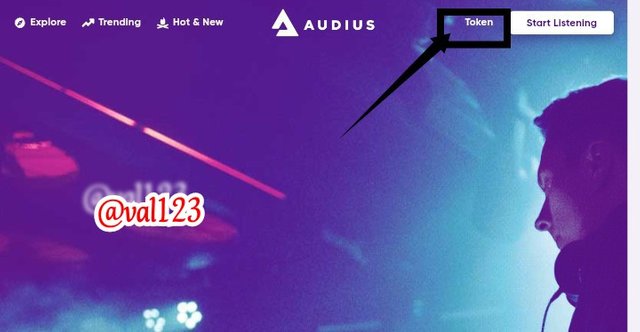 AUDIUS.ORG
Now, after clicking on Token, this next step is to click on explore the dashboard which is at the downside of the page.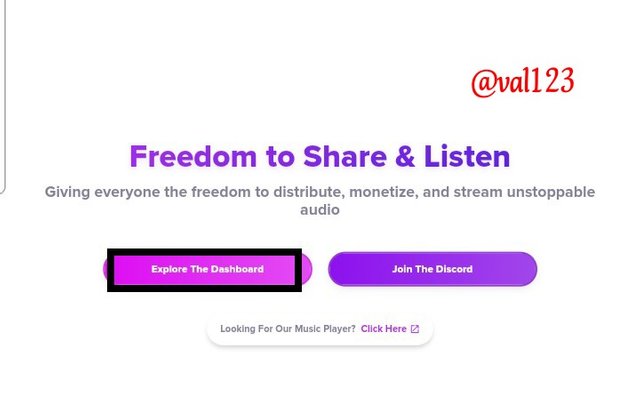 AUDIUS.ORG
A new window will display immediately after clicking on explore dashboard. Now before staking, we need to connect our metask wallet to audius platform so that we can be able to stake. Click on connect metask there will be a pop out, click on open metamask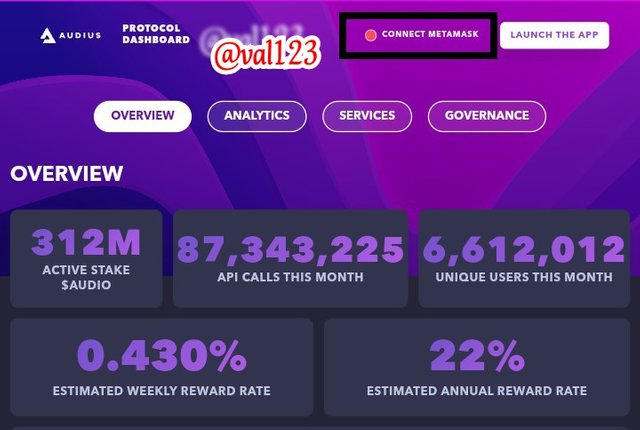 AUDIUS.ORG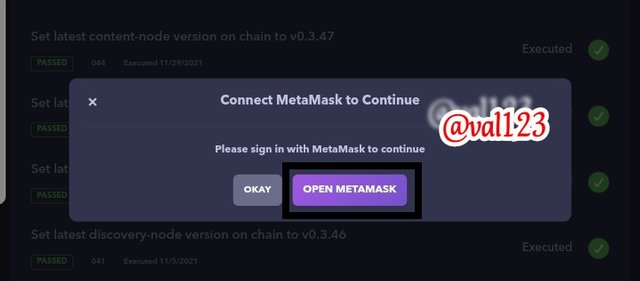 AUDIUS.ORG
Now, connect your metamask to audius, click on next. The click on connect in order to connect with it.
Now, looking at the image below, you can see that i have successfully connected my metamask wallet to audius.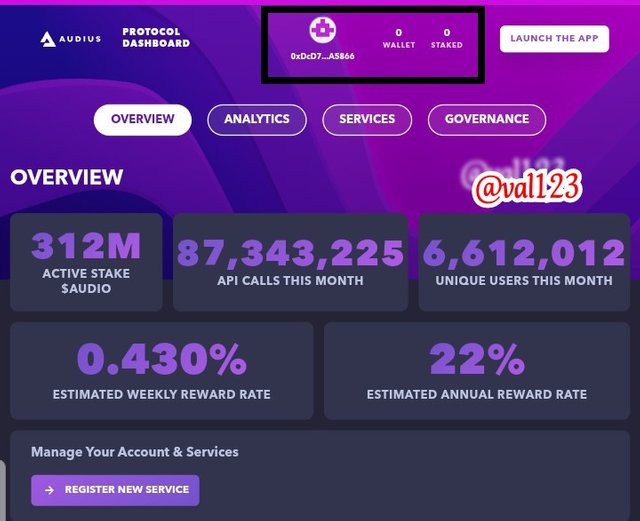 AUDIUS.ORG
Now, lets begin with the staking. After connecting your metamast wallert successfully, the next step is to click on services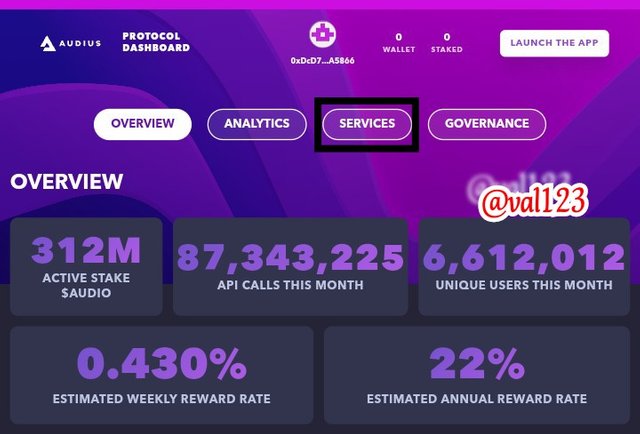 AUDIUS.ORG
Now, after click on services, there you will see validators. The validators nodes runs continuously to secure the network, provides liquid etc. Then click on any of them. I selected the first one.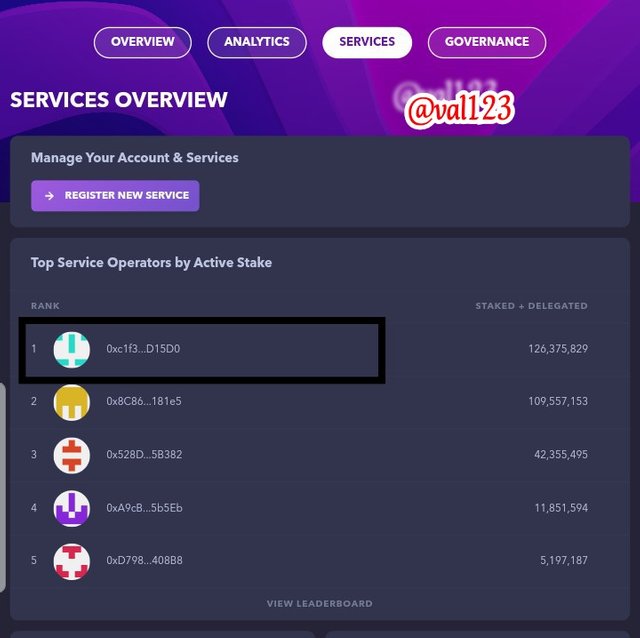 AUDIUS.ORG
Now, when the page displays, at the top right, you will see delegate click on it and then choose how much you wish to delegate. Now you can stake on audius.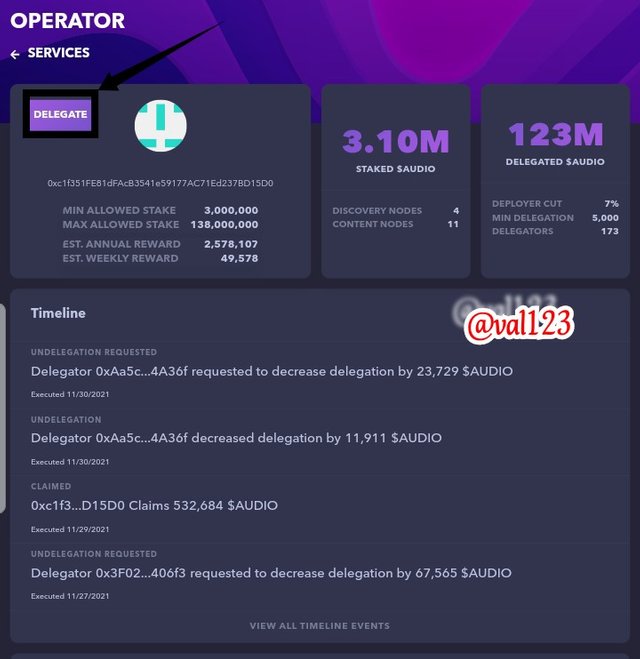 AUDIUS.ORG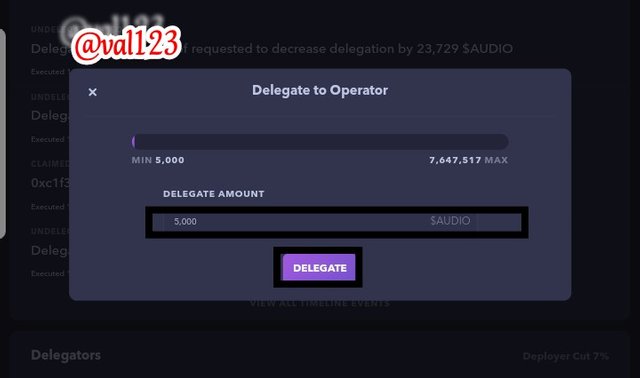 AUDIUS.ORG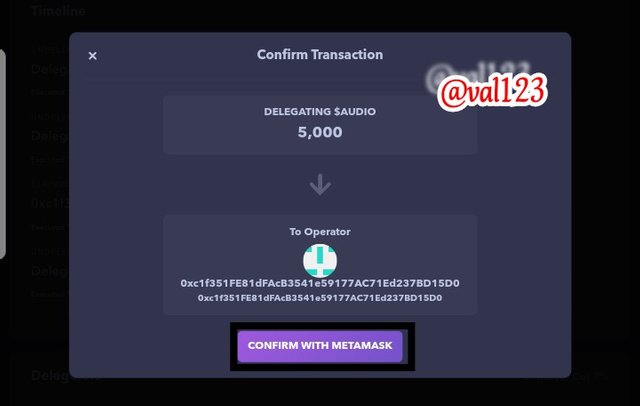 AUDIUS.ORG
---
THE SECOND STEP TO STAKE ON AUDIUS PLAFFORM.
---
At the dashboard i.e the home page, where there are four different tabs at the top, click on Governance.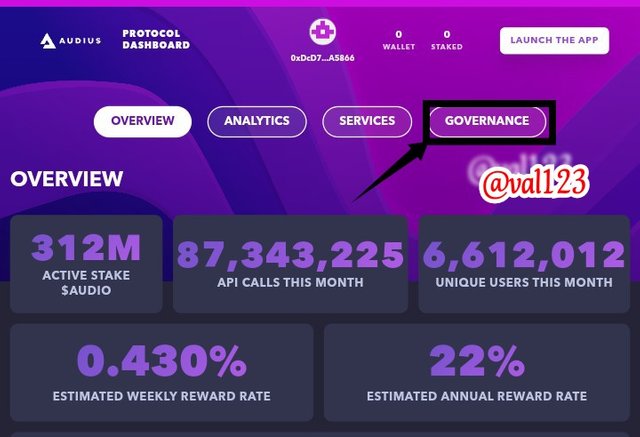 AUDIUS.ORG
Now, there you see many listed resolved proposals. Then i selected the first option.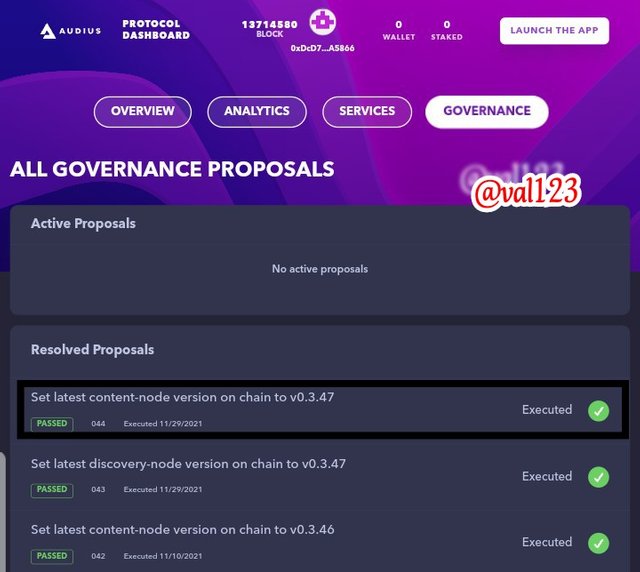 AUDIUS.ORG
After clicking on it, a new page displays, which shows me all governance proposals, the i had to select the first option which is open audio foundation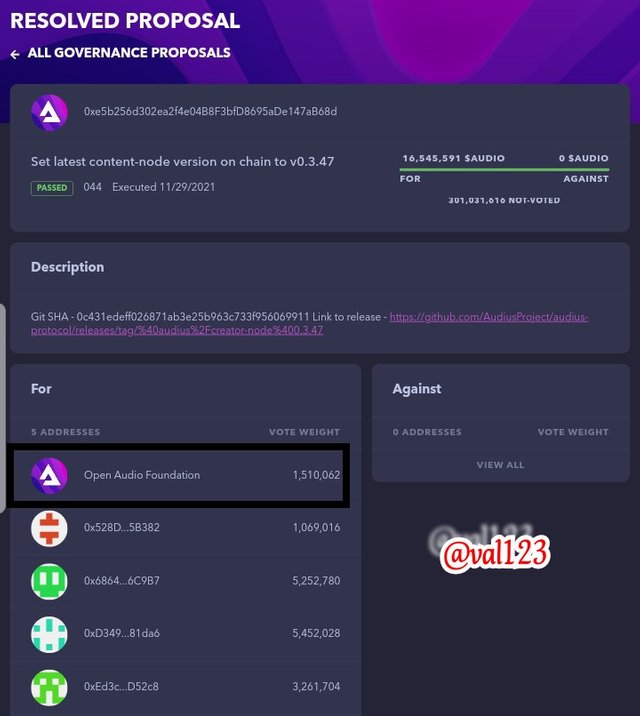 AUDIUS.ORG
After clicking on the first option, when the page opens, at the top, where there is a delegate click on it.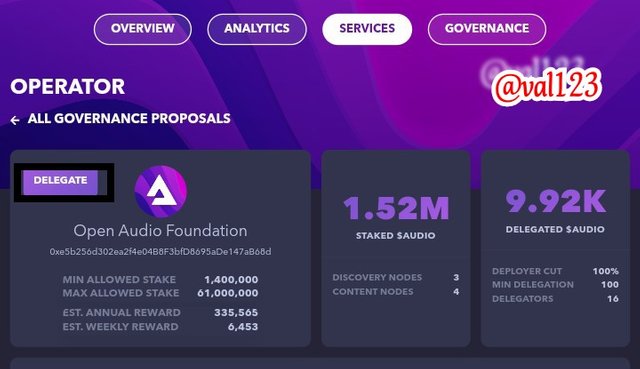 AUDIUS.ORG
Then when you click on it, there will be a pop out, where you can put the amount of audio token you want to delegate so that you can stake on audius. After that, click on delegate and then confirm.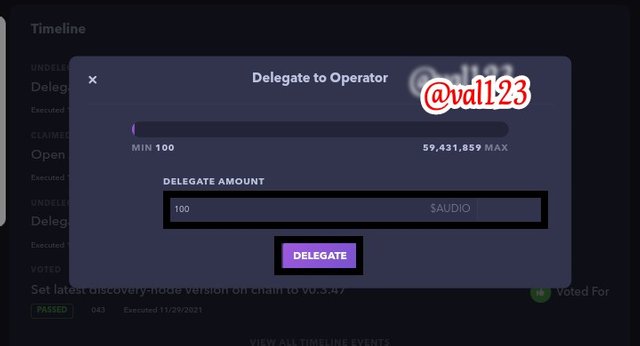 AUDIUS.ORG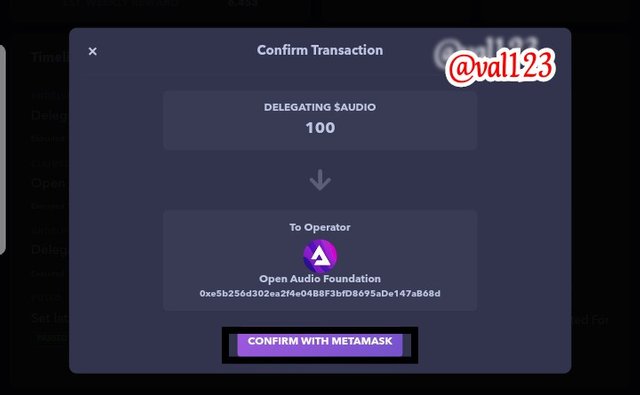 AUDIUS.ORG
---
No.(4) SHOW THE STEPS TO CREATE AN ACCOUNT ON AUDIUS. (SCREENSHOT REQUIRED)
---
In this section, i will explain step by steps on how one can be able to create account in audius platform.. Lets begin!!
Audius account can be created, either using app or their website. But am making use of their website. To do this, explore audius.co. The homepage displays, then click on sign up for free located at the bottom of the page.

AUDIUS.CO
After clicking on signup for free a new window will displays, asking you to input your email address. After that, click on continue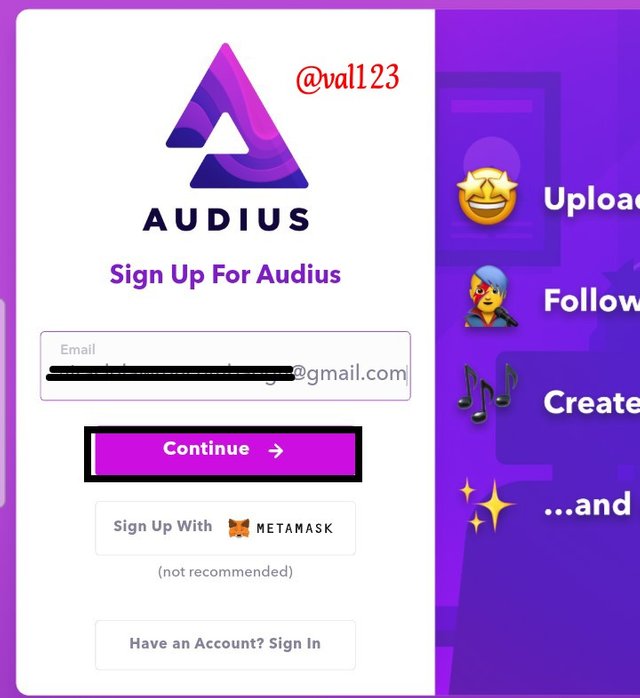 AUDIUS.CO
Now you be asked to create a strong password. That consist of small letters, alphabets, numbers. I created my own password then click on continue.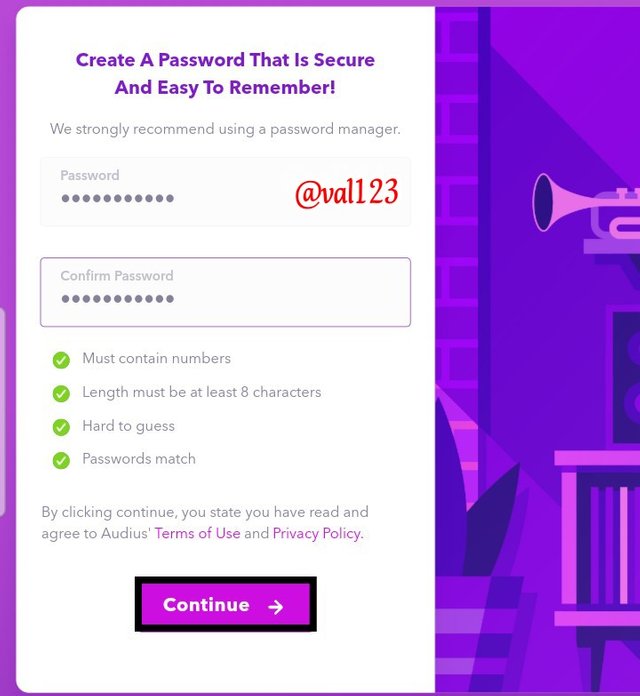 AUDIUS.CO
After done creating your password, the next page displays, where you choose options to sign up. Either link it to your social media app or fill out you own profile manually. I click on i'd rather fill out my own profile manually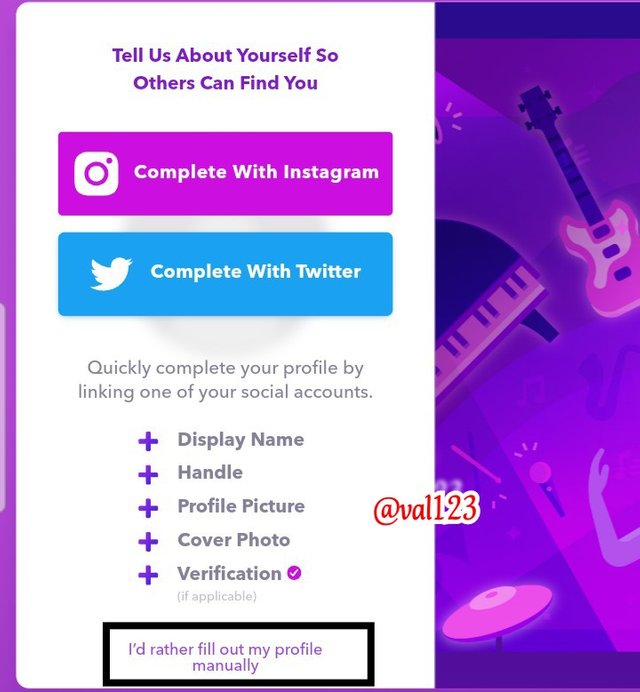 AUDIUS.CO
After that, the next page will display, where you will add your picture, input your name and also chosse your username. Then click on continue.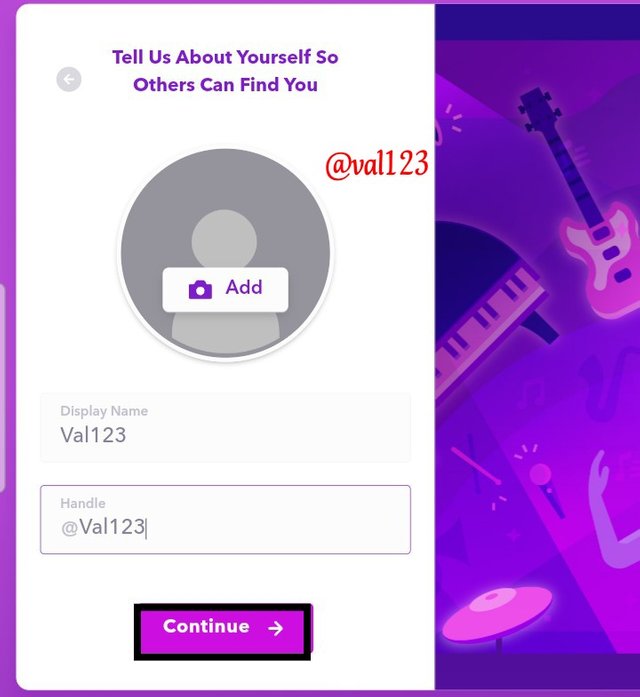 AUDIUS.CO
The next page will displays where you will be asked to follow atleast 3 artist to get started. After choose 3 artist, then click on continue.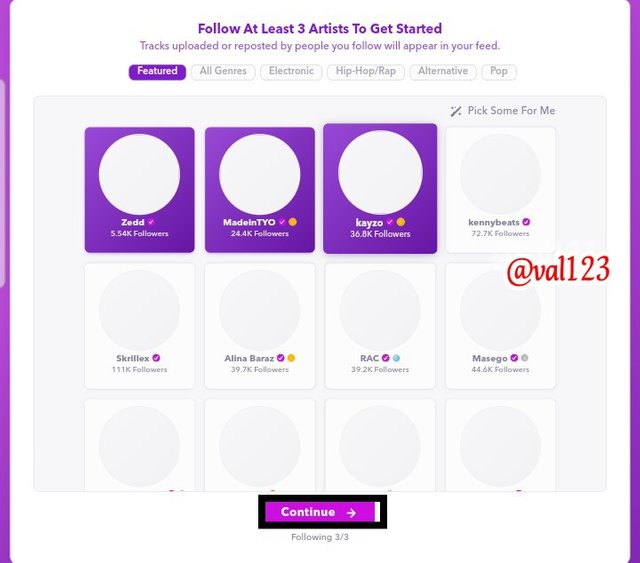 AUDIUS.CO
Then, you have to wait for some minutes so that, you account can be ready to use.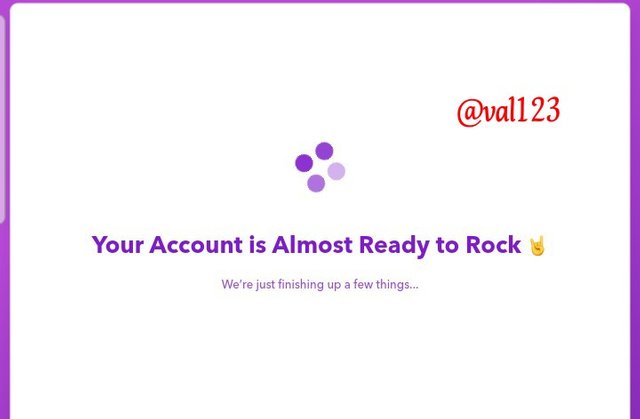 AUDIUS.CO
Boom! I have successfully created audius account. Now am ready to rock!!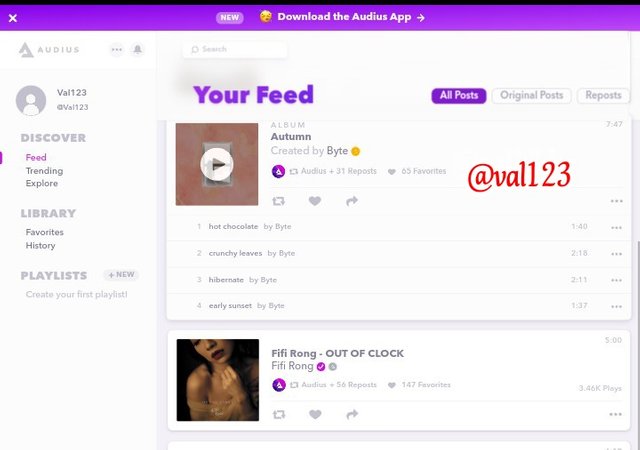 AUDIUS.CO
---
No.(5) EXPLORE AND EXPLAIN THE FEATURES AVAILABLE ON THE AUDIUS APPLICATION OR WEBSITE. (SCREENSHOT REQUIRED)
---
Lets look at the following features on Audius website
---
AUDIUS FEED
---
Now your feed is the homepage of different audios for you. Its personalized to you. The the homepage consist of musics from all the artist you are following and more. also consist of repost from all the artist that you are following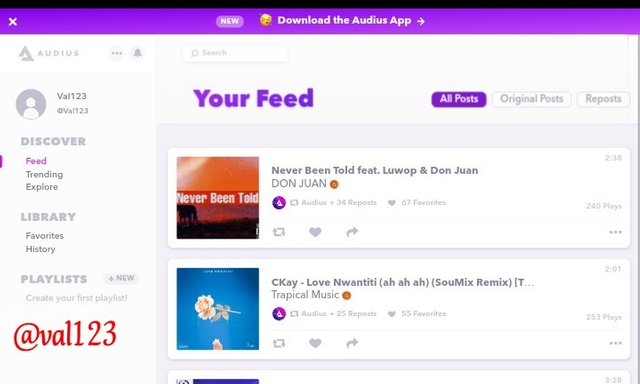 AUDIUS.CO
You can also change that if you only want musics from only the aritist you are following. You can do tha by clicking at the top right of the page. There are two options provide, which are all post, original post and repost You can choose on original post to be only seeing musics from the artists you followed.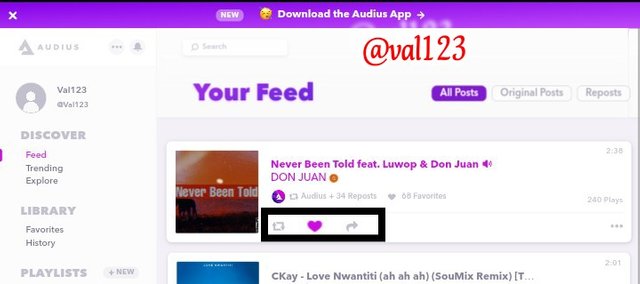 AUDIUS.CO
Now, on the feed, you can click on any music to start playing, you can also like the music my clicking on the like button, you can also repost the song so that people followed you can be able to see it. You can also share the track.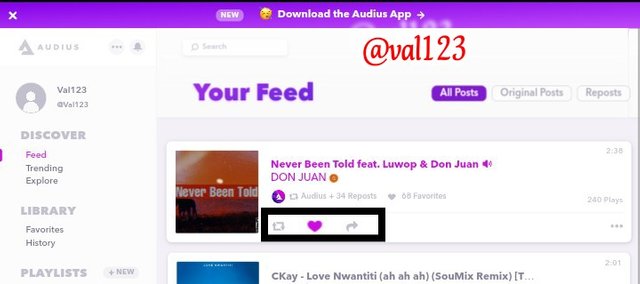 AUDIUS.CO

AUDIUS.CO
The track you selected, you can also add it to your playlist. There are more options when you click the three dots by the right. Whereby you select any of the option.

AUDIUS.CO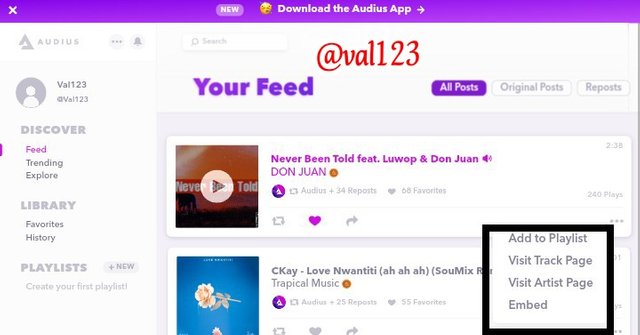 AUDIUS.CO
Now, i clicked on visit track page it displays and i saw other more information about the tract and also more tracts from the artist.
You can also visite the artist page, and see his profile details. Like followers , how many tracks uploaded and you can choose to follow him by clicking the follow button.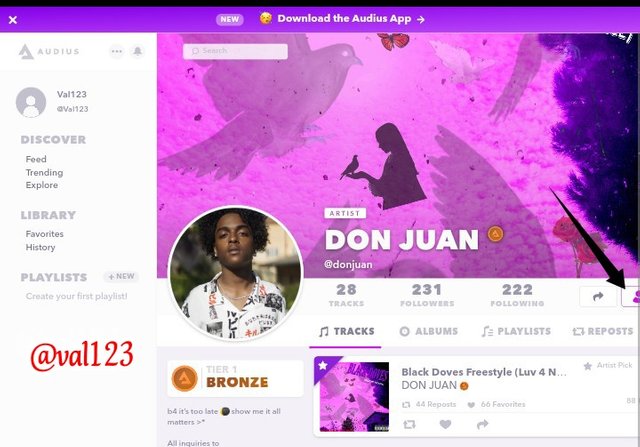 AUDIUS.CO
---
PROFILE
---
Now we are going over to my profile. To do that, click on the displayed name located at the top left side of the page.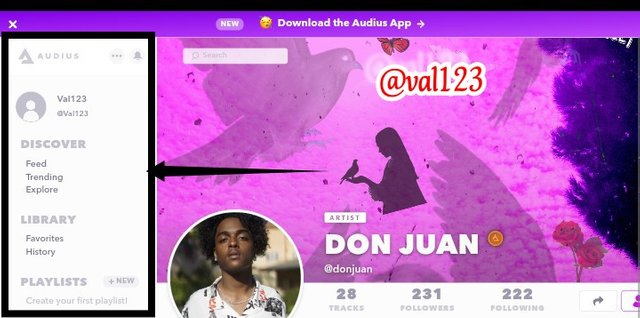 AUDIUS.CO
Now, looking at the screenshot below, it shows a bar, signals that my profile are not yet complete, though i just created it. If you upload a song, it will be showing below the page. As you can see , i was informed that i haven't uploaded any track.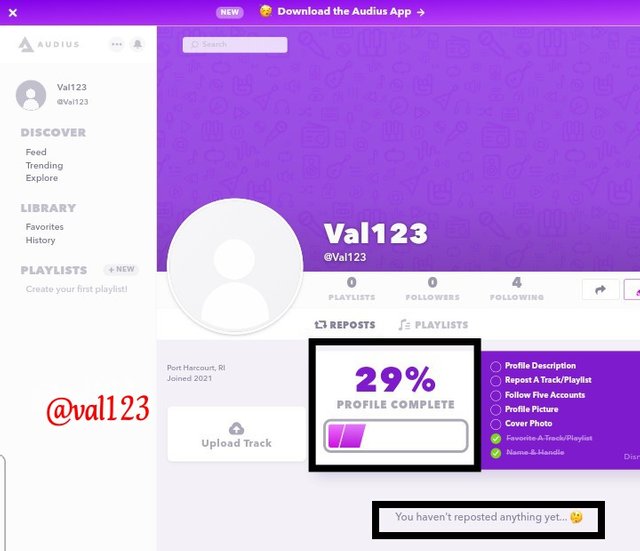 AUDIUS.CO
Now, to add a photo, i clicked on edit page. Now i can select the photo i want to use. You can also write a description, like your bio or so. You can choose location, add your twitter handle and instagram handle. If you have a website, you can also upload the web address in it. Then click on save changes.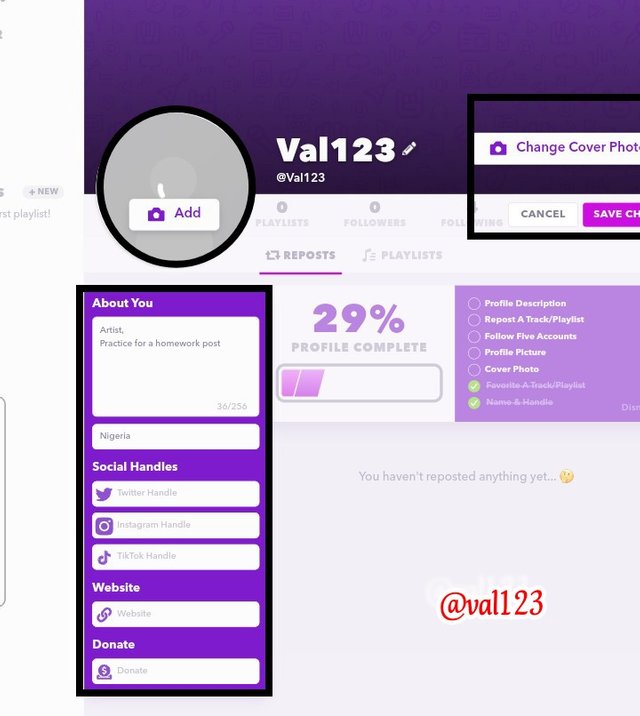 AUDIUS.CO
---
DISCOVER NEW MUSIC
---
Now, lets look at discovering new music. As you can see on the page, under my profit, around the area the wrote discover, now under it, will see both feeds, trending and explore. Now lets go over to feeds first.
The feed is just viewing all songs that was uploaded, or resposted. You can scroll down and see more and more of it.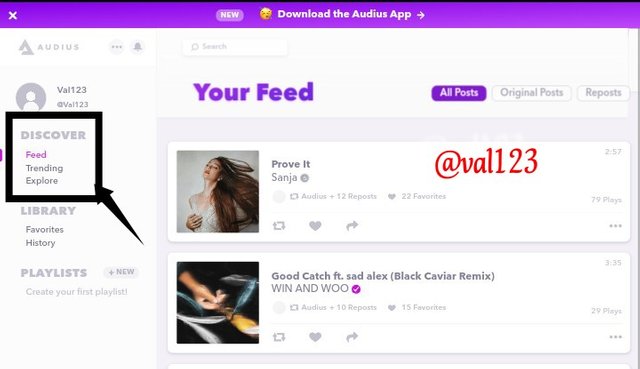 AUDIUS.CO
Now, clicking on trending, this shows the top most tracts or popular tracks that has been uploaded. We can also view, trending musics for the week, months and all time.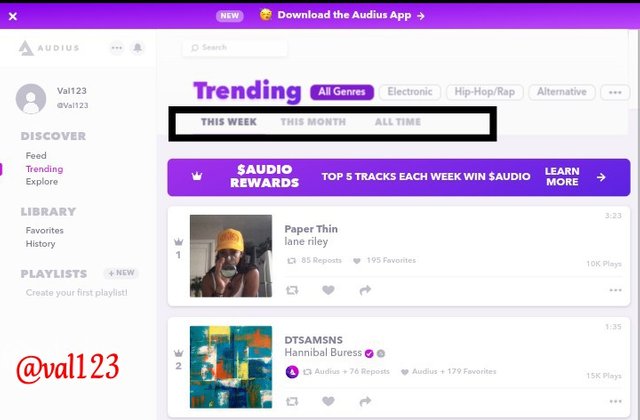 AUDIUS.CO
Now, i click on this week and then click all genres. At audio rewards i clicked it. Which you say, a statement that says " the top 5 track of this week receives a 100$ audio. Also, the top 5 playlist of the week receives a 100$ audio.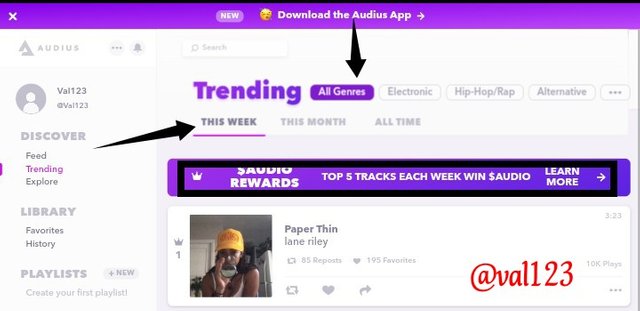 AUDIUS.CO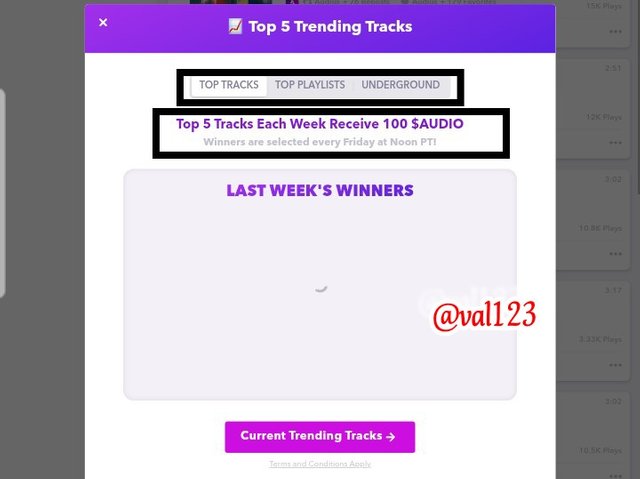 AUDIUS.CO
Then we can click on explore, we you see songs for you that is based on your likeness or favourite.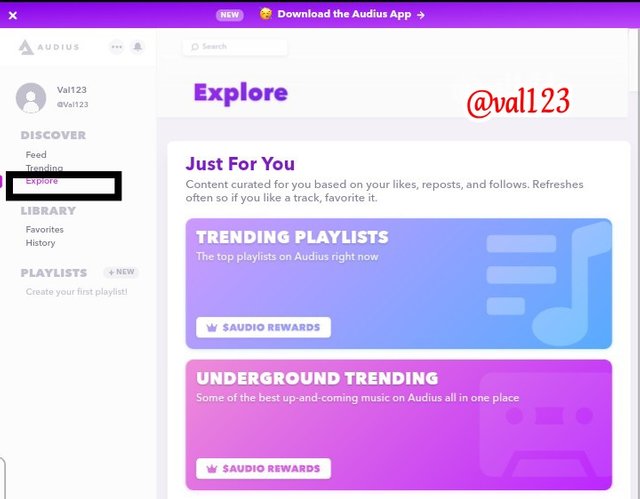 AUDIUS.CO
---
PERSONAL LIBRARY
---
When you click on favourite. This is where we can view songs that we favoured and also all the album that we favoured.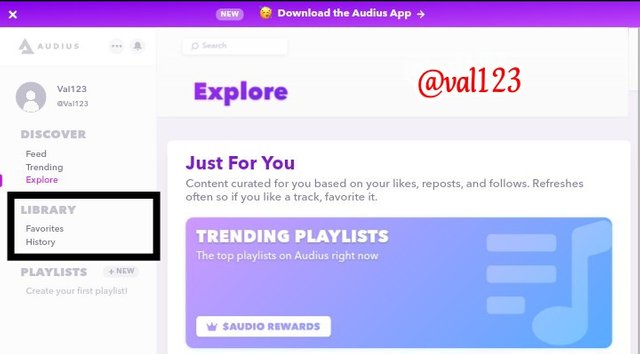 AUDIUS.CO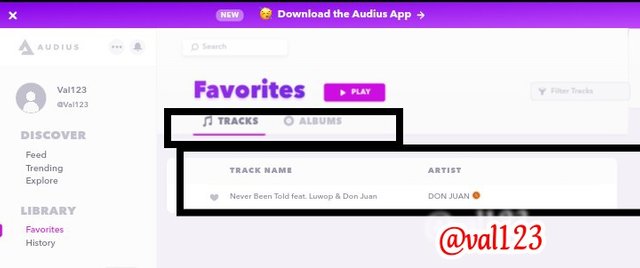 AUDIUS.CO
We can also go to history. Here we can see the history of everything we were able to played. As we can see, it says that i haven't listened to any track yet.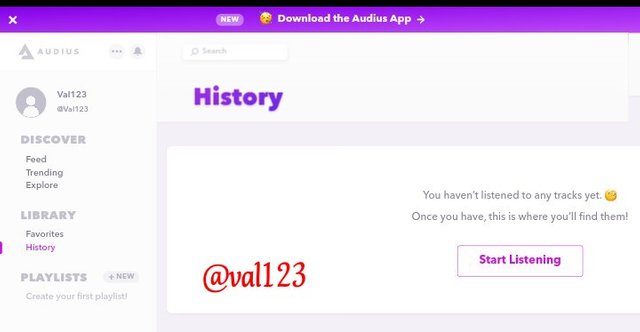 AUDIUS.CO
---
PLAYLIST
---
At the playlist, once you like any playlist, it will display under. You can also add your own playlist by clicking on new.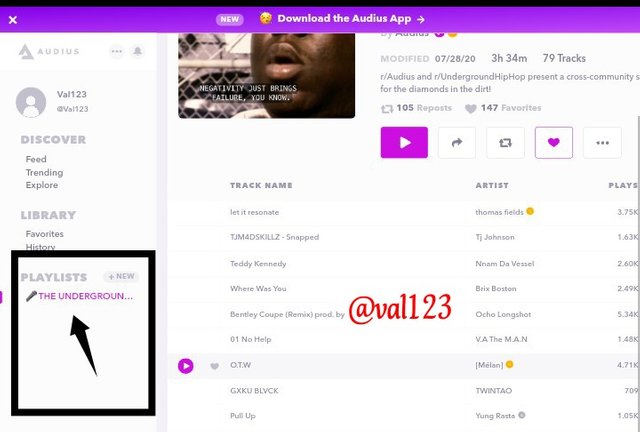 AUDIUS.CO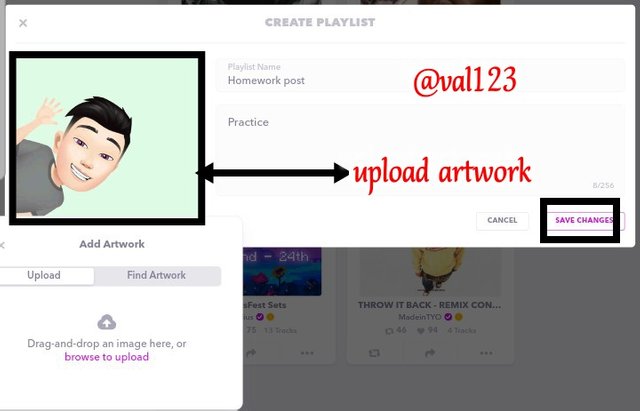 AUDIUS.CO
As you can see on the image below, i have created my playlist successfully, but though i haven't added any track to it.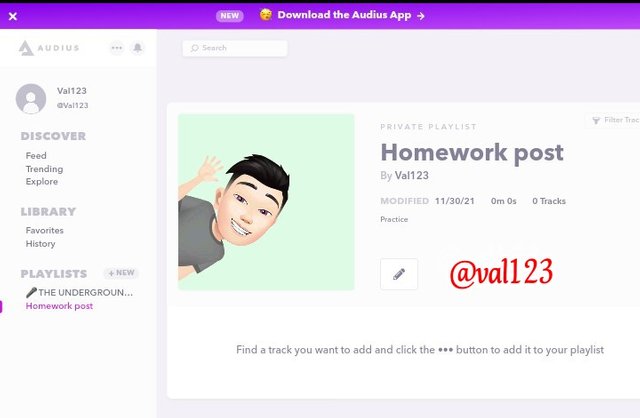 AUDIUS.CO
---
SETTINGS
---
Now if you want to go to settting, at the top left side of the page, where you will see 3 dots. Click on it, there will be a pop up, click on the settings. Now we have verifications, incase you have a verified account on twitter or instagram, you can do the verification, so that you will get verified. The settings you see dark mode, review, get destop mode in app and etc.

AUDIUS.CO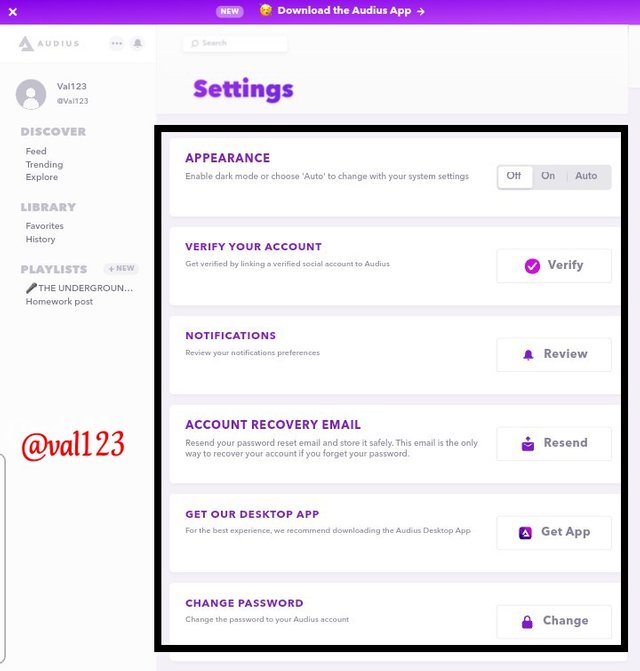 AUDIUS.CO
---
$AUDIO AND REWARDS
---
Now, go back to the 3 dots, click on $audio & rewards. Audio is the cryptocurrency of the audius playform. Now you can be able to see your audio balance, you can also send some audio to people. And you can also receive audio token by copying your address and give to the person. You can also connect your metamask wallet to it.

AUDIUS.CO
Also, you can participate on contest in order to win audio token.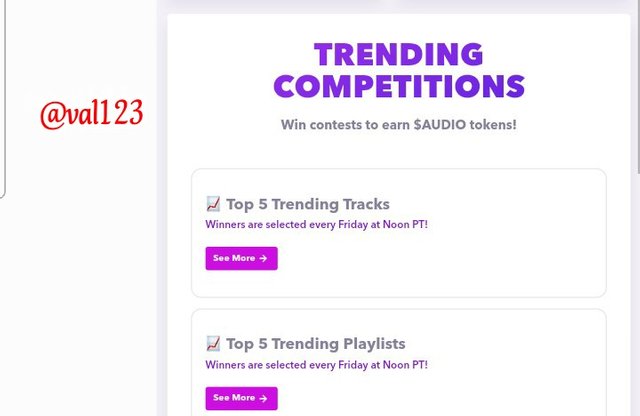 AUDIUS.CO
---
No.(6) EXPLAIN IN DETAIL HOW THE MECHANISM OF UPLOADING MUSIC CONTENT ON AUDIUS.
---
There are processes pass through before a music content can be uploaded. Each nodes have different types of role they play on.
Now, we have the music creator, which is the person uploading the track, when the creator uploads his content it moves to the content node.
Now, the data will be transcoded and the goes back to identifying tools used to identify the track, this tool is called reference code.
After that, the data that is being connected to this reference code wiill be copied to another two more content nodes
Now from this two content node, tracks from audius will be attached or devoted to owners profile. I.e the music creator who uplaoded the track. With the aim of metadata.
Now after th attach, a discovery node will elevate and list the transaction.
Now after this, the content will be successfully uploaded.
---
No.(7) UPLOAD YOUR ORIGINAL MUSIC TO AUDIUS AND SHOW THE PROOF USING A BLOCK EXPLORER. (SCREENSHOT REQUIRED)
---
UPLOADING MY ORIGINAL MUSIC
---
At the page, the left downside of the page, you will see upload track click on it.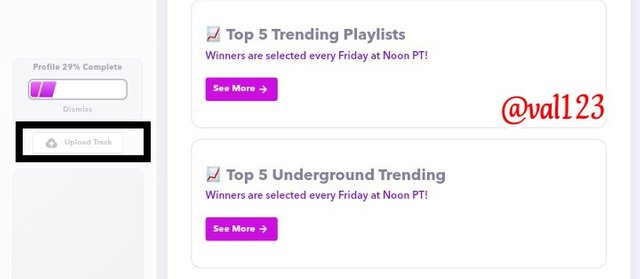 AUDIUS.CO
Now the page display, at the center, where there is something like arrow, click it, and it will lead you to your file storage where you can select your music to uplaod.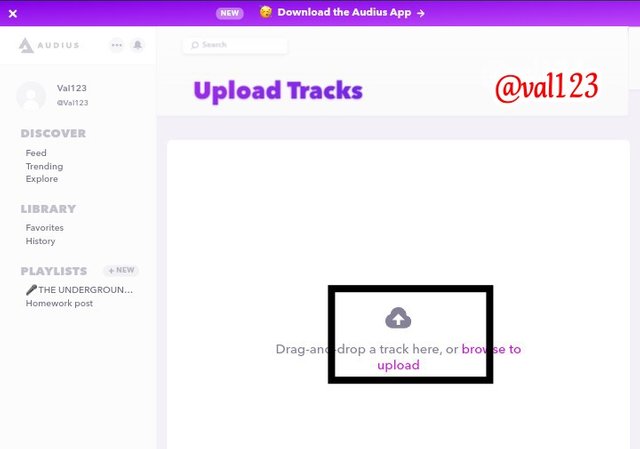 AUDIUS.CO
Now, it lead me to my music storage, then i selected one of my song which i recorded.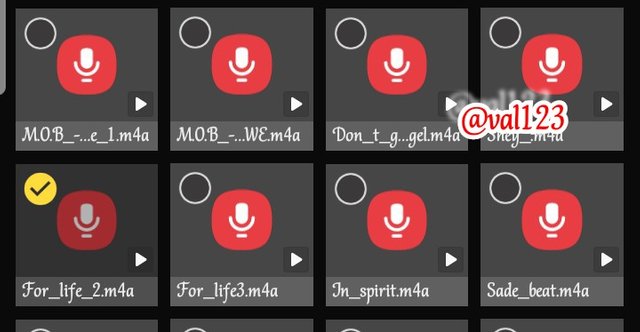 AUDIUS.CO
Now, select wether is tracks or album or playlist you wish to upload. I selected track and click on continue.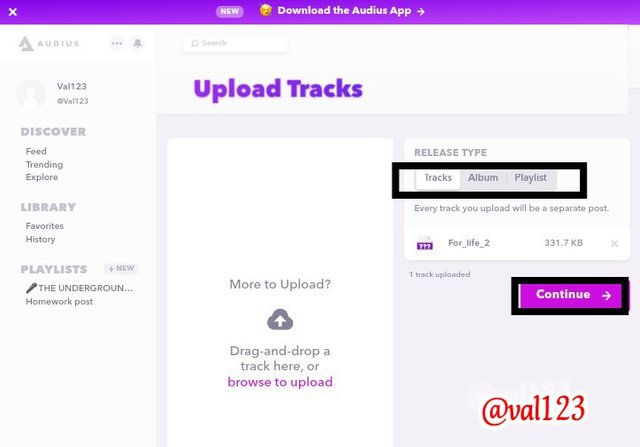 AUDIUS.CO
The next page will display, asking you to complete your tracks by upload artwork and description. You can also select the type of genre you want. You can also add some hash tag in the tag button provided.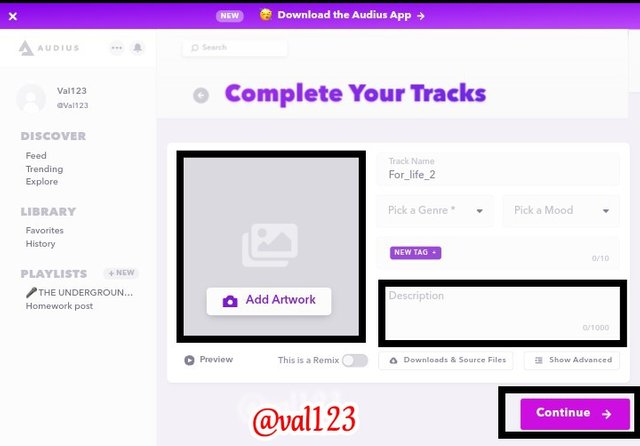 AUDIUS.CO
Now my song is uploading, I have to wait for some minutes.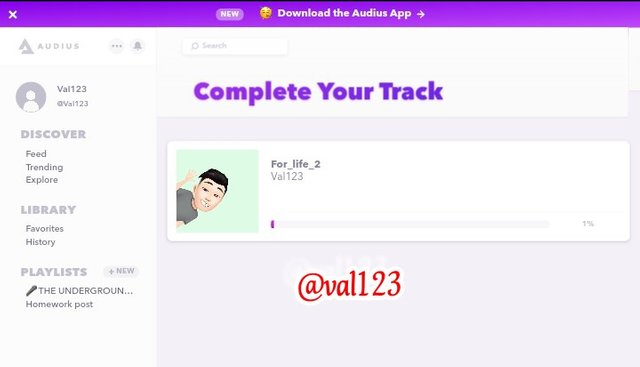 AUDIUS.CO
After the uploading was completed, i click on view track page.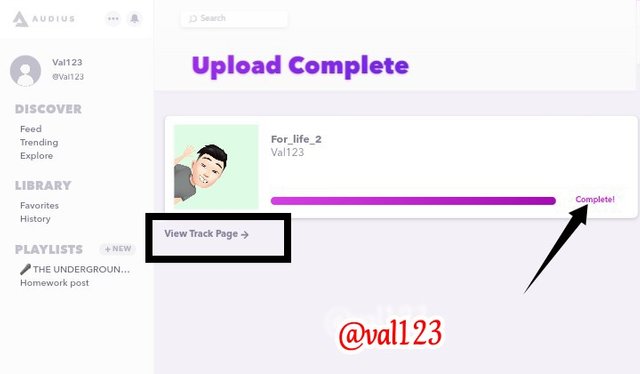 AUDIUS.CO
Boom!! My track has be uploaded successfully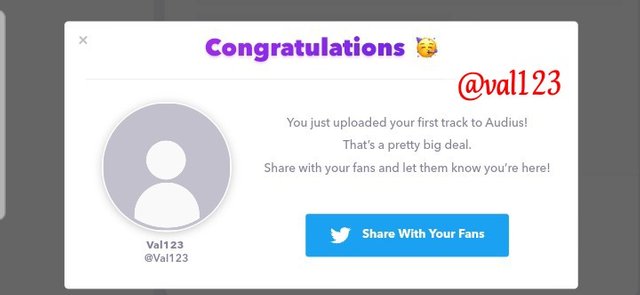 AUDIUS.CO
---
IN CONCLUSION
---
Audius aims in promoting artist and also a decentralized platform that allows music creators to publish their music by themselves with involving any middle man. This is a great project in blockchain technology and we tend to see more and more wonderful features to come. Professor @wahyunahrul has provided a wonderful in which i benefitted from it.
Thanks for stoping