Crypto Academy Season 3 Week 8 Homework Post for (@pelon53) Predictive markets with blockchain technology
The professor this week created a detailed course paper on predictive markets in blockchain technology. I read the professor's course article. Then I started researching to prepare the homework.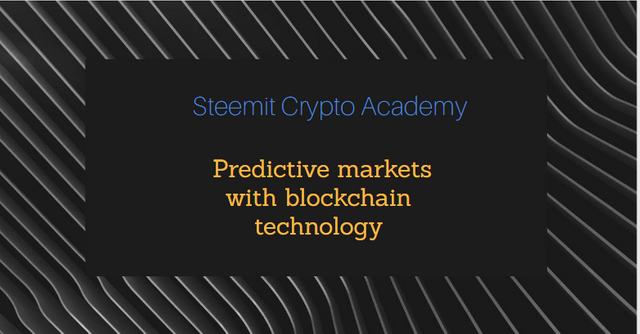 P
1.- Create 5 questions that can be used in the Predictive Market. And explain what 2 of them consist of. Be creative and explain in detail.
Answering this question is both enjoyable and somewhat thought provoking. I can say that I put a lot of thought into creating creative questions. I thought one of the questions, several of them, should be related to the Steem blockchain.
Will a new hardfork occur on the Steem blockchain until December 31, 2021 (UTC 23:59)?
a) Yes $0.80 b) No $0.20
The last hardfork on the Steem blockchain took place about 1 year ago. As of 2016, more than 25 hardforks have taken place on the Steem blockchain. This equates to an average of 5 hardforks per year. There are some existing issues with the Steem blockchain. We can fix these problems with a new hardfork. In addition, the Steem blockchain has to adapt to new developments in the industry. I think a new hardfork is needed for all this. There are hardworking and successful witnesses on the Steem blockchain. But some of them don't even have any posts, where are they? What are they doing, I have no idea?
The Steem blockchain needs a new hardfork, but there is no development related to the hardfork. Therefore, there will be no new hardfork on the Steem blockchain until December 31, 2021.
Because it will take a long time to start hardfork studies, test them, inform and then persuade witnesses and the Steem community.
I think 0.2 ratio is good.
Which company will be the first to announce that payments will be made in crypto until December 31, 2023 (23:59 UTC)?
a) eBay $0.1
b) Amazon.com $0.2
c) Apple $0.3
d) None $0.4
Today, the interest of companies in crypie is increasing day by day. First, Facebook made positive statements about paying with cryptocurrency. Although Facebook has set a roadmap, it has struggled to overcome some hurdles. Then, last year, it announced that it will provide Paypal payment service. Most recently, Tesla announced that it will be paid with Bitcoin. Although they said that they gave up on this after a few months, they announced that they would start paying with Bitcoin again.
It is wondered which company will be next after PayPal and Tesla. The eBay CEO has announced that they are considering paying with cryptocurrencies, but this is not an official statement yet. A while ago, news spread that Amazon will pay with cryptocurrencies. However, Amazon denied these claims. Apple is the quietest of them all. Of course, Apple will one day agree to pay with cryptocurrencies, but when?
Among these options, I see eBay as the strongest option. eBay becomes the first company to officially announce payment in cryptocurrency within the specified period.
Will Steem be listed on a decentralized exchange with an average daily volume of at least $100M until November 31, 2021 (UTC 23:59)?
a) Yes $0.7 b) No $0.3
Will Bitcoin change the consensus algorithm until June 31, 2025 (UTC 23:59)? Can it switch to Proof of Stake or Proof of Stake versions like in Ethereum?
a) Yes $0.75 b) No $0.25
Can the value of the Cryptocurrency market exceed $4 Trillion by January 31, 2022 (UTC 23:59)?
a) Yes $0.65 b) No $0.35
Note: In case of any uncertainty or disagreement in the results, @pelon53 will be appointed as the referee.

2.- Explore Polymarket, answer and explain the first 2 questions in the Crypto category. Show screenshot.
Polymarket is a decentralized application running on the Ethereum network where investors can bet on politics, cryptocurrency, health, etc.
To discover Polymarket, it is necessary to visit https://polymarket.com/.

To fully explore the Polymarket, we need to be a member. There is a space at the top where we need to write Email to register. Let's write our email address there and click "Sign up".
After completing the verifications sent to our email address, our membership process is completed.

Let's first look at how to make a deposit. Click on 'Deposit' in the top right.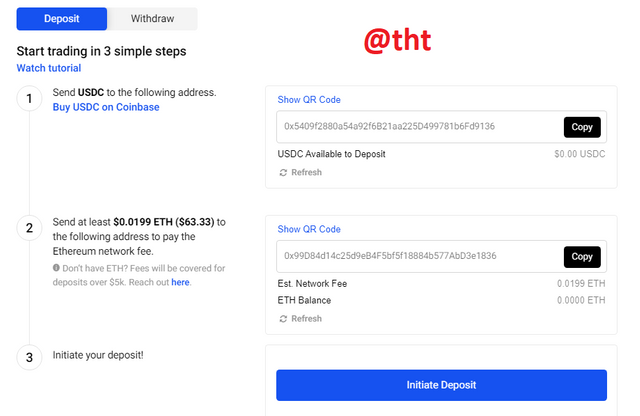 We have the possibility to deposit with USDC and Ether. If you are going to invest with Ether, you must deposit at least 0.0119 ETH ($63.33). You should not miss this warning because of the fee fees. The minimum deposit amount is constantly updated.

There are alternative payment methods. These; Peer-to-Peer (Polygon), Metamask and Credit or Debit Card. While the Peer-to-Peer (Polygon) method is free, other methods have changes in the fee and minimum deposit amount.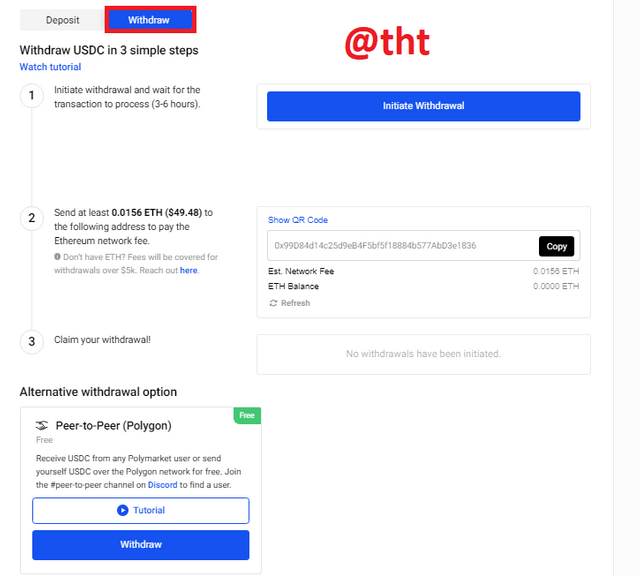 If you want to withdraw, you need to click on ''Withdraw'' next to ''Deposit''. You can perform ''Withdraw'' with USDC, Ether and alternatively Peer-to-Peer (Polygon) method.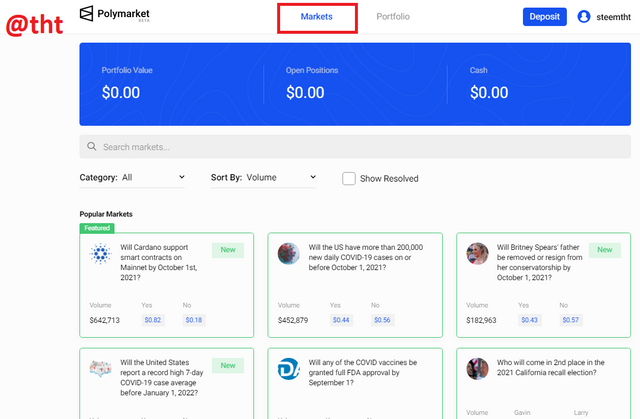 Now let's move on to the Market part. To see the options in the market, click on the "Market" option at the top. In the screenshot you see the most popular options in the market. As you can see in the screenshot, many bets on cryptocurrencies, Covid19, magazines and elections are open.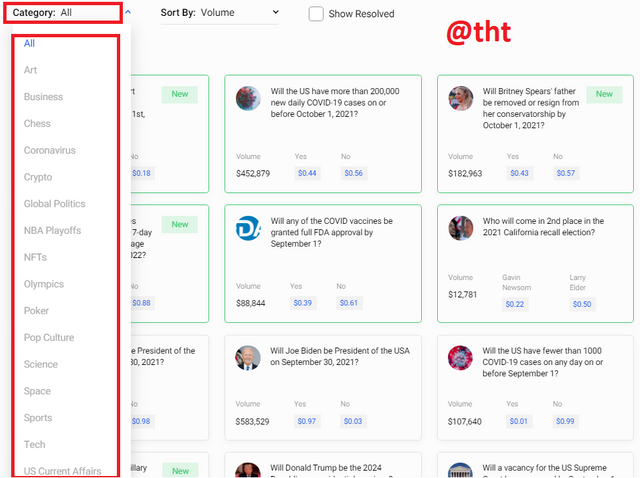 We can also select individual categories, for which we will use the "All" option to see all the bets in the market. Like Art, Business, Chess.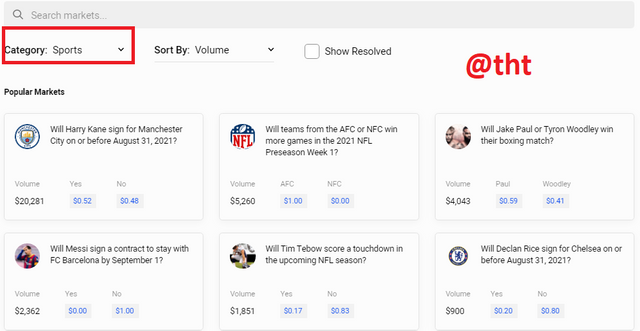 For example, I chose Sports. There are 6 bets on sports. Each has its own volume and odds.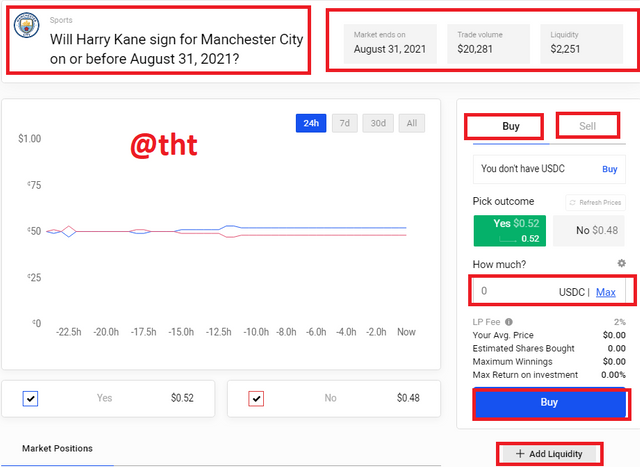 I clicked on it to get the details. Harry Kane is being asked to transfer within the specified time. I clicked on it to get the details. Harry Kane is being asked to transfer within the specified time. It will expire on August 31, 2021. You can also see the volume and liquidity in the screenshot. There are also related graphics.
You can also generate income by clicking the "Add Liquidity" section below. You earn LP fee. The LP fee is 2%.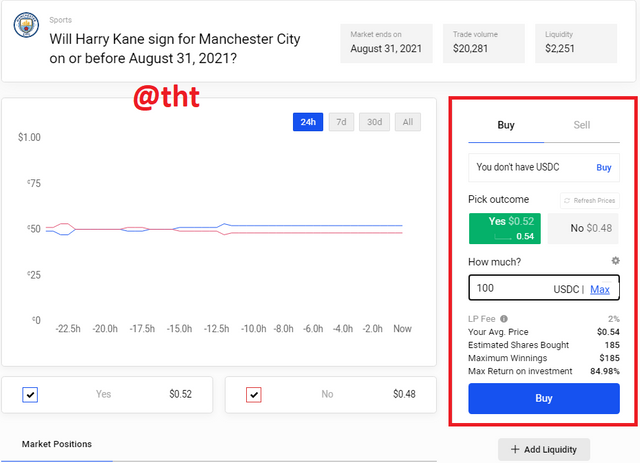 When you enter the amount where it says "How Much", it will give you some details. You can complete your transaction by clicking on the Buy and Sell options.
Any uncertainty in this bet will be resolved by the Market Integrity Committee.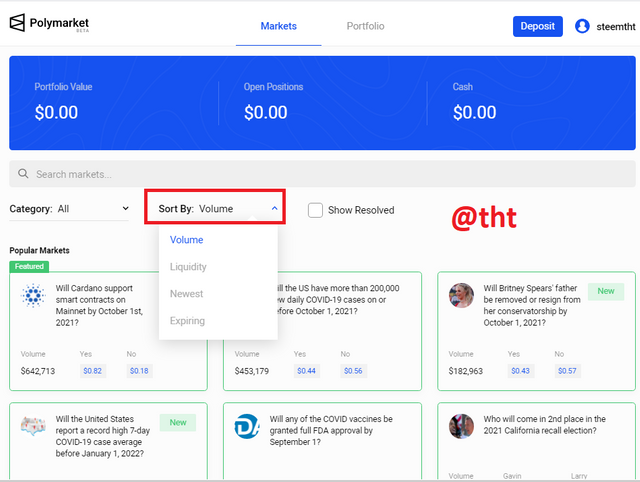 If you want to make a ranking on betting issues, you can arrange them as Volume, liquidity, newest, expring.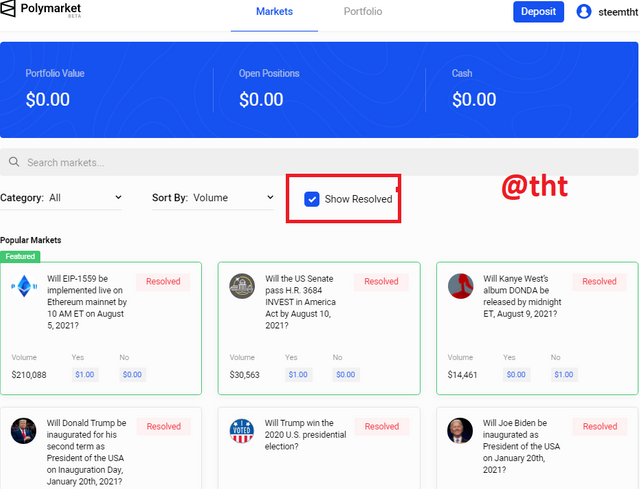 When you click on "Show Resolved", you can access the finalized issues and details about them.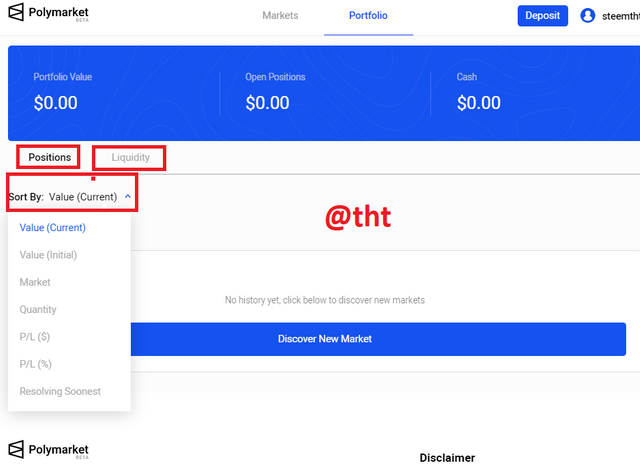 Click on 'Portfolio' and you will see the selections you have made. In the Liquidity section, you will see the liquidity you have added. You can also sort into various categories by clicking on the place I marked at the bottom.

At the bottom of the page Contact, Privacy Policy, Terms of Service, How it Works, FAQ , Blog and Disclaimer
There are parts. A little further down there are links to social media accounts.
First 2 questions in the crypto category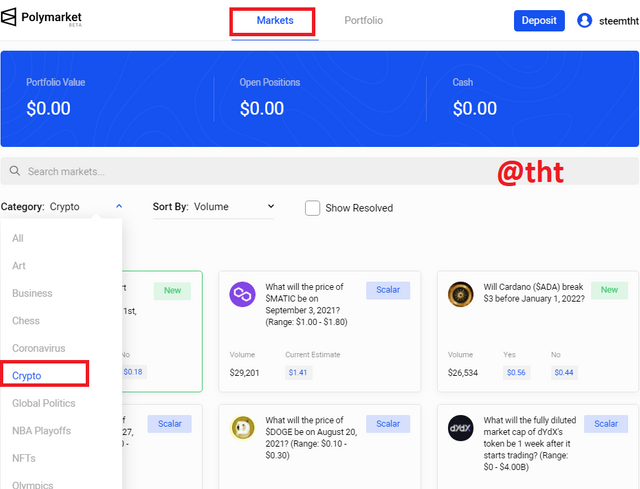 Click Market first to see the top 2 questions in the Crypto category. Then find "Crypto" in the category list and click it.

The first question is about Cardano, one of the popular blockchains of recent days. The other question is about the MATIC price.
1.Will Cardano support smart contracts on Mainnet by October 1st, 2021?
In this bet, you can make purchases, sells and generate income by providing liquidity. Bet closing time is October 1, 2021. Total volume: $642,713. Liquidity $12,723
Yes: $0.82, No: $0.18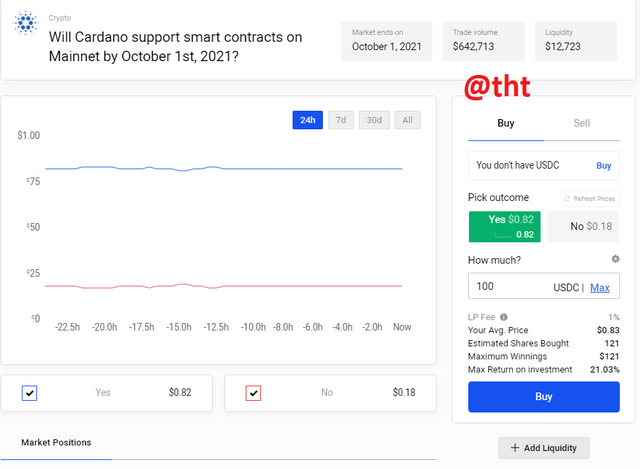 Cardano is one of the most popular projects of the last period. The Cardano blockchain has made significant advances over the past year to date. With these developments, the ADA price has risen considerably and is among the top 5 cryptocurrencies. Of course, the rise of the ADA price is related to the news on the Cardano network and is directly related to this question.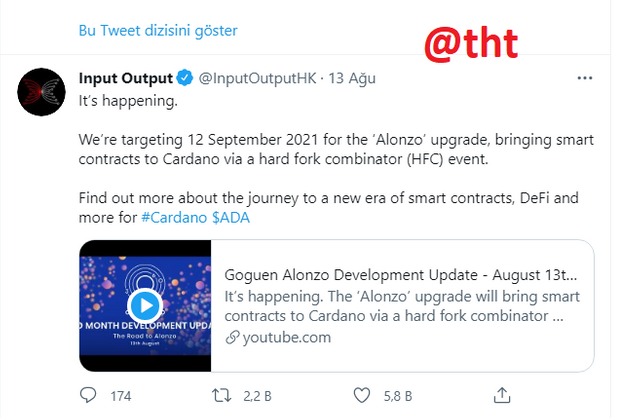 "Alonzo update" is required for the implementation of smart contracts on the Cardano network. The Input Output company announced that the update that will launch smart contracts on the network will take place on September 12.
Although a date has been given, there is no exact date for this update. There may also be a delay. However, smart contract update in Cardano network will happen before the time specified in the question and Cardano network will support smart contracts.
Smart contracts are very important for the Cardano developer team and the Cardano community. Everyone is working hard to complete the network's smart contract support process in a very short time.
In this regard, my preference is "Cardano network supports smart contracts within the specified time". In the event of a dispute or uncertainty, the Market Integrity Committee will provide a solution.
2.What will the price of $MATIC be on September 3, 2021? (Range: $1.00 - $1.80)
In this bet, you can buy, sell and generate income by providing liquidity. Bet closing date September 3, 2021
is . Total volume: $29,329. Liquidity $3,806
Long: $0.55 , Short: $0.47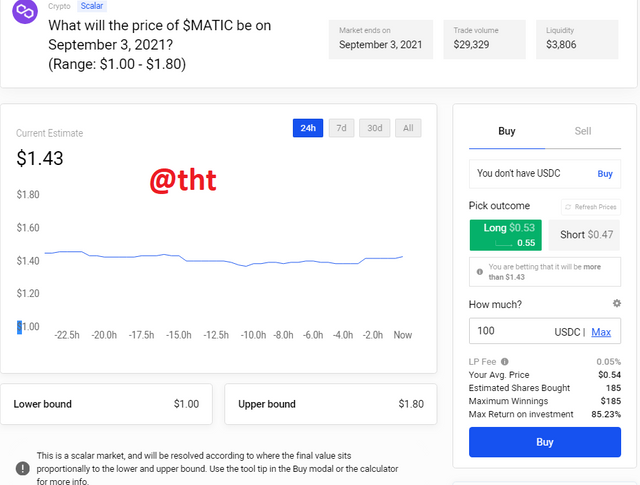 It is asked how many dollars the price of MATIC will be on the specified date. Will it be in the $1-$1.80 range or some other range?


(coinmarketcap)
As you can see in the screenshot, the price of MATIC is currently $1.51 and is within the specified range.


(tradingview MATIC/USDT 4H chart)
MATIC is one of the popular cryptocurrency projects of the last period. It is more efficient than its competitors in supporting smart contracts, scalability and speed. That's why the price is constantly increasing.
Like other cryptocurrencies, MATIC has recovered after the sharp fall. It was as low as $0.600 about a month ago, now it is around $1.50.
As I show in the graphic, there was an event called "Golden Croos" a few weeks ago at MATIC. The realization of this event means that the bear period is over and the bull period has begun.
Therefore, I think the price of MATIC will continue to rise. $1.80 is exceeded on the specified day. The MATIC price will be more than $2 that day. So my choice is "Long"
Since Scalar is a market, Long and Short are used instead of Yes and No.

3.- Explain in detail a Predictive Market project, it cannot be Augur, Gnosis or those explained in class.

I can say that there has been an increase in "Predictive Market" projects in recent years. Users are more inclined towards decentralized projects. Augur, Gnosis, Omen.eth, PlotX and Polymarket seem to be the most popular of these projects. Among these, I would like to mention Omen.eth.
The Omen.eth project was launched last year. It is a project running on the Ethereum blockchain. It also uses xDai Network to solve the scalability issue.
We can say that it is very similar to Polymarket in many respects.

You can sort the topics as categorical and scalar markets by clicking All Markets.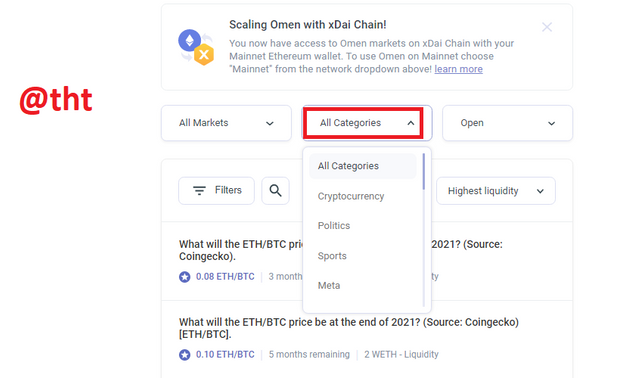 You can select the found categories one by one by clicking All Categories. Omen.eth has categories like Cryptocurrencies, Politics, Sports, Meta, Other, Fun, Arts, News, Poh, Uefa Euro 2020, Movies, Fun, Finance, Dark Forest, Cryptotwitter, Covid-19, Cats, Copa America.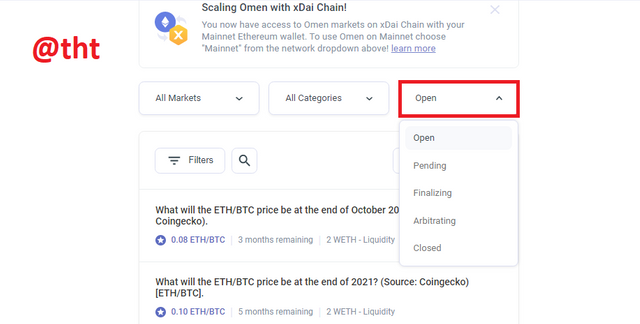 You can sort by 'Open', 'Pending', 'Finalizing', 'Arbitrating', 'Closed' by clicking the place I marked in the screenshot.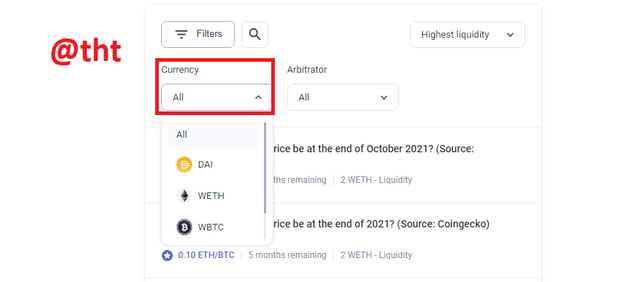 It is also possible to sort Currencies. When you select xDai network, you rank WETH, WBTC and DAI. When you select the "Mainnet" network, you list many more cryptocurrencies. You can also do arbitrator sorting. In the form of Kleros and DXdao.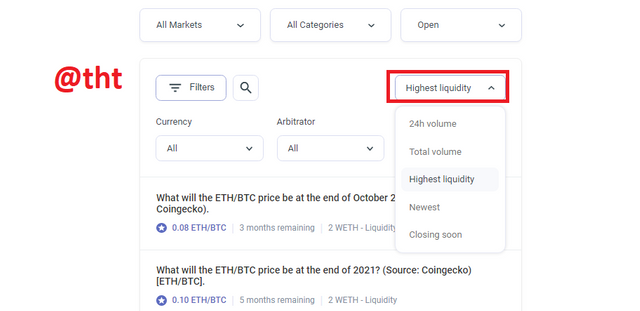 You can make various sortings related to volume by clicking on the place I marked.
Now I will review any topic featured on the platform.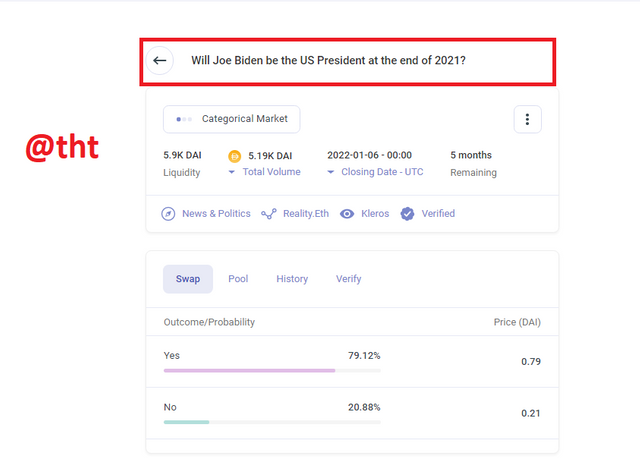 It's about Joe Biden's US presidency. Users vote Yes or No. If Biden stays as the US president at the end of 2021, those who say yes will win, and those who say no if he doesn't stay as president of the US will win.
So far 5.19 K DAI volume has been realized. 5.9K DAI has more liquidity. It will end on 2022-01-06 - 00:00. This topic is in the News-Politics category. Kleros was appointed as the referee.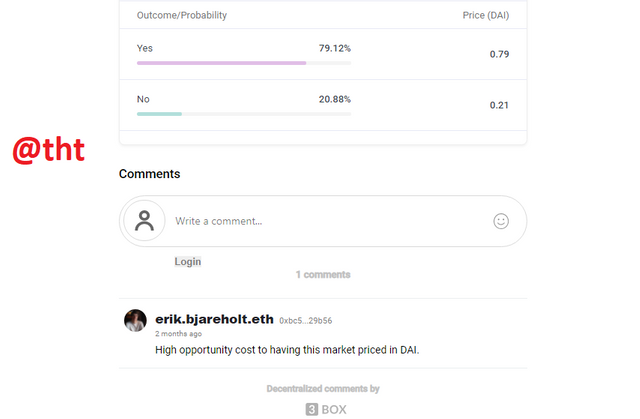 When you scroll down the page a little further, you will see the "comments" section. Users make comments about the subject of the bet.

If you wish, you can open any topic on the platform. You need to click on the place I marked above.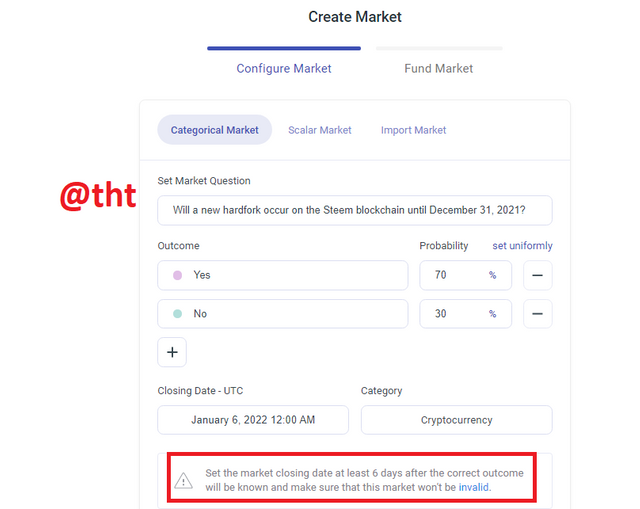 As you can see in the screenshot, I'm about to create a topic. As the subject, I determined one of the questions I created in the first question. Then I selected Yes and No for options. I created a percentage for these options. It's like 70%, 30%.
Then I set the closing date. I set the closing date to be 6 days from now. Because this is requested on the platform.

I also set Arbitrator to Kleros. Then I clicked 'Continue'.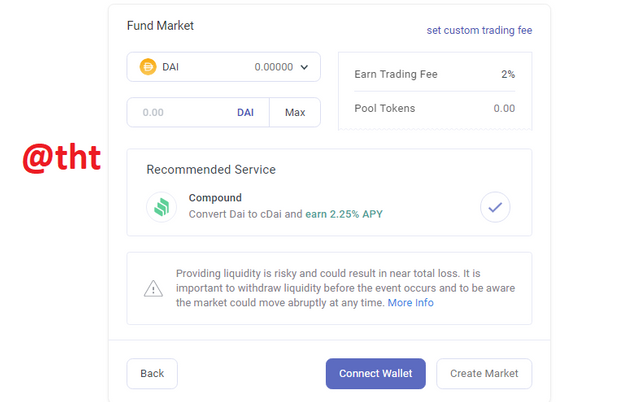 After I made the Cryptocurrency selection, I clicked on "connect wallet".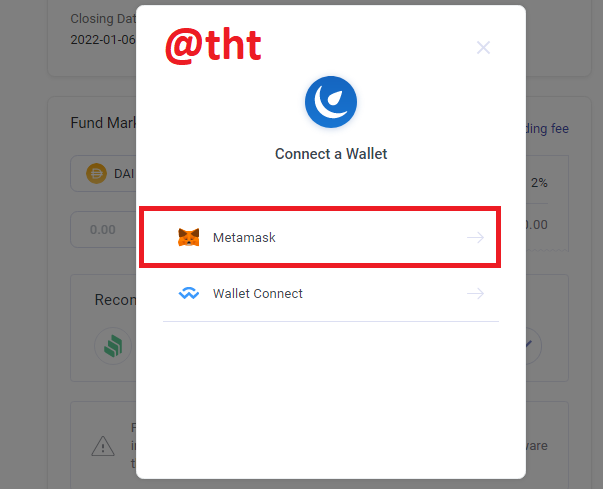 For the wallet selection, I chose MetaMask.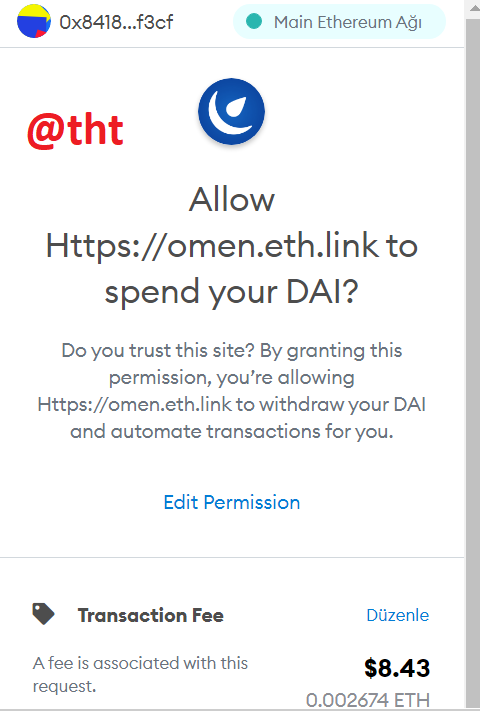 I have to pay a fee to complete the transaction. I cannot process the transaction because I do not have enough funds in my wallet.

As I said before, you can use the platform on two different networks. You can click on the places I marked to change networks. There are options like xDai and Mainnet.

4.- For you, what will happen to Predictive Markets with blockchain technology? Who will benefit from them?
Blockchain technology has started to be used by many sectors today.
Predictive Markets created within blockchain technology are not very popular yet. I think the growth potential is quite high. The first of these projects is Augur. It continues to grow every year. The industry needs a little more advertising. It is a young sector, but the growth potential is quite high.
Predictive Markets and Gambling industry are very similar to each other. There is a very high potential in the gambling industry. According to the news of Forbes magazine this year, it was determined that 900 billion dollars were gambled last year. These are official records only. When we also calculate the unregistered gambling, a 1.5 trillion dollar industry will be created.
Blockchain-based gambling applications are almost nonexistent. Imagine decentralized gambling apps flourish and a $1.5 trillion industry flowing here. The cryptocurrency sector will develop considerably and the market cap will almost double.
It is important to create decentralized applications in the gambling industry. Because gamblers want to withdraw their money safely after winning. With blockchain technology, this can be achieved quite well.
There is a big pie in the gambling industry. Therefore, blockchain developers can realize this and introduce gamblers to blockchain technology.
In addition, since there are no intermediaries in blockchain technology, gamblers can place their bets at higher odds and earn higher profits. In blockchain technology, gamblers have a lower risk of being scammed than traditional methods. All of what I said should be well marketed and some of the gambling industry should be transferred to blockchain technology.

Conclusion
For some reason the prediction markets are currently far below their true potential. However, if the promotion of this sector is done well in the coming years, the real potential of the prediction markets will emerge with the further development of blockchain technology and the integration of more efficient and effective oracles. Thus, the cryptocurrency market will grow more.
Thanks to the professor for this useful course. I hope that I will continue to attend your courses as your student in the next season.
Cc:
@steemitblog
@pelon53