Crypto Academy Season 3 Week 7 Homework Post for (@allbert) Blockchain Oracle
This week, the professor elaborated on Blockchain Oracle. Announced ChainLink, one of the first blockchain oracle projects. He asked us to do a similar research. I chose Band Protocol for the blockchain oracle project. But first, I want to explain what Blockchain Oracle is.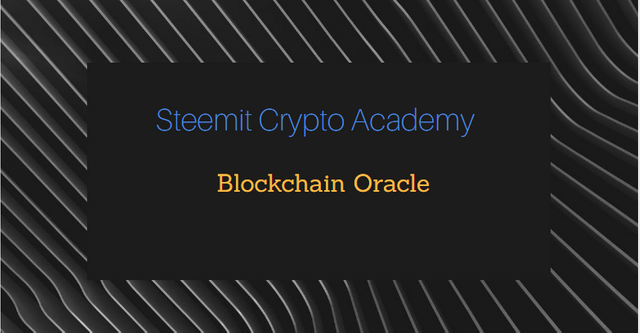 P
What is Blockchain Oracle?
Blockchain is in constant development and change. Before Bitcoin, blockchains were pretty simple. After Bitcoin, blockchains became inclusive. This has become more and more comprehensive after the emergence of Ethereum. However, something was still missing. Blockchains could not have information from the outside world. For example, on Sunday, August 8, he did not have the development to measure the temperature in the city of Madrid. Transferring such information from the outside world to blockchains requires 3rd party services called Oracle.

It sends daily temperature data, the result of the match between two boxers, the election results and similar data from the outside world to the blockchain. The smart contract on the blockchain also decides to whom to distribute using this data.
Blockchain Oracle provides the data flow to automatically fulfill the conditions set in a smart contract.
Blockchain Oracle can ensure the continuation of the operation by providing the data flow between the two networks. For example, the price of a token that is not in the Tron network can be transferred to the Tron network with data. Thus, the interaction of different networks with each other is increased.

1- History and Description. Does it have any token or cryptocurrency associated? Explain.


P
The founders of Band Protocol include Soravis Srinawakoon, Paul Chonpimai and Sorawit Suriyakarn, but it was decided to create Band Protocol with the idea of Sorawit Srinawakoon. It was created on the Ethereum network as an ERC-20 token of the year 2017.
The founders of Band Protocol have a very bright history. CEO Soravis Srinawakoon is a Stanford graduate, software engineer at Ericsson and a management consultant at Boston Consulting Group. The CPO of the project, Paul Chonpimai, is a successful web developer. CTO Sorawit Suriyakarn is a good software engineer.
Band Protocol CEO Soravis Srinawakoon was introduced to cryptocurrencies in 2014. After a while, he founded the gambling platform using cryptocurrencies and earned a good amount of income from it.
The CEO has observed that the quality of communication within the community has been noticed over the course of 3 years. The easy spread of false information, lack of communication, and lack of accessibility were among the main reasons for this. Detecting all this, Soravis thought that he would find a solution with Srinawokoon Band Protocol. He knew that through the tape protocol he would accurately transmit the information to the necessary places.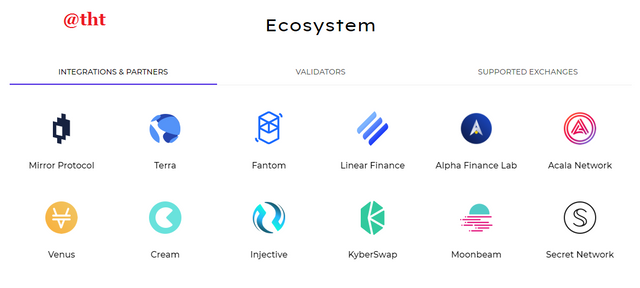 P
Band Protocol has 20-30 employees, mostly from Asian countries. The project is supported by many financial institutions.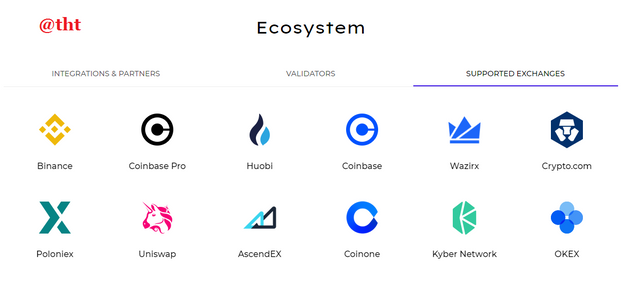 P
As you can see in the screenshot, there are many exchanges that support the project. These exchanges are the strongest and highest volume exchanges in the industry.
BAND tokens were previously created on the Ethereum network as ERC-20 tokens but later migrated to their own network. The name of the network is BandChain. BandChain uses the DPoS consensus algorithm. Hence, it is an efficient, scalable and high-performance network. Also, BandChain is based on Cosmos' product SDK.


P
Band token holders are entitled to a share of the block rewards by authorizing a validator they trust. There are currently 59 validators (active) in the network. As you can see in the screenshot, the block production time has averaged 3.27 seconds in the last 24 hours. The inflation rate is 10.48%. Honestly, the inflation rate seems pretty high.
You can visit https://cosmoscan.io/ to examine the transactions, transfers, etc. in the BandChain network.
Band Token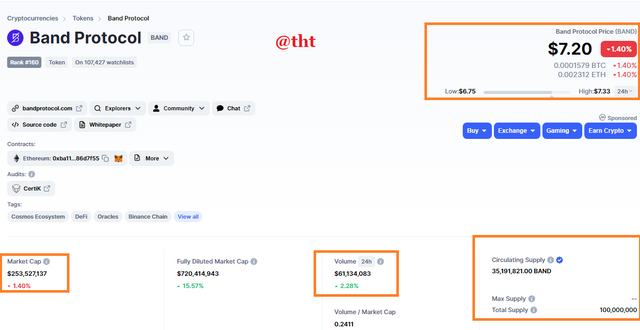 P
Band Token is currently worth $7.20. It has risen as high as $23.19 so far.
Band Token ranks 160th in terms of market cap. Its total market cap is $253,527,137. roaming
There are 35,191,821.00 BAND. The total number of BAND to be produced is 100 million.

2- Functionalities and real-life applications.
It was important that decentralized applications, and especially DeFi, thrived, but something was missing again. Blockchain Oracles like Band Protocol were needed to retrieve data from the real world.
The founders decided to create the Band Protocol due to the lack of available oracles. This project was designed to be fast, safe, cost-effective and highly efficient.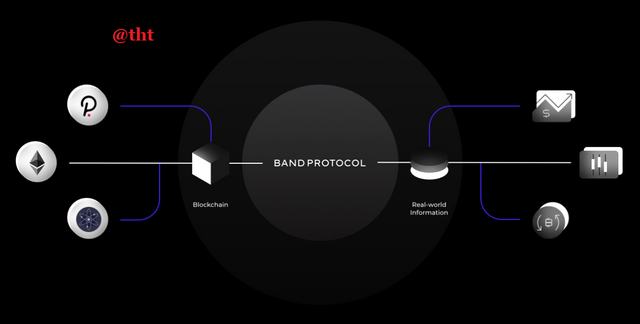 P
Band Protocol describes itself as a reliable, scalable and decentralized and cross-chain data oracle. In the cryptocurrency ecosystem, it collects real-world data, APIs and connects them to smart contracts. These data can be weather, election results, cryptocurrency price, currency price, precious metal price. As you can see in the screenshot, other blockchains also transfer data.
Real Life Example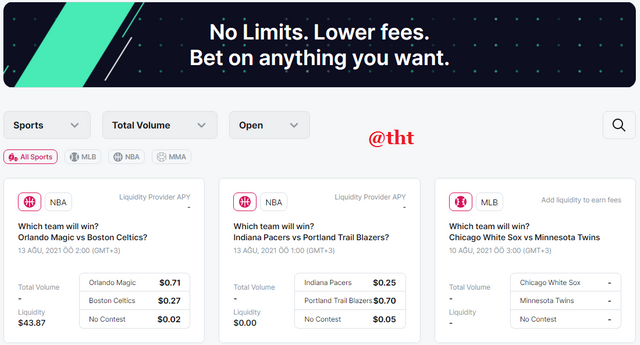 P
Those who have long been interested in cryptocurrencies must have heard of the Augur project. It is a bet-prediction platform built on the Ethereum blockchain in 2014. It ranks 146th in terms of market value. It is a respected project in the cryptocurrency industry.
It has a decentralized structure. It is necessary to use Metamask wallet to connect to the platform.
You can bet on sports such as NBA, MLB, MMA. In addition, it is possible to set your preferences and place bets in areas such as crypto, economics, entertainment, medical, and politics. As Augur is a decentralized platform, it cannot enter betting results one by one. It shows that it is central to settle the bets one by one. That's why Augur needs to get data from the real world. In this case, it also needs oracles.


P
Three days later, an NBA game will be played between the Orlando Magic and the Boston Celtics. Let's say I bet in favor of the Orlando Magic. In order for the bet to be finalized, data flow must be provided from oracles such as Band protocol, ChainLink. When this data flow is provided, the bet I place is settled in the form of win or loss.

3- Pros and Cons.
The purpose of Oracles is to benefit from blockchain technology and produce solutions. Although it may seem very advantageous at first, it should be noted that there are also disadvantages.
Advantages
Today, decentralized applications are getting popular. Some decentralized applications have to pull data from the real world to have full functionality. Oracles such as the Band Protocol provide this data flow.

Band Protocol describes itself as a cross-chain data oracle. It can provide data flow for many blockchains such as Ethereum, Polkadot. This feature is very important, it shows the quality of Band Protocol. It is designed to work in harmony with many smart contracts and blockchains.

Band Protocol is designed to be more efficient, scalable, and faster than existing blockchain oracles due to its DPoS consensus algorithm.

It is resistant and secure against all kinds of attacks. It is not centralized, the process can be monitored transparently.

Band Protocol is easy to integrate into blockchains and is affordable.

Band Token holders have the right to take part in governance.

Band Token holders can earn new tokens by authorizing validators they trust.
Disadvantages
Blockchains such as Ethereum, Cardano, Tron, EOS have emerged so that there is no need for intermediaries or third parties. However, Oracles need 3rd parties for data feeding.

Users may be harmed as a result of data manipulation. To avoid this, decentralized applications use multiple oracles.

Protocol's specification is Band Token. Band Token's inflation is more than 10%. This is a very high rate.

A malicious person can hack the system to make the data flow work in their favor. In this case, users suffer.


P
Most of the Band Tokens are collected in 10 addresses. About 86% of band tokens are located at 10 addresses. This is a negative situation for decentralization.

4- Future developments and new projects
I would like you to visit https://medium.com/bandprotocol/ to closely follow the developments and projects related to Band Protocol and Band token. The developments are reported in detail.
Partnerships Business Developments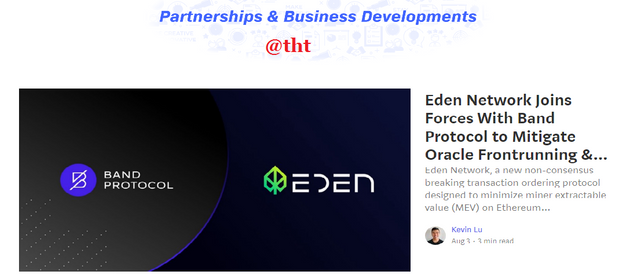 P
3 August 2021
Eden Network Joins Forces With Band Protocol to Mitigate Oracle Frontrunning & MEV Exploitations
With the cooperation between Bant Protocol and Eden Network, the reliability of the protocol has increased to a higher level. Increasing the reliability of the protocol will also increase the reliability of the cryptocurrency sector.
21 July 2021
Omm Finance Partners With Band Protocol For Mainnet Launch of Open Money Market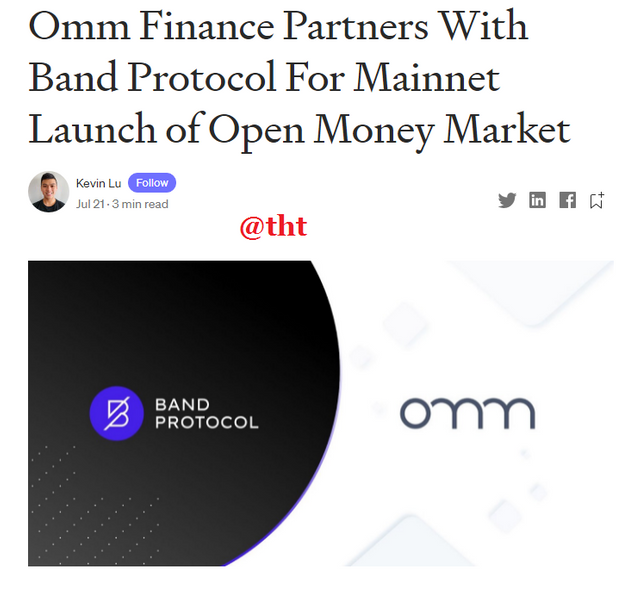 P
Band Protocol is constantly collaborating and making strategic agreements to increase its share in the industry. A collaboration was established between Omm Finance, which is provided with high-level funds, and Band Protocol. Omm Finance is a platform where we can trade and compromise assets.
11 June 2021
Coin98 Wallet Expands Integration of Band Protocol Oracles To Create More Transparent and Better Experiences Over 268,000 Users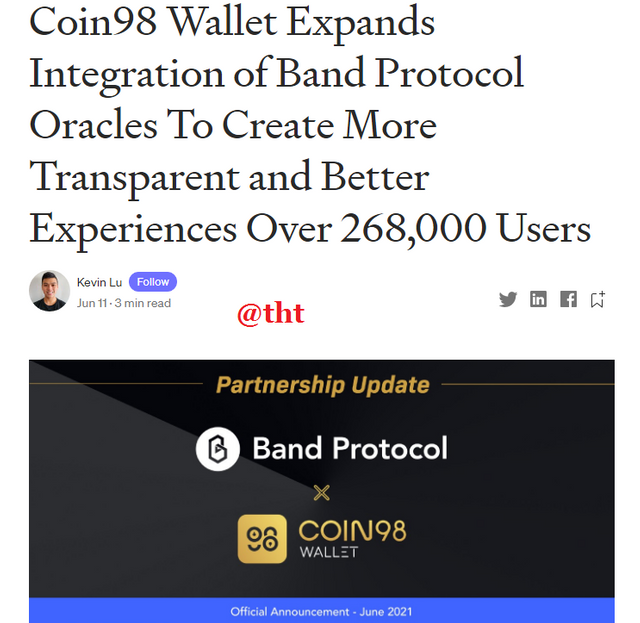 P
Integration work between Coin98 wallet and Band Protocol has been completed. Coin98 wallet supports DeFi applications. The wallet has 268,000 users. The wallet supports many currencies such as USD, JPY, VND, CNY. With this cooperation, Bant Token's market share started to increase a little more.
Community Updates
29 June 2021
BCIP-2: BandChain Laozi Mainnet Official Upgrade Proposal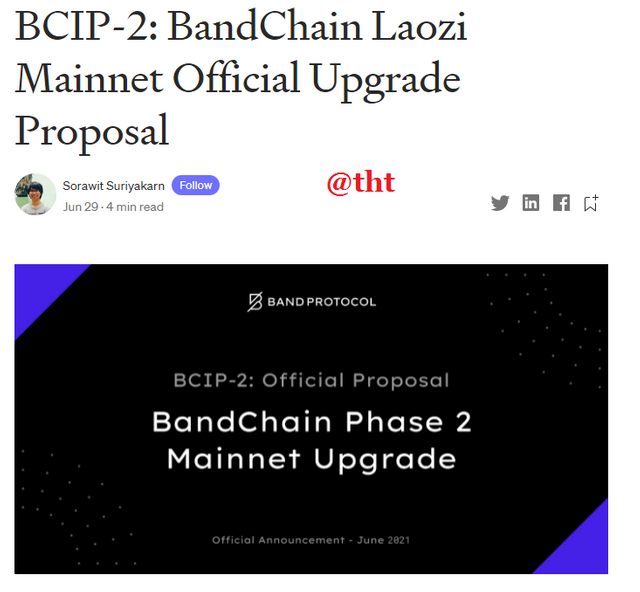 P
In previous periods, Laozi Testnet #1 has performed quite impressively. To maintain and further this performance, migration to Laozi Testnet #2 is needed. Therefore, BandChain improvement proposal was presented to the community in June.

Conclusion
Blockchain Oracles provide real-world information that blockchains cannot obtain, in a data-neutral manner. In this aspect, it has done a great job. They act as a bridge between blockchains and the real world.
Without blockchain oracles, blockchains would have no connection to the real world. They are limited only to the information in their network and their working capacity is limited.
The most popular among blockchain oracles today is ChainLink. Chainlink's most popular competitor appears to be Band Protocol. Band Token has not reached its real value yet. The developers of Bant Protocol are solution-oriented people who know the industry well. Therefore, as Band Protocol evolves, Band Token price will increase rapidly.
Cc:
@steemitblog
@allbert