Steemit Crypto Academy | Season 3 - Week 4 | Blockchain Cuties Universe - Blockchain Games | Post for Professor @yohan2on


Background Image Source designed by : @sexualhealing
Grettings to all users and professors ! I am writing this post in response to the assignment task given by the professor @yohan2on , I really enjoyed your class and really appreciate and thankful to you for your work for the steemit community.

Blockchain Cuties Universe
Blockchain Cuties Universe is a blockchain based collectible video game. It is NFT (non fungible token) based Adventure blockchain game which supports multiple blockchains like Ethereum, Tron, EOS, NEO and MATIC. It means we can use this platform and play this game in multiple blockchains.
There are some characters in this game like Cat, Dog, Lizard, Fox, Rabbit, Own, Bear and so on. You can choose any character as your cutie you would like to. The game is based on War and Adventure. It easy to play and accesible/plable from mobiles also. The basic concept of the game is to own cutie pets, make it powerful using different elements, send pets to the war in different adventures.
It is not limited to the game only even it also provides the feature of staking . It has it's own Governance token called 'BCUG' which you can stake in the platform and earn return of about 25% Yearly APY as per current APY rate.

Features Of The Game
Multiple Cutie Character/Role: There are lots of beautiful cutie character roles that you can choose and own as your cutie. You can buy cuties from the market as per their levels , their character and as per their rarity and nobility.

Crafting or Breeding: You can own your cuties and craft or breed another cuties from them. So we can generate new cuties from breeding or crafting. You can sell them to the market as well.
Marketplace: It has own marketplace where you can buy and sell your character/collectibles, inventories/items etc. You will be able to find all different kind of role or characters, different levels of character , different items, elements etc. in the Marketplace. The best thing is that you can buy or sell using multiple blockchains and multiple wallets.

Staking: Staking is also one of the best features of this platform. We can stake the BCUG token in this platform which is a governance token of Blockchain Cuties Universe developed in Ethereum Blockchain. Currently it is providing 25% of APY Yearly .

Tournaments and Lottery: This Gaming Platform hosts lots of tournaments and lottery regularly where we all can participate and earn rewards if we win there.

Supports Multiple Blockchains: We can play this Game using 5 different blockchains and multiple blockchain Dapps supported wallets. Those Multiple Supported Blockchains are Ethereum, Eos, Tron, Neo and Matic. We can play this game in mobiles also by connecting our mobile wallets to the platform. For example : Metamask and Tronlink .
Upcoming Feature
CutieLand: The platform recently hosted a presale of the lands which they called it as Wars of Cutielands. It is in development phase so it is not ready and not available currently but i personally feel that would be very awesome and awaited feature that will lead the game to another level. According to their posts and platform, there lots of features will be available in lands like we would be able to build our own city and design the land and keep different elements .
Lands will look like this according to Blockchain Cuties Universe website:


Source:

Gameplay and User Experience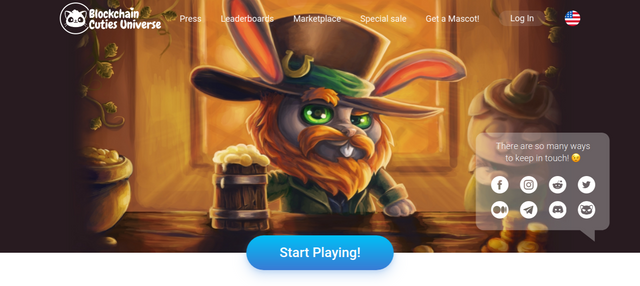 Source:
Visit https://blockchaincuties.com/ on your laptop or PC Browser to access the Platform. If you are a mobile user then visit from or paste the link into your mobile wallets' browser . There are lots of options available to login like email and other 5 different blockchains are supported . Metamask and Tronlink would be convenient option for mobile users.
---
Click on Start Playing button to enter into the platform.
---
Now the login interface will be shown as showing below:

Source:
---
We can choose any wallet or blockchain we want to login with. Here i am choosing Tron blockchain to login and i am using Tronlink(wallet) chrome extention (i don't recommend login using private key) . When you will click on tronlink, the wallet extention will show a confirmation popup, click on approve to connect your wallet to the platform and login: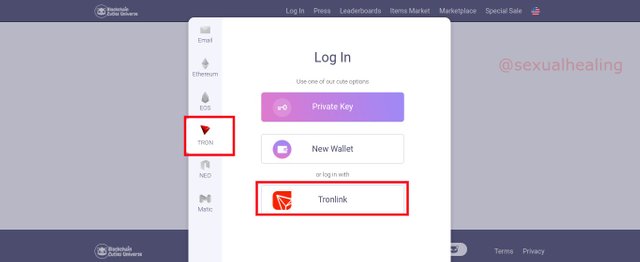 Source:
---
After login it asks for the email and shows you your user name , put your email and you can change your random user name if you want. Submit details :


Source:
---
Now this is the homepage of the platform. We can directly buy our cutie pets from marketplace and own them. It will speed up the process. But if you don't want to invest , still you can play the game. To own a cutie pet click on Tutorial icon and own a cutie pet like i have own. You can see my cutie pet below in the screenshot: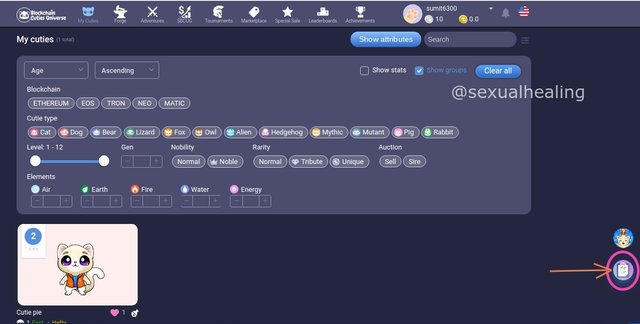 Source:
---
This is the marketplace where we can buy and sell our cutie pets , inventories, consumables, wearables etc. In marketplace there are multiple blockchain supported . No matter what blockchain and wallet we are using, we can easily trade collectibles/pets/elemets here in marketplace :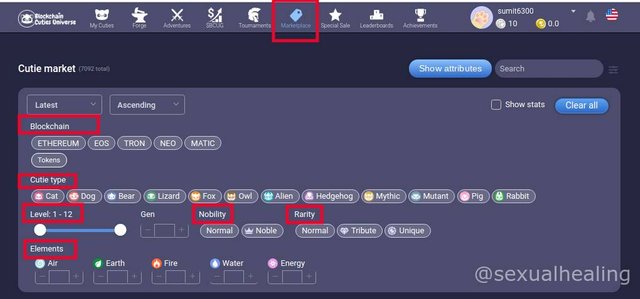 Source:
In the image you can see lots of options are available like multiple blockchains, different levels , different types of cutie pets , different types of elements, their generation, nobility and rarity options. We can own pets as per our wish .
---
When you own any cutie pet , it will show you like this , to play the game click on your cutie pet: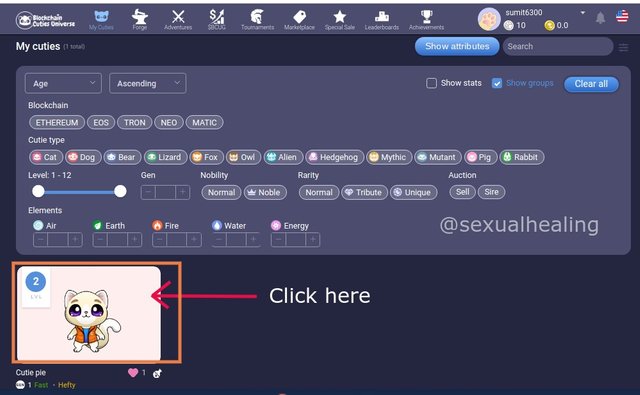 Source:
---
Now Click on Send to Adventure to send your cutie pet to the War with other pets.
If you already own any inventories or consumables then you have to click on use item.
After clicking on Send to Adventure , it will ask in which adventure to send your pet, Choose adventure :
i have choose Mountain Snovy Adventure and sent my pet there .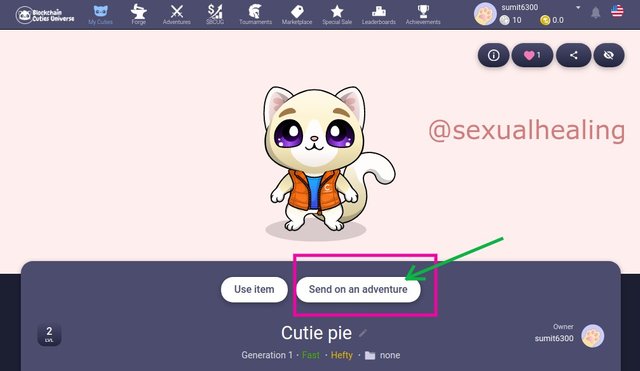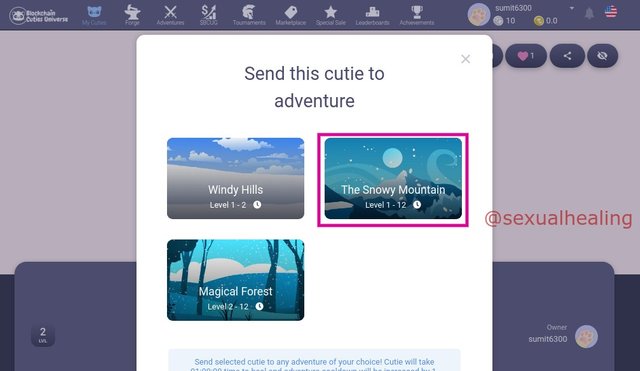 [Source:](
https://blockchaincuties.com
)
---
Now pet will do war with other pets and result will be shown in notification icon, there we can check all results and acheivements: My pet returned winning the war and also some acheivements have been unlocked :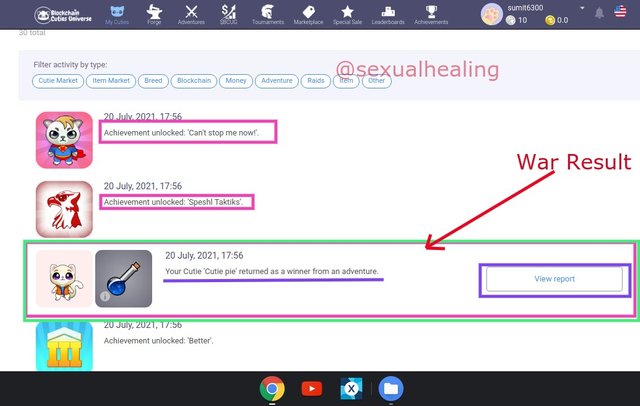 Source:
Here is the result of the war , total earned 315 experience :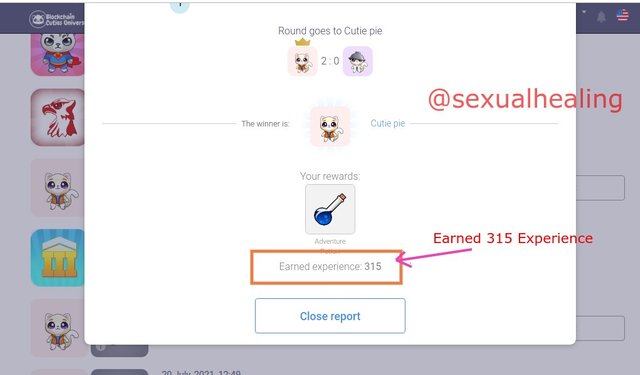 Source:
---
Pet cannot war continuously, this game has been designed as when pet return from battle, it takes time to heal properly and after healing only we can resend our pet to adventure war: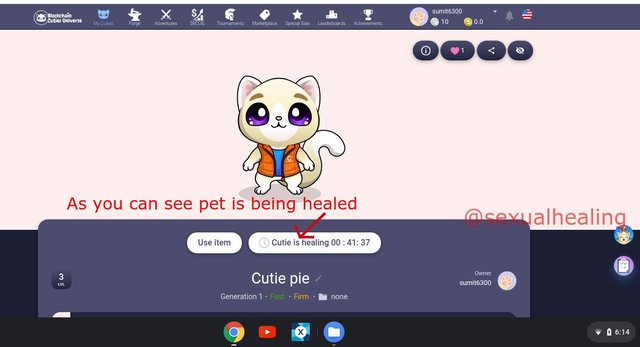 Source:
---
My Gameplay Progress
So, here is my Experience % , Level, Inventory and Adventures Result:
Currently i have reached Level 3 and Earned total 315 Expeirnce . In level 3 i have 4% of experience. When 100% will be completed then it will reach to level 4.
My Pet Won all 10 Adventures batte and 0 Lost. You can see i have gained some inventory elements as well .
I am really enjoying this game , yesterday only i started playing this game.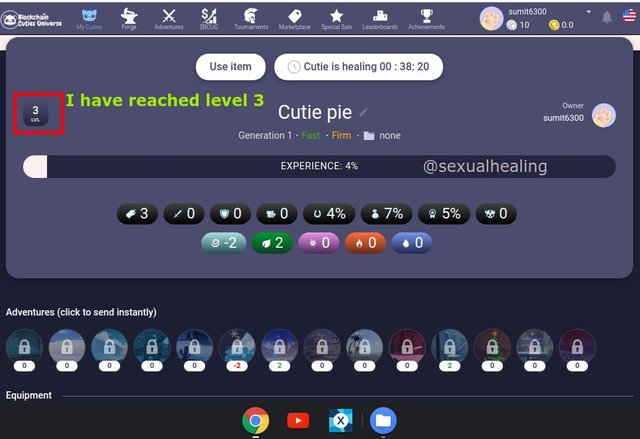 Source: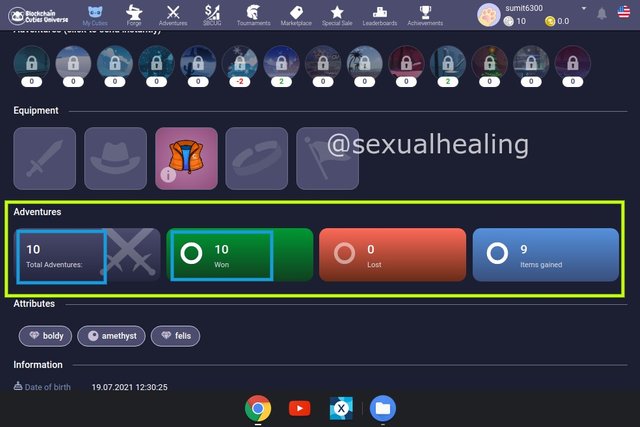 Source:

The Positive And Negative Aspects Of The Game
Positive:
Platform is user friendly for the users to use and understand the platform.
Very convenient to access and use the platform as it supports multiple blockchains and multiple wallets , Easily accessible and playable from mobile as well.
Investment not needed if you want to start the game and learn about the game and platform
Varieties of beautiful pets available (pets are very cute and beautiful), on winnings different achievements are unlocked , different kinds of lotteries and rewards increases the excitements on gameplay.
Inbuilt Marketplace in the platform is a very wonderful feature which makes players easy to trade collectibles or assests .
Negative:
Website interface and graphics is not so good, website design could have been improved.
Multiple unnecessary dropdown menus are which creates confusion to the users, that could have been made simple.
You will need investment if you really want to grow faster and earn from this game.
Mobile app is not available. and this game cannot be played offline.
We cannot play continuously, after every adventure war cutie pets take time to heal according to the level, for me (level 3) it take 40 minutes to heal after every adventure war, it feels frustrating to wait till long time.

My Rating To This Game
I would rate 4 out of 5 as per my personal review of this game. I really liked the concept of the game and my experience was very nice while playing the game. The game is very entertaining and cutie pets are mesmerizing and beautiful . I started my game for free and within 2 days i reached level 3 and lots of other elements i have gained. All these things really made me happy and excited about this game.

Conclusion
Now a days Nft based blockchain games are becoming very popular day by day. It is helping the players to generate income by playing such games. Blockchain Cutie Universe is a beautiful blockchain based game which is really entertaining and fascinating. Gaming in blockchain industry is new and needs lots of improvements to make the games more and more attractive and interesting. Lots of blockchain games and NFT platforms are coming into the market but there is need of innovative products and great features which will lead the blockchain gaming industry to the another level and accelerate mass adoption.
---
Thank you all steemians for reading my post !