Polkadot ecosystem, the Ethereum's Contender - Crypto Academy / S4W7 - Homework Post for @allbert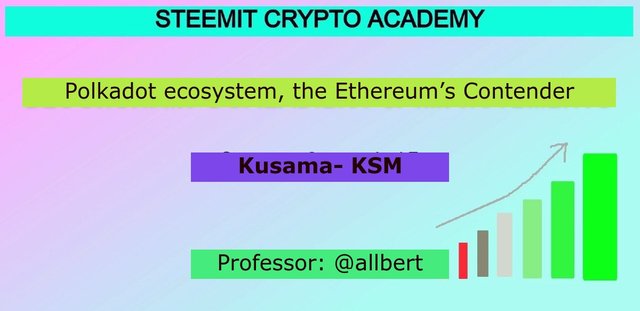 Greetings to all users and professors! I am writing this post in response to the assignment task given by professor @allbert , I really enjoyed your class and really appreciate and am thankful to you for your work for the steemit community.
---
---
---
1-Explain in your own words why you chose it and why do you think it is relevant to the world?
I have chosen KUSAMA as one of the polkadot project which is playing very crucial role in Polkadot Ecosystem because it is a highly scalable, cross-chain supported and highly secured blockchain which is helping the whole Polkadot ecosystem by allowing all innovative projects, developers and testers to build, design, test all their projects in Kusuma blockchain and projects can be launched on Kusama and it can also be deployed on Polkadot Blockchain.
As vulnerable or hacks are very common in online industry, testing and experimenting is very much important for every projects to identify bugs and issues with the program and codes and eliminate issues concerned with the developments and bugs. Kusama is providing all these features to developers and projects to protect the projects. Kusama is similar to polkadot in terms of features and security and all projects developed on Kusama can have access to all the major features that we find in Polkadot.
Kusama is really helping all the project owners, investors, developers, public and whole Polkadot Ecosystem by providing such an amazing platform to build, test and launch their projects in Kusuma and Polkadot Blockchain.

2- Description of the project and its platform. (Screenshots needed)
KUSAMA is a scalable and multi-chain network for innovative projects who wish to launch the projects on Polkadot. It is reffered as a test network (testnet) project for Polkadot Ecosystem. It was built on Substrate and it was created using identical code base to Polkadot. Kusama Plays an important role in testing and checking projects and developments, bugs and issues before deploying the projects on Polkadot . Developers can launch any projects on Kusama as well.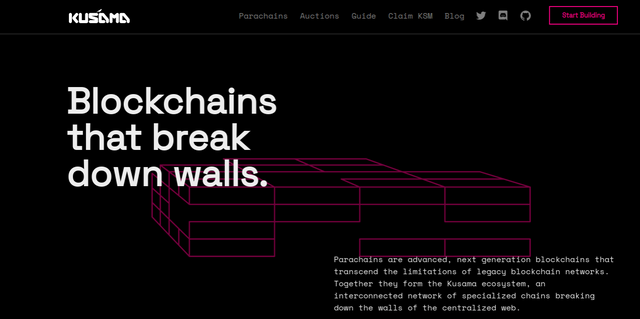 Source:
Why and how Kusama is important for new projects, developers and Polkadot ?
Since Polkadot is a vast blockchain which supports multiple features and components in a single blockchain, it is required to test the projects , find and fix bugs and issues associated in codes and projects to make a successful and bug free projects before implementation or deployment into the Polkadot blockchain. Polkadot is a multichain supported protocol where each projects can pass or get information to and from other chains and projects (parachains and relaychains). Serious bug in any project can bring huge risk for the whole ecosystem. So, testing of projects before implementation or deployment is very much important for the safety of overall Ecosystem . And Kusama is providing this feature to all the developers, testers and projects which is really very important and wonderfully being done by Kusama. Kusama not only provides platform to build even it is a platform to launch innovative projects on Kusama Blockchain.
Here are some projects which were built on Kusama and there are lots of other several projects which were built and are being built over Kusama Blockchain :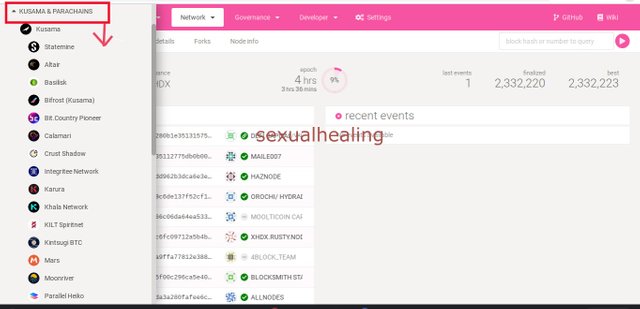 Source:

3- Functionalities and real-life applications. (Screenshots needed)
There are lots of functions and real life applications of Kusuma Network which are really important and useful in blockchain .
Functions of Kusama:
Kusuma provides a platform to build, test and launch projects on kusuma.
All different projects built on Kusama can launch their projects in Kusama and later those projects can be deployed on Polkadot.
Kusama supports and provides all major features in a single blockchain like Cross-chain interaction and transactions , Decentralized Applications ( Dapps), faster blockchain and lower transaction fees which really helps developers as they can access all the features and resources in a single blockchain.
Kusama manage the network by using own blockchain technology.
All projects can mint their own tokens and can build their own independent blockchain for their projects which is really an amazing feature .
Features and Real life Applications of Kusama are as follows:
Crosschain Blockchain Compatibility: Kusama supports multichain protocols which works as bridge amongst other blockchains and projects. Projects built over Kusama can interact with other projects built on kusaman and other blockchains such as ethereum which is really a wonderful feature.
EVM Compatible: Kusama supports Ethereum Virtual Machine mechanism which means any Ethereum projects can move or can be deployed to Kusama blockchain.
Smart Contracts: Kusama has its own Blockchain, own token (KSM) and smart contract compatility for all dapps and web applications. Developers can build their smart contract based projects as well.
Scalable: Kusama is a scalable blockchain which is very faster and cheaper . Developers can scale their sub blockchain as per their requirements and logic. It is faster and cheaper in comparison to other blokchains such as ethereum blockchain.
Independent and decentralized: Projects can mint their own tokens, can build and customize their own sub blockchain as per their projects and requirements.
Dapps Compability: It is suitable for and supports Decentralized Applications. Developers can build and design Dapps over Kusama blockchain. All Dapps and Defi projects can be built on Kusama.
NFT Compatible: Developers can build NFT based projects as well because Kusama blockchain supports and allows to Build NFT based projects on it's Blockchain.
Highly Secure: Kusama is having same powerful security as of polkadot. Kusama helps developers eliminate all errors and bugs during testing of the projects and allows to delopy into kusama and later in polkadot after successful testing and checking all features.

4- Future development and associated projects. (Screenshots needed)
Here are some examples of projects that were built on Kusama Blockchain which supports different features based on type of their project (we can visit This Link to find all Kusama and polkadot based projects):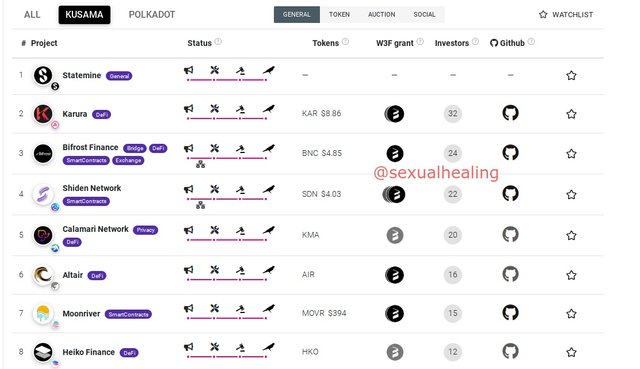 Source:
We can see there are 100's of projects are associated with Kusama and there are varieties of projects which has different use cases and their different projects . We can see all NFT, DEFI, Dapps , Smart contracts features are supported by Kusama .
---
Currently there is no any update from kusama regarding their future developments but Kusama and their developers are working continuously very hard to make Kusama more and more better for all developers, projects and all the prople who are involed in cryptocurrency .

5- Make a technical analysis of the token of the selected platform, then through your validated exchange account make the purchase of the token (15 USD as a minimum). Screenshots and an explanation of the procedure are required.
KSM is the token name of Kusama Platform and it's current market rank is #51 and current total market capitalization is 3 Billion Dollar . It has Circulating Supply of 8,470,098 KSM and Total Supply is 9,651,217 KSM . It's current market price is $382 at the time of writing this post.


Source:
Kusama has been doing very well and we can see consistent rise in the price of Kusama token since it's launch. Technical analysis of KSM token: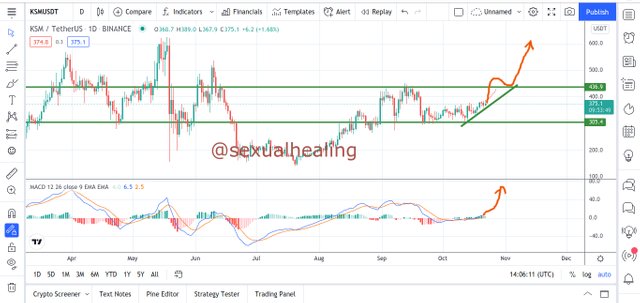 This is KSM - USDT chart on 1 Day time frameand current price of KSM is $375. The price is moving into a channel of $300 to $430 range and we can see candles following trendline support and price is moving consistantly towards upside. There is higher probability that price will first reach $436 area of previous resistance area and will retest it as a support and price will move upside towards all time high price . MACD is also bullish and indicating uptrend price movement in Kusama .
---
---
I am going to buy kusama coin using Binance Mobile app :
Step 1: open Binance Mobile app on your phone: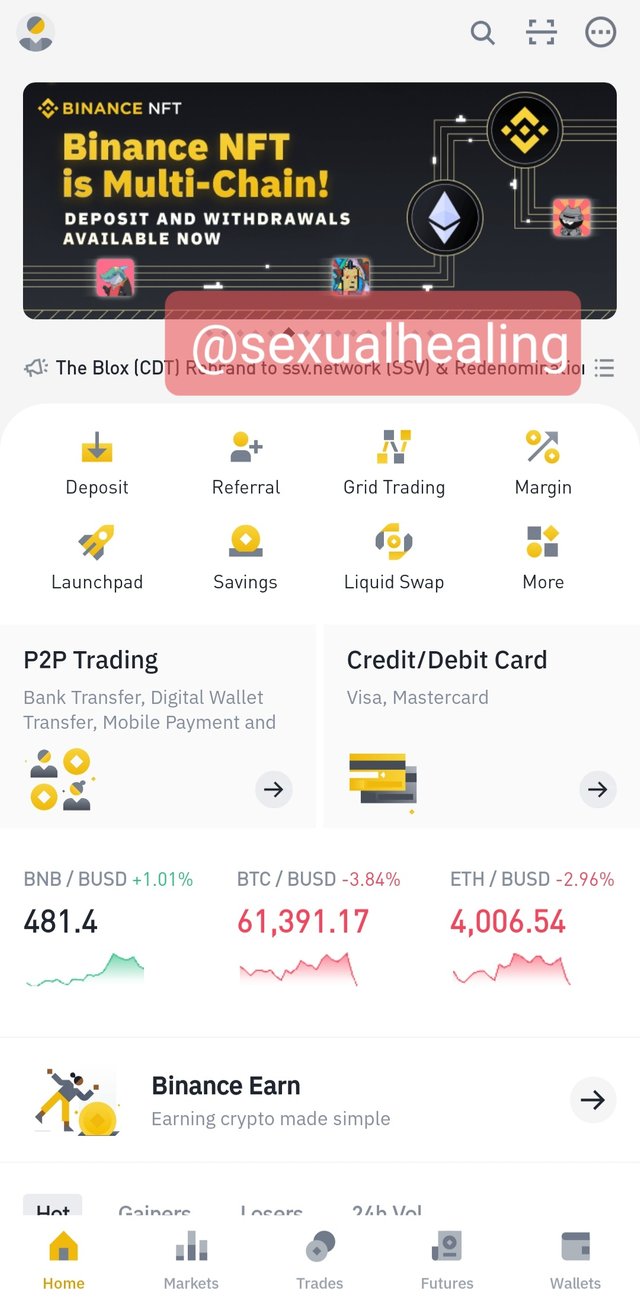 ---
Step 2: Click on Markets and then click on Spot Tab :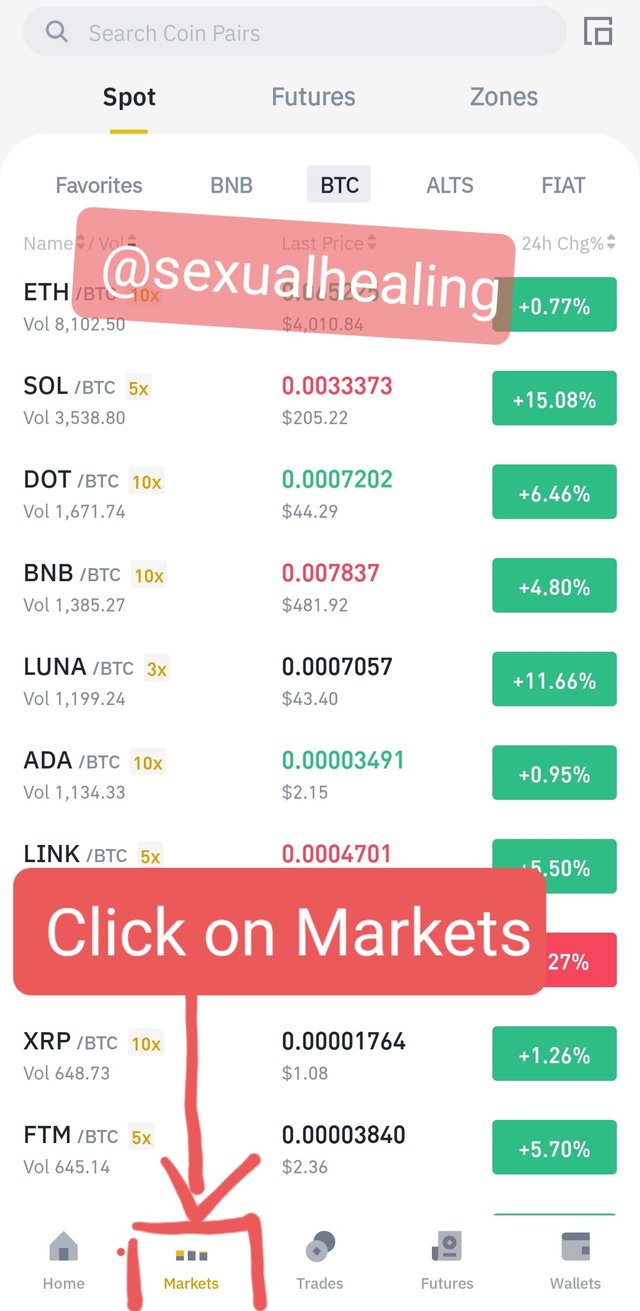 ---
Step 3: Now you can find or simply search as ksm to buy or trade on ksm pair (choose pair which you want to use, in my case i have chosen ksm usdt pair :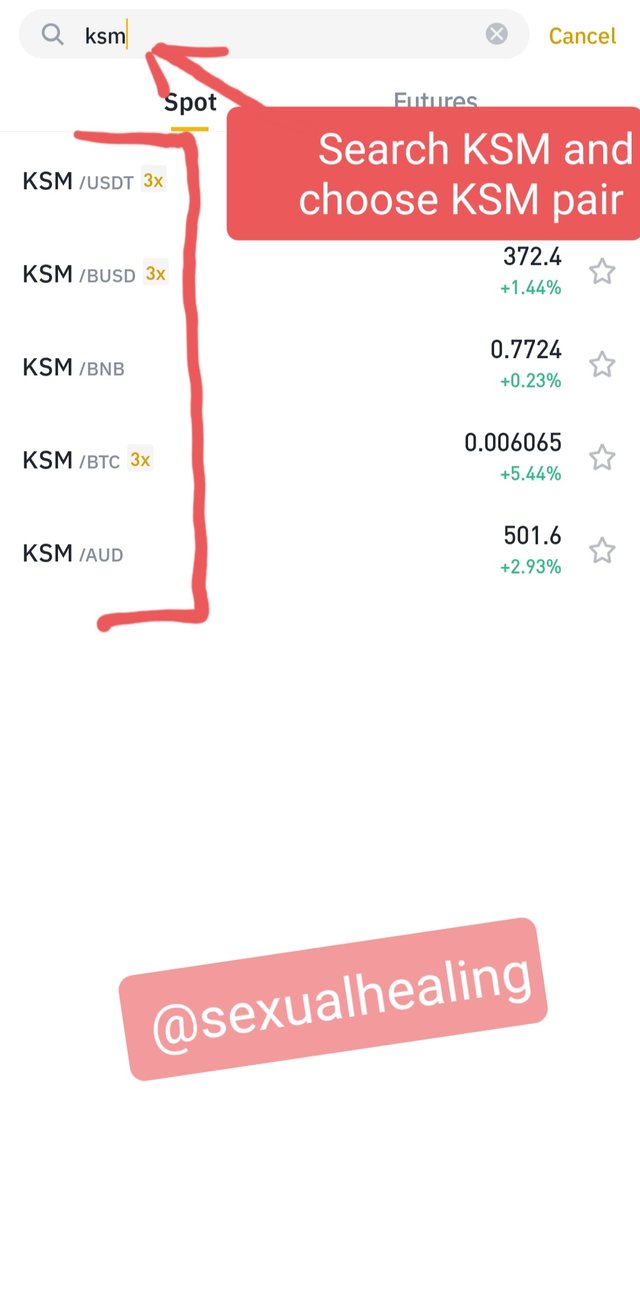 ---
Step 4: Now you will find this interface of price chart of trading pair and buy sell button option in bottom, click on buy button to buy :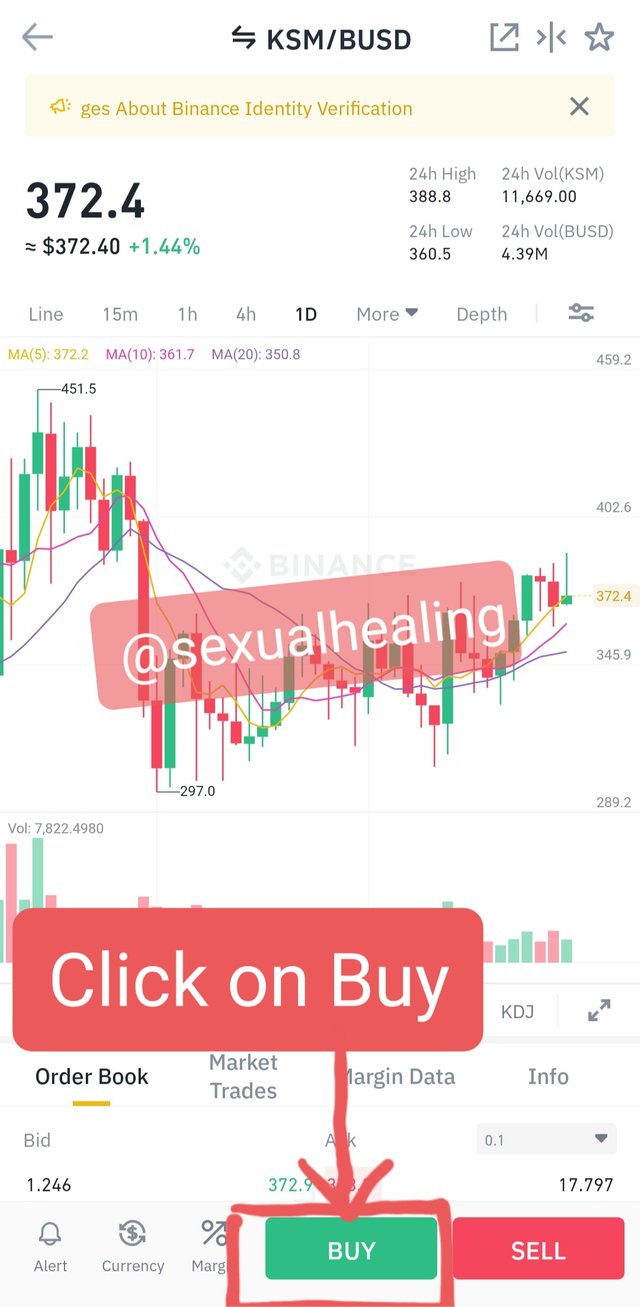 ---
Step 5: I am buying ksm coin using my usdt wallet balance ($23) , to buy click on price from order prices or choose market order to buy instantly from current market price , And choose how much money you want to spend and click on buy .
In my case i am buying ksm at the rate of $374.1 and buying with my $23.1 usdt and i am getting 0.062 KSM coin.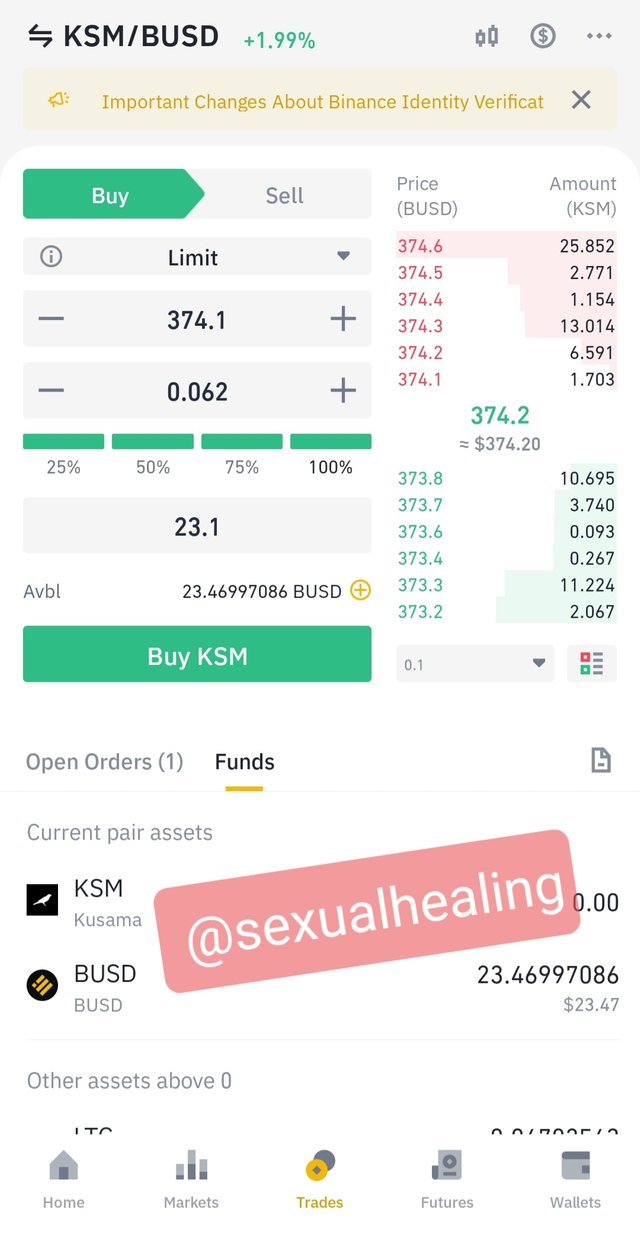 ---
Step 6: You can see my wallet i am having 0.619 Ksm coin worth of $23 into my wallet which i have bought :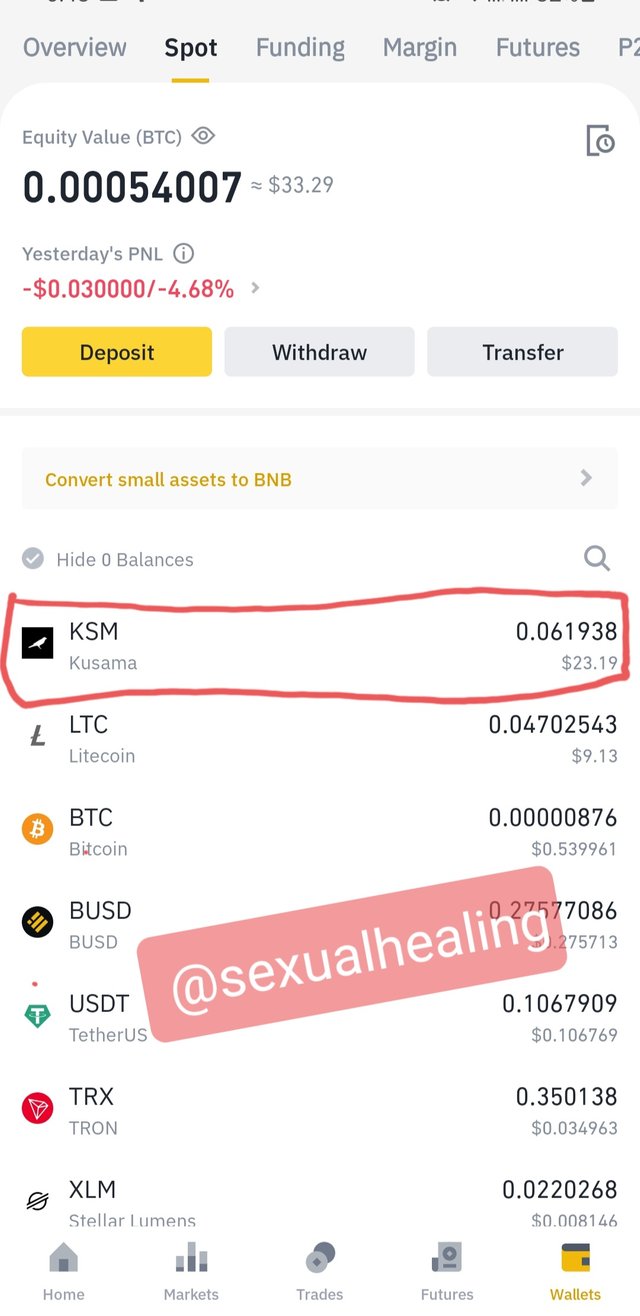 Conclusion
Kusama is an impotant part of polkadot ecosystem. Kusama is a wonderful platform for innovative projects and developers to build , test and launch their projects on Kusama Blockchain which provides all the great features to any projects in the blockchain and crypto space. Kusama is a great project which is getting more and more popular because of it's awesome features which we find in a single blockchain .
---
Thank you so much professor @allbert for the amazing Polkadot and It's Ecosystem related lecture.