Crypto Academy Season 5 Beginners' course - Task 1: Tron Ecosystem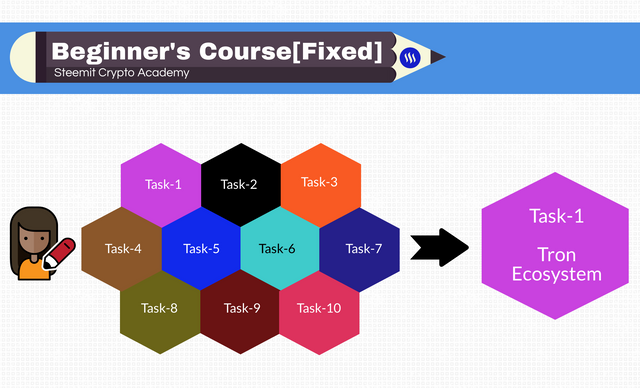 Tron Ecosystem
Justin Sun is the founder of the Tron Network. Tron Blockchain is a smart contract-based platform founded in the year 2017 that aims to offer an underlying infrastructure of decentralized applications, but with the lowest possible transaction cost and higher transaction throughput. So it ideally lowers the barrier to entry as compared to other Smart contract-based platforms, because simply being decentralized does not guarantee financial access for all. Cost-effectiveness does play a vital role in "banking the unbanked". Tron is the most cost-effective and high-throughput network since its inception.
Tron Network- Block Producing time= 3 seconds Consensus= DPoS
Further, its ability to offer an infrastructure with a pluggable smart contract makes it easy for enterprises, dApps, and businesses to run the business with lesser development costs.
Under the leadership of Justin Sun, Tron acquired BitTorrent in 2018, Poloniex in the year 2019, and Steemit Inc in the year 2020. Another milestone for the Tron ecosystem is the collaboration with USDT. TRC20 USDT is the cheapest mode of USDT transfer in today's reality.
Tron has also progressed significantly in the DeFi space, the notable one being the Tron Century Mining. Alongside the general dividends in DeFi like Justswap and JutsLend, Sun Network offers a premium to users with century mining. In other words, the Tron DeFi also offers a premium on top of supply mining & liquidity mining.

TronLink
TronLink is the official Blockchain wallet of Tron-- a non-custodial wallet and it links to the Tron Ecosystem or a gateway to access and explore the Tron Ecosystem, hence named as TronLink. It's an all-in-one wallet with all the variants like Android, iOS, Huawei HarmonyOS, Chrome Extension, etc.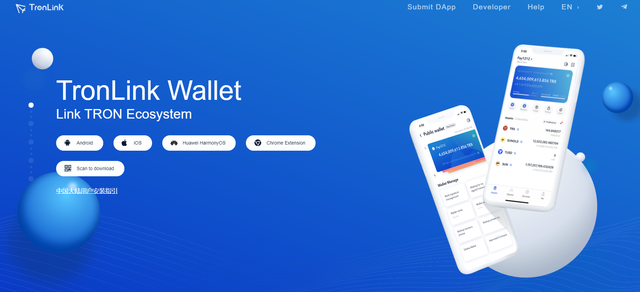 Official site url: https://www.tronlink.org/
TronLink supports TRX, all TRC-10, and TRC-20 tokens and also enables the users to partake in Governance(voting), freeze/unfreeze, testing environment for Developers, etc.
TronLink is an ideal web 3.0 wallet that is compatible and seamlessly integrated, powered by the smart contract, enabling users to interact with the dApps (e.g JustLend, JustSwap, etc of Tron Family).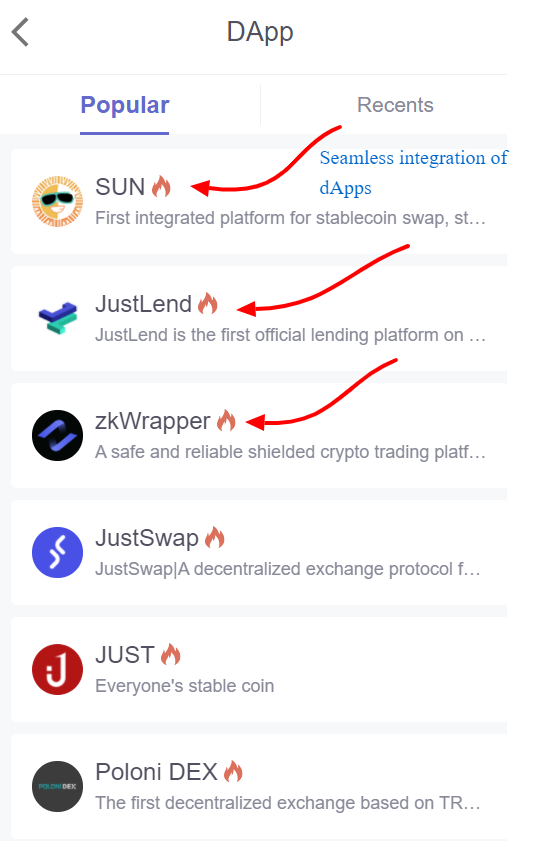 TronLink: Seamless integration of dApps

Tronscan
Tronscan is the first Block explorer of Tron Blockchain.
What is a Block Explorer?
A Block Explorer is a search engine of a particular network that offers a structured and organized database(easily readable for a common man) of a Blockchain so that anyone can interrogate a Blockchain transaction in a searchable format.
What do I check with a Blockchain explorer?
A wallet address is valid or not
The status of a transaction
Time & Date of transaction
Transaction Hash
Sender and Recipient Address
Cost of the transaction(Actual Network Fees)
Explore Genesis Block
Latest Transactions in a Blockchain
Wallet Balances
Spending on Smart Contracts
Tronscan apart from having all the generic features of a Block Explorer also supports token creation, governance(voting), contract deployment, resource management(Bandwidth & Energy), etc.
How do I verify a transaction status, nos of confirmation, timestamp, transfer amount, resource consumption, sender and recipient address?
Go to https://tronscan.org/#/
Either enter the Address or Transaction hash in the search field.
Then it will display the transaction status with all the relevant information associated with the Txn.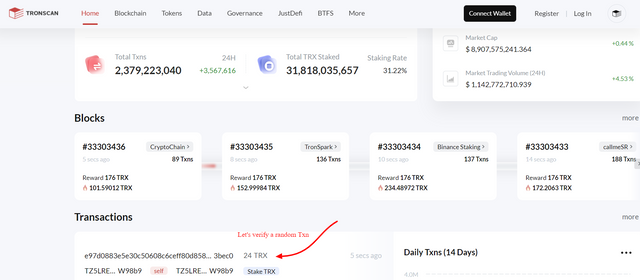 (All the relevant information associated with the Txn Hash/Txn are indicated in the screenshots)

Justswap
Justswap is the first-ever decentralized exchange(DEX) of the Tron Network. Justswap is a decentralized AMM-based exchange(DEX) that enables users to swap a token(TRX, TRC20 tokens) for the other(belonging to the same family) without having to depend on the liquidity to perform a swap.
In an order-book model(CEX), there is a list of bid and ask values, and the difference between the bid and ask is known as the spread. In a highly liquid market, this spread is narrow, competitive, and offers the best value of exchange to a trader. In contrast in an illiquid market, the spread goes higher, and hence exchange value could be worst for a trader.
Generally, the popular CEXs do not suffer from liquidity issues in comparison to DEX.
In contrast, the major problem with DEX is that the liquidity is fragmented as there is no such centralized pool, the liquidity remains in the decentralized wallet of the individual traders.
AMM mechanism solves this problem interface of DEX and introduces a constant product market-making mechanism(xy=k), as a result, Liquidity Pool(LP) is created in which x and y represent the two sides of the pool.
The product of x and y at any given time is a constant.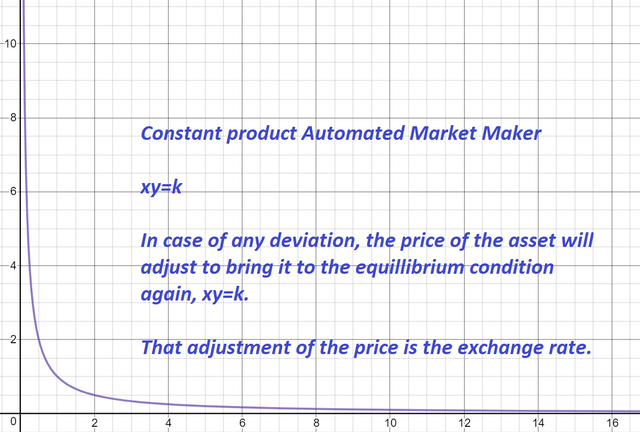 So the equilibrium condition is xy=k.
If xy is not equal to k, then the price of the asset will adjust itself to bring it to the equilibrium condition-- xy=k. That adjustment of the asset is known as the exchange rate. This is the underlying principle of AMM-based DEX.
Justswap relies on this principle to create a liquidity pool for each pair where the users are free to contribute to the pool and based on their contribution ratio w.r.t the total pool size, they earn their share.
When you contribute to a pool you have to contribute equivalent value to both sides (x & y).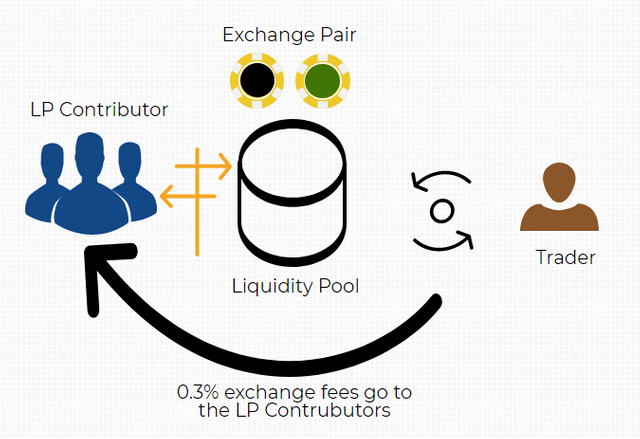 AMM model exchange creates an opportunity for the investors to pool their tokens and earn exchange fees from each trade. Ideally, in a decentralized exchange, the liquidity providers earn 100% transaction fees. At any given time, the fund is in absolute control of the owner.
In Justswap, every time an exchange happens, the trader pays a 0.3% fee, and then the fee is distributed proportionally among the LP providers.
So when you supply coins(both sides) to a Liquidity Pool, you are entitled to a Liquidity provider fee, in proportion to your liquidity contribution.
How do I perform a swap in Justswap?
Connect your TronLink Wallet
Select the token From and To. e.g. I will want to swap 63 TRX for 5.5 USDT.
Click on Swap. Authorize & sign it.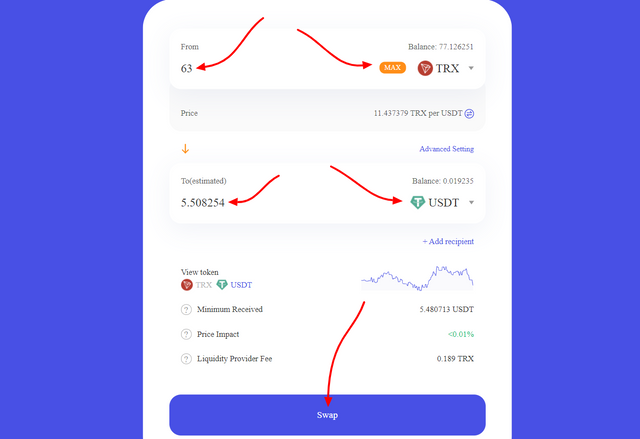 JustLend
JustLend is a DeFi Application on the top of Tron Blockchain, a Money Market Protocol with transparent & effective pricing. It complies with all the parameters of a DeFi, the notable ones are-- Low Network Fees, micro-lending, etc.
Powered by smart contract JustLend establishes two pools-- Supply Pool and Borrow Pool, and based on the demand and supply a dynamic interest rate is defined. A Supplier earns a floating interest rate whereas a borrower pays a floating interest rate.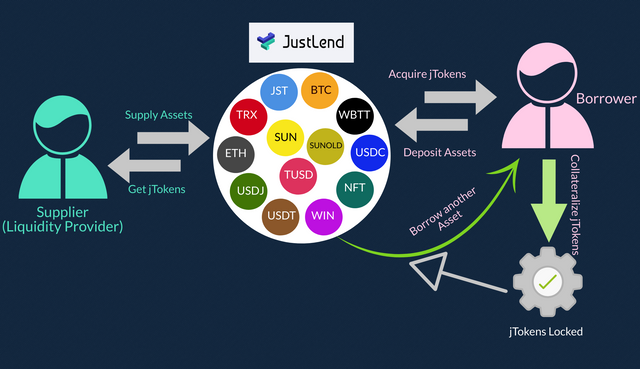 If the liquidity is higher in the supply pool, and the demand for the token(to borrow) is lower, then the interest rate decreases and vice versa. Instead of a daily interest rate, the floating interest rate in JustLend is determined every 3 seconds.
There is a collateral factor that varies from 0 to 1, with a lower value indicates low liquidity and a high value indicates better liquidity. The collateral factor multiplied by the collateral value is the loan amount for the borrower.
A higher collateral factor(close to 1) signifies better liquidity whereas a lower collateral factor(close to 0) signifies lower liquidity of a particular market.
A Borrower first needs to acquire jTokens(by supplying an asset), collateralize it to borrow any listed asset. So the worth of jTokens is the collateral value of a Borrower.
A Borrower can borrow up to an amount (Collateral Value * Collateral Factor).
Interest is accrued & accumulated every 3 seconds.
At any given time, the Collateral value has to be greater than (Loan value + Accumulated interest), otherwise, it will be deemed unsafe and will trigger the liquidation of the asset.
Different Markets
In JustLend, there are 13 different markets-- TRX, USDT, USDJ, SUN, SUNOLD, WIN, BTC, JST, WBTT, ETH, TUSD, USDC, NFT, etc.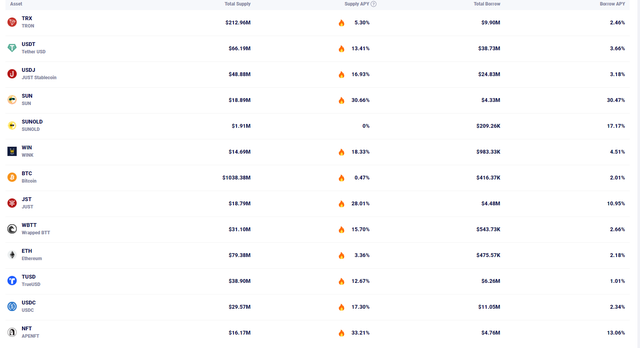 Reference: https://www.justlend.org/#/market
Supply Pool
If you add liquidity to the supply pool, you earn an interest rate based on the Supply APY. You will be issued jTokens. For example, if you add TRX to the TRX pool, then you will be issued jTRX tokens. At any given time, a supplier can remove the liquidity. There is no such restriction or timeline.
Borrow Pool
To borrow, you need to collateralize your jTokens. You will be issued jTokens when you contribute to a Supply Pool, then you can collateralize jTokens to borrow any asset(listed in JustLend) of your choice.
A borrower can unlock the jTokens only after repaying the borrowed asset. After unlocking jTokens, a borrower can remove the liquidity from the Supply pool.
Put simply, for a Borrower, the collateral is locked, for a supplier, there is no such restriction, they will keep earning & accumulating the floating interest rate each block(3 seconds) and at any given time they can pull out their tokens from the pool.

Poloniex
Poloniex is an early adopter of cryptos, serving as an exchange facility since 2014. It offers order book model crypto to crypto trading. It also enables users to buy crypto with a Debit/Credit Card. The payment processing partner for buying crypto with Card is Simplex.
Poloniex pioneers as one of the best exchange facilities by lowering the barrier to entry, allowing users to pass Level 1 with just an email ID and password, it does not even require your full name and address. A user with Level 1 can withdraw up to $10,000/day.
Level 1
Requirement- Only an Email Address
Features- Unlimited Deposit of assets, Card purchases, Lending, Futures(10X leverage), Withdrawal up to 10,000 USD/day
Note- Buying crypto with Cards involves third-party payment solutions like Simplex, and they might ask for Identity Verification.
Level 2
Requirement- Complete Profile Information such as Name, Address, Date of Birth, Mobile Number, etc, and ID Verification.
Features- Unlimited Deposit of assets, Card purchases, Lending, Margin Trading, Futures(100X leverage), withdrawal up to $500,000/day, etc.
The number of listed cryptocurrencies in Poloniex is more than 100, including the majors like BTC, ETH, LTC, TRX, EOS, XRP, BNB, USDT, etc. To know the detailed list of supported cryptos in Poloniex Exchange, click here.
Fee Schedule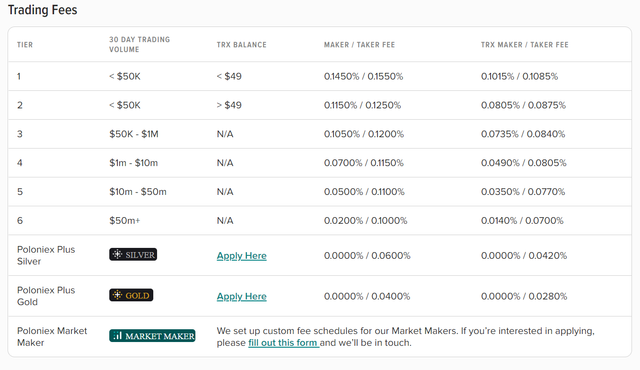 At the very basic level, the Maker/Taker fee is 0.145%/0.155%(below 50K trading volume, monthly), as the monthly trading volume exceeds 50K, the fees get lower, become even more competitive & the market maker fees become almost zero with 50 million monthly trading volume. So there are different slabs of monthly trading volume and based on that you can enjoy lower trading fees.
If you pay the trading fees with your TRX Balance, then you will get a 30% discount on your trading fees. For that, you need to send your TRX to the Poloniex wallet.
Poloniex as an exchange facility extends both basic trading outlets (Exchange, Lending, etc) and Advanced trading outlets (Margin, Futures, etc). A trader should suitably choose the one depending on the requirement, skill, experience, etc.
The default wallet of a trader is always the Exchange wallet and a trader needs to move the asset internally from Exchange wallet to (Lending, Margin, Futures) Wallet, etc to be able to trade in Margin/Futures or to lend. So basically the deposit and withdrawal point is always the Exchange wallet. Any profit generated in Margin or Futures wallet and/or the interest rate earned in Lending wallet needs to be moved to Exchange wallet before being able to withdraw that.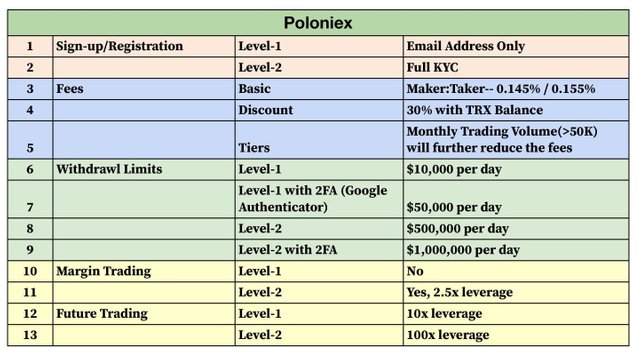 The exchange market aka spot trading in Poloniex offers 10 different markets. Poloniex supports 249 crypto assets. But the main selling point is that a trader can trade as little as 1 USDT worth crypto in Poloniex. The crypto withdrawal fee in TRX is almost negligible. TRX market is also available in Poloniex, which creates a new route for traders to make their exchange cost-effective in Poloniex(as withdrawal fee in TRX is only 0.01 TRX(negligible)).


Sun.io
Sun.io is a dedicated DeFi segment in Tron that docks different DeFi projects of Tron, stake-mining, self-governance, etc. You can earn a premium in the Sun network on top of stake mining and liquidity mining. Sun.io has successfully concluded century mining as per the defined schedule to the satisfaction of DeFi traders/stakeholders.
Currently, stable coin pool mining, SUN pool mining, and SUN-TRX LP mining is going on.
For example, if you are a liquidity provider in Justswap (for the pair SUN-TRX) you can further stake your LP tokens to earn mining rewards(SUN-TRX LP offers the highest APY, 73.2%). Similarly, SUN staking pool APY is 41.76%. Sun.io has also introduced stable coin swapping.
Sun.io has also launched genesis mining and governance mining with a commitment of 5 billion SUN. 30% of this 5 billion SUN is earmarked for genesis mining and governance mining for the first three months.
Different pools:-
3 Pool LP: here three stablecoins USDJ, TUSD, and USDT are needed to stake to get 3 pool LP, and then that is further staked to mine SUN tokens.
SUN-TRX LP: First you need to supply both SUN and TRX to the liquidity pool in Justswap and then you will be issued SUN-TRX LP token and that can be further staked in Sun.io to mine SUn tokens(APY 73.2%)
Note- SUN reward earned by staking SUN-TRX LP tokens will follow a vesting schedule, any premature withdrawal will result in a 50% penalty.
Types of SUN staking pool:-
Stake SUN Pool(2.79% APY): Here you can stake and withdraw any time you wish to without any restriction.
Stake & Lock SUN Pool(41.73% APY): Here you need to stake and lock the token for a specified period.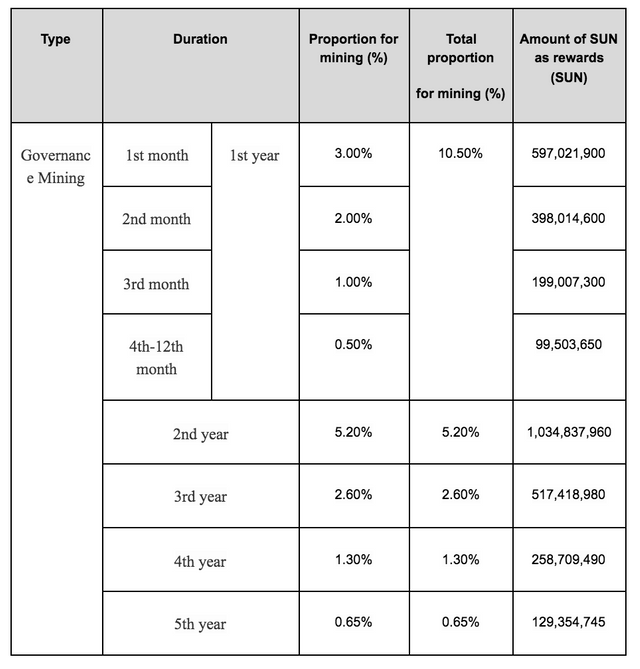 Source
How does it work?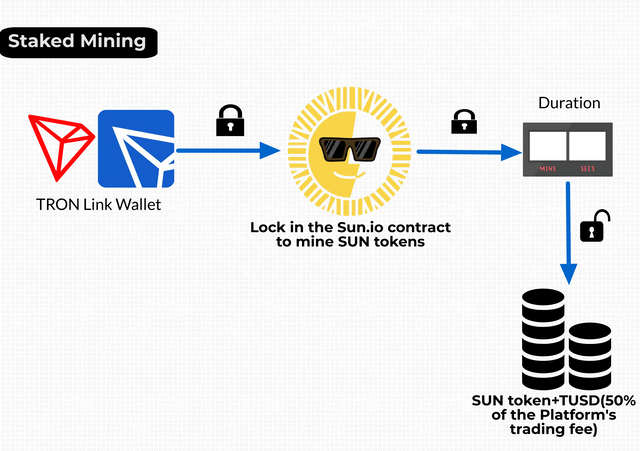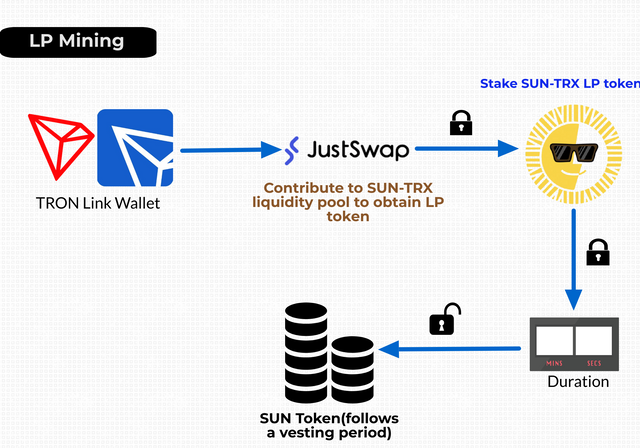 How do I stake and lock SUN token on Sun.io?
Go to Sun.io, then click on Stake. Alternatively, go to https://sun.io/#/stake
Click on Deposit(SUN staking pool).
Then enter the amount, specify the period, click on Deposit, and authorize/sign the transaction.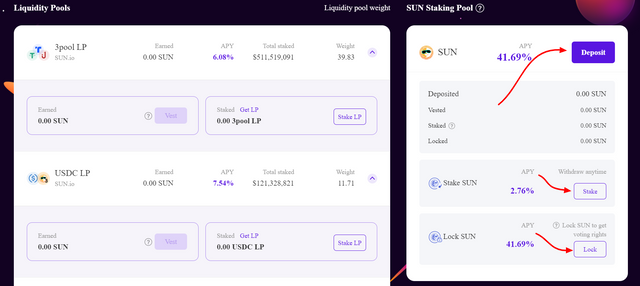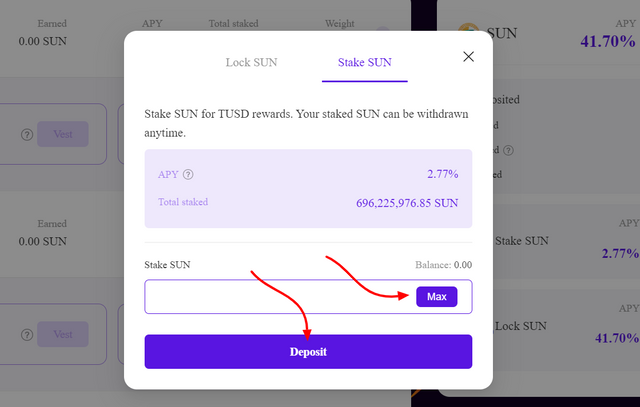 Homework Task-1
(1) What is TronLink and what is Tronscan? What are its uses? How do you verify a transaction status(including timestamp, resource consumption(bandwidth & energy), nos of confirmations) using Tronscan-- Examples, Screenshot? What are the different dApps can you explore using the TronLink wallet? Make a transaction(a micro-transaction) with Justswap or JustLend using TronLink wallet?Screenshot?
OR
(2) What are the different dApps in the Tron ecosystem are you familiar with? What are the uses of DeFi applications like Justswap, JustLend, and Sun.io? How can you optimize mining rewards by staking TRX and other TRC20 tokens in Sun.io? Examples? .
OR
(3) Perform a STEEM and TRX transfer(micro amount) to Poloniex exchange? What are the different markets available for TRX and STEEM to trade in Poloniex? Perform a small trade in either TRX or STEEM in Poloniex? What is the withdrawal fee if you withdraw TRX, STEEM, and TRC20 USDT in Poloniex? How cost-effective is TRC20 USDT as compared to ERC20 USDT? Make a comparison of TRC 20 USDT withdrawal fees with other major exchanges?
Guidelines
(1) Your article should be at least 300 words.
(2) This homework task does not have an expiry, however, you can submit your assignment only once.
(3) Eligibility Criteria--
Must have a reputation of 50 or above
Must have at least 150 SP (excluding any SP delegated-in, Delegating to vote-buying services is viewed negatively)
Must have completed Achievement Task-4 in Newcomers' Community
(4) Add tag #academys5-intro01 #cryptoacademy in your post and should be among the first five tags. And also make sure you post in the Steemit Crypto Academy community.
(5) You can attempt anyone out of the three questions, but you must write the entire Question in Bold letter at the beginning of the post.
(6) Your homework title should be Your homework title should be [Your Title] - Steemit Crypto Academy Season 5 - Homework Post for Task 1. For example-- Tron Ecosystem - Steemit Crypto Academy Season 5 - Homework Post for Task 1
Thank you.

Unless otherwise stated, all the images, infographics, charts, tables, etc(if any) are my original works.