Steemit Crypto Academy | Season 2: Week3-- JustLend : Homework Task for @sapwood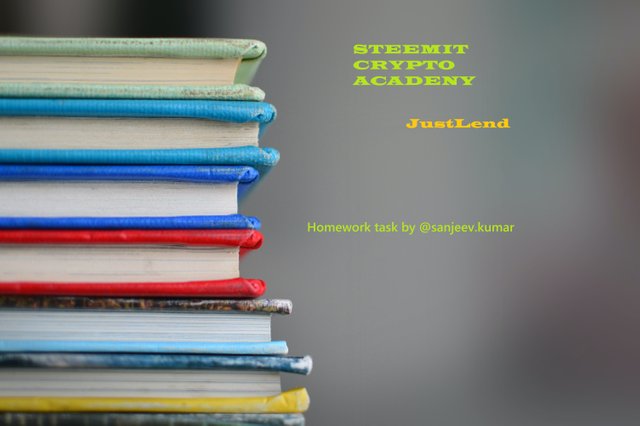 src
Hello everyone,
I'm Sanjeev and in this post, I'm going to explain about JustLend. Well, explain by professor @sapwood. I enjoyed the learning class. No w my tern to do homework task. So here is the first question.

(1) What are the different Markets available in JustLend, which market offers the best Supply APY, and which market offers the lowest borrow APY?(Screenshot needed)
There are 9 different markets available in JustLend, the best DeFi on the Tron ecosystem is proving financial solutions.
They are BTC, ETH, TRX, JST, SUN, USDJ, USDT, WBTT, and WIN.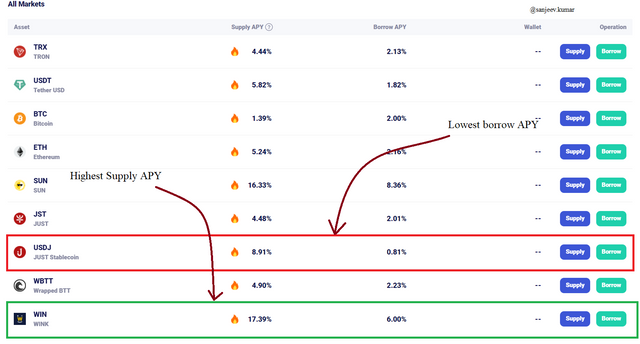 Screenshot from justlend the official site
In the above image, we can see that the WIN the best Supply APY that is 17.39% and USDJ is the lowest Supply APY that is 0.81% this Supply APY interest varies every 3 seconds.
This Supply and borrow calculate as:
Effective Supply APY=Supply APY +Supply mining APY.
and Effective borrow APY=Borrow APY.
(2) How do you connect TronLink Wallet to JustLend, and How do you supply a token(e.g. TRX, SUN, JST, etc) to earn Supply APY? (Screenshot Needed)
I have already restored my steemit Tron account to TransLink wallet. Once we login into the home screen of what the TronLink wallet looks like. Energy and Bandwidth are most important to perform any transaction or else it uses Tron.
Just we need to click on Discover to land on the JustLand nav menu.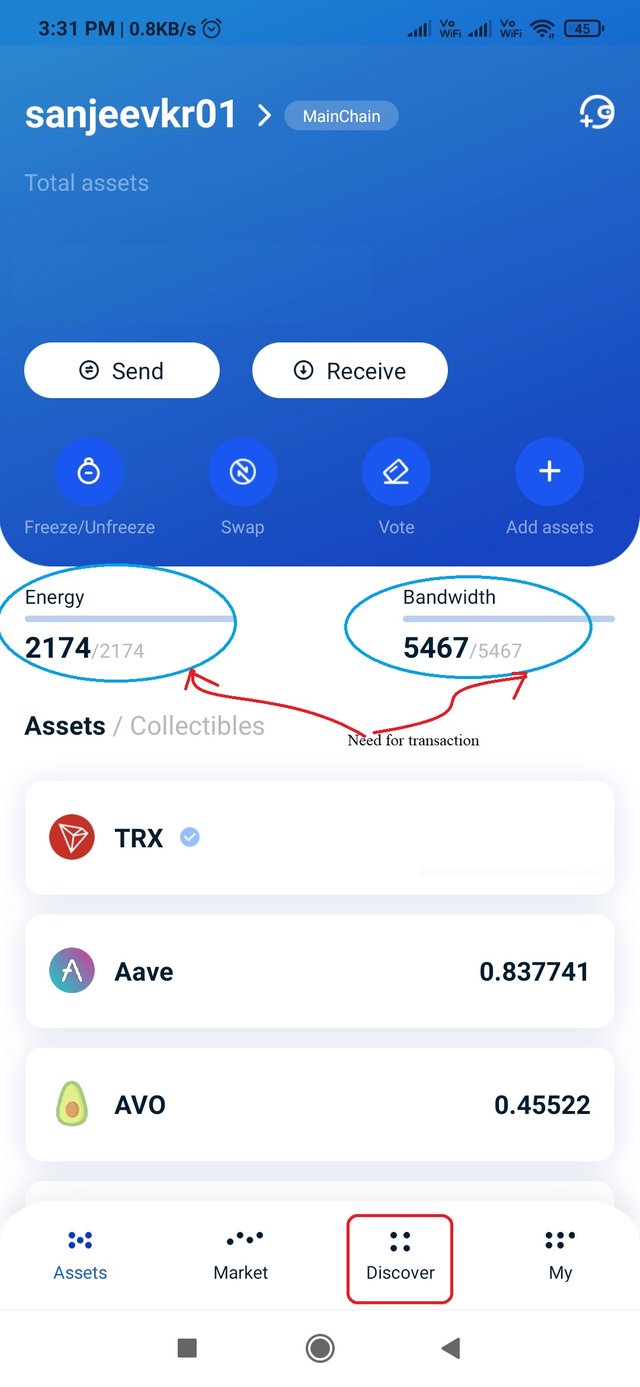 After clicking on the discover menu.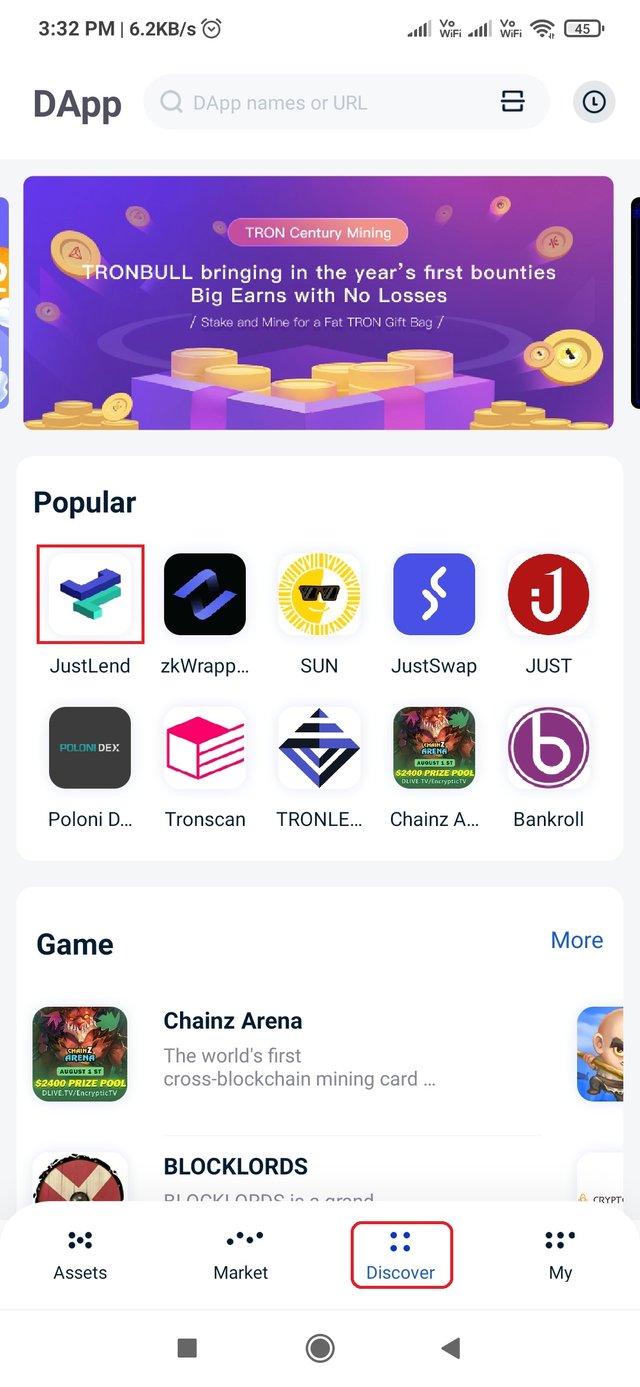 JustLand home screen.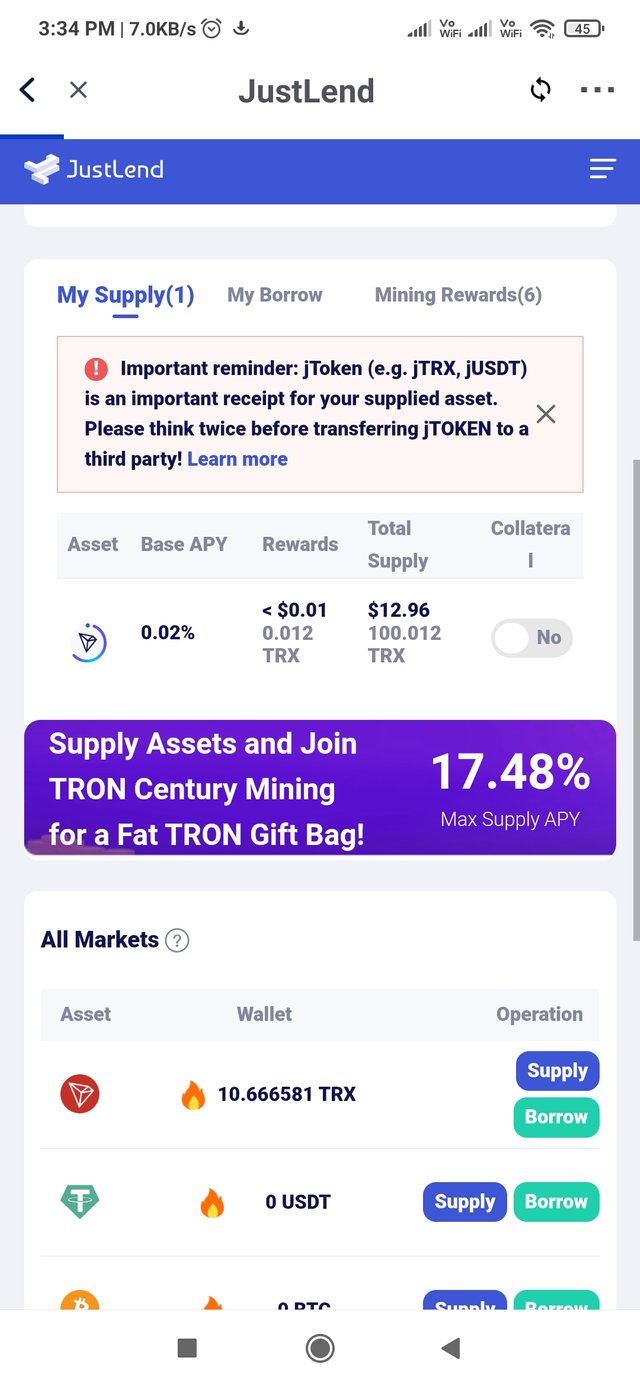 Now next we have to click on the supply button or Supply APY.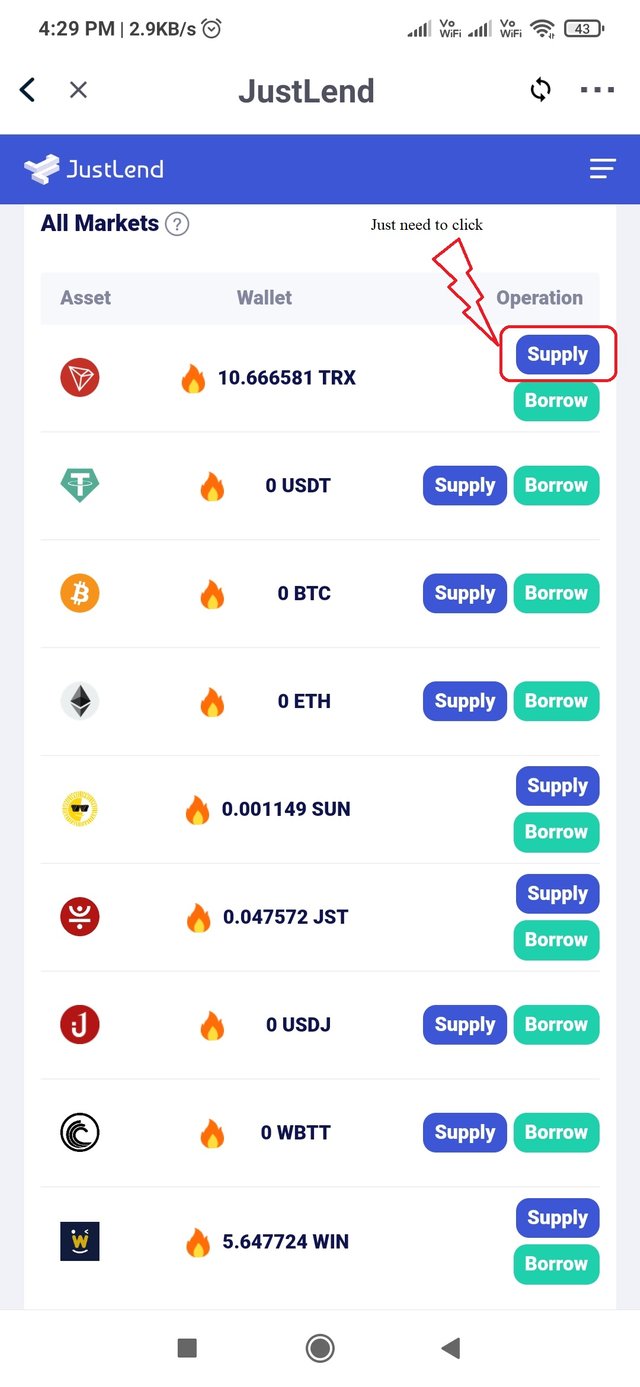 So I have just entered 5TRX to Supply APY just to get real transactions. I have been already supplied 100TRX previously.
Now I have already talked about energy and bandwidth now that s going used here.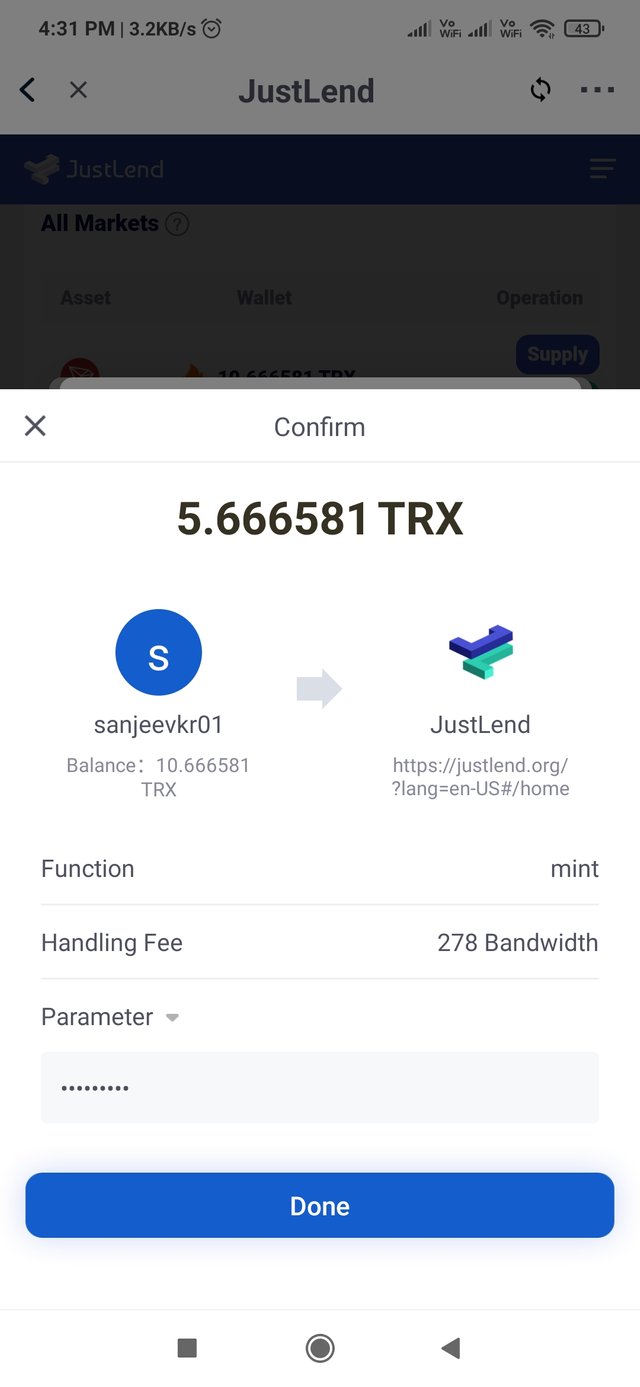 In the above screen as you can see there is some handling fee of 278 bandwidth. and here parameter is our Tron wallet password. To supply APY in mint function.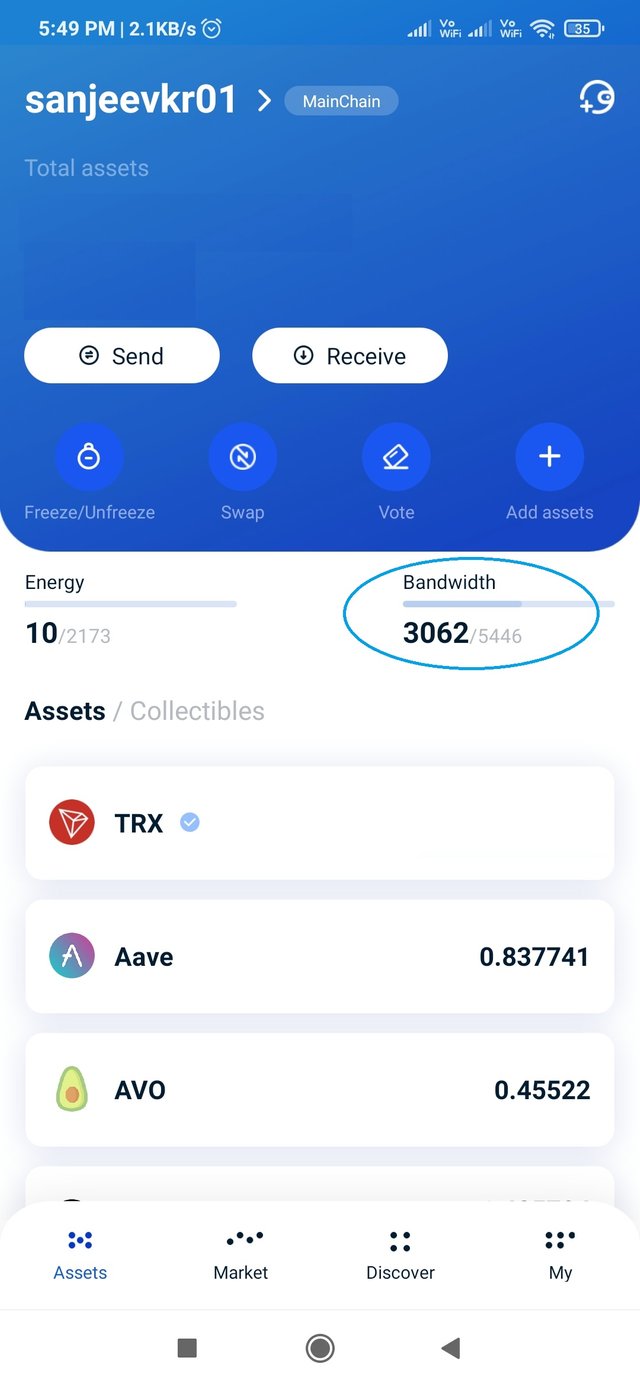 in the above screen, you can see the bandwidth and energy have decreased.
After Supplied.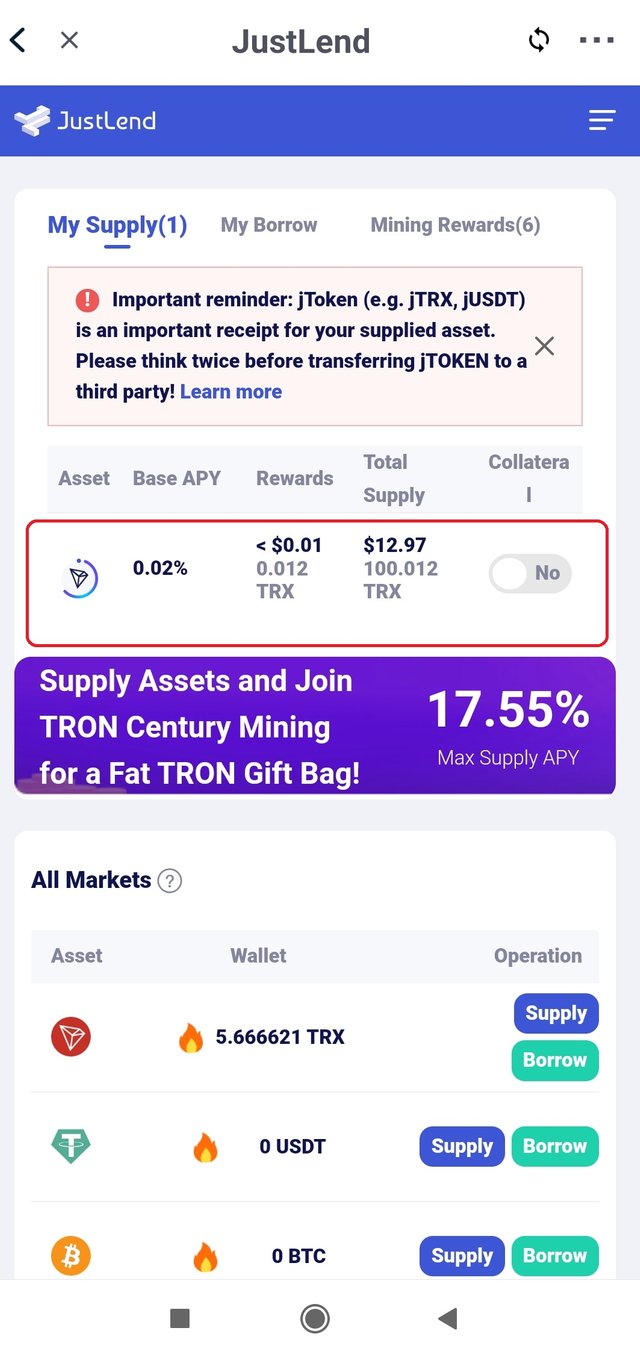 I got a total of 4.67% Net APY supply.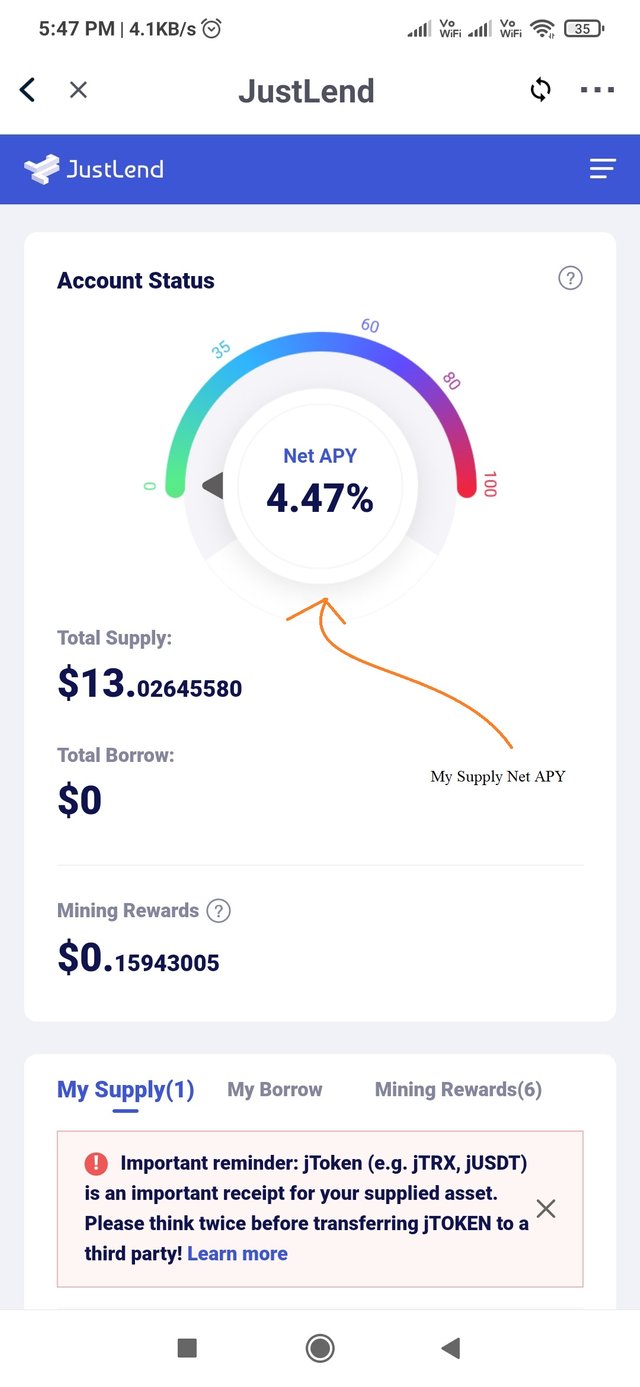 (3) How do you acquire jTokens, after supplying a particular token, check your TronLink Wallet and indicate how much jTokens you have acquired? (Screenshot Needed)
As I already explained, I have already supplied TRX for the mint function. So currently acquire jTRX token total of 9998.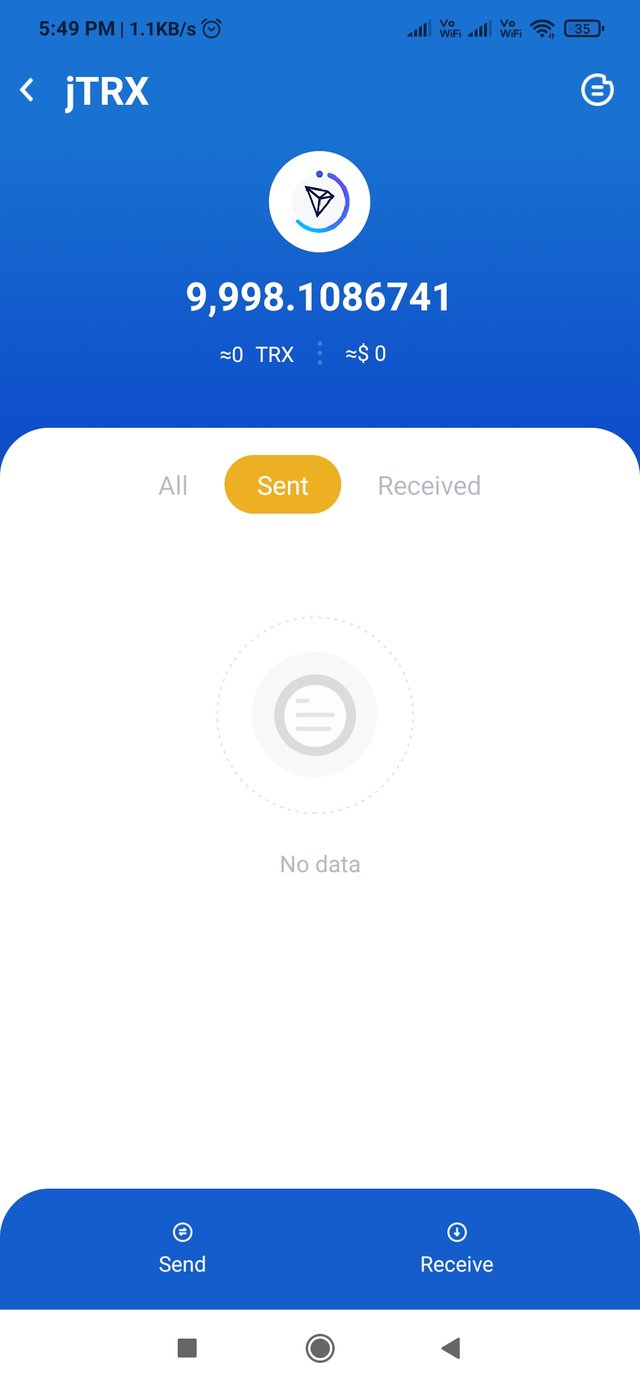 (4) How do you collateralize jTokens to borrow another asset? Borrow any asset of your choice(e.g. USDT), you can borrow a micro amount(as little as 1 USDT), include the entire process with screenshots?
To perform this operation first we have to enable the collateral option. So I have enabled the collateral option so that I can take borrow. I have not taken borrow previously but as the professor mentioned borrow any asset. So choose USDT.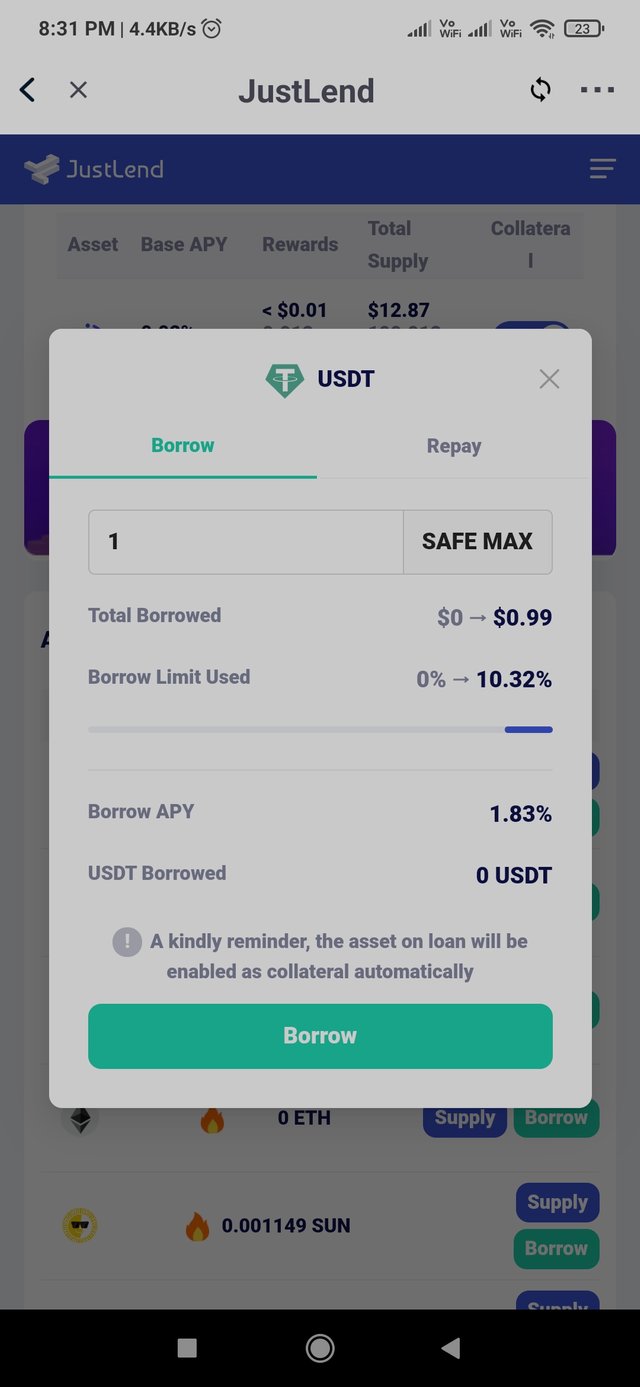 In the above screen as you can see I use 10% of my borrow limit of 1.83% interest rate. Just borrow 1USDT.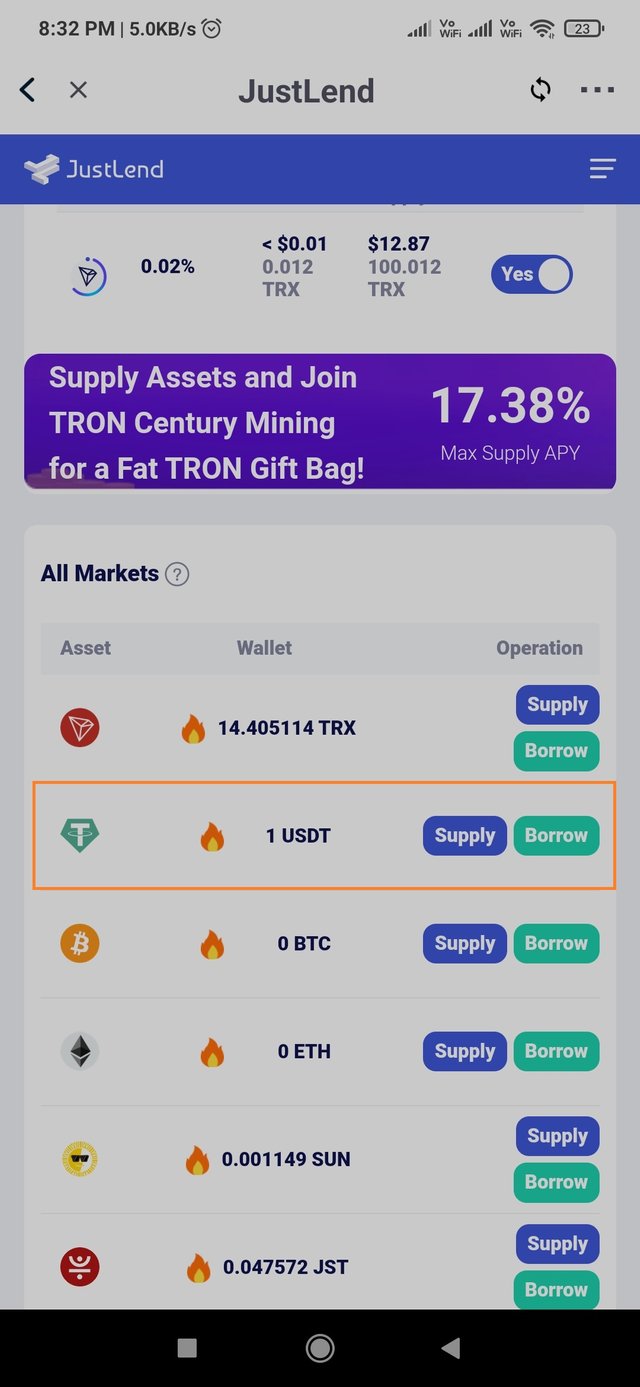 (5) How much interest did you pay, under what condition it will trigger liquidation? What is the net APY in your case? What is the Account Status(Risk Value) in your case? (Screenshot Needed)
As I have already Supply 100TRX and I borrow just 1USDT keeping collateral. And my account stat is low risk 10.32%
If I exhaust 100% then I'll lose my collateral amount.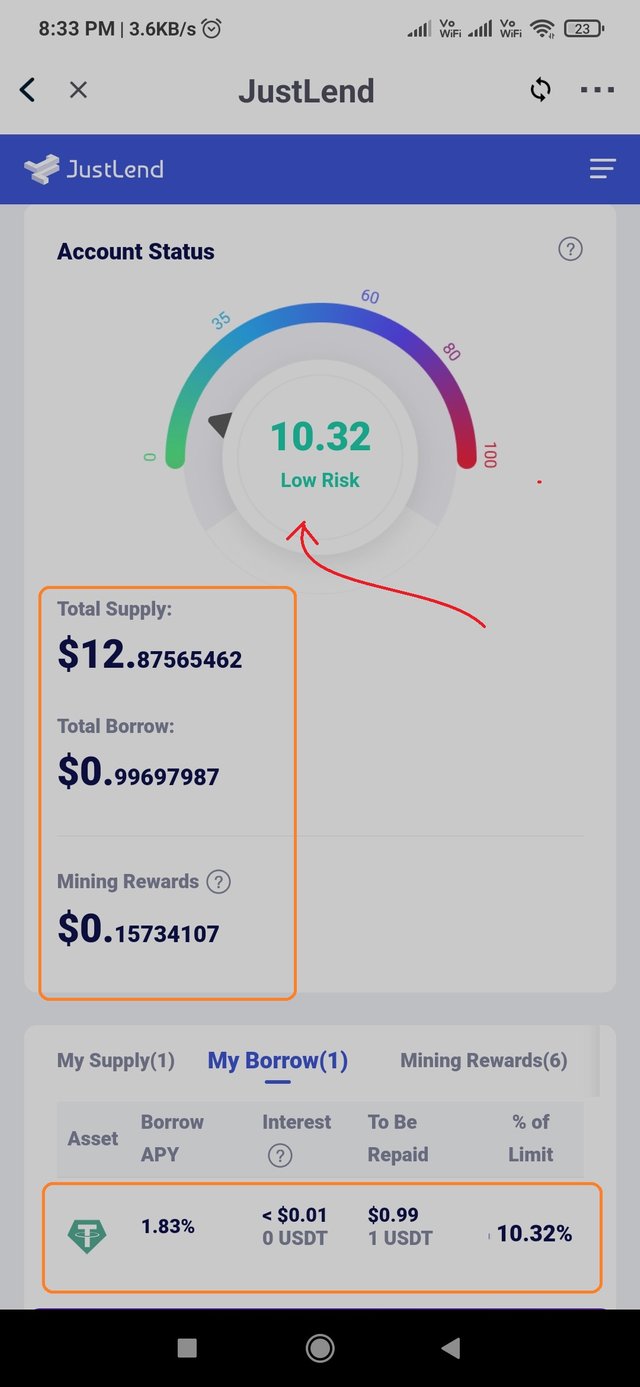 (6) How do you repay & unlock your asset in JustLend?(Screenshot Needed)
Yes, I have repaid and I was doing the first time so I have to approve the USDT before repaying the supply.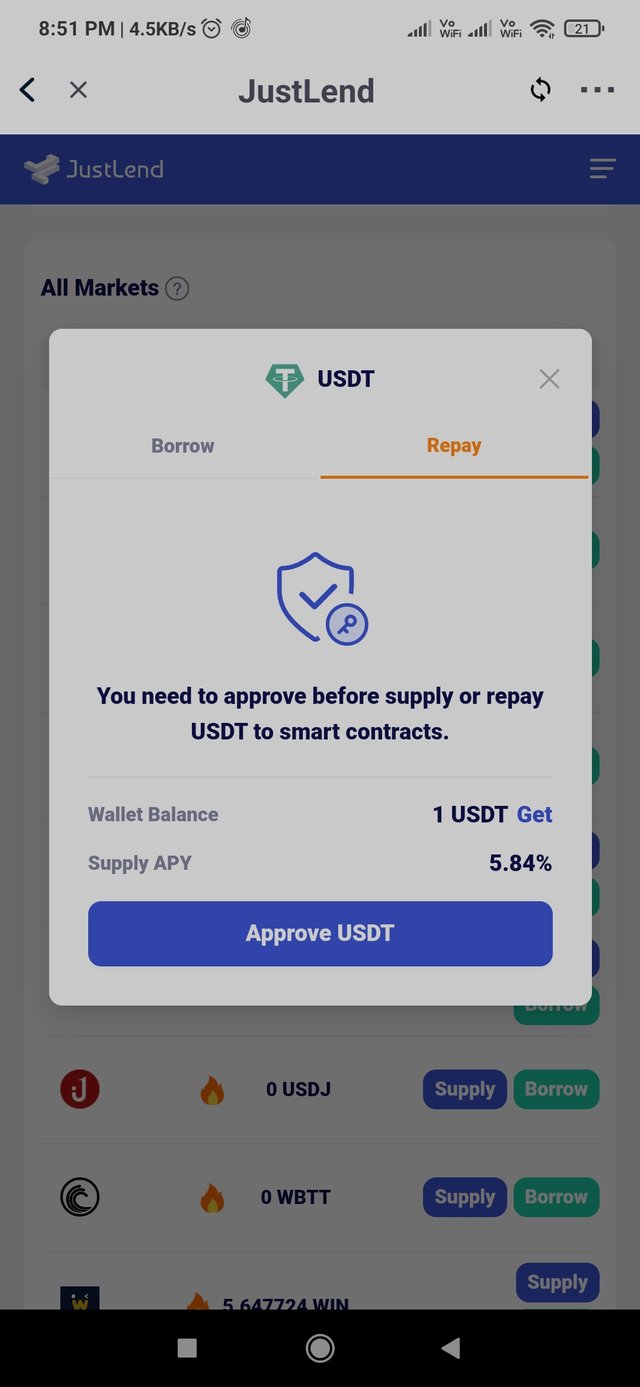 And then finally I repay the USDT that I borrowed.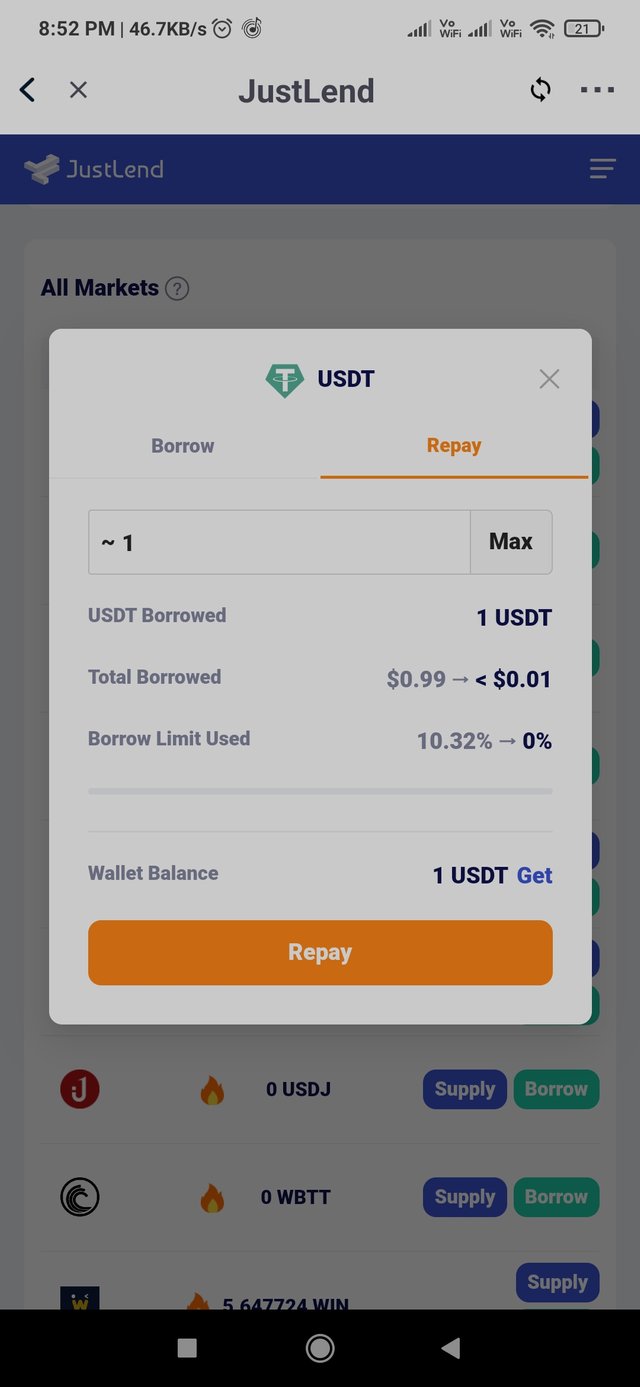 Conclusion:
To set up this whole process total of around 100TRX spend to get real experience in JustLend, As for each transaction we need energy and I had insufficient energy so I added extra Tron from my Binance wallet to do this process. It was a great learning experience. Hopefully, I completed the task. Thanks to @sapwood for this wonderful lecture. Looking forward to the next lecture.