STEEMIT CRYPTOACADEMY SEASON 4-HOME WORK POST FOR TASK 5
Hello everyone, i welcome you all to my blog. Thank you @stream4u for this interesting lecture on bitcoin. And to @cryptoacademy thank you for the platform to learn.
---
Today i will be answering question 2
QUESTION 2: WHAT IS BITCOIN AND WHAT WAS THE AIM BEHIND BITCOIN INVENTION? IS CRYPTOCURRENCY GOOD FOR A BUSINESS TO ACEEPT AS PAYMENT? WHY?
---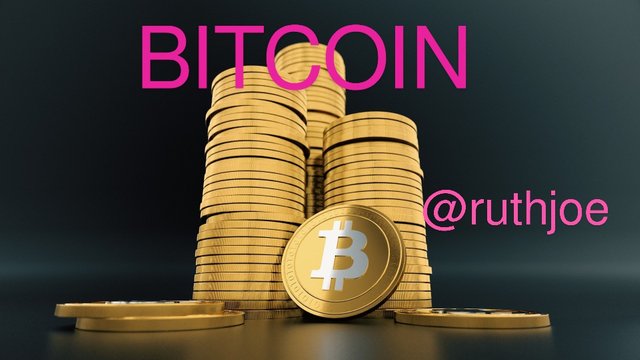 source
---
The world everyday as we know is revolving and changes takes place as the world revolves. Even technology is not left out in this change. The advent of cryptocurrency such as bitcoin is one of the many changes that has occurred globally. So what then is bitcoin?
Bitcoin is the first cryptocurrency established. Let me emphasis that cryptocurrency is a digital currency, therefore, it can not be seen with the physical eyes although it exist. So bitcoin been a cryptocurrency means that is digital in nature and can only be transacted with digitally via computers and mobile phones. Bitcoin been the first of the cryptocurrency existed is regarded as the father of other cryptocurrencies, because it made the way for others to be created such as Steem, ethereum, Tron etc.
The advent of bitcoin till today seem to be a mystery because the identity of the person/persons who created bitcoin is yet unknown but we are left with a name, Satoshi Nakamoto . In the year 2009, Satoshi Nakamoto created bitcoin. Although the name Satoshi Nakamotohas its origin from Japan. No one has ever seen Satoshi Nakamoto but it is believed that Satoshi Nakamoto is a hero who came to rescue the world from the traditional banking system and its instabilities.
It is believed that Satoshi creating bitcoin was in response to an article published on Times newspaper
Bitcoin as a cryptocurreny can be sent from one person to another on a peer-to-peer bitcoin network without needing the help of any intermediary. The currency bitcoin is not controlled by any central body like government or central bank unlike what we have in the traditional banking system, because it is decentralized, giving each user the right to control their own funds.
The first time bitcoin was used as a medium of payment was in 2010, when a man from florida decided to have Pizza which cost $25, he spent about 10,000 bitcoin buying the pizza. Its been 12 years now since bitcoin was created and it has shown so much growth. Although like other cryptocurrencies today, it price is capable of fluactions.
---
Some Factors Affecting the price of Bitcoin
The demand and supply of Bitcoin in the market
The competition from other cryptocurrencies
Availability of bitcoin in some exchanges
The Regulation governing its buying and selling.
---
As at when this work was done according to coingecko
Bitcoin ranks 1
Sold for $55,334.29
Market cap of $1,042,386,930,004
As in on the screen shot below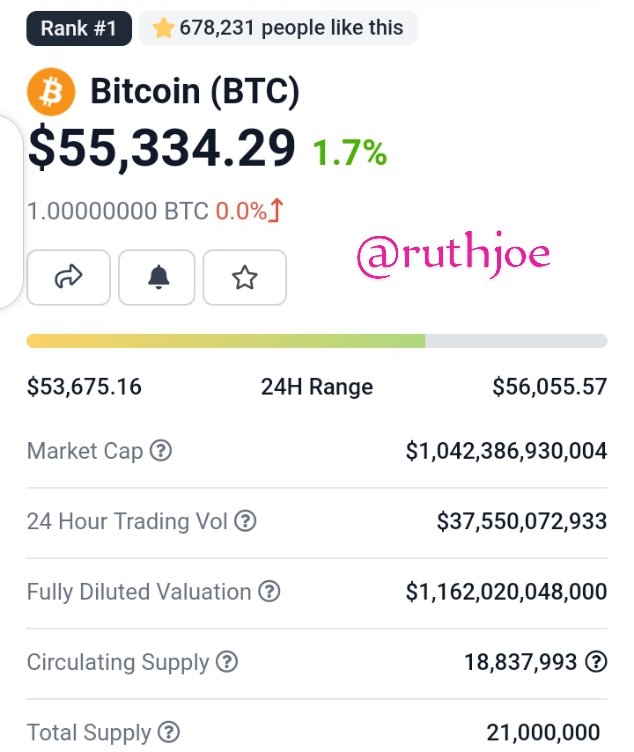 Source
---
Some Global Economic Impact of bitcoin
Bitcoin is global, therefore it has some global impact on the economy and here are a few of it.
The cryptocurrency bitcoin reduces the global dependence on fiat money : Alot of people today, especially those with the knowledge of crypto space no longer rely on physical cash or traditional banking for their business to be done. The attention has shifted.

Bitcoin has given a new opportunity for a new form of market globally where no central authority controls the cash flow.

The advent of bitcoin has created a shift in Investment type: Most investors today now add cryptocurrencies as part of what they should invest in.

Bitcoin has created some questions in the heart of the traditional banking institutions, beacause the advents of bitcoin and other cryptocurrency has reduced the need of their services(middleman) and transaction can now be done faster and with less fee.
---
AIM BEHIND BITCOIN INVENTION
The invention of bitcoin has been a huge blessing to mankind. Through its invention lives has been enriched like never before.
The following includes the aim behind the invention of bitcoin according to bitcoin white paper.
Transparency and trust : transparency and trust is one aim behind the invention of bitcoin because bitcoin transaction is transparent. All transaction done is kept safe in a ledger where it can be viewed and accessible to the public. This is in contrast with the traditional banking at the time bitcoin was invented.

Elimination of middle man : This is another aim for which bitcoin was invented. The inventor of bitcoin wanted every transaction to be done without the help of middle man such as banks, that was why bitcoin was made a peer-to-peer transaction on bitcoin network.

Free from central control : Bitcoin is not like our traditional cash that is centralized, having a central control. Bitcoin was made to be decentralized removing control from a central entity.

Low cost of transaction : inorder to reduce the cost of transactions, bitcoin was invented.

Irreversible transaction: The transactions done on bitcoin are irreversible, this was done inorder to protect the traders or sellers from fraud.
---
IS CRYPTOCURRENCY GOOD FOR BUSINESS TO ACCEPT AS PAYMENT?
From my perspective yes! Cryptocurrency is good for business to accept as payment.
WHY
Crypyocurrency is good for business to accept as payment with my following reasons:
Low fee transaction : The fee charged when a cryptocurrency is transacted is low compared to fiat money. Using cryptocurrency as payment will solve the problems associated with international currency payments for business that have customers in other countries.

Accepting cryptocurrency as payment save the stress of the approval from the middle man before the transactions are executed.

Using cryptocurrency as payment is more secured because it is digital in nature. Which will reduce the fraudulent practice done with debit and credit cards.

Cryptocurrency transaction is not reversible, this simply means when payment is made, it is payment. This will help solve the problem of cash reversal after payment which will in turn, help the owners of this business determine exactly the amount of money which came in.
---
CONCLUSION
The advent of cryptocurrency has opened the eyes of humans to know that everything can be possible. When bitcoin was invented alot of people didnt believe it had a future but today the story has changed. The name bitcoin has become a global brand with so much value, creating more opportunities for we humans to explore. I believe in the future of cryptocurrency and thats one reason i joined steemit.
---
Thank you for reading
Regards