SOLANA BLOCKCHAIN-CRYPTOACADEMY/S4W4-HOME WORK POST FOR @pelon53
Hello steemians,
I welcome you all to my page. Its week 4 of season 4 lectures of cryptoacademy and am excited am part of it. I cant stop appreciating @cryptoacademy for such opportunity to learn new things every week. To my teacher @pelon53 for opening my eyes to such an interesting topic Solana blockchain thank you sir.
After the lectures and after doing my research, am here to answer the questions set by the professor.
---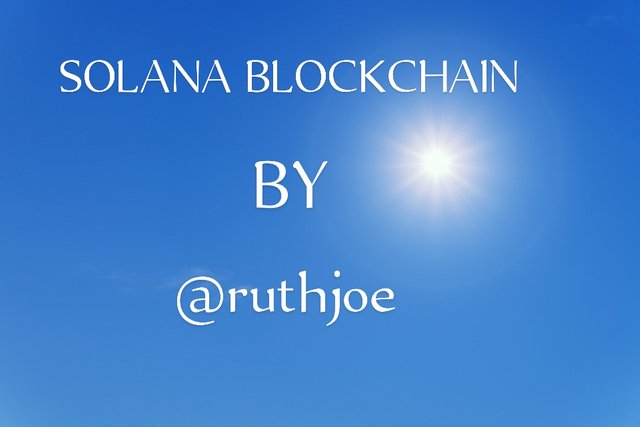 Source

QUESTION 1: EXPLAIN IN DETAILS THE POH OF SOLANA
Firstly, before i explain the POH, i would like to quickly explain what solana blockchain is about.
Solana blockchain is an amazing technology. It is a decentralized blockchain. I say solana blockchain is amazing because it is not only secured but it deals with the issues associated with time and scalability, this makes it very fast. Solana blockchain has the ability of carrying out 50,000 transactions per seconds, with its transaction fees(average) as $0.00025 which makes it less expensive.
Solana blockchain is foundered by Anatoly Yakovenko with the name of the company responsible as Solana lab. This company was born in the year 2017.
In general, solana blockchain is fast, scalable with low cost of transaction and it is user friendly. Solana works with the assistance of two consensus namely : proof of stake(POS) and proof of history(POH)
THE POH OF SOLANA
POH is an acronym which means proof of history. The word history simply means detailed record of an event of the past. This means that POH of solana keeps and presents proof of records,of past events in the blockchain.
POH is one of the reasons why solana works at its best. Proof of history works by creating and recording the history of events that took place per time. The proof of history is what gives solana its uniqueness from other blockchains. Other block chain works with proof of work, while solana works with proof of history. Solana is actually the first blockchain to use proof of history.
When a blockchain has a very high transaction speed, it makes data to be transfered in a better and fast way on the blockchian, this is what the POH does. POH helps the blockchain works at a fast speed with large capacity of transactions.
POH helps the solana blockchain stay focused, solana blockchain does not depend on the time/clock found in the computer, but on the cryptographic time. This works by allocating a timestamp for any transaction done, it also removes the ability of the deciding the transaction that will be recorded in the blockchain from the hands of the miners. The POH works by each nodes keeping records of its own time.
Proof of history(POH) has proven to be helpful in terms of speed, with large transaction ability.
---
QUESTION 2: EXPLAIN ATLEAST 2 CASES OF THE USE OF SOLANA
There are severally cases of the use of solana but i will be discussing 2 cases of its use.
MAPS.ME
Maps.me is one of the many cases of the used of solana. We know what maps are, but for emphasis, maps gives a geographic location of a place which includes building, roads, streets, vegetations etc on land. Today maps are so important to humans because having a map handy will enable you find your way without having to even ask questions.
Maps.me is a mobile app which is made available on the android phones, on the ios and for blackberry users.
The maps.me maps are very unique and different from all other apps because of its ability to be used offline. Isn't this amazing? This means that even when you are in a place where there is no internet connection the app can still be used.
In the year 2015 the app became an open source while in 2020 it was sold to a group called Daegu limited, this group moved the app to a whole new level when its interface and content was changed. The former name of maps.me was maps with me.
Some unique functions of maps.me includes:
it saves memory with its fast operations.
Can show your location as a user
Gives an offline location
Ability to share locations and bookmarks with others.
Uses open street map data to give locations.
Aside the use of maps.me for direction, it also has the financial side of it which includes products and services taking place on the blockchain. This gives those who make use of it an opportunity to where they can store their assets, make transfers of their funds gotten, can pay digitally for purchases done and as well as the ability to convert from one currency to the other.
Maps.me is built on the solana and it follows the DeFi technology. It also has a digital wallet which allows peer to peer transactions. This means there is no need for the use of middle man before transaction can go on between people. Maps.me has a token and it is called MAPS. MAPS been the token for maps.me is reward system created to reward users of the project. There are about 10,000,000,000 MAPS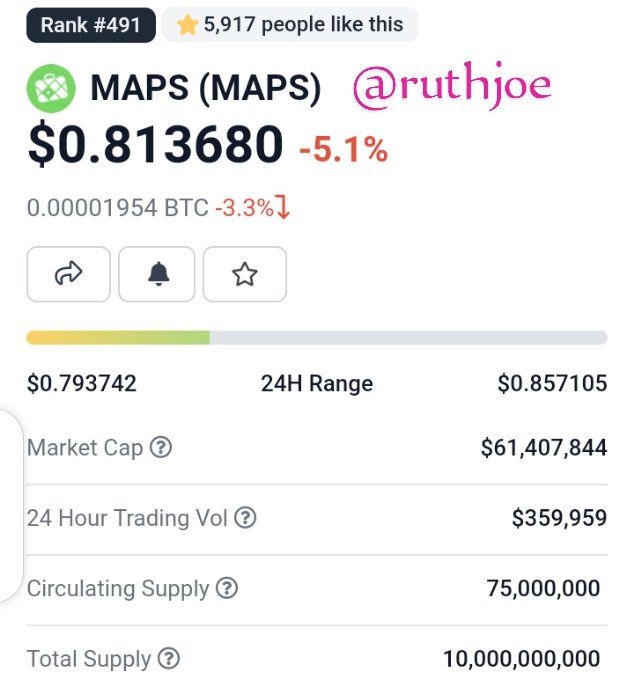 According to coingecko, at the time of this work, maps.me token called MAPS is Ranking 491 and is sold for $0.813680 with a marketcap of $61,407,844. Having a circulation supply of 75,000,000. Its 24 hour trading volume is $ 359,959.
---
SOLFARM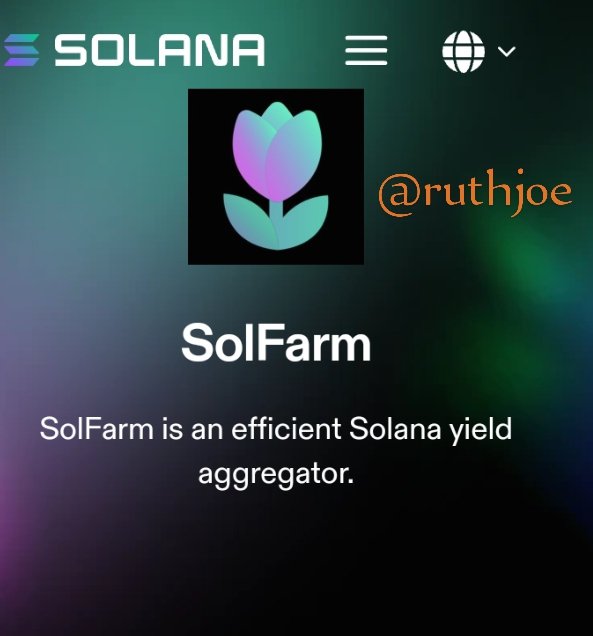 Solfarm is another case of the use of Solana. Solfarm is built on solana blockchain. Solfarm is said to be the foremost platform of aggregation that was built on the solana. One of the things it enjoys is the low cost of transaction on the solana.
Solfarm is decentralized in nature, it was launched April 2021 and one of the reasons for which it was built was to make the farming experience of its users stressless, also to help users earn their reward easily. As at the time solfarm was launched, it was not launched with a token. But now it has a token which is called TULIP. Users who have the TULIP token are able to join the vote on its vaults.
The TULIP token has some uses which includes:
Payment of fees on the platform
Treasury usage
Pool reward checking
Protocol improvements.
While some of the features of the solfarm includes:
A user interface that is simple
A low fee transaction
An auto compounding yields.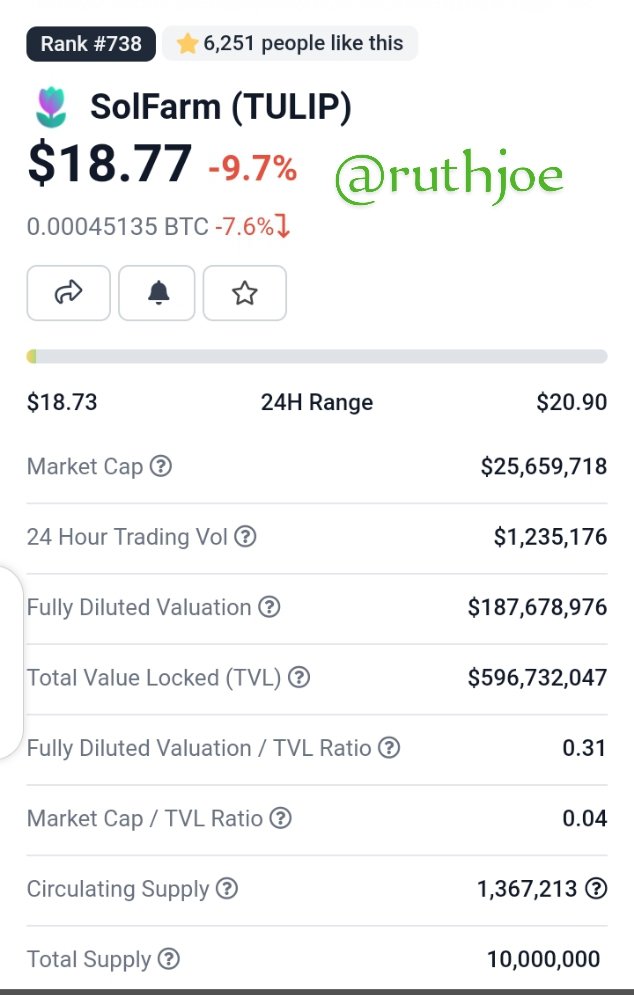 Source
As at the time of this work, according to coingecko the solfarm token( TULIP) ranks 735 and is sold for $ 18.77 with a market cap of $ 25,659,718. With a circulation supply of 1,367,213 having a 24hours trading volume of $1,235,176.
---
QUESTION 3: DETAIL AND EXPLAIN THE SOLA TOKEN
The word Sola is a acronym which means social layer Sola is a decentralized platform having an open source, built on the solana.
Sola is a social media platform just like steemit, with its founder known as Pavel Panov.
On Sola ,users creates contents on the platform and earn from it. Forgive me but i use to think that steemit was the only social media that operates like this, i mean where users craetes contents and earn from their contents. But now i have been more clarified. But unlike steemit, the sola has its own app which was released in the year 2017. What the users of sola earn when they make quality contents is called the Sola token . On sola users post several things ranging from stories, news and even entertainments.
The Sola token is what is used to run the economy of Sola, making it a stable system. The sola token is the reward users get from using the platform.
The sola token is a DeFi which is built on the solana.
There are benefits of the sola toke and some of it includes :
Good price for swapping.
high liquidity.
As at when this work was done, according to coingecko, Sola token ranks 1789 and is sold for $0.6132 having a market cap of $1,665,044 with circulation supply of 27,153,077 and the total supply of solar token been 27,153,077 and a 24hours trading volume of $30,418. As seen from the screenshot below.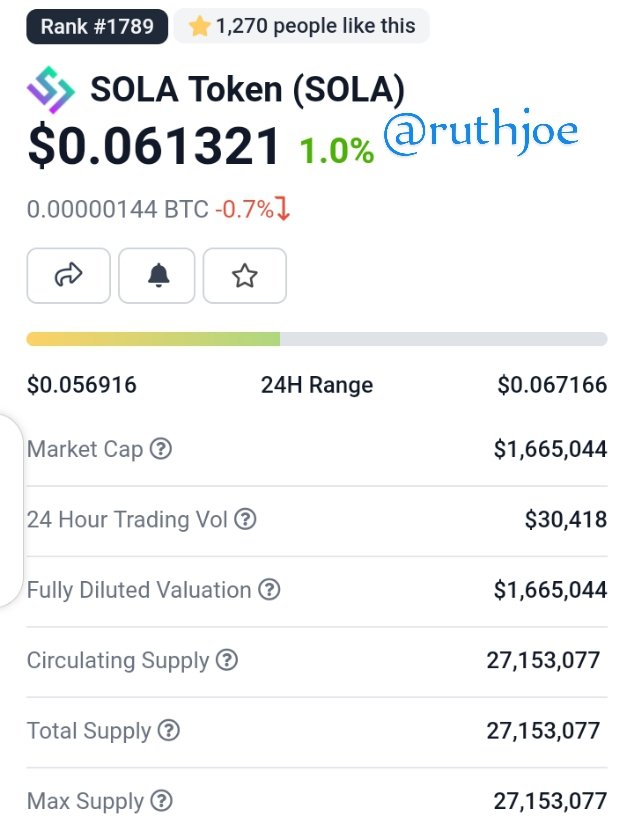 Source
Here is the coingecko price chart for the Sola token as at when this work was done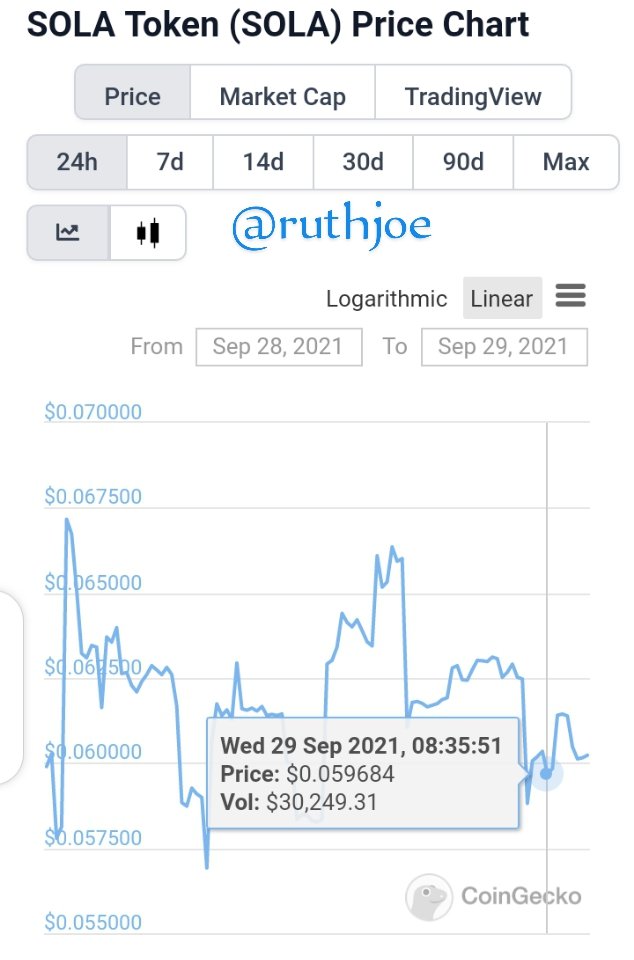 ---
QUESTION 4: WHEN DID SOLANA BLOCKCHAIN SEE ITS OPERATIONS INTERRUPTED? WHY? EXPLAIN
Solana blockchain saw its operations interrupted in the year 2021, in the month of september and on the date 14.
WHY?
Before i say why i would like to make a simple instance with my mobile phone, although, it may not look exactly as to what happened. I use my mobile phone for steemit generally. And i can be on my phone from morning till evening steeming, i can charge my phone like 4times daily because am using it, so imagine the workload. One day, i got my phone and was working with it, all of a sudden, it started hanging, the next thing that followed was that it shut down.
Solana blockchain went offline on the 14th of September because of an over flooded transaction. Some call it a surge transaction there were so many that were on the queue waiting to be attended to, so the transactions overcrowded the network which resulted to a fork, everything was interrupted and it went offline.
A fork is described as the process where blockchain network divides into two. A fork can take place in short time or parmanently and either accidentally or as an intentional act.
In the case of solana blockchain, the fork was for a short time and was accidental because it came back online the next day been 15th september.
Notwithstanding , before it solana went offline for a short time, the solana token known as Sol was a top currency and was even beating bitcoin and ethereum. It rose to about $200 per coin but the price went downwards after the blockchain shut down.
---
QUESTION 5: CHECK THE LAST BLOCK GENERATED IN THE SOLANA AND MAKE AN APPROXIMATE CALCULATION OF HOW MANY BLOCKS PER SECONDS HAVE BEEN GENERATED IN THE SOLANA, TAKING INTO ACCOUNT FROM THE INITIAL BLOCK OF THE CURRENT ONE? JUSTIFY YOUR ANSWER AND SHOWSCREENSHOT
First i login to solana explorer through the link given by @pelon53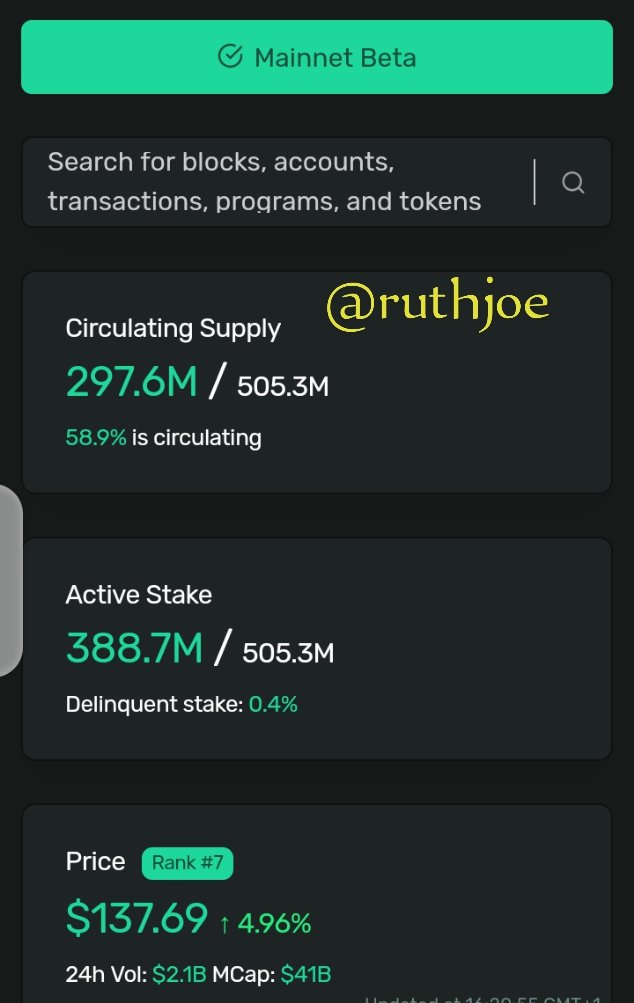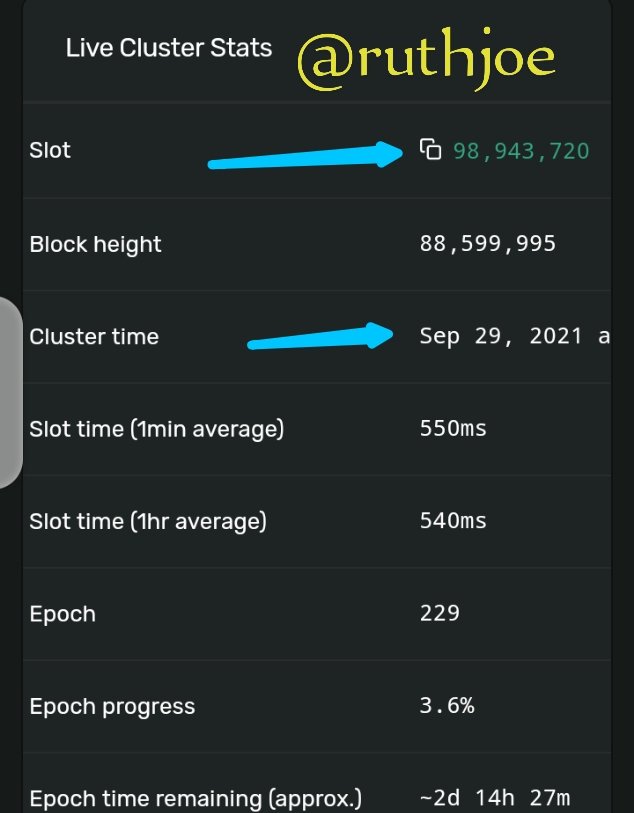 The last block from the block explorer is 98,943,720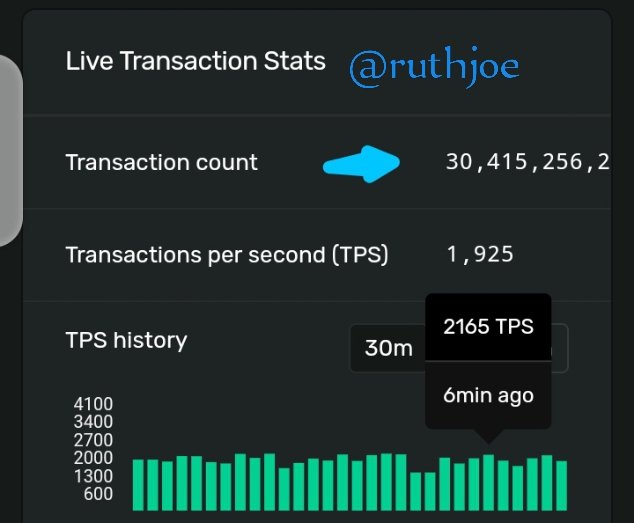 I moved downwards where i saw the cluster time which sept 29 2021.
Transaction count = 30,415,256,20
I clicked on on the transaction history nd i found out that the transaction per seconds(Tps) is 1,925
Therefore the blocks per secs generated is 1,925 as at the time of this work.
---
CONCLUSION
The technology used in solana blackchain is an amazing one, taking care of some core issues associated with blockchains. Solana blockchain is has alot of benefits that goes with its usage but the that amazes me the most is its speed and the volume of transaction done per seconds.
I would not have known such technology existed if not for the lecture of @pelon53 thats why i wont fail to appreciate him for this lectures.
Thank you for reading