Crypto Academy Trading Competition - S6T4 | TEAM REMINANE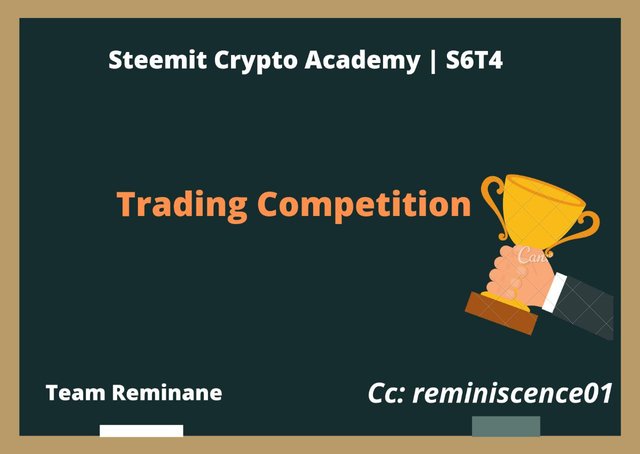 Image edited in Canva

Hello Steemians, I welcome you all to another week in the Crypto Academy trading competition for season 6. This competition was initiated to enable students to test the knowledge they have acquired so far in the academy. Aside from that, the trading competition will also give students confidence and expose them to the skill of trading in the crypto market.
So many trading strategies have been taught in the academy over the past weeks and we believe putting them to work will help us gain confidence in making better trading decisions in the crypto market.
In this post, I will be guiding my team " Team Reminane" this week in the trading contest. The last trading competition I led didn't really turn out well for some users as many of them were disqualified. I won't like such situation to repeat again in this weeks trading competition. I will be giving more details on the guidelines and also the required techniques needed to make good trades in the market. Please I urge you to pay adequate attention to how to fill out the Google form.
You are all welcome to team "Reminane" once again in this trading competition. I assure you of great trading experience if you can adhere to the rules I will detail in this post and also the trading advice I will give you for good trading success. The unique hashtag for the team is #reminanes6t4 which you will include among the first 5 tags in your trading post.

What should be included in your Post

In this trading contest, users are can trade any coin/token (excluding **Hive and Blurt) in the following market:
Spot market.
Futures market.
Margin trading etc.
Please understand that you cannot trade the same token you traded in the previous competition, A user is required to make a post on each successful trade daily and post it in the crypto academy community. You can trade as many times as you want in a day but you are required to make only one publication in a day and not more than 4 posts in a week. You can start posting from Tuesday The content of the post can be:
The name and introduction of the project token, which exchanges it can be traded on, project / technical information of the coin/ team background, etc.
Why you are optimistic about this token today, and how long do you u wish it can rise.
How to analyze the token? (This can technical analysis and trading strategies learned from professor's courses) - This section is very important.
Your plan to hold it for a long time or when to sell.
Do you recommend everyone to buy this token? Give reasons for your answer.
Any other thing you might want to share about this coin/token.

How to fill out the Google form

The google form is meant to be filled out and submitted on Saturday. Here a user will include 4 trades carried out each day during the week with the format explained below. A user is required to upload a short video of the 4 transactions shown clearly in other to be eligible for the competition.
Steps:
Enter your username as shown below.

Source : Google form
Fill out your transaction details using the format below. Please separate every detail with a comma as shown in the screenshot below. Also, no comma should be included in the asset price. For example, inputting 45,000 or 3,500 is incorrect. The correct format should be 45000, 3500,2000 without any comma.

Source : Google form
Upload a short video of the 4 transactions you carried out and click on submit.

Source : Google form
Note: If your trade is currently running, calculate the PNL using the current asset price on Saturday before submitting your Google form. Also, all PNL should be converted to USD/USDT for non USD pairs.

Trading Guidelines for Team Reminane

This is a little guideline I feel will help you make a good trading decision in the market. Trading cryptocurrency is not easy but having the right trading plan will enable you to make good decisions in the market.
Have a plan: This requires you have a trading setup you look out for in the market. This can be chart patterns, support, resistance, candlestick patterns, or indicator signals to make your trading decision.
Entry and Exit Criteria: Before executing a trade, you should be able to have a clear entry criterion. For example, a bullish engulfing candlestick pattern formed at a support level is a good signal to go execute a buy position. Also, exit criteria which can be a stoploss or take profit should be placed at strategic positions. The best positions to place your stoploss should be above or below previous highs/lows or above or below support and resistance levels. This can help give your trade room for price fluctuations.
Risk Management: I have mentioned in my lesson, if a trade can't give you at least a 1:1 risk-reward ratio then the trade doesn't worth risking your money on it. You can wait for another setup with better R:R to take advantage of the market. This is the only way you can be profitable in the market.
Finally, I urge everyone to be patient with the market. Do not force a trade or open a position without having a clear signal or reason to execute a trade. Also, you can have confluence from other technical analysis tools to strengthen your trading signals.

Guidelines

Please this trading competition is focused only on cryptocurrency pairs. The use of forex, indices, or stock will be disqualified. Kindly take note of this.
Your entry must be posted in the Steemit Crypto Academy community. Your entry title format should be " [Crypto Asset Traded] - Crypto Academy / S6T4- Team Trading Contest Post for Reminane".
Plagiarism is a great offense in Steemit Crypto Academy and it won't be tolerated. Ensure you refrain from any form of plagiarism.
Your post should not contain less than 400 words.
All images, graphs, and screenshots from external sources should be fully referenced, and ensure to use watermark with your username on your screenshots.
Use the tag #reminanes6t4, #cryptoacademy, #club5050, #club75, #club100 if eligible and your country tag among the first five tags. Also include other relevant tags like, #trading #cryptocurrency.
Only users following at least #club5050 are eligible to participate in this competition.
The competition runs from Sunday 00:00 March 27th, 2022 to Saturday 11:59 pm April 2nd, 2022 UTC Time.
Only users with a minimum of 500 SP and having a minimum reputation of 60 are eligible to participate in this competition. Also, note that you must not be powering down.
Users who have used upvote tools to gain SP or build their reputation are not eligible to participate in this competition.
Note: You can only drop your post link in the comment section if not reviewed after 48 hours.
The comment section is freely opened for suggestions and feedback on the competition.
Cc: @steemitblog