REPOST SLP /USDT Trading Competition - Crypto Academy / S6t4 - Homework post for pelon53.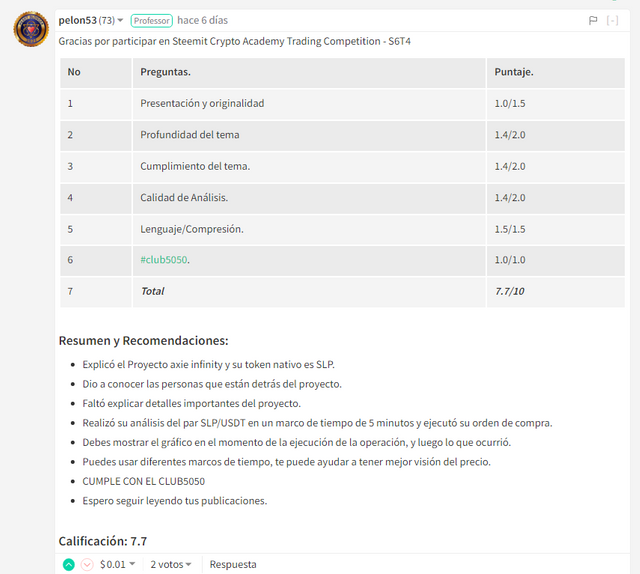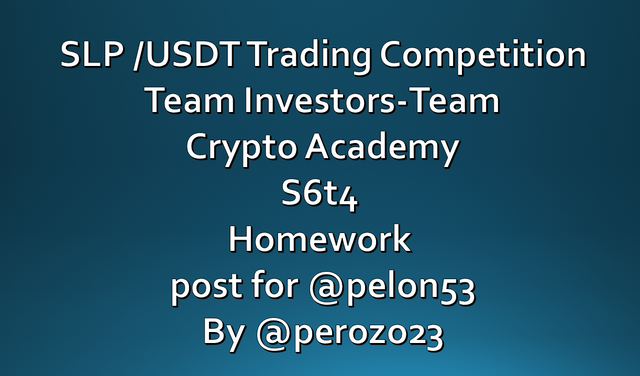 powerpoint
My second participation of the week in the Team Investors-Team group by Professor
@pelon53
today I will talk about another currency is a very particular token without more to say I hope you are very well happy start of the day and let's start with the development of Trading Competition.

SLP/USDT:
.
This token comes from a NFT tokens were used to reward players for their effort and performance within the axie infinity platform, we know it is an ERC-20 token and this was created by developer Trung Nguyen. This token is shaped like a passion and is called the passion smooth love, also has a use within the platform and is to create new axyes are a NFT pets that are generated to play within the game right now you can raise 7 pets from one to these can be called children and there is the mother and father, every time you create a child from a mother or father the amount of SLP to use is increasing in proportion to the level where it is.
Currently in coinmarketcap.com is at 0.02USDT each SLP with a total supply of 5,375,374,133 SLP same amount for circulation as the token is created indefinitely. is in Market Rank #396 with a total trading volume of $448,592,578.40 the capital that is currently market cap is $109,819,845.91.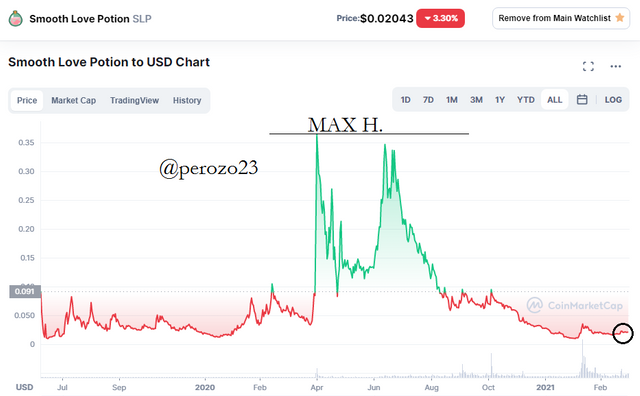 Source

The exchanges where SLP is found are Binance, pionex, timex, hotbit, hitbtc, kucoin, poloniex, etc. SLP is accepted by almost all exchanges for its high demand by users or investors around the world which has obtained a lot of participation in the crypto economy and NFT is a project that has a vision is solid, scalable and has a very professional technical development team.
Source

Why are you optimistic about this token today?
.
I am optimistic because of several factors the first the price action it has been doing since the past on two occasions it has taken very high prices on the 30th of open 2021 the price reached 0.364 per token this has been its all time high then it tried twice to break this resistance on the 12th of July 2021 reaching 0. 34$ per token to have a correction and then try again to pass this resistance on July 22, 2021 then there was a fall in the crypto market in general and the token fell very low again as in past years these peaks with my price action strategy could again try to pass these peaks of resistance and then have a correction to the average and be at a floor of 0.14$ so right now at this time I am very optimistic with the token.

How much do you think it can go up?
MY theory goes based on my psychological analysis of the market and fundamental then I can speculate that in the course of this year 2022 no later than June August the token could resume strength again in rising price volume and for this with the previous price action and the data I handle can the token retest the important volume resistance zone and try to break remembering that it takes 2 attempts and possibly if it breaks it will be with strength that moment is where I will sell my token slp. to take profits and then buy when it goes down to $0.14

Source
In the above chart we can see how if we want it to touch again the previous highs it has to increase 1824% its value from where it is, we are in the SLP/USDT Daily chart. we also see an important factor the current trend in the daily is bearish but I see that it is in a consolidation range thus exhausting its bearish trend in the daily if we see that the candlesticks begin to close above the ichimoku cloud is a very good bullish sign for the coming weeks and months.

SLP/USDT real money trading
Performing a technical analysis I could see a very juicy entry at $0.0199 even after this I was confirmed by the moving averages previous resistance breakouts and a change in the RSI which did not overshoot to overbought therefore it stayed in a range supporting my annals the adx showed me the strength of the trend which I traded without problem with a 1:2 risk management where 2 would be the amount of times with respect to my stop loss profit. my stop loss I placed it just below the previous support placing my stake profit above twice the stop loss. remaining at 0.0211$ taking profit here I bet 100.4328 real $ for this transaction buying 5040slp selling the same at 0.0211 for a total of 106. 344$ this gives me as a result a net profit of 5.9$ which assures me a capital of almost 6% of what I invested in only 5 hours of waiting since I left the trade open and went to sleep. using the scalping method it was very accessible this successful trade.
SLP/USDT Buy 0.0199, 0.0211, +0.0012$.
SLP/USDT Buy 100.4328, 106.344, +5.9$.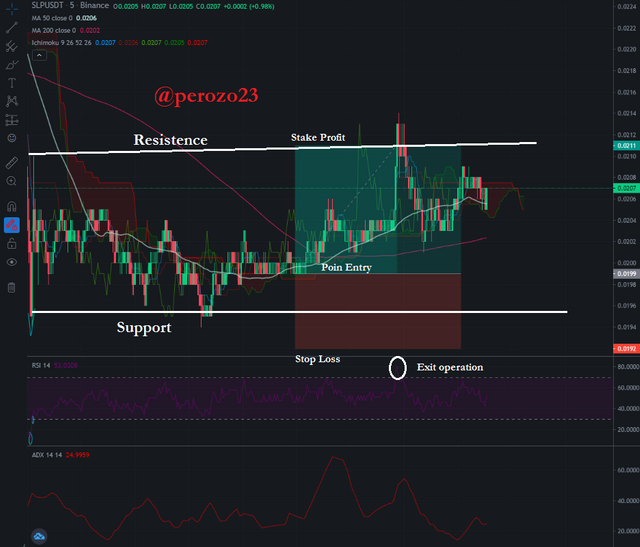 Source
When we see an operation that reaches its maximum or close to reverse we can see it in the RSI when it leaves the range of 70 to be very careful as this is a sign that you should sell the asset therefore place the stop loss and stake profe is crucial in house operation I recommend you to perform a good technical analysis of this.
If we see what happened next is a normal healthy reversal in an uptrend as this touches the 50ma moving average and returns up again NOT CHANGING the trend.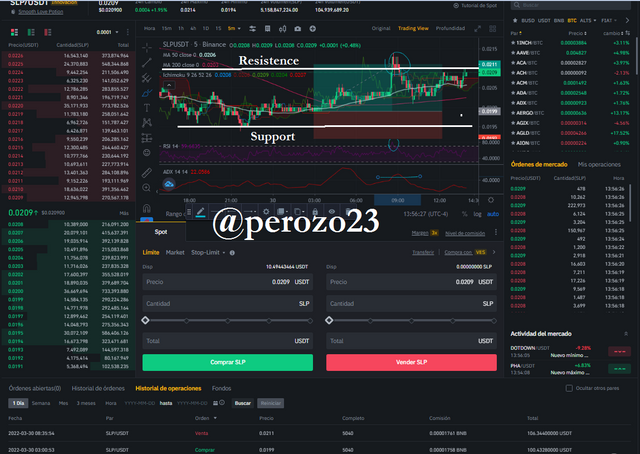 Source

Do you recommend everyone to buy it? Reasons to recommend it or not to recommend it
I am not a financial advisor as I always say and I am not ready to do it yet but I can recommend you that they are two different things that you study do your own technical analysis and try to define the price action this token has touched historical highs previously of more than 1800% the value it is now so we owe more...right now it is at super good levels to buy or create the SLP in your axies account, because if you wait for the news your investment will arrive too late and maybe it is already in sell zones when you see the news come out in social networks.
So my recommendation is to accumulate SLP as much as you can to try to loose it and if you want to operate with SLP you are free to do so but I like more the idea of accumulating SLP in the passage of time even some years the token is gaining life and acquiring value is a strong solid token and that right now is accepted in several stores in the world online and physical stores, besides being a very popular token in the world at this time.

Conclusion:
Performed my technical analysis I decided to put 10% of my assets in this operation as I saw an opportunity in my analysis is not always so today I ran with luck as my analysis was good and everything went well implementing everything I learned in the academy and using properly the indicators I could determine the ideal position to buy and sell the asset, placing stop the stake profit and also something extremely important defining the important high volume supports and resistance within the chart this is something very essential also we must know how to differentiate patterns in the chart depending on the temporality today I used the 5min chart and the chart in the Daily. In this way we know the future projection of the asset and where it is currently.
As I said in the daily is in a range position which we can identify as a consolidation process to resume its upward path again and then placed on a higher floor level so the token is gaining strength and interest by investors d elos in addition to the news that has to give the group of developers of the token that are the same developers of the game axie infinity that soon will give them therefore it is time to accumulate SLP.
Thank you for your attention: