Steemit Crypto Academy, Season 4 | Week 6 - Investment through Private and Public Sales | Homework Post for @fredquantum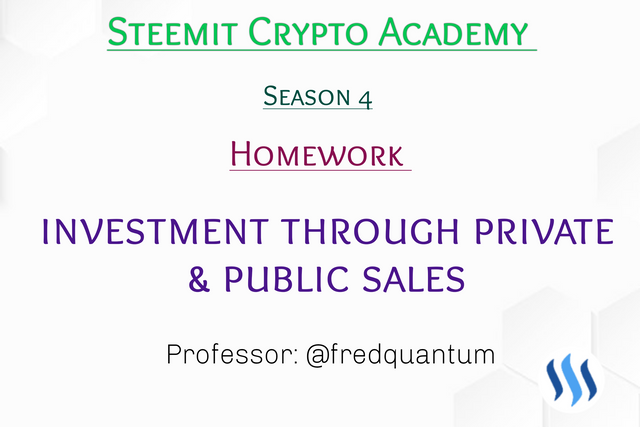 ---
INTRODUCTION
---
In the world of cryptocurrencies today, timing is everything. It could be the difference between seeing a massive increase in returns as profits or losses. This is why prospective traders and investors are always on a lookout to find new assets of great potential to ape in before they are listed on any major exchange such as Binance or Coinbase. This is done at the Private and Public stages of the cryptocurrency which I will be throwing more light on in this article.

What can you say about Crypto Investment and how to properly utilize the investment tools available to make the right decisions?
---
Crypto Investment
---
With dozens of cryptocurrencies emerging everyday and with every modern day investor looking to understand the basics of cryptocurrencies, it would be very irresponsible of anyone to not look into crypto. Although, it is still fairly young considering bitcoin was first created in 2008, it has grown massively with institutional support.
We have seen big firms and companies like Tesla adopting bitcoin as a form of payment. Even countries are open to the idea of making the leading cryptocurrency a legal tender with El Salvador being the pioneers.
With this massive global adoption, bitcoin is now being viewed as a currency that could eventually become the leading global currency. This means that sooner or later, everyone will eventually dive in.
10 years ago, if someone told you that bitcoin would cross $10,000, you would laugh your lungs out not to talk of $50,000 or even $100,000. But before we go any further, we need to look at what you some of the prospective gains in these major cryptocurrencies over the years.
According to cryptocurrency chart, if you had invested into any of the following assets last year, (cardano, solana, harmony and verasity), here would have been your percentage yield in a year.
---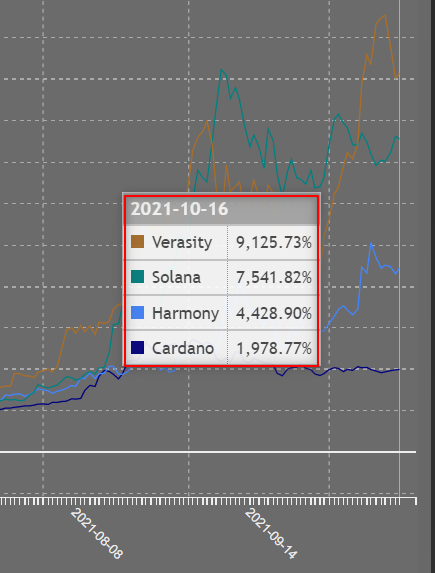 Sreenshot: cryptocurrency chart
---
This simply dwarfs our traditional banking systems that would see your asset return a profit sometimes less that 10% annual yield.
But bear in mind that being a successive crypto investor comes with great responsibility which means that one must do their own research and trade with discipline. That way, you can make informed decisions on trading efficiently.
Here are some strategies to implement in order to make better and more efficient trades.
---
WATCHLIST
---
Having a watchlist is very important in crypto trading. This is because it helps you to monitor closely all your invested assets closely and adjust your trades based on how they are moving. And in making a watchlist, we have to consider a few things in order to make sure it is thoroughly diversified and has the right pattern. These include;
Market Cap
Trading Volume
Its Support & Resistance
**Daily, Weekly & Monthly Charts.
---
DIVERSIFIED PORTFOLIO
---
A portfolio refers to a representation of the various crypto assets you have invested into. This allows you to know which crypto assets you are currently holding and which ones are performing as compared to the rest.
Since crypto can be highly volatile, investors must be careful which crypto to invest. Even the most careful traders are still liable to a crash in the market. This is why a portfolio must be built carefully and steadily.
Ideally, your portfolio must be thoroughly diversified and should cut across all three of these market caps;
Low Caps
Mid Caps
Large Caps
---
INDICATORS
---
Crytpocurrencies have been observed for several years by expert traders and analysts. This made it possible for them to observe the trends and patterns of price movements. With this information at hand, they have been able to come out with working indicators that can signal entry and exit points for various trades.
Of course, no indicator is 100% efficient. But if it is coupled with other indicators, it is able to give better predictions of higher levels of accuracy. Common indicators include; RSI indicator, Fibonacci Retracements and Bollinger Bands.
---
OBSERVE THE MARKET WITH TRACKING APP (COINMARKETCAP)
---
Coinmarketcap is perhaps one of the most visited crypto tools out there. Here, you can observe the market trends, follow news revolving around the crypto space, track the performance of a particular currency, set price alerts, checkout new listings, and many more.

2. Talk extensively about the following. Also, highlight the benefits and risks associated with each.
i. Private Sale in Cryptocurrency.
ii. Presale in Cryptocurrency.
iii. Public Sale in Cryptocurrency.
---
Generally, before a cryptocurrency appears on exchanges and various markets for trading to begin, the project team needs to first raise funds for the project. This is done to investors the chance to be the first buyers of the token. The process is termed as an Initial Coin Offering (ICO).
To start an ICO, a certain amount of the token must be set aside for this purpose. This allows the team to set a target for their token sale. There are two targets ICO's tend to look at. That is; the soft cap and the hard cap. The soft cap refers to the minimum amount of funds that should be met to call the ICO successful. Whereas hardcap is the maximum amount of funds expected to be generated from the token sale. Hardcap therefore signals the endpoint of the token sale.
There are three phases associated with an ICO. These are; private sale, presale & public sale.
---
Private Sale in Cryptocurrency
---
Private sale is the phase of the ICO which is not open to the public at large. Only a selected group of people are allowed to participate in this event. Even so, they are scrutinized and examined to ensure that their intentions for participating aligns with that of the ICO itself.
Various interviews or conference calls may be held to hold a one-on-one discussion with the project team in order to ascertain if you are the right fit for the token sale. Since it is the initial sale to help the tokens funding foundation, a very strong backing is required. It therefore targets investors at the institutional level.
Such an event comes with its own advantages and setbacks. As such, let's take a look at some pros and cons of private sales.
---
PROS
Investors are able to get higher bonuses that in presales.
Provides investors with a discounted price of the token.
Private sale investors profit the most when the token skyrockets.
---
CONS
Background checks are much stricter.
Project may not be thoroughly audited at this stage.
Tokens my be subjected to locking for a long period of time.
---
PreSale in Cryptocurrency
---
This is the sale of the tokens right before public sales begin. This is usually the opportunity for the "lay man" to fill their bags if they trust the project and believe it has great potential. During this phase, you would usually encounter several advertisement surrounding the project on social media, websites, and so on.
Presales usually have a duration within which you can enter. After this period, any future investor would have to wait for the public or crowd sale.
---
PROS
Increased chances to gain impressive returns after pre-sale when sold than public sales.
Higher chance of token acquisition than public sale.
It presents the chance to get tokens at a discount than public sales.
---
CONS
It could get sold out if you're not quick.
Minimum investment threshold is higher than public sales.
Development of the project is usually still at its early stages.
Very low liquidity of the token at this point.
---
Public Sale in Cryptocurrency
---
This is when the token is open to the entire public on a wide scale. Here, extensive advertisement is done to attract investors since the success of an ICO depends of how well the public sale goes. But this stage of the ICO also offers the least rewards in terms of bonuses received on token purchase. But the verification process to purchase tokens here is also not too demanding as seen the private sales.
The following are some pros and cons associated with public sales.
---
PROS
It presents a much lower risk than the previous ones since the asset is much more developed.
More resistant to price volatility at this level.
There is more liquidity of the token at this point.
Its minimum purchase amount is much lower compared to that of the private and pre sales.
---
CONS
Tokens may be sold out at this point..
Tokens could be dumped by investors right after this phase or during this phase.

3. What are the mediums used for Public/Pre/Public Sales in Cryptocurrency?
---
Project teams and developers resort to several mediums for their public/pre/private sale of their tokens. Here are a number of them.
---
Crypto Launchpads
---
At first, any prospective crypto investor looking for a good ICO to participate in needs to carefully analyze the project and ensure that the project has a strong foundation and is void of any fraud. This makes the inexperienced traders still susceptible to various scams associated with them.
However, today's top exchanges have taken it upon themselves to scrutinize several upcoming projects and place them in a subgroup under the exchange. This is a much safer and easier means of finding early projects.
Some top crypto launchpads can be seen below;
Binance launchpad.
Unicrypt Launchpad
TrustSwap Launchpad
The Red Kite Launchpad
Polkastarter Launchpad
---
Listing Websites
---
There are several token listing sites out there that offer various information of fresh tokens and upcoming projects. However, these may not be well vetted so you must take some time to verify their authenticity before going ahead to invest in them.
---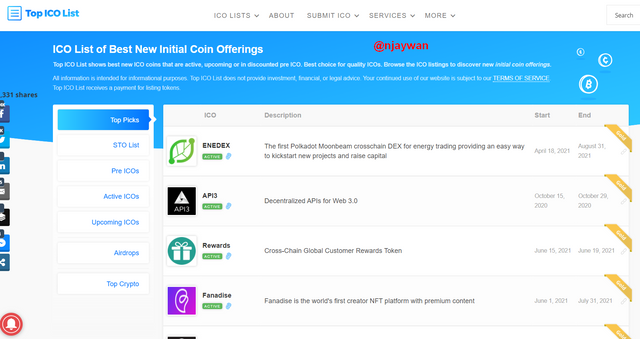 screenshot: https://topicolist.com/
---
Coinmarketcap
---
Coinmarketcap is sort of your all-in-one crypto app that provides useful information about various events and happenings around the world. This is not just limited to crypto news, price movements and top gainers but also makes provisions for the upcoming projects and the period of duration as seen below.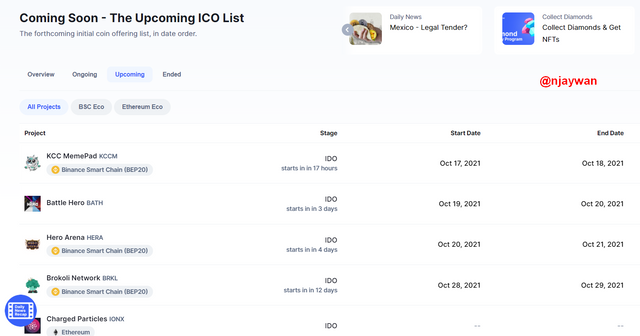 https://coinmarketcap.com/ico-calendar/upcoming/)
---
Social Media
---
On social media sites like twitter, there are always numerous upcoming token sales and projects. These could either be private sales, pre sales or public sales. There are numerous accounts that are set up to help track such projects such as @icodrops and so on.
Checkout this new private sale that was published on twitter yesterday.
---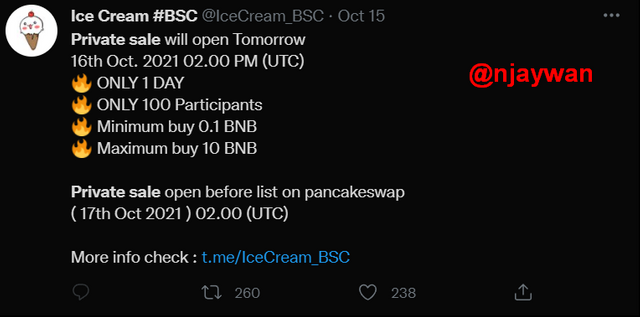 screechot : twitter

4. Research about any recent (2021) successful ICO or IEO and give detailed information about the project. (Note: BETA token is excluded).
---
Here, I would like to discuss a recent IEO that took place successfully on the Avalanche ecosystem called Verso.
Verso is a financial product that is meant to bridge the gap between our traditional financial world and the emerging decentralized one. That way, we can be able to connect financial service providers, network validators and financial applications all through a community governed by its participants.
A picture of the Verso system can be seen below.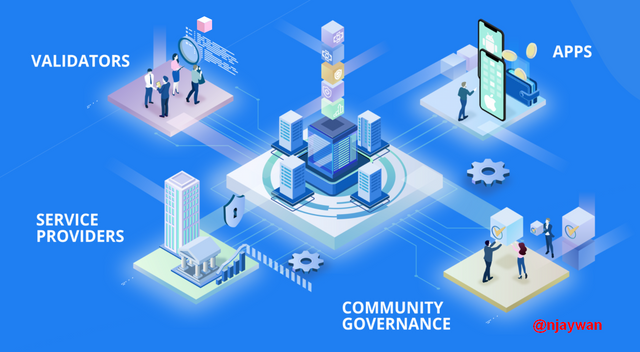 screenshot : https://verso.finance/#whyverso
---
Verso can be applied in many financial sectors;
Provides a wide range of services for bank customers and regular people.
Grants access to multiple products and services through e-wallets.
It eliminates the blockade between Cefi and Defi.
It helps our traditional banking systems to operate microfinances without any hinderance.
---
Verso 's ICO launch started about 6 months ago on 29th April and lasted for only a day, ending on 30th April. All in all, 4,000,000 VSO's were put up for sale during the IEO with a token price of $0.050000 for each VSO.
The IEO had a soft cap of $200, 000, meaning the expected minimum amount of funds raised during the IEO should be $200,000 for it to be successful.
For the prices going for $0.005 at the time of the IEO, it would mean that
200,000/0.05 = 4,000,000 tokens must be sold to meet the soft cap.
Here, the soft cap also happened to be the goal of the IEO as seen below.
---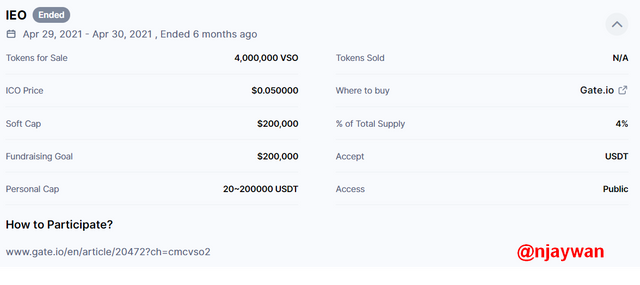 screenshot : https://coinmarketcap.com/currencies/verso-token/ico/
---
According to coinmarketcap.com, at the time of this post, the price of one VSO token stands at $0.1072. This means that if you had bought $1000 worth of the token at the time of the IEO, you would now be sitting on,

0.1072/0.05 * $1000 = $2144

5. Create an imaginary token. Write about the project including its use case. Develop an ICO which includes Private sales (3 stages) and Public sales (1). Note that: You are expected to explain what the funds are intended to be used for, your Private sale should have 3 stages, and specify the initial supply available, and the price you are issuing the token in each stage. Also, specify the price you are issuing the token at the Public sale phase (including the supply).
---
For my imaginary token, I would name it Oxigen(OXN). In today's world of technological advancement and the need for large machines for large scale production, the burning and consumption of fossil fuel is on the rise leading to massive increase of carbon emissions. This is a problem that world leaders are struggling to address since we cannot simple do away with our current technology.
Of course, sustainable land use and environmental departments are set up in various institutions but they can only manage the effects to a certain degree.
Now, with the world economy opening its arm to cryptocurrencies, it is quite pertinent to start projects which are geared towards achieving this particular goal. This is why it is necessary to have a project aimed at fighting climate change.
Oxigen (OXN) is therefore meant to be a token for a project that is meant to help the fight against climate change and facilitate the education of people on the need to use renewable forms of energy.
Thus, we will be looking to partner with institutions with this particular goal.
---
OXN has a max supply of 10,000,000,000 tokens. For the ICO, there here are the details ;
Tokens for sale : 1,000,000,000 OXN
ICO price per token : $0.005
Hard Cap : $5,000,000
Soft Cap : $3,500,000
Duration : 21st October, 2021 - 30th October, 2021
---
PHASES IN THE ICO
---
Private Sale
---
For this phase, only a selected few institutions will be targetted with the focus primarily thrown at organisations that support our cause. Such organizations include the Global Environment Facility that aids and finances various projects in relation to climate change and proper land use. Details for the private sale can be seen below.
Tokens for sale : 400,000,000 OXN
ICO price per token : $0.005
Hard Cap : $2,000,000
Soft Cap : $1,400,000
Duration : 21st October, 2021 - 23rd October, 2021
---
Pre Sale
---
Our presale would now be open to people and advertisement of our token would begin promptly. That way, early investors could grab some tokens before our major public sale. Details of our presale can be seen below.
Tokens for sale : 500,000,000 OXN
ICO price per token : $0.005
Hard Cap : $2,500,000
Soft Cap : $1,750,000
Duration : 24th October, 2021 - 27th October, 2021
---
Public Sale
---
After we have been able to complete our presale successfully, massive advertisement can now be done for our OXN token so that we can attract numerous investors across multiple platforms. The details for this event can also be seen below.
Tokens for sale : 100,000,000 OXN
ICO price per token : $0.005
Hard Cap : $500,000
Soft Cap : $350,000
Duration : 28th October, 2021 - 30th October, 2021

6. What are the criteria required for listing a token on CoinMarketCap. Is there a criteria for listing an asset on a Centralized Exchange? If Yes, use an exchange for your explanation in response to the question.
---
To list your token on coinmarketcap, several requirements must be met. Thus, every project team must make sure that their project aligns with the specified rules in order to stand the chance of getting listed.
However, we must not forget that simply meeting these requirements and satisfying them does not guarantee your token a listing spot as several other factors come into play as well. The guidelines are a bit different pertaining to exchange listing and cryptocurrency listings.
Some laid down guidelines can be seen below.
For cryptocurrencies,
Token must be traded publicly with at least one exchange with a tracking list on coinmarketcap (CMC)
Token must have an active block explorer and a website with full functionality.
There must be a point of contact between them a representative from the project team.
---
For Exchanges,
Present a website of full functionality with its API data matching its trading volume.
There is a required daily update of trading volumes data which must be published as an API endpoint summary.
Must be running for a minimum of 6 days.
Traders must be allowed to trade with order book
Users should not have to log in to view all trading pairs on the exchange.
Urls associated with the various assets must be shown.
Present a point of contact of the exchange for any further deliberation or discussion.
---
CRITERIA FOR LISTING ON A CENTRALISED EXCHANGE
---
Each exchange has its own laid down rules and regulations surrounding IEO and ICOs. Some tend to be more flexible than others. This could be the reason why most tokens try to get listed on smaller exchanges first before striving to get on top exchanges like BInance, Huobi Pro or Coinbase.
I will be taking us through listing criteria of Poloniex exchange.
---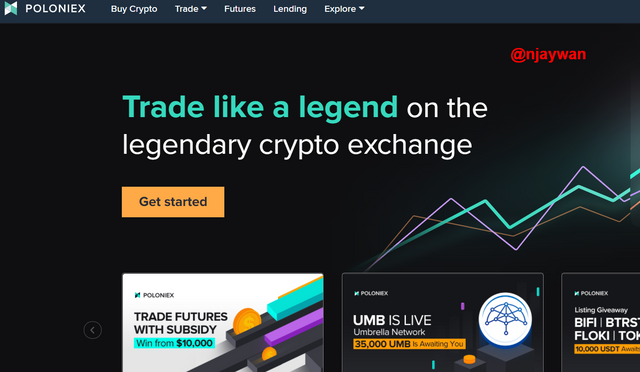 screenshot : https://poloniex.com/
---
Poloniex exchange is one of the top exchanges out there and is ranked #17 on coinmarketcap with a 24hr trading volume of $101,882,420 at the time of writing. It has 222 coins with 358 markets to trade, giving it an exchange score of 7.2. To get your token listed on Poloniex, you must fill an asset listing form and provide the following details;
Project Name
Name of Asset
Ticker symbol of the Asset.
Your affiliation to the project and current position.
URL of the project's website.
URL of project's whitepaper.
Provide a description of the project.
Which protocol the asset is built on (EOS, TRON, Ethereum, QTUM, etc.)
Contact of the developer must be provided.
Provide the contact of the project advisor.
Provide a description of the utility of holding the token.
Which problem the project aims to solve.
Who you consider as your biggest competition.
Roadmap of project for the next 12 months.

CONCLUSION
---
Crypto investment can be very profitable and life changing if found early. And with careful study and cross examination of tokens at their early stages, one can stand a higher chance of being an early investor in an asset with huge potential. These days with emerging applications like the various lauchpads, it has become much easier to find prospective ICO's and IEO's. However, nothing in crypto is foolproof so it is always advisable to do your own research.
---
Thank you for your attention.