Steemit Crypto Academy Season 4 Week 1 NFT Games by professor @imagen
NFT and blockchain technology have become an important advancement in the financial world with the introduction of both technologies transparency have increased among users where there is no need for third parties interference for completion of any business transactions NFT can be in form of artwork, music, and other self-created skills that can not be duplicated with the help of blockchain technology NFT artworks because unique and free from duplication also an artist can sell his work without needing publication from high profile users this a good development where users can independently sell and buy nonexpendable goods.
Describe in your own words the main Advantages and Disadvantages (Pros and Cons) of NFT Games about other types of games.
Advantages of NFT games
An important advantage of NFT games is users ownership over crypto asset just as the word NFT signifies none fungible token in NFT games players who possess a specific character in any game has complete ownership of over such characters which only can be sold by such user which is a unique feature of NFT games.

Security; NFT games allows players to control their possessions using wallets which makes them decentralized players are solely in charge of their games and the security of their possession depends on each player how they choose to take their wallets keys safe. also being a blockchain-based game NFT integrates blockchain technology to secure the game and users' transactions.

NFT games are transparently played which means a player's character can not be transferred to another user and also transactions such as buying and selling of game characters are done transparently without any third-party interference.

Play to earn environment; aside from fun and pleasure drove from playing NFT games players stand a chance to earn additional income from playing NFT games it's has been a source of income for a lot of people.
Disadvantages of NFT games.
Based on my observation asset or game devaluation is one of the disadvantages of NFT games there are NFT games that have been launched that started great with thousands of users but over sometimes the project become less attractive to investors like most crypto asset that turns out to become dump project some NFT games can as well be exposed to such which can make users/players loss bought asset value.

Startups capital; most NFT games require players to pay some amount of token or possess some characters or cards before they can fully participate in the game adventure and earn while playing.
Name five (5) recognized characters: writers, artists, athletes, or others, who have digitized their works (writings, publications, paintings, drawings, illustrations, etc.) to produce NFT. Please indicate the value of the NFT or the collection, show photos or images, and cite sources.
Forever Rose: sold for $1 million
The forever rose was sold for a million dollars on Valentine day 2018 it made headlines and was recognized by CNN as one of the most expensive artworks in 2018 Kevin Abosch was the mastermind pioneering artist that digitizes the Forever Rose
The Forever Rose was sold on the ethereum blockchain.
CryptoPunk 4156 $1,250,000
Amongst over 10,000 collectible crypto punk NFTs the CryptoPunk 4156 was the most recognized it was created and released by two-member teams known as the Larva Lab this NFT was also sold on the ethereum blockchain at a price tag of $1.25 million on 18th February 2021.
CryptoPunk 6487 $1,300,000
CryptoPunk 6487 is also a collection from the larva lab team the NFT sold for 1.3 million dollars in February of 2021 on the ethereum blockchain.
Axie Infinity "Genesis" Estate $1,500,000
Axie Infinity game has been a popular NFT blockchain game that involves raising Axie creatures the game's genesis estate was sold at 1.5 million dollars in February 2021 by the seller Danny who owns the NFT asset broadcasted the transaction to his Twitter followers.
The First Twitter Tweet $2,900,000
This NFT was sold for $2.9 million it was Jack Dorsey's first-ever tweet on his tweeter handle it was bought by Sina Estav, CEO of Bridge Oracle.
Describe in depth the selected game: founders or developers, launch date, the objective of the game, operation, native token (price, market capitalization, position), availability in the various operating systems, and any other relevant information. Show Screenshots.
MyDefiPet
Game overview
In a mysterious land, players look for precious elements by discovering and exploring a mysterious land filled with hidden treasures.
Players can summon new pets when they use their DPET token to bid for new pets also every 24hr a new pet is born here players can bid for these new pets as new pets can also be bred by combining two pets.
MyDefiPet is a play to earn game that involves users collecting various characters known as pets these characters can be bred, traded on the gaming platform, various collectible characters can be purchased by users which can be used for exploring the game for playing quests and in turn generate income for users by expanding their territory.
The game pets are NFT collectibles that can be owned by game players which can be sold at their convenience.
Tri Pham is the CEO and Co-Founder of KardiaChain and also Mydefipet Tri has special experience in blockchain technology and has work in developing projects blockchain for several years.
MyDefiPet was launched in April 2021.
The game objective
MyDefiPet provides users with a virtual platform where they can play and earn being an NFT base game it allows users to have collection and ownership of new NFT characters which can be traded on some exchange platform with DeFi integrated features users can also earn from yield farming by staking or bidding their pets or token.
Native token (price, market capitalization, position), availability in the various operating systems
DPET is the native token used in the MyDefiPet blockchain game it is ranked #671 it has a trading market price of $4.14 as of the time of writing, this post the native token has 24hr trading volume of $3,879,963 it has a total live market capitalization of $28,094,153 with a circulating supply of 6,878,202
[Information.
The game operating systems are compatible on both mobile devices Android, IOS, and web browsers.
Show the complete process to acquire the tokens (it does not necessarily have to be the game selected in the previous question, as long as it is within the list provided). Indicate the platforms (wallets or exchanges) where it is available; the process for downloading, installing, and configuring wallets or networks. Show Screenshots.
To complete this part of buying MyDefiPet native token #DPET I will be using an exchange.
Kucoin is a popular exchange used for trading, buying, and selling cryptocurrencies since I already have an account with the exchange I will proceed on buying the DPET token.
From the search tab, I will be searching for DPET.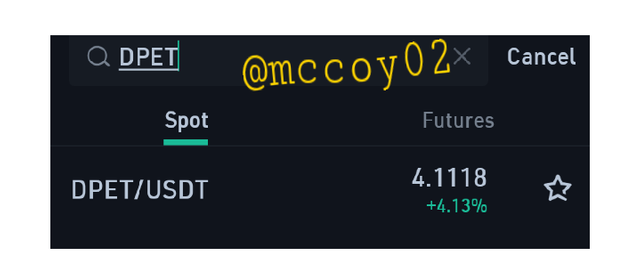 By clicking on the DPET/USDT I will be taken to this page where I will be clicking on buy to purchase the token.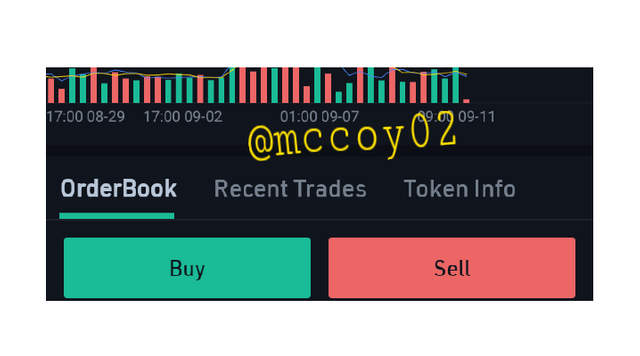 Finally I will input the number of DPET I will be buying.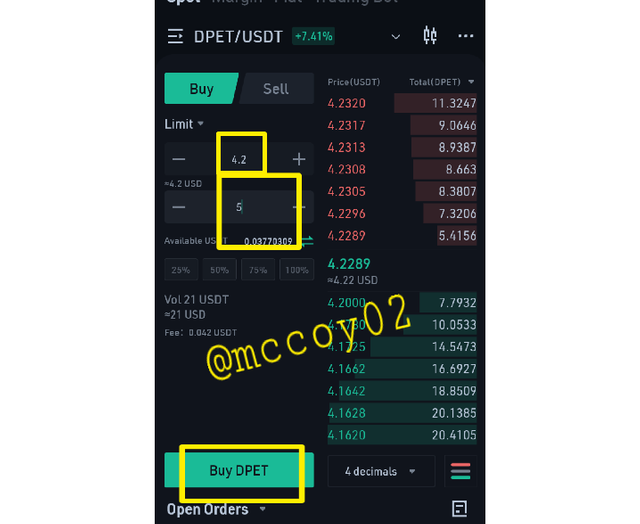 Conclusion
Blockchain games have been a passive source of income for a lot of game lovers the introduction of NFT has also been a game-changer in the crypto industry these NFT characters gives users ownership over their asset which can be traded on some crypto market or exchange.