Spectacular Currency This Year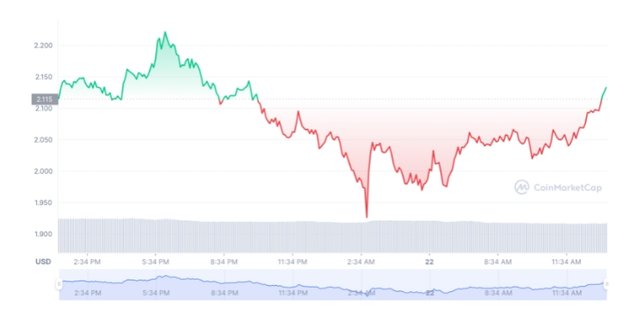 Source : CoinMarketCap
~~~~~~~~~~~~~~~~~~~~~~~~~~~~~~~~~~
The two biggest and well-known cryptocurrencies that other currencies have not been able to compete for to be at the top of the rankings are Bitcoin and Ethereum, but they won't be absolutely forever there and won't last forever. other currencies continue to compete to beat its competitors. Ethereum, which is still in second place, will certainly be worried about ADA being one notch below it in third, after achieving spectacular gains this year.
Cardano (ADA) has put in a noteworthy performance this year which will soon begin a recovery path at press time. with a trading rate of $2.15 with an average increase of 1.2% in 24 hours. Despite entering a period of massive consolidation, if we look at the year-to-date return, a surge that should not be underestimated is around 1.027%.
What Nigel Green Says?
Moreover, the CEO who is one of the leading independent financial advisory companies in the world is very optimistic about the ADA token. Nigel Green, speaking with Business Insider, expressed his optimistic view that "Cardano's reputation as the green currency Ergo could soon hit new highs and will eventually hit $4 by the end of the year,"
Nigel Green's prediction last month about Cardano that its price would hit $3 proved to be very accurate.
https://www.devere-group.com/bitcoin-ethereum-rival-cardano-tipped-to-hit-all-time-highs-in-next-month/
Well, if Nigel Green's prediction for the ADA token this time is correct, something like this will happen, what will happen to Ethereum which is ranked second?