Crypto Academy Trading Competition [fredquantum-kouba01 Traders Team] - S6W1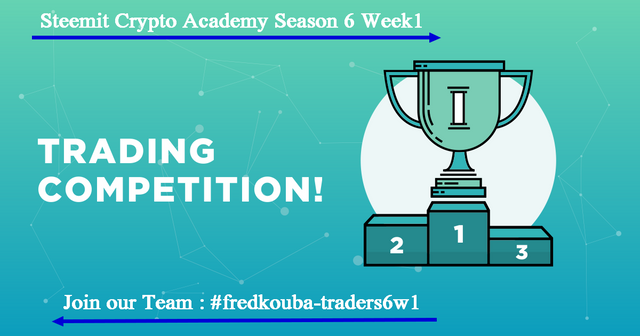 Hello our dear Steemians,
This week, our Steemit Crypto Academy is witnessing the launch of a new competition for crypto trading. This is an idea adopted by our supervisors in order to enhance the efforts of the professors through the courses they provide both at the theoretical and practical level, and to know to what extent the students have acquired the knowledge they have received along previous seasons and the beginning of this 6thseason, where each student wil demonstrate their trading skills under the supervision of a group of professors and we will directly pass for more details.
The philosophy of competition Crypto Academy Trading:
This contest aims to reward steemians for their loyalty but also in relation to their performance in the cryptocurrency markets as traders. Indeed, the activity of traders on these markets will be rewarded in this trading contest and the traders who will achieve the best performance and who will rise to the top of the ranking of traders from our academies, will each win a prize.
Before you start trading, it is recommended to read the philosophy of the contest which is listed as follows :
Each two teachers form a trading team (in our case, I am @kouba01 with teacher @fredquantum, we formed a team named fredfredquantum-kouba Traders Team).

Each participating user can join a certain team every week, and cannot be changed after joining, but can change any team after one week (by adding the corresponding tag of each team to join), the tag of our team for this week is # fredkouba-traders6w1.

Each user must change teams every week, and cannot be in the same team all the time (to prevent powerful people from always gathering.)
How to enter and post the Crypto Academy trading competition?
Users can trade any coin/token (can be spot/contract/margin trade etc.) and post on each of them, they can trade and post daily, and the content can be:
The name and introduction of the project token, and which exchange can be traded on, project/technical/team background, etc.

Why are you optimistic on this token today, and how long do you think it can rise?

How to analyze the token? (using the analysis knowledge learned from professors' courses) —- important part

Your plan to hold it for a long time or when to sell?

Do you recommend everyone to buy? and the reasons for recommending/not recommending

Anything other users want to share about the token/project.
How to count user's trading profit or loss?
User can trade any number of trades every week, and he must take 5 of his trades to fill our Google Form on Saturday and upload a short as possible (size) screen recording (videos) of his 5 transactions.

Users must follow the below format, wrong format will not be recognized and they will be probably missed the contest.

How does a team win? and what does it win?
The highest ratio = the number of profit trades / the total number of trades of the team
For the winning team, the top 3 users will get 25% more upvotes from sc01.
Conclusion:
The Crypto Academy Trading Competition is where all participants can promote themselves as a trader and become popular. Trade, earn, create a trading history and present them yourself. The Trader's Contest is the perfect place to pursue a career in trading!
Guidelines:
Try to read the conditions carefully before participating in this contest.

You must write an essay containing at least 300 words.

Make sure you publish your posts in the SteemitCryptoAcademy community.

Use royalty-free images with mention of its source, if possible, produce your own.

Plagiarism is prohibited in Steemit Crypto Academy, and its authors can face heavy penalties.

This competition will run from February 20, 2022 until February 26, 2022, time - 23:59 UTC.

Include in your publication among the first five hashtags #fredkouba-traders6w1 and #cryptoacademy.

Users who turn off will not be upvoted on and will be considered excluded from participation.

In addition, users with a reputation lower than 60 and/or not having at least 300SP in their wallet will not benefit from the vote for their posts.



Cc:-
@steemitblog
@steemcurator01
@steemcurator02