Steemit Crypto Academy Season 5 Beginners' course - Task 7: Dex, Cex, Popular Exchanges and Trading Cryptos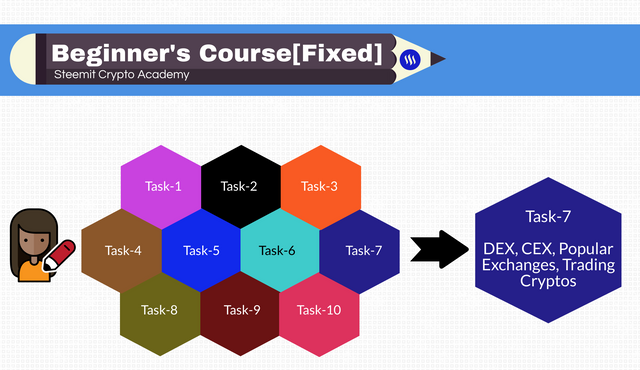 ---

---
It is a great pleasure to be once again in this fourth season of the Steemit Crypto Academy, and a warm greeting to all participants, both those who have been present in previous seasons, as well as those who have just joined this initiative, which seeks to encourage knowledge of this fascinating universe through study and research.
Last two seasons, we had the opportunity to talk in depth about fundraising processes for the development of new projects based on blockchain technology, the requirements that any good business plan must meet to be attractive to the interests of investors and crypto enthusiasts, and the various tools offered by Technical Analysis to study the crypto-asset market and predict with some degree of certainty the future behavior of prices.
We were also exceptional witnesses, being able to see how the news and opinions of well-known public figures can generate an upward or downward trend in the prices of the main cryptoassets in the various markets; and finally, we were able to learn about various investment alternatives that currently exist, with the aim of generating returns with our crypto portfolio.
In this new season, we will have the opportunity to learn about the the various applications that blockchain technology has in practically all areas of human endeavor, beyond serving as a platform for crypto assets, including those platforms called exchanges or exchange houses, and the mechanisms for the purchase, sale or exchange of our virtual currencies, making use of our funds in fiat money or through our cryptocurrencies and tokens, and the multiple options offered by the current market.
Once again, I reiterate my pleasure and my deepest gratitude for the trust placed in me, to be again at the helm of this new season of the Academy that has just started this week.
---

---
What is an Exchange?
---
Cryptocurrency exchanges (Digital Currency Exchange - DCE), are digital platforms that allow their users to exchange digital assets, either for fiat money or for other cryptocurrencies. In other words, they are online exchange houses where market prices are generated that mark the value of cryptocurrencies based on their supply and demand.
The existence of these exchange platforms has allowed in recent years the massification in the use of cryptocurrencies, being possible to exchange without major difficulties, fiat money for cryptocurrencies or vice versa, from anywhere in the world, and with relatively low rates, and consequently, more attractive than other traditional methods.
Today, some exchanges offer among their services, the storage of cryptos as if they were wallets; the purchase of virtual currencies with credit cards, debit cards, bank transfers or virtual platforms such as PayPal or Neteller; the purchase/sale between peers (P2P), i.e., between the same users of the platform, and various ways to generate income beyond the speculative market.
---

---
How do exchanges work?
Generally speaking, in order to carry out a transaction on the exchanges, users must enter 2 types of requests:
To sell, the user must specify the quantity and the price at which they wish to sell. This request is recorded as an Ask (sales order with the agreed price) in the Orders Book.

On the other hand, if the user wishes to buy, there are two options: firstly, he can search for an order in the Orders Book, or he has the possibility of creating a purchase order (Bids) in which he specifies the price at which he is willing to pay for the transaction.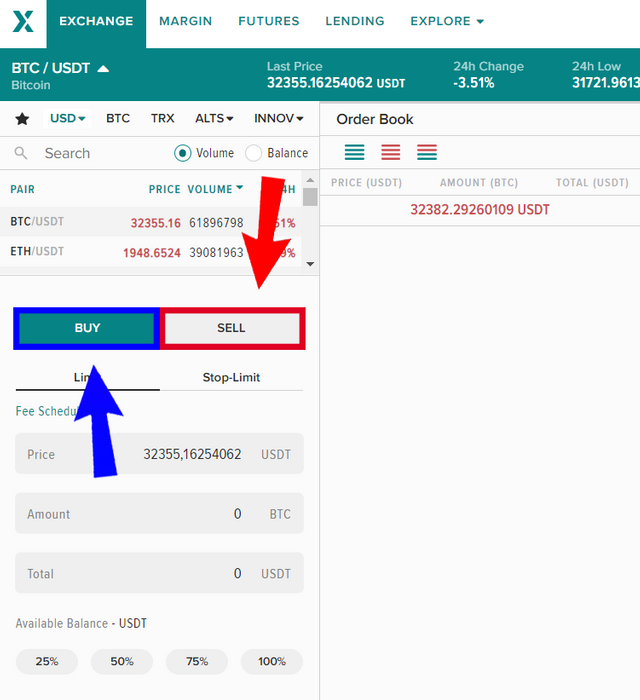 Exchanges allow transactions from other exchanges and work with various networks, e.g. Tron, Ethereum, BSC.
There are different categories for trading cryptocurrencies and different methods of generating income with cryptocurrencies.
---

---
Types of Exchanges
As blockchain technology evolves and the adoption of cryptocurrencies around the world becomes more widespread, exchanges have been evolving in the same way, however, they can be classified into two main types: Centralised and Decentralised
Centralised Exchanges
Centralised exchanges (CCE - Centralized Cryptocurrency Exchange) are virtual exchange platforms that function like traditional exchanges.
A centralised exchange is owned by the company that operates it and maintains full control over all transactions that take place on the platform. Users do not have access to the private keys in their account, which means that users place all their trust in the hands of the exchange operators as transactions can only be made through the mechanisms provided and approved by a central authority.
Some of the most well-known centralised exchanges are:
• Binance
• Poloniex
• Bittrex
• Bitfinex
• Coinbase
• Kraken
Binance is currently the largest exchange

---
Decentralized Exchanges
On the other hand, decentralised exchanges (DEX - Decentralized Cryptocurrency Exchange) are not operated by any one company, nor are they under the supervision of a single authority as they make use of blockchain technology, just like cryptocurrencies.
A decentralised exchange does not retain the funds, location or information of its users, and only serves as a routing and matching layer for transacting orders that are registered on its platforms.
Decentralised exchanges are a consequence of the evolution of traditional exchanges. Their operation is very similar to that of the latter, but they operate in a decentralised manner, which means that there are no intermediaries, and the operation of the platform is self-sustained by its programming.
Among the most popular decentralised exchanges are:
• WavesDex
• Bancor Protocol
• Kyber Network
• EtherDelta
• AirSwap
• Uniswap
• Justswap
---
Differences between centralised and decentralised exchanges:
Transaction volume: centralised exchanges have a higher volume of transactions than decentralised exchanges.

Liquidity: Centralised exchanges have greater liquidity.

Security: Decentralised exchanges, by using blockchain technology, have a lower level of risk compared to centralised exchanges, and are therefore more difficult to hack.

Anonymity: centralised platforms require users to register an account, for which they must provide personal information that usually includes their physical location, bank accounts, personal photograph and identity documents, unlike decentralised exchanges that preserve the anonymity of their users.

FIAT money and cryptocurrencies: many centralised exchanges allow buying and selling of cryptoassets with fiat money, accepting credit cards, debit cards, bank transfers and digital payment platforms such as PayPal. In contrast, decentralised exchanges only allow cryptocurrency transactions.

Speed: transaction times on centralised platforms are shorter.

Transparency: Most centralised exchanges publish information regarding their owners and location of their physical offices, while a decentralised exchange rarely provides any physical address and seeks to anonymise its users.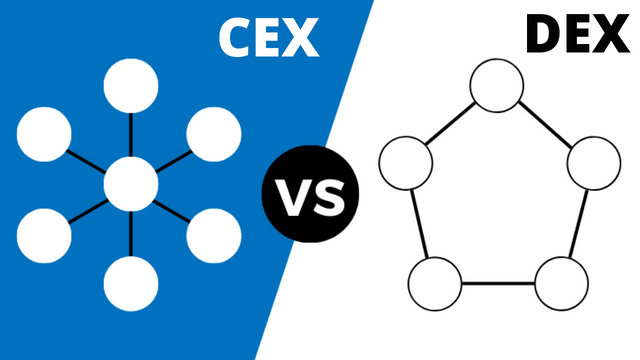 ---

---
Example of an exchange registration
Poloniex.
Poloniex is also a centralised exchange and can be accessed from your Steemit Wallet.

---

---
When you enter the page, you must select the Sign Up option on the top right hand side.

Here you must fill in the boxes with your information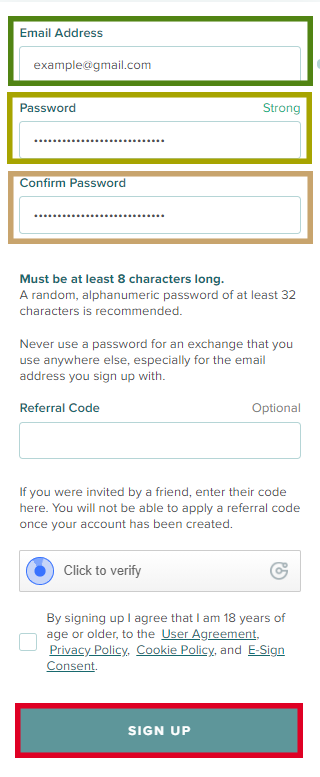 Done! Don't be afraid of what you see, exchanges look like this and are easy to handle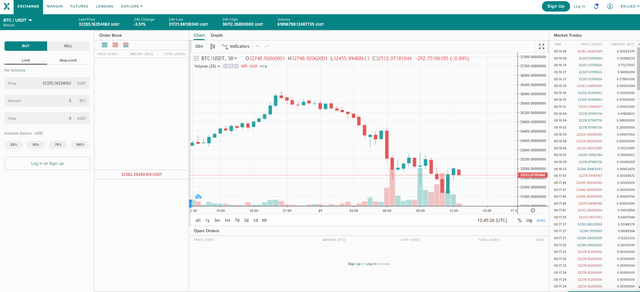 ---

---
Homework Task.
You must choose and do only 1 of the following tasks: To participate in this class you must have completed Newcomers Community Achievement 04.
1-) Choose any of the following exchanges and develop a basic guide on how to use it, indicating whether it is decentralised or centralised.
2-) Can cryptocurrencies and exchanges be regulated? How do regulations affect the crypto world? Name some countries with regulations.
3-) Explain in your own words what an Exchange is. Differences between a Wallet and an Exchange. Mention the advantages and disadvantages of DEX and CEX. Have you used an Exchange before? tell us about your experience.
Remember, you only have to do 1 task.
---

---
Guidelines
(1) Your article should be at least 300 words.
(2) This homework task does not have an expiry, however, you can submit your assignment only once. If you have already completed Task-1 of Beginner[Fixed] in Season 3 or 4, then you do not need to attemp this Task again. Your label will updated according to S1 no of Task(Season 5)
(3) Eligibility Criteria--
Must have a reputation of 50 or above
Must have at least 150 SP (excluding any SP delegated-in, Delegating to vote buying services is viewed negatively)
Must have completed Achievement Task-4 in Newcomers' Community
(4) Add tag #academyS5-intro07 and #cryptoacademy in your post and should be among the first five tags. And also make sure you post in the Steemit Crypto Academy community.
(5) You can attempt any one out of the three questions, but you must write the entire Question in Bold letter at the beginning of the post.
(6) Your homework title should be: [Your Title] - Steemit Crypto Academy S5 - Homework Post for Task 7
PLAGIARISM AND SPAM WILL NOT BE TOLERATED

Use copyright-free images or indicate the original source
---

---