Metaverse and Blockchain - Crypto Academy / S5W1 - Homework Post for @wahyunahrul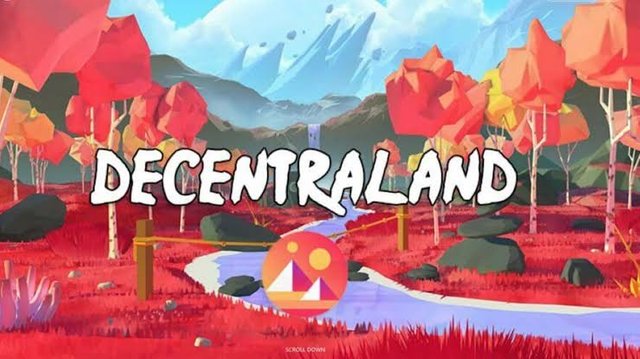 p
1). Do you think the Metaverse is "the next level of Future Technology"? Explain your personal opinion by showing some evidence.

The word 'Metaverse' has been revolving about the gaming Industry for some time now but only recently have we seen other areas of it's application. The metaverse could be described as a multi usable virtual space that will allow its users to be able to interact with each other and their environment in the virtual space. When I say virtual space I mean to say that this is somewhere you cannot not really step your feet upon but you can feel like you are there already. You could purchase things and own then legally and majorly interact with people of your choice.
Metaverse refers to a virtual space or world that has a mixture of various digital technologies like live streaming and social media, email, video conferencing, virtual reality, games and Cryptocurrencies in it. These pieces coming together to form a peccable technology is still a work in progress. Meanwhile, some big investors have started to gain interest in the metaverse technology. On the 28th if October, 2021 Facebook Inc had announced the public about it's name change to Meta as one of the steps in achieving the first metaverse media ever known.
I believe that metaverse would be a very mighty foward leap in technology. I say this because of the kind of investors that has found interest in the metaverse technology. Mark Zuckerberg who is the owner of the major shares of Facebook Inc. has found interest in metaverse and plans to make his social media to evolve to a metaverse. Also, some video game developers which include Microsoft Corp. and Epic Games Inc. has found interest in metaverse technology. The owner of Tiktok ByteDance LTD. has for some time now been investing in Reworld( a mobile game maker) and Pico (Virtual Reality headset maker). With these caliber of persons, one can be convinced that metaverse will be one of the technology cakes of the future.
Something to not forget is that Cryptocurrencies alongside other centralized payment systems will also get involved in the metaverse technology because the metaverse system will require these areas to function properly in areas of virtual transactions.

2). Explain why Metaverse and Blockchain are compatible technology pairs.

Let us assume that Mr John wants to buy a land on a metaverse. But how can he pay for this land since it's not even a physical land where one can walk or cultivate on. He can do this only via cryptocurrencies. Via the Blockchain technology, Mr John can purchase the virtual land which he wants with documents to show proof of ownership.
On the metaverse, the need for financial services, place to store ownership data and transactions and very speedy trades will be required. These needs can be satisfied by the Blockchain technology.
Around the world today, alot of companies have created their own kind of virtual space. They are able to monetize their platform because of it's integration with some crypto.
NFTs are also major players in metaverse technology. Via the NFT operation, users of a metaverse technology could own in-game objects, characters and even virtual land. Hence, Blockchain technology can not be overlooked when we think of metaverse as Blockchain technology is the backbone of metaverse technology.

3). Choose a Blockchain-based Metaverse project and do a fundamental analysis of the project (Don't choose projects that have been discussed in the discussion above). (Screenshot Required)

Decentraland is a metaverse that is powered by a Blockchain. It is a kind of virtual or digital platform whereby it's users are given the chance to experience, create and monetize applications and contents. On decentraland, it's users buy land plots that they will develop later and then earn passive income from the structure they have developed. It is resident on the Ethereum blockchain.
After raising funds worth $24 million via an initial coin offering (ICO) in 2017, Decentraland was then launched. It was laucnhed in 2019 but then began it's operation with users in 2020. Ever since, a wide range of user experiences have been created by users on the land plots which they have acquired.
Esteban Ordano and Ariel Meilich are the co-founders of decentraland but currently, they no more hold very high positions in the project but still work in hand with the leading team.
Decentraland was designed to serve as business opportunity, artistic medium and also an entertainment source to individuals, content creators and businesses. Decentraland metaverse is divided into 90,601 plots of land and an ERC-721 NFT is used to represent it plot of land on decentraland. The plots of land are located at various cordinates in Decentraland with each plots size as 16m × 16m only.
Decentraland functions with two tokens namely LAND and MANA. LAND which is an ERC-721 NFT is acquired by burning MANA which belongs to the ERC-20 token category. At the Decentraland market place names, avatars and wearables can be paid for using MANA token. MANA holders also determine how the Decentraland operates by means of proposing and voting on the the types of content that can be permitted, how LAND auctions are done and also on policy updates.
At the time of writing, The market price of MANA( according to coinmarketcap) is $3.99 . it has a marketcap of $5,829,766 with a trading volume of $1,964,455,828. The circulating supply of MANA is currently at 1.82 billion. It's All Time High is $4.69 with an All Time Low of $0.007883.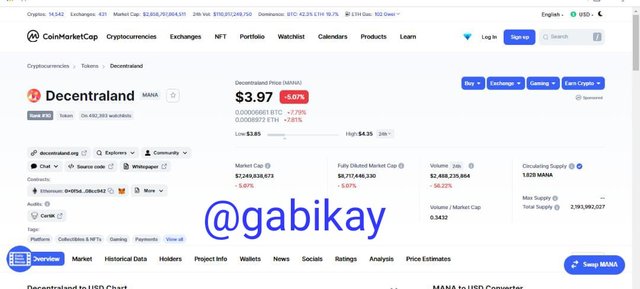 p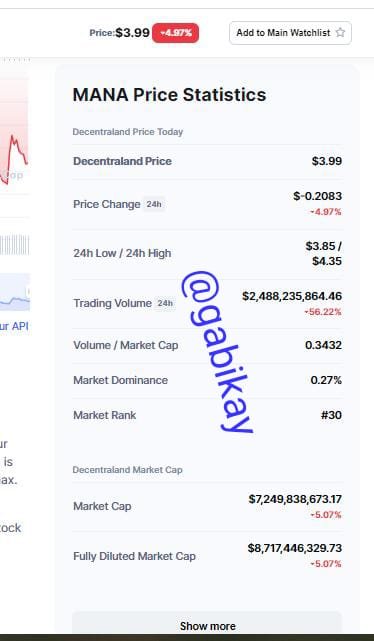 p

4). Explain the steps for connecting a crypto wallet with a Metaverse project that you chose in question number 3. (Screenshot Required)

In this section, I will use Metamask wallet to connect to Decentraland
• Firstly, I open Decentraland website.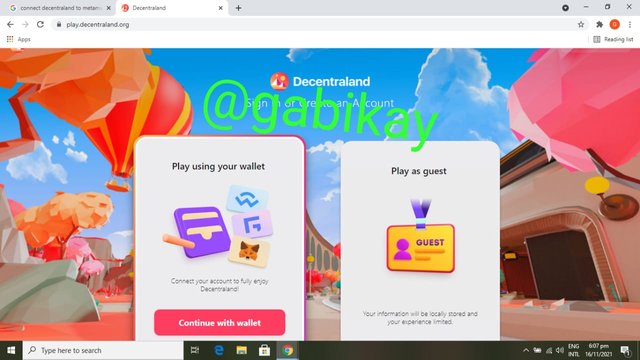 • I click on continue with wallet. Next I choose to connect with my Metamask wallet.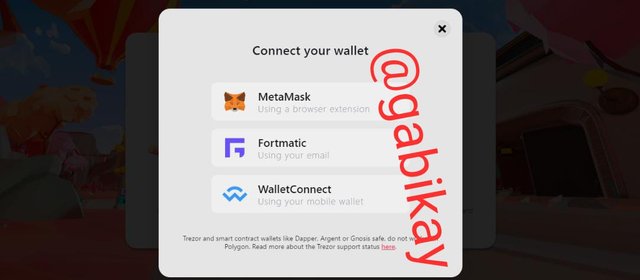 • Next, a message pops up to ask that I connect Decentraland with Metamask. I click next and connect.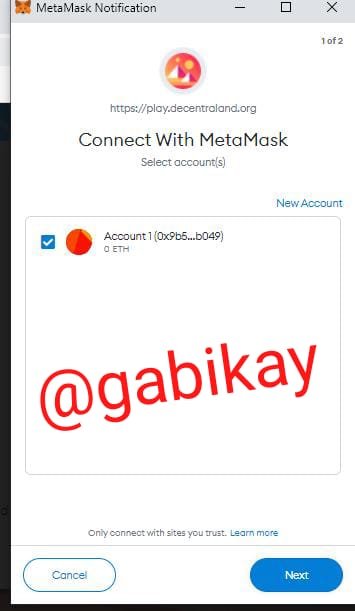 • Next is a signature request and so I click on sign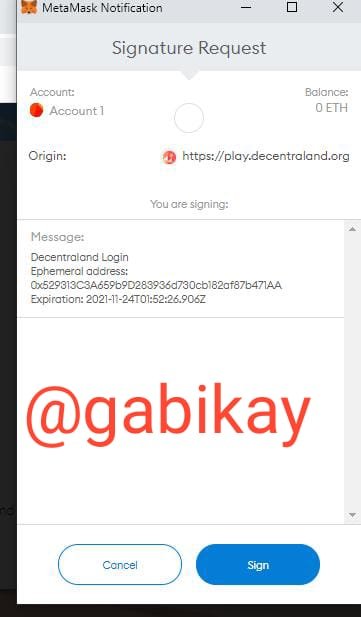 • I have connected my wallet with Decentraland successfully. Below is a screenshot for the proof of connection.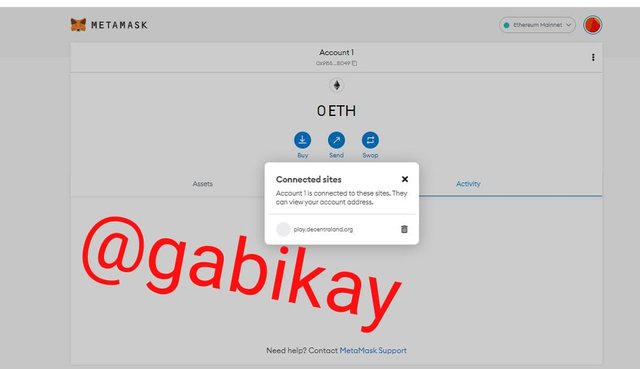 5). Explore the Metaverse of your choice and show the various features, advantages, and other unique things of the Metaverse project. (Screenshot Required)

Home
When I first open Decentraland website. Below is the screenshot of the first page that pops up. Clicking on get started will direct me to the page where I connect my wallet (Metamask) and then create an Avatar later on.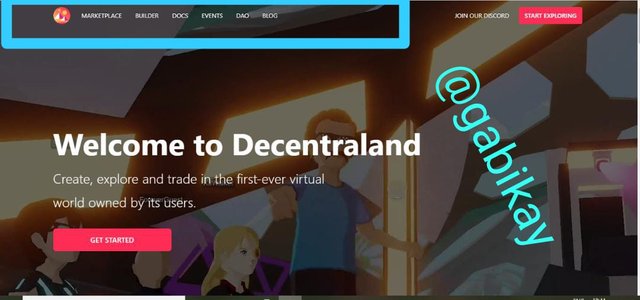 Marketplace
On the marketplace feature includes items for sale. These items can be used in the virtual reality world of Decentraland. Some of these items include names of Avartas, Parcels and Estates, Newest items and Latest listings.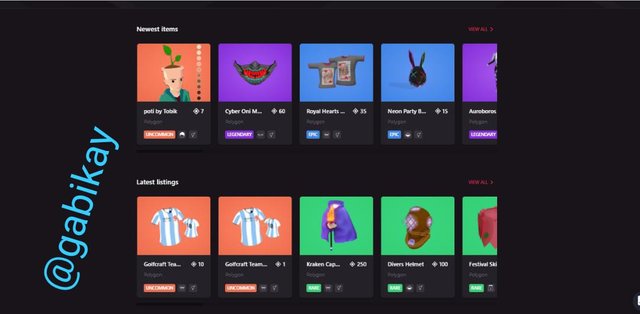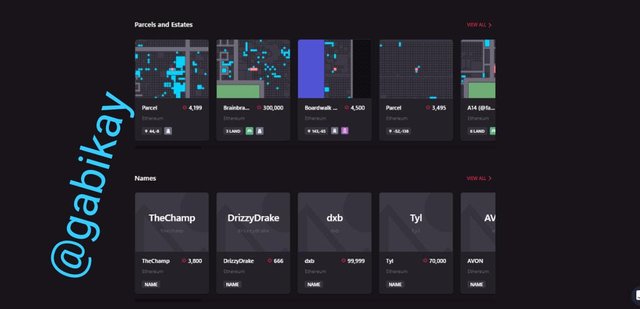 Builder
This feature is what helps innovative minds to build upon Decentraland what they want to. Different things like scenes, Land, Names and Collections can be built upon the virtual world of Decentraland.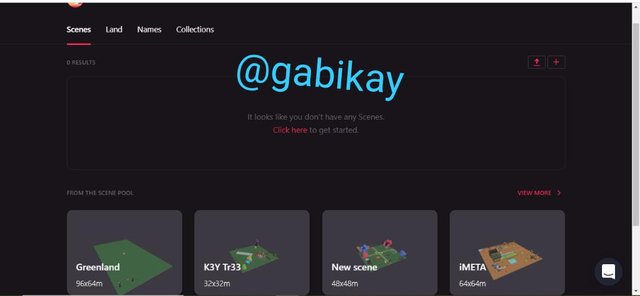 DOCS
This feature refers to Decentraland documentations. It is like a manual or guide for users who are not conversant on the terminologies or items which they encounter on decentraland.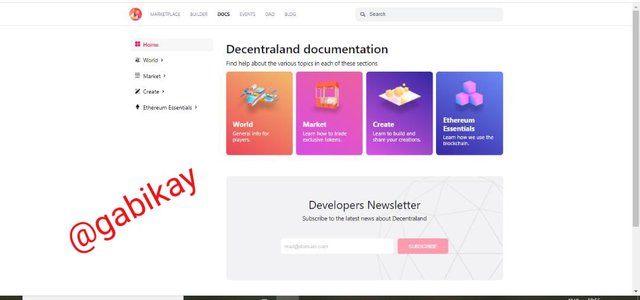 Events
On this feature, users are exposed to future events that will take place in Decentraland. It is just like advertising a comedy show before it's show day.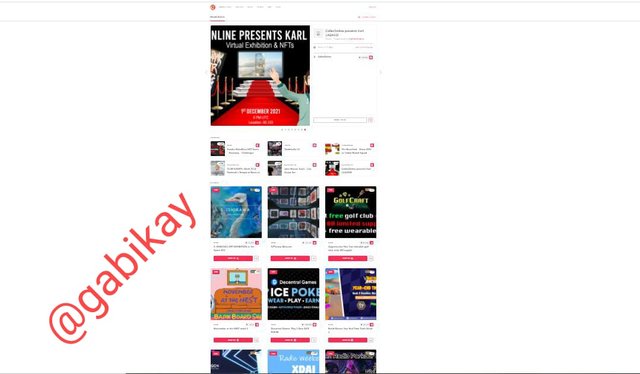 6). Conclusion.
Metaverse technology is gradually becoming something to behold with it's major application in Blockchain technology is games. Also, it's destiny is entwined with Cryptography because it will make use of Blockchain technology in the processing of payment and also untouchable data storage

Regards to professor @wahyunarul