BITCOIN,CRYPTOCURRENCIES, PUBLIC CHAIN | STEEMIT CRYPTO ACADEMY SEASON 4 | HOMEWORK POST FOR TASK 5
It's feels good to post here again, trust we are all doing pretty good today, I will be posting my assignment for Task 5.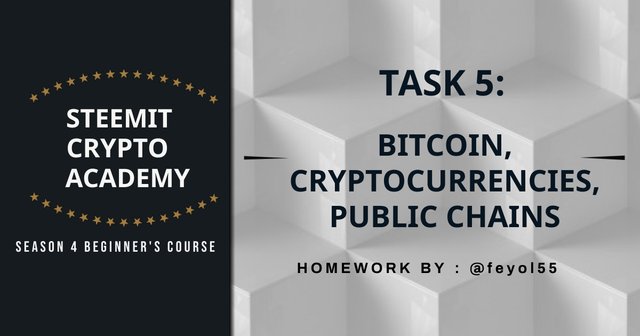 ---
I will be answering question number 1 which is :
HOMEWORK QUESTION
---
1A. WHAT IS CRYPTOCURRENCY ?
1B. HOW WOULD YOU LIKE TO SEE CRYPTOCURRENCY IN THE FUTURE ?
---
1A. WHAT IS CRYPTOCURRENCY ?
---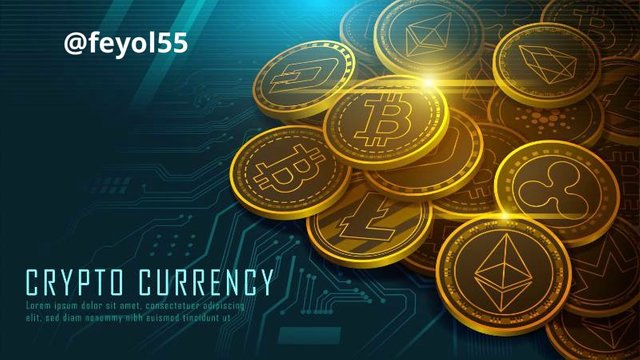 Image Source
---
When we talk of cryptocurrency, we are referring to digitalcurrency. The world we live in now has really evolved that everyone is gradually accepting the reality and embracing the Cryptocurrencies. The word 'crypto' actually emanated from the Greek word 'kryptos' They are built in form of digital coins while the word 'currency' is what can be used to carry out transactions. So putting these two together we can say crypto currency is a digital currency that can be used to carry out online payments and transactions.
Cryptocurrency was developed as an upgrade to the conventional Fiat currency we use in our local banks which had many limitations due to its centralized system of operation. But cryptocurrency was built using a technology called blockchain. This blockchain technology works using a decentralized system mode of operation, this particular feature gives cryptocurrency an upper hand over the fiat currency because it makes it more secured, safer, faster, easily accessible and ensures transparency.
The first cryptocurrency to be introduced was Bitcoin in the year 2009, It was a huge success as people embraced the new idea and ever since then, several other cryptocurrency has emanated as they can be viewed on the coinmarketcap.
Let's take a look at some of the unique features of cryptocurrencies.
---
FEATURES OF CRYPTOCURRENCY
---
Here I will be discussing about some unique characteristics that makes cryptocurrency a top notch model and asset.
SECURITY
Due to the fact that cryptocurrencies are built on decentralized blockchain, this system ensures that the transactions that are carried out are fully secured without any form of compromise.
TRANSPARENCY
If there is any feature crypto users love, it is the transparency of the system, nothing is hidden on the blockchain network as every single details of transaction that are carried out are always revealed, this gives the users a high level of confidence about the system.
DECENTRALIZATION
As far as cryptocurrency is concerned, it has no central authority controlling its mode of operation, this makes it decentralized as its data are spread across different networks/nodes on the blockchain, this makes it hard for any hacker to penetrate the system.
TRANSFERABILITY
Just like our conventional fiat currency, crypto currency can also be transformed from one user to another, howbeit crypto transfer is quite faster and swifter and it can be done 24/7 without any limitation.
PORTABILITY
This is one unique characteristics I personally like about cryptocurrency. You can have high volume of crypto in your online wallet and nobody would even know, this is unlike our conventional fiat currency where you can't move around with huge volume of money due to security reasons.
We actually have more features of cryptocurrencies, but have been able to mention some of the most important ones, now I would love to talk about the types of cryptocurrency that we have.
---
TYPES OF CRYPTOCURRENCY
---
It's good to know that we have over 10,000 different cryptocurrencies in circulation as we speak, each of this cryptocurrencies have different models and function on different Blockchains, here are some them :
BITCOIN
I had to highlight this first because it is the first ever cryptocurrency to be launched and it serves as a model for others. As at today, the current market price of Bitcoin is about $62,170. The screenshot below shows the Top 10 cryptos that we have which include Bitcoin at the no 1 spot and other Altcoins.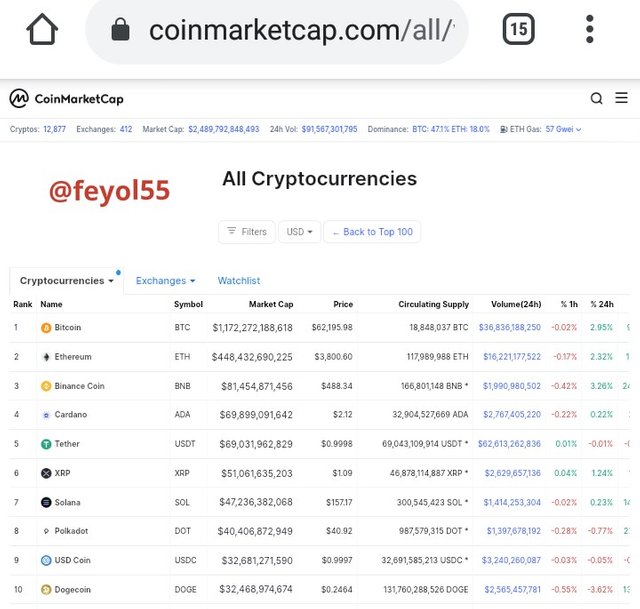 Image Source
ALTCOINS
The word 'Altcoin' simply means 'Alternative Coins' to Bitcoin. Most of this alternative coins are derived from Bitcoin hence the market movement of Bitcoin most times always have effect on the Altcoins.
According to the coinmarketcap :
Altcoins accounted for nearly 60% of the total cryptocurrency market in October 2021.
Example of Altcoins that we have include : ETH, LTC, XRP, XMR, ZCASH, etc
STABLE COIN
This set of coin usually attach or fix their value to fiat currency. This is done so that holders of such coins can recover their loss in case such crypto project fails. However, the volatility of Bitcoin does have little or no effect on this set of coins. Example of stable coins are USDT, USDC, MakerDAO, Pax Dollar, BUSD, TUSD, etc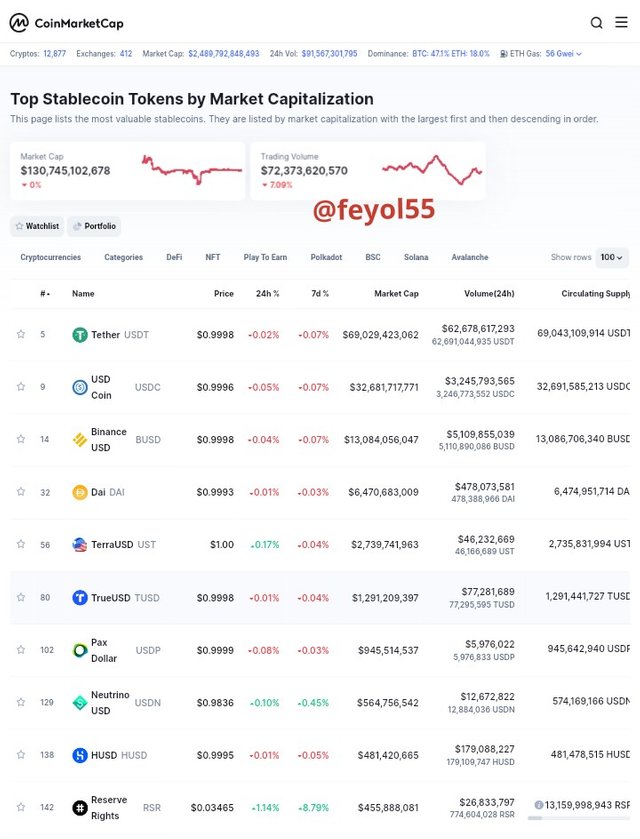 Image Source
MEME COIN
Meme coin are coins that normally gain quick popularity within a short period of time due to hyping from crypto influencers. Most crypto analysts normally see them as joke as they are not usually serious. The first meme was Dogecoin, which was named after a popular Dog. Most people normally take advantage of the short gain of surge in price of meme coins due to the hyping.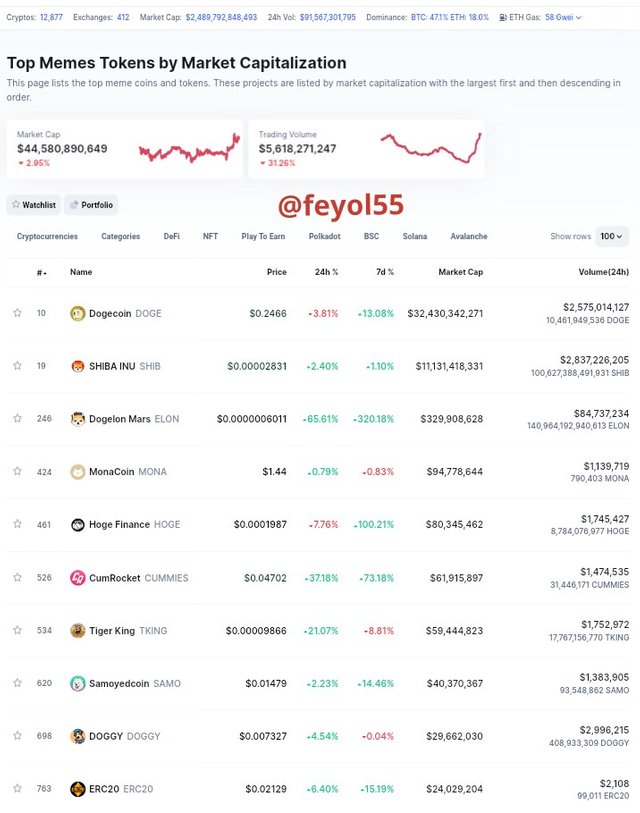 Image Source
SHIT COINS
This set of coins are usually created just for the fun of it. The people who create these shit coins usually have no blueprint of their own or a solid project. These set of coins are valueless, worthless and useless, that's why we call them shit coin.
---
HOW WOULD YOU LIKE TO SEE CRYPTOCURRENCY IN THE FUTURE ?
---
Cryptocurrency is indeed the future of finance, the world is gradually embracing this amazing system as its importance cannot be overemphasized. In the nearest future, we are going to see cryptocurrency making so much impact in the world's conventional financial systems. Not only that, other aspect of human lives like Education (schools), Election (voting system), Healthcare (in hospitals), organizations (public and private sectors), even in religious organizations and so on will benefit immensely from the adoption of cryptocurrency.
However, I would not fail to mention one technology that has made cryptocurrency very pivotal and sancrosant, and that is cryptography (encryption and decryption), this model is what keeps the blockchain technology which cryptocurrency depends on running and secured. Also, because of the decentralization of cryptocurrency, it is certain we would see more of Decentralized Finance (DeFi), Decentralized Apps (DAPPs), Decentralized Exchange (DEX), all these tools are what makes the future bright as far as cryptocurrency is concerned.
---
CONCLUSION
---
Without mincing words, I would say cryptocurrency has come to stay, as each day passes, it keeps gaining more ground in all facet of life, it has proven over time to be an irresistible and indispensable tool in transforming the world into a better place for everyone of us. One thing is sure and certain, cryptocurrency is going pave way for a better life for everyone of us
Special thanks to @stream4u for a job welldone on this task course. I personally have learnt so much from this, and as a crypto enthusiast, I can confidently say, THE FUTURE IS BRIGHT !