Steemit Crypto Academy Season 4 Week 3 Homework Post By @fadil1:Token Redenomination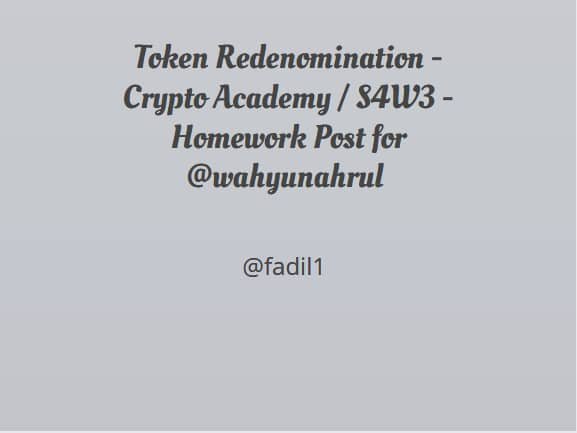 Good day everyone,
I am very delighted to be part of this wonderful lecture and on the topic on The Bid-Ask Spread. I will like to thank our noble professor @wahyunahrul for that wonderful lecture. I really enjoyed and learnt a lot so am kindly here to present to you my work.

1.Explain what is Token Redenomination in your personal opinion? What distinguishes it from currency or their assets Redenominations?
TOKENS REDENOMINATIONS
Let me start all this by letting you know what is meant by tokens. Tokens deals with crypto assets that are brought up by developers of blockchain whenever they are bringing up a work. These works are generated to make blockchain which are difficult for those who don't have assets to also get the chance to to manufacture theirs. Initial Coin Offering(ICO) are what tokens are brought up by and they are utilized in May ways. The value a token has will determine the amount it will be bought in the market. Anytime the price of a token goes high then it simply tell u that there are majority of people purchasing that coin but whenever a token price comes down then it means that particular coin is not valued by the people.These days we have influencers around the globe when they comment or say good thing about a token it will rise, and when it happens this way those investing to also gain more with very low amount of money can't be able to buy. So when it happens that way the only solution for them is Token Redenomination.
Also redenomination is termed as the breaking down of cryptocurrencies without decreasing the price of that particular currency. Before redenomination happens then it means the liquidity level of the currency will go higher by the manufacturer of that currency.
Now what is token redenomination,
So in short, token redenomination is a discussion taken by manufacturers of a particular token in order for the selling and buying power to increase, that is breaking it down for small capital holders who wants to invest also get the chance to do so. This will also making the liquidity level in the market high.

2.Mention the advantages and disadvantages of Token Redenomination
Below are some of the advantages and disadvantages of Token Redenomination
Advantages
1.Investors with small amount of money also get the chance to invest just because of token redenomination. A huge of investors always have the mind of investing in a token when token redenomination is done because they know it needs smalll amount of capital. This makes manufacturers also gain a lot so therefore they can build new forms of projects.
2.Any time particular coin has value in the market. Every investor wants to also invest in it and the same way to when there is no value investors start reducing in number. When a token is bought or traded by a lot of investors surely the market value of that particular token will increase.
3.As we all know token redenomination attracts a lot of investors to a token and this adds to the increment in selling and buying power.
Disadvantages
1.Because token redenomination is usually done by voting, surely some investors will choose yes for token redenomination and others will also choose no. So when those who chose for yes win those with no will leave the project.
2.Some of the investors find it difficult to understand what token redenomination is all about and it makes them leave the project as to they don't know what will happen in the near future.
3.When token redenomination is done to a token we know the name of that token will change and this happens, investors leave the project because they don't know the name in which it has been changed to.

3.Do all cryptocurrency projects needs to do Token Redenomination? Explain in your personal opinion.
Yes because when investors start to put attention on a token it will increase in price and that makes it narrowed to investors with huge amount of money. and when that happens those with small amount of money can't even venture to it anymore.
For this will make investors less and for liquidity to take place won't be easy. Because investors are few, the money made in all will be small and this won't help in the building of new structures.

4.Choose a project that has or is currently doing Token Redenomination and show how to convert old tokens into new tokens. (Screenshots required)
After all I learnt, studied and investigated on, I will like to say with all tokens, I will go for PUNDI X token project. This token am talking about has been emerged and works on an Ethereum Blockchain that is the ERC 20 token which is normally saved inside an issued wallet.
The PUNDI X token am basing is brought up by the redenomination of NPXS. From my own own research, I got to know that the managers of PUNDI X and Bitcobie makes it possible for investors to save their NPXS tokens in the Metamask interface so that we can be able to manage our private keys.
Below are some steps and clear screenshots needed to convert NPXS token to PUNDI X:
1.Kindly click on this link https://www.pundix.com/
and the homepage of PUNDI X opens.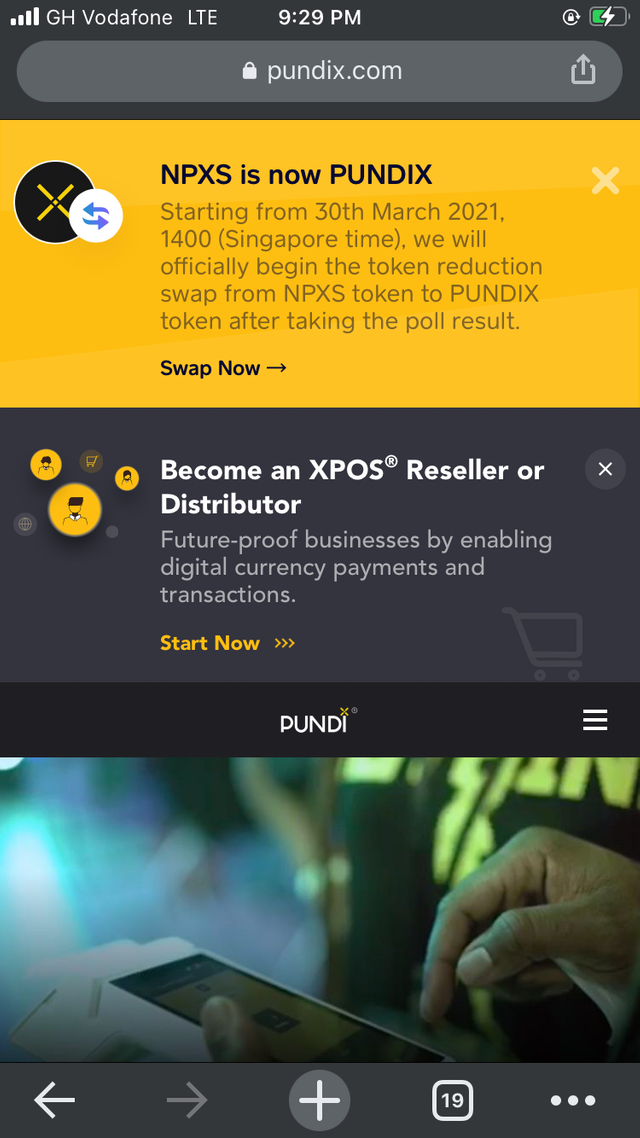 2.Now click on Swap Now at the top side.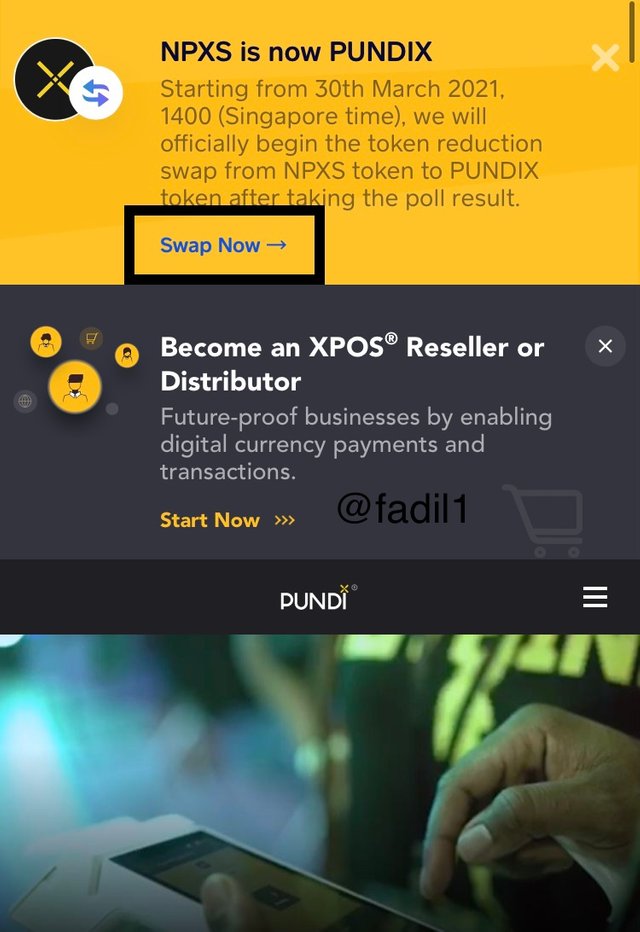 3.You will be directed to another menu where you will be asked to connect to your wallet. Then you click on Metamask.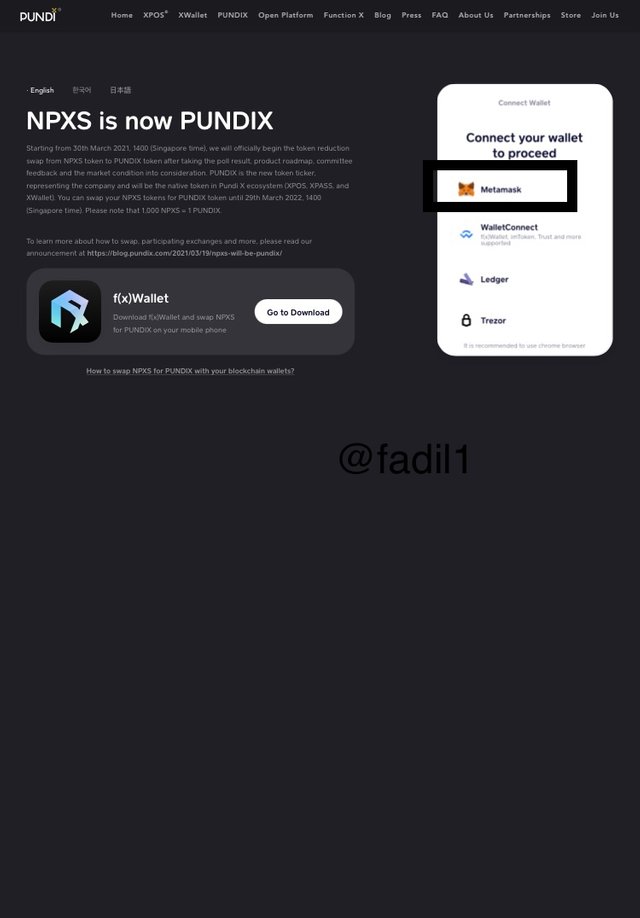 4.Now you will connect Metamask and click on next.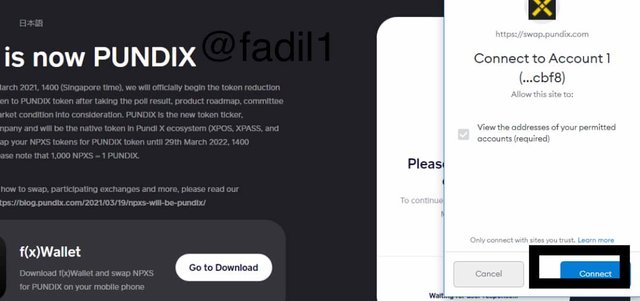 5.Wallet has been connected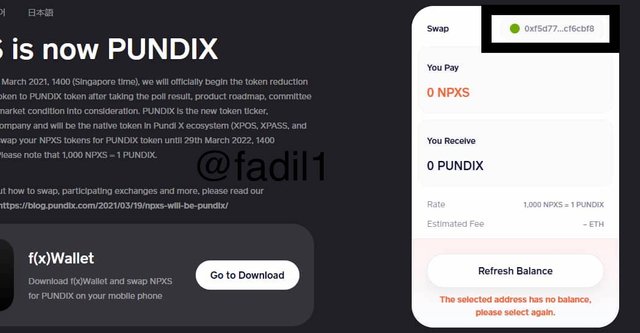 6.Kindly input the number of NPXS you want to swap and where it is labeled rate is where the amount you get will be shown.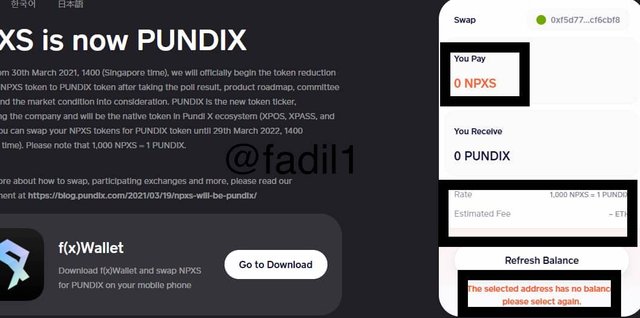 7.But because I have an empty wallet I can't move on. Like will will confirm and my transaction will be successful.

5.Analyze whether the token from the project you chose in the question number 5 is worth investing in. (Screenshots required)
From my knowledge and to my investigation and research, I will say it is good and profitable for one to invest in this PUNDI X token. I also went through all graph chart and for what I have observed I will say investing in this token will be the best.
It's also a profitable asset because of its compilation with Ethereum and everyone knows how Ethereum blockchain is currently good in the market.
From what I have observed on the Coin market cap graph, I can say in no time the price of the token might increase or might decrease. So when it is bought down at lower price and suddenly increases surely investors will make a lot of profit.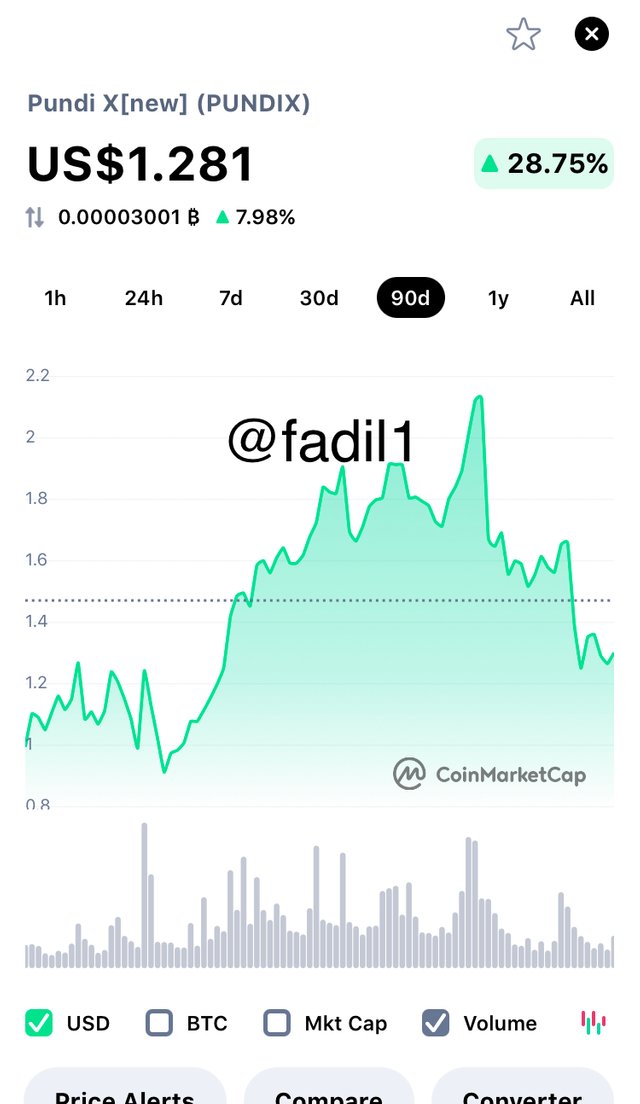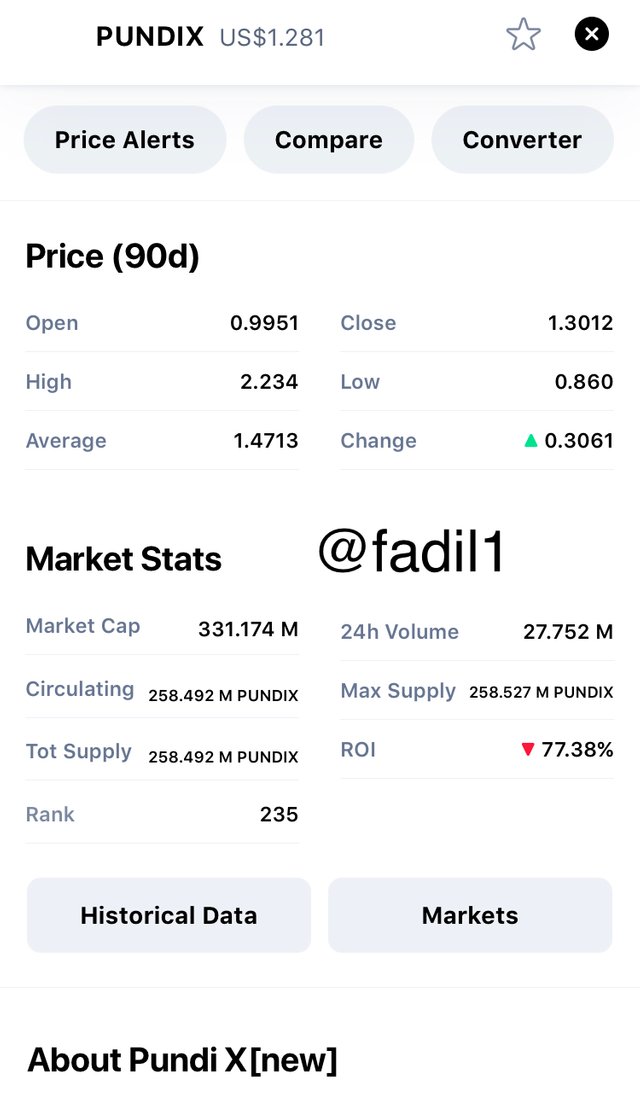 CONCLUSION
In brief, I will say token redenomination is the process whereby manufacturers of a particular token making it eligible to bring more customers to them, makes liquidity possible in the market and also increase token price in the market. With token redenomination a token that has no value can pick up and get value for the price to also increase because surely when that is done, investors will be dragging more to it.
I will like to say I really enjoyed the lecture a lot and I can say this lecture was one of the great lectures for this week. I also learnt a lot especially on Token Redenomination.
Thank you very much professor @wahyunahrul for that wonderful lecture and May the good be with us and bless us all.