Steemit Crypto Academy | Season 3: Week 7 || How to create an account on TradingView, how to use indicators,tools, features of tradingview by @darwinking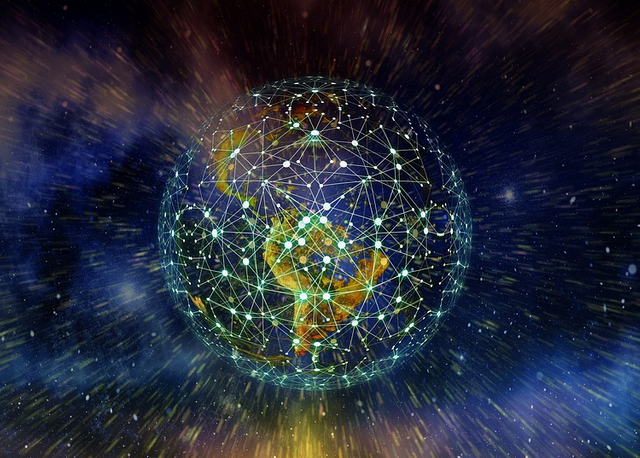 Source
Greetings Professor
@yousafharoonkhan
today I read your lecture I love it I am going to make my participation for the community
#SteemitCryptoAcademy
I am happy to be back with all of you I am full of encouragement and pride to learn every day each of the topics related to cryptocurrencies.

Defining the TradingView site and how to register a TradingView account? What are the different registration plans? (screenshot required)
.
Defining the TradingView site:
It is a centralized platform with the purpose of providing us with immediate data of all current markets in the world binary and cryptographic stocks also there are very important brokers which has in top 3 of the best brokers in the world in addition to the necessary tools to perform technical analysis, and fundamental because this platform gives us real data at the time live and direct from all world markets is also intertwined with a chat system to socialize with other users or who wants to share a quick and necessary information.
So we can say that it is a complete and accessible platform with multiple tools necessary for professional analysis at the time or before operating has no limits, also give us free time for testing 30 days which I see very interesting and is the one we will use today.

How to register an account in tradingview?
.
The procedure is very easy you just have to log in for free as we will see below:
We enter the official website. tradinview: https://es.tradingview.com/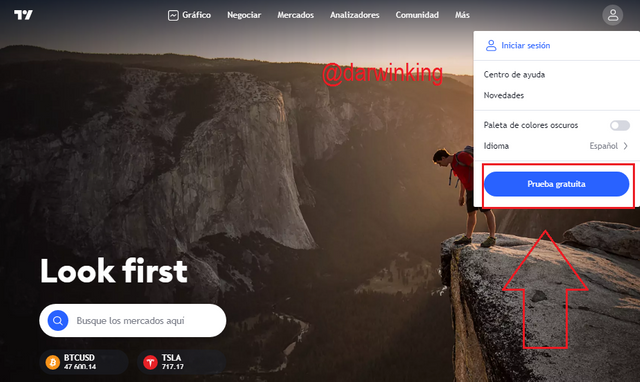 Source
Let's open the 30 day trial
From what we can see there are 3 different payment options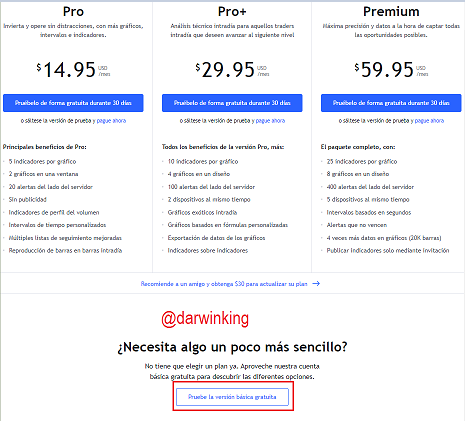 Source
Let's start section with Facebook
We follow the whole process is very easy.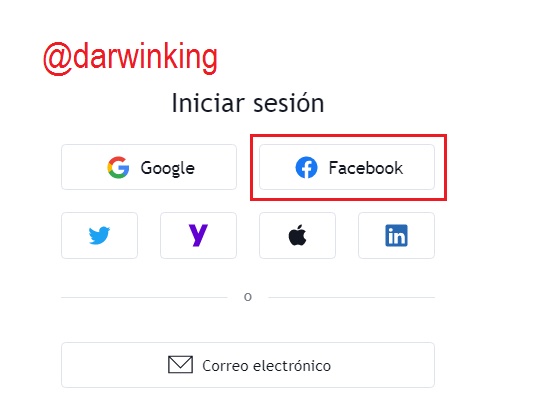 Source
Once the process is finished, you will see the following message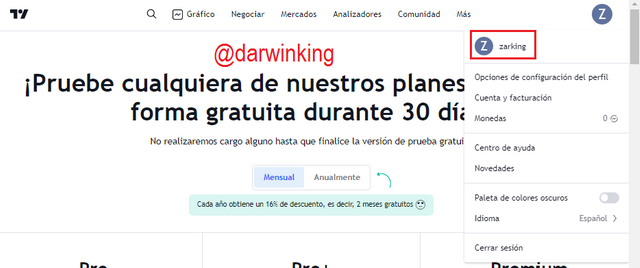 Source

What are the different registration plans?
the plans that exist are the following Pro plan $14.95, the Pro+ plan $29.95 the Premium plan $59.95.
these plans come with limited indicators the more expensive they are the more indicators they give us the most expensive plan brings us 25 indicators that we can use within the platform also 8 charts in one layout and all the other features that the illustrations below tells us. i am going to use the 30 day chart because i was used to using the Binance one to do short and low budget trades lets see how i do on this one and i will be telling you in some daily game in the week guys.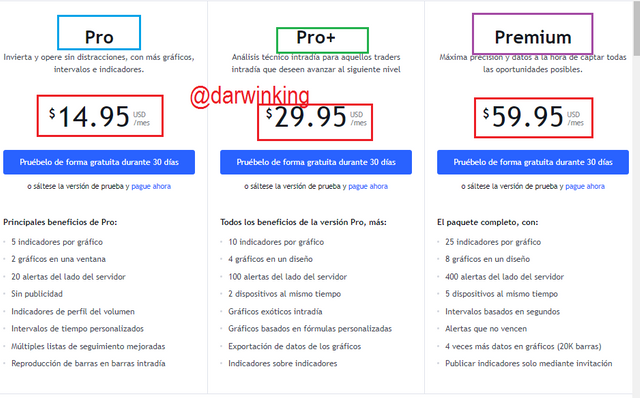 Source

Explain the different features of tradingView and what is your favorite feature and why? (Screenshot required)
Explain the different features of tradingView.
.
In total There are 14 important features to enjoy even more this platform which I will name each of them below looking at the graph we can observe them.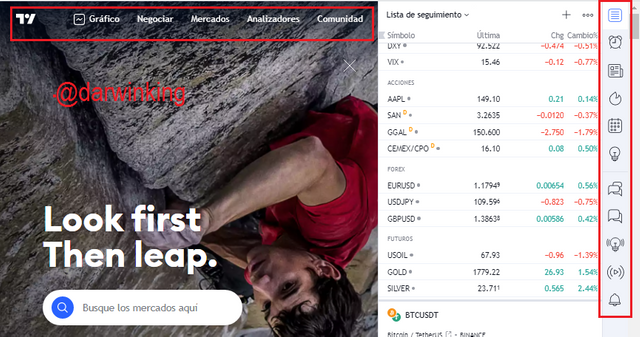 Source
-Observation and information list:
-Graphs:
-Data window:
-Markets:
-List of interest:
-Calendar:
-Public chats:
-Transmission of ideas:
-Alerts:
-Broadcasts:
-Community:
-Dashboard:
What is your favorite function and why?
.
Really my favorite is the markets function because it allows me to see the markets in real time globally and thus to perform sentimental analysis of the market and obviously this is complemented by the technical analysis that I will perform directly on the trafinview platform, and also the fundamental analysis of the asset that I will work. I really like the markets function. because I can also analyze the trends that lead at that time I will begin to operate the markets and I speak of markets relating to cryptocurrencies and tokens.

How to configure a chart in TradingView and use two tools to edit it (screenshot needed)
.
To understand the configuration we just need to go to "chart properties".
Then we are displayed a window with several options where we will try to configure at our convenience
and as we feel more comfortable the goal is to configure as best as possible our dashboard.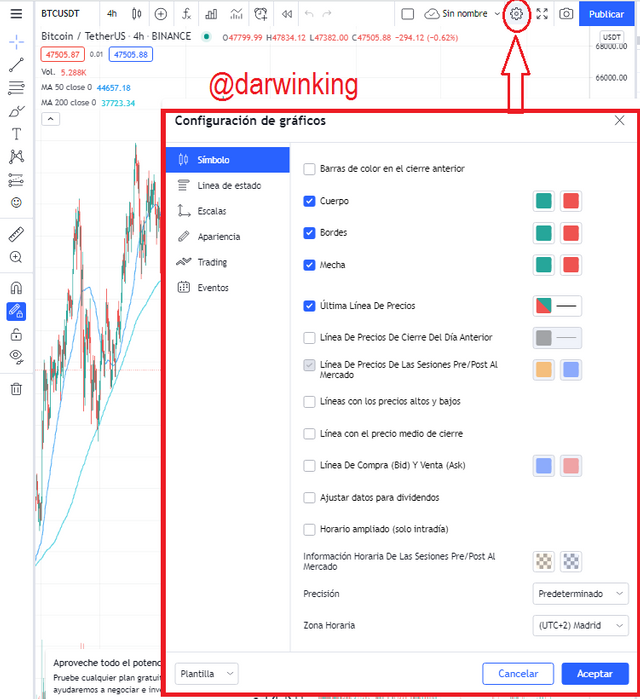 Source
Using the different indicators such as the Elliott impulse waves 1,2,3,4,5, I also used the ruler to measure distance movements and temporalities between the rise of 9.45% that I had in one day of bullish movement indicates that there were 7 green bars, positive, I also used the text editor to place my name directly on the graph.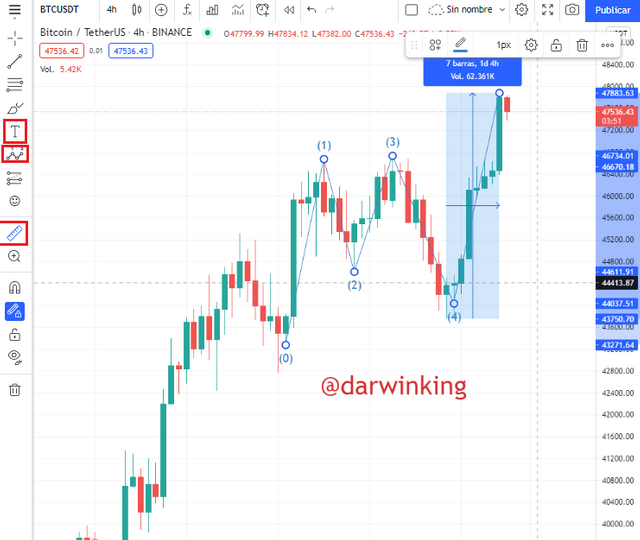 Source

Explain how to add an indicator on the chart, what is your favorite indicator and why? (screenshot required)
To place any indicator we want we go to "indicators and strategy".
Then we type MA Cross
We select 50MA and 200MA
and ready we have it already in the diagram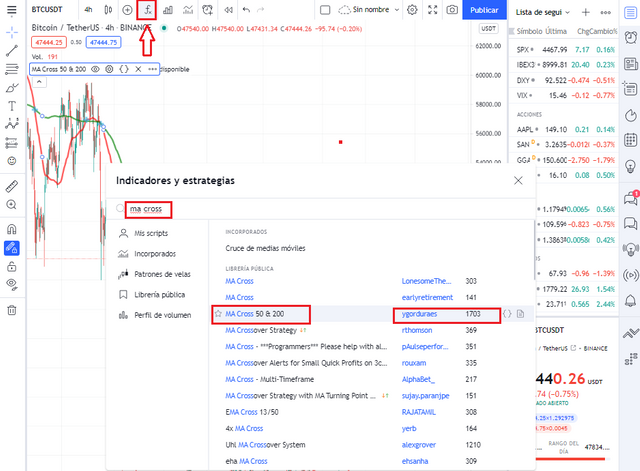 Source
We can see how the indicators are on the chart, if we look we can see the crossing of lines as the cross of death at the top indicates a downtrend because the 200MA line passes above the 50MA line these moving averages are very accurate but pending this does not mean that it can not correct remember that the crypto markets are very susceptible and volatile to many occurrences in the world. In the same way but in another way when the 50MA line passes above the 200MA moving average line we mean that we are in an uptrend at the moment.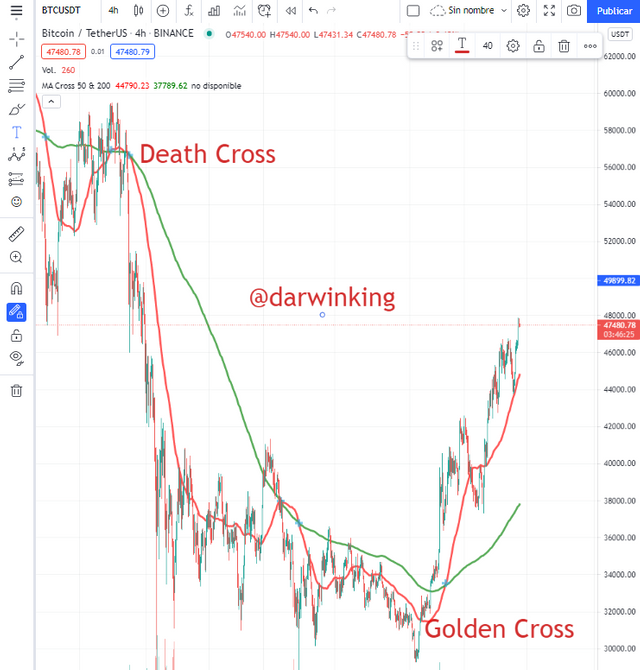 Source

Do you think TradingView is useful to predict the cryptocurrency market (trend / price)?
.
The functions presented to us on the platform gives us great advantage in technical analysis so it is very useful to enter and exit a market without problems try to observe trends and markets is another level and indicators that offer us in the paid versions are spectacular here we can see other people's analysis live once you upload it and we can see it and also chat with them, to discuss about markets, trends, analysis, and much more. I.e. is a very complete platform that give us super important tools for trading in that way to take advantage and use all that are in our power and thus to speculate well.

Conclusion:
.
Thanks to tradingview trading life is much better, is a fundamental tool for technical analysis and market speculation, not only we can see cryptocurrencies but also binary assets shares and much more. I thought it was something very simple but when I was studying the platform I realized that if I had a lot of potential something very professional that give us a good cost. for a tardear really worth it. for the one who is starting use the free version and go ahead not only the fundamental analysis make a real master if not also your approach and your mental health psychologically we have to be prepared for the markets for this way not to fall in Fomo and neither in some Dump or scam. this was my activity for today see you in the next homework assignment thank you all very much for reading and enjoying this wonderful class.

Thank you very much