Steemit Crypto Academy |Season 3 week 6 - Crypto Scams and how to avoid them by @darwinking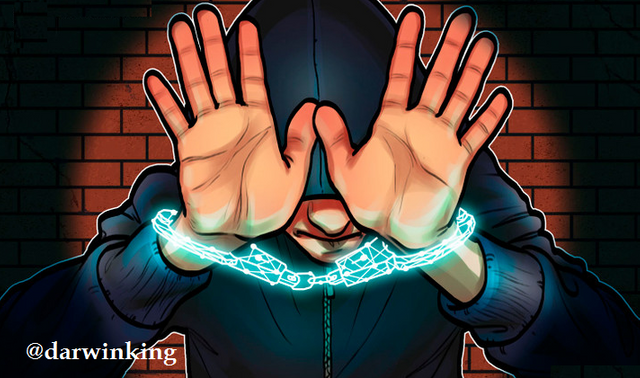 Source
The cryptographic scams are present since the creation of these same in all valuable assets there are behind people with malicious mentality trying to defraud at all costs these valuable assets these unscrupulous bandits without heart and soul are planning organized scams that are implemented after the release of some brilliant project begin to bombard the network of these same projects or similar to try to attract the investor with false stories or ponzi systems where the only beneficiary is the scammer, soon we will be revealing the different ways of scamming and what is cryptographic scams.

What are cryptographic scams?
It is when a thief invents some fake project inventing that you can generate a lot of money in a very short time, using some ponzi system, or simply letting the investor enter but can not leave, then invents that they are working on the project to improve the ecosystem so we do not know if it is real or not most are scam , this is a very easy way to scam in the ico and pre ico , besides the new projects that are being born can be scam ,
There are multiple scam systems:
Fake web pages or duplicates of the original ones.
Emails that take you to these fake pages promising that you were selected as a winner for example.
ponzi schemes.
Fake applications that link to your network and steal you with a keylogger program.
Fraudulent systems where you have to buy with bank transfers or cryptocurrencies.

Research about any cryptocurrency scam. (Attach some references to news related to that fraudulent crypto project).
Look at this great example : I found a man named Cheng known as "Justin Jung" and he was scamming by fraudulent ICO in 2017- 2018, now in April 2021 he plead guilty after spending more than 7million dollars which he got it totally fraudulently this scammer named.
He used also an instagram influencer for scamming his followers for more than 2.5million dollars in BTC in 2018 the self proclaimed serial entrepreneur, pleaded guilty for fraud in an ICO in October of the same year. and it turns out that year 2017 and 2018 was starting the ICO fever,
For cheng now faces up to 80 years in prison, for computer crimes , tax fraud and internal revenue service payroll. the payroll had even a deceased former American soccer coach.
After that he got his fictitious employees to get financial aid of up to $7 million for covid 19, and he bought a $40,000 Rolex, a $17,000 a month apartment lease and a 2020 Mercedes.
his crime cost him 80 years in prison with no bail or parole rights. this is what awaits all fraudsters who will not be able to hide anywhere in the world at some point they will be found.
Source of this research:
https://es.cointelegraph.com/news/ico-fraudster-pleads-guilty-to-7m-covid-relief-loan-scam

To what extent have cryptographic scams affected the crypto space?
Cryptographic scams as in any other scam affect negatively both morally and psychologically these scams are very dangerous because they leave in the street any novice investor who sells the house or car to invest in projects that in the end are scams, because of this a lot of investors are lost, damage to the environment and the decentralized system, by reckless sales of these assets make the price reaches a very low point which hurts traders and genuine investors.
Thus these bandits continue to create strategies to continue to scam more investors, which generates a collective fear among the investing population of the world, for this reason it grows very slowly while confidence is created again to invest in older assets such as btc, eth, dash, etc..
Measures have to be taken to prevent these crimes, such as for example some law in the country that penalizes illicit activities such as cyber theft, or scams on the network. to alert the population are needed initiatives such as this task. and other ways to alert the investing population of cryptos such as keeping your wallet safe, do not download files from strange sources, investigate the projects, who are the creators who are the developers specialists among others.

Will crypto regulations add value to the crypto space?
Unfortunately no government for some reason does not want the complete social economic decentralization of the assets it manages because it intends to maintain economic and social control of the population in general, the laws they create are only for their own benefit, this decreases the entry of new investors, the cryptographic community in these countries will not take into account the high levels of commissions and this market with such large movements and high volatility make it very incapable of being centralized, which the government wants in some way or another.
The basic characteristics of regularization are :
Greater control of who handles what amount of assets and what % daily.
Avoid laundering of capital from illicit activities.
Security and control over cryptocurrency fraudsters.
Centralization in a decentralized system.

Conclusion:
crypto scams are getting bigger and bigger because of this I invite you to investigate each project and not enter only by promises of how much you will earn remember exist ponzi methods, Ico scam pages that inflate them and then make you Dump, all this system is designed and exclusively planned to steal as much assets from the ecosystem this is very grabe for real investors. and real projects. also the regulatory systems in different countries like china, where they were one of the largest mining companies negatively affected the price at a time of BTC.

Thank you