Steemit Crypto Academy Contest Season8 Week6 [SUMMARY] - "Steem Staking"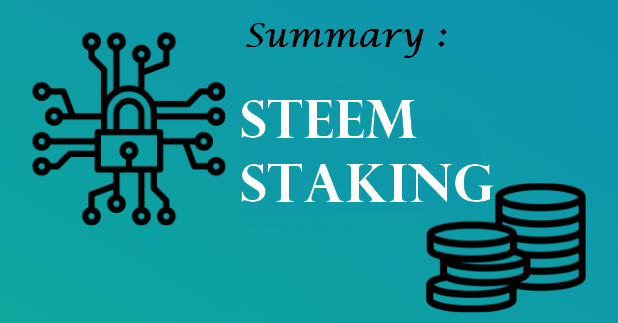 Introduction
Hi steemians,
I hope you are in good health and that you have enjoyed this season in all its competitions. In short, today we present to you the report of our contest which lasted from April 3 to April 9, 2023 which was devoted to the last week of this eighth season of the Steemit Engagement Challenge, which ended in harmony between the members of the academy successfully and without complications thanks to the professionalism they showed throughout the week.
In this report, we will summarize all the statistics and feedback we have during this period regarding your participation in the competition organized by the Steemit Crypto Academy community which aimed to explore your knowledge of the process of Crypto -Staking currency.
As mentioned earlier, the theme for the eighth week contest was Steem Staking, and in which our dear users were asked to give their opinion on the following points:
Use your own words to define the cryptocurrency staking operation and explain how it works?

Does our Steemit ecosystem offer staking for its STEEM token? if yes, show how does it work?

Do you choose to stake your STEEM tokens on the Steemit platform or do you prefer staking on an exchange wallet? Argue your choices.

Are you working to build your Steem Power balance? Do you have enough SP to upvote worthy posts and comments? Do you recognize the importance of engagement?
In total, we looked at 21 articles most of which had good content, but we also found a number of articles that were skipped for not meeting the entry requirements, so without talking too much, let's get straight to the stats.

Participation statistics
In this last week, we checked 22 entries, of which 16 were noted because they fulfilled all the conditions of participation, on the other hand there were 5 invalid entries and 1 entry generated totally by using ChatGPT.
Below is a summary table that categorizes these entries.
| Total Entries | Invalid Entries | Generated by ChatGPT Content |
| --- | --- | --- |
| 22 | 5 | 1 |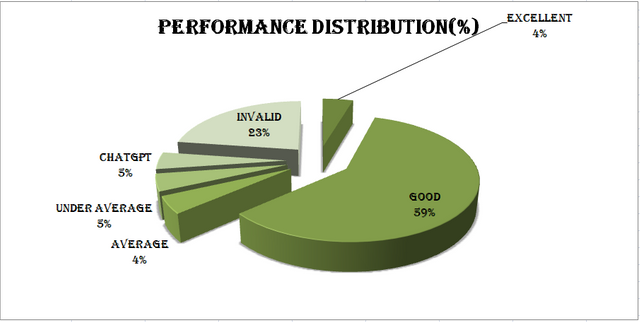 Performance Distribution(%)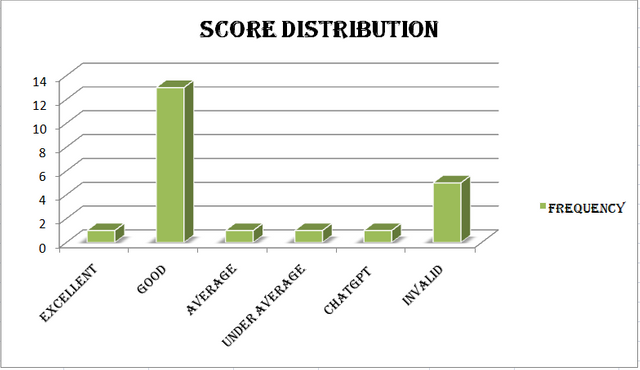 Score Distribution
From the performance graph above, good content dominates with 59%, followed by invalid content with 23% of total entries and 4% for excellent content.
On the other side, below average, acceptable and GPT chat generated entries are 5% each.

Top 3 users of the week
We have chosen the 3 best articles from the community, these articles have been selected based on their merits and their engagement with other users. Essentially, excellent performance in terms of scores is the first selection criterion followed by their interaction with other participants' entries.
We encourage users to work harder on creating quality content to reach the excellent category and those who achieve these high scores should interact with as many articles as possible. See the table below for the selection of the best users in the order of their interaction with other participants.

Conclusion:
Finally, we can only appreciate the efforts of steemians who participated in this week and we invite everyone to ensure that their articles are checked in complete transparency. Let's make the STEEM ecosystem healthy through our collective efforts.
Thank you.