[TRX/USDT SPOTS TRADE ]-Steemit Crypto Academy | S6W1 | Team Trading Contest Post for Team-Frontline.
Hello Friends, It is my warmest pleasure to welcome everyone to this very week 1 of the Crypto Trading competition. Without wasting much time on this, I will be joining the participation as required for the week. My Team for this week would be "TEAM FRONTLINE". I will be using the TRON (TRX) token for the purpose of this lesson/competition with detailed emphasis as required.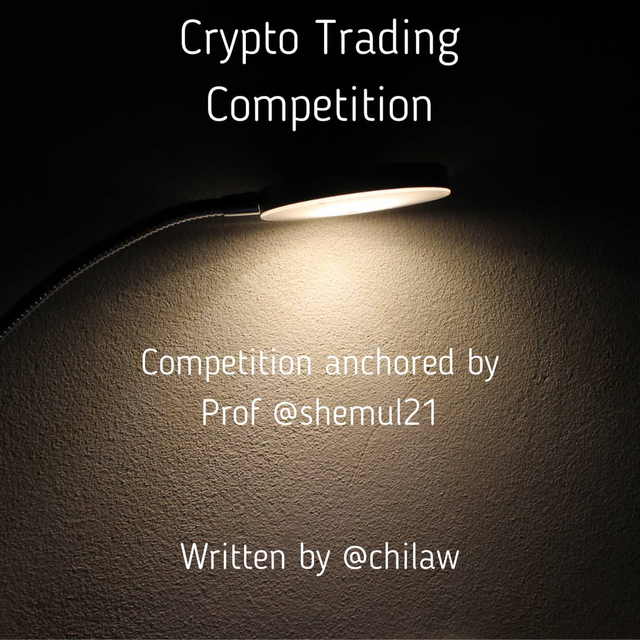 ---
The TRON (TRX) Asset
---
The TRON is a decentralized blockchain system that was launched in 2017 with emphasis given to content distribution as well as entertainment with her CEO, Justin Sun. The TRON platform was first launched on the Ethereum Network which hosts the ERC-20 as its standard token for any use case. Though it was later migrated to its Mainnet with the introduction of the TRC-20 standard token which has a similar function with the ERC-20 token. The TRON blockchain is known for its improved TPS (Transaction Per Second) vis-a-vis what is observed in the Ethereum and Bitcoin blockchains of 25TPS and 6TPS respectively. The TRON comes with about 2000TPS which makes it a more scalable network than the existing blockchain networks as previously seen.
The TRON network pursued its goal towards content deliverables via financial rewards, distribution/sharing of files, launching of dApps on networks, and the proliferation of the gaming industry on the platform. This has continued to be efficient by allowing an environment that connects content creators and their audience. It made sure it remove all forms of centralized process from its system which hence deters the activities of middlemen and their cost. Its white paper is a more developmental-driven kind of project with milestones already envisaged in its reign. The Tron foundation came into existence in April 2017 and its ICo in August 2017. A year later in May 2018, the TRON network launched its Mainnet, and all ERC-20 tokens migrated in the same vein. And in the same year in July, Bittorrent acquired TRON which makes it more sophisticated and gives it a better standing with other blockchains.
For the TRX coin, during its launch, it was stated that there was a 100 billion total supply of this coin with 45% of these coins going to the founder and the foundation whereas the other 55% went to the investors. The TRX token is the native token used in the TRON network whereby all transaction and access fees are routed for resourceful use of the network. Governance, voting of Super Representatives, Staking, etc are all observed to utilize the TRX native token.
---
TRX TRADE ANALYSIS
---
The price value of the TRX token is $0.05896 with a Market Cap of $5,999,355,886. The circulating supply stands at about 102.75B with a 24h volume traded of $1,582,678,317. The TRX is ranked #23 in the coinmarketcap based on the volume traded. Market Dominance stands at 0.34% of all volume traded in the cryptocurrency space.
For the last year, ago he TRX was observed to attain a peak level of $0.1646 and volume traded of $8.68B sometime on 15th April 2021. Also, the TRX token was observed reaching an all-time low on 20th July 2021 worth an asset value of $0.05056 and volume traded of $629.14M.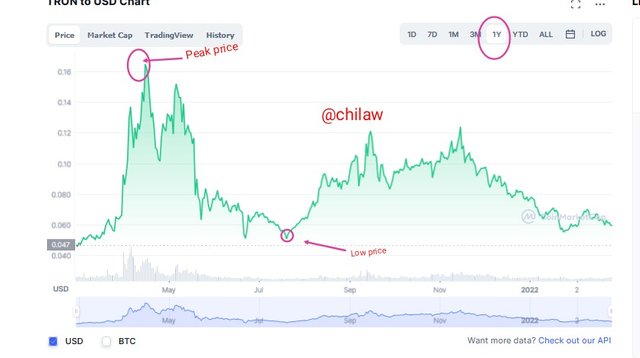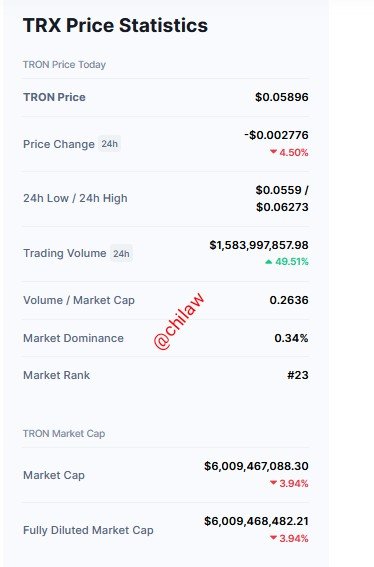 ---
TRX TECHNICAL ANALYSIS
---
I will be using the Double Exponential Moving Average (EMA) indicator line that would make provisions for a short period indicator line as well as a long period indicator line. Ordinarily, we know that when we see a scenario where the short period indicator line crosses above the long period indicator line, this shows a strong signal and bullish movement in the short run. Just as we can see from the chart analysis from the tradingview site, where this signal occurred. T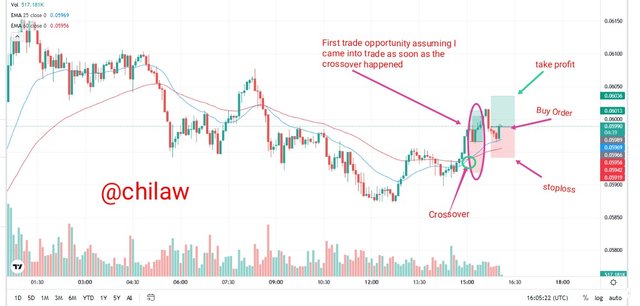 Though it has occurred some couple of minutes ago, I will make my Buy Order as soon as I confirm a thick green candlestick on the uptrend Which could have been at a price level of $0.05967, and Take profit at $0.06017. But since I came behind this trade signal, I will be waiting to observe when the price trend is supported by a short indicator line before making my buy order or when the market has made some low points.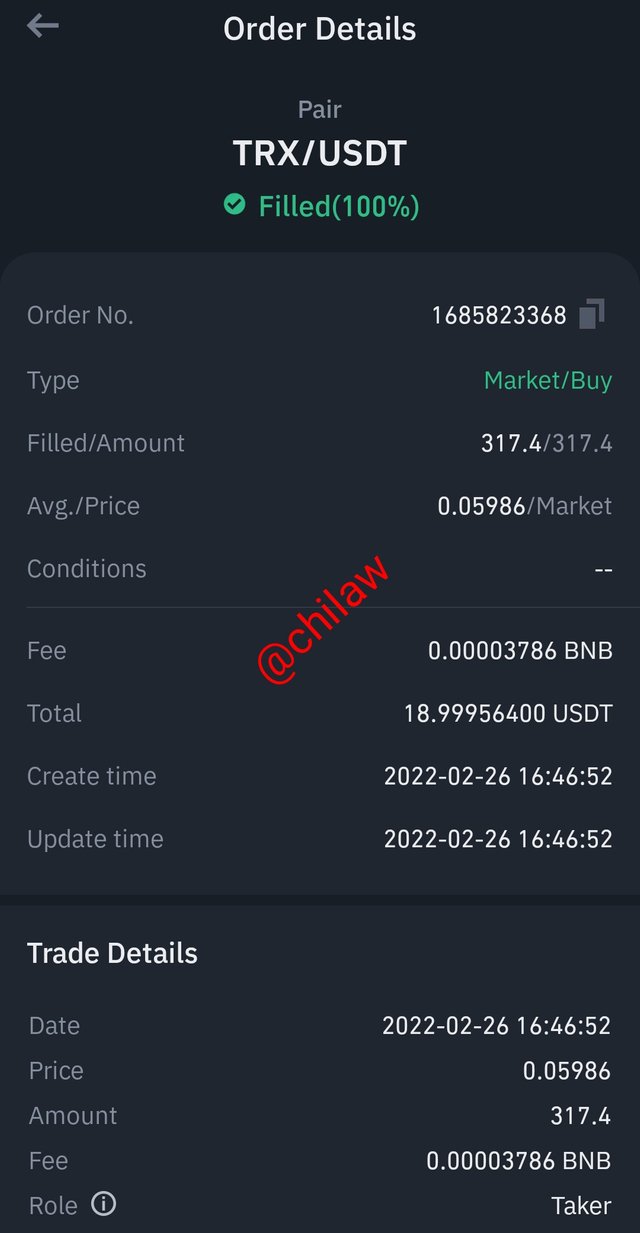 For my Buy entry order, the Market price was made at $0.05986, Total asset used is 18.99956400USDT. The trading fee for this transaction is 0.00003786BNB and the Total filled Amount is 317.4TRX. My Risk Reward ratio was on a 1:1 ratio with stop loss set at 0.0.05943 and take profit set at 0.06036.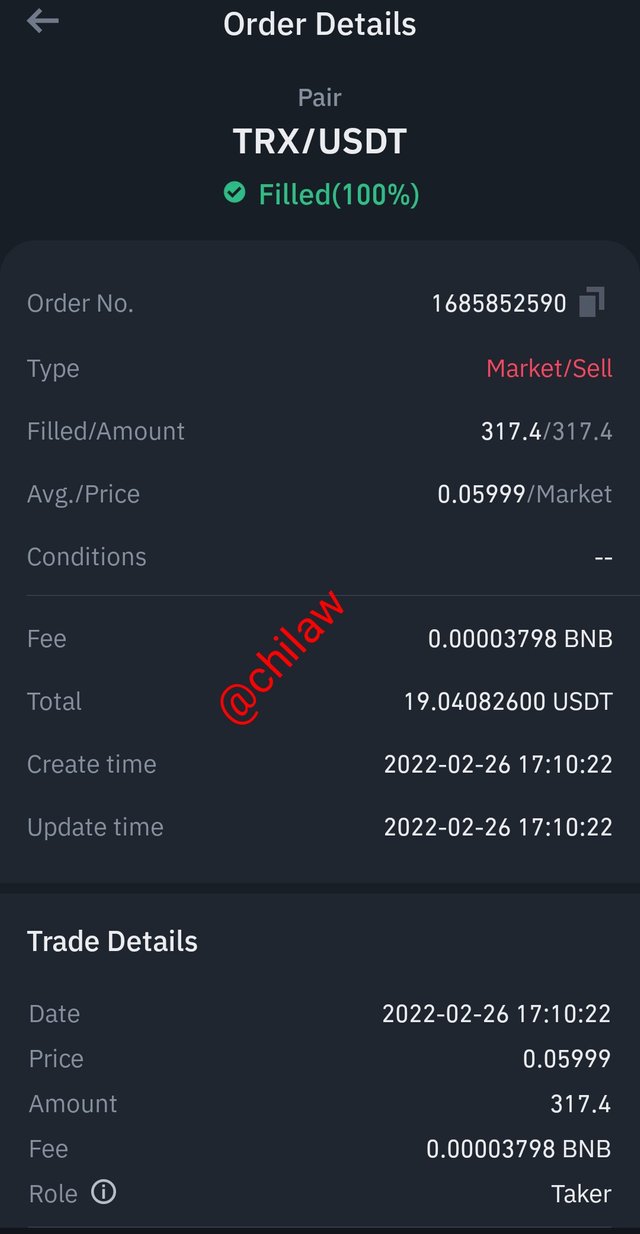 For my Sell order, I will wait within the time frame and see when the price appreciates reasonably for profit-taking. So any matter above the buy entry order is my profit in this case. Therefore, I took my profit at $0.0599 which is 0.21% above my buy entry order.
Recommendation
Though the TRX token is a penny cryptocurrency with a value lower than a dollar, the TRX token still remains a great potential to investors still holding them. Its white paper which earmarks the project's focus on developmental strategies seen in content creation, decentralization, entertainment, and gaming has continued to see massive investment in its network. In addition, it comes with a relatively low transaction fee associated with Energy and bandwidth resources. There is great potential for growth looking at price history from its launch.
Thank you professor @shemil21 for joining your team.