SHIB-USDT pair (SPOT Trading) | S6T2 - Team Trading Post for Fredquantum-Kouba01 Traders Team
Hi everyone, it's my pleasure to make out time this week to participate in at least one trading entry as required in the SCA trading competition. I will be joining the Fredquantum-Kouba01 Traders Team. I will be using Spot trading in Binance to trade on the pair SHIB/USDT and with the tradingview chart analysis as a guide.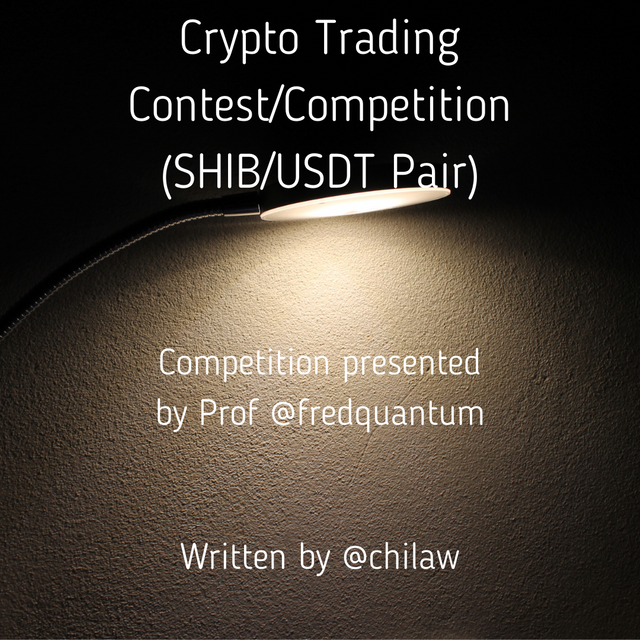 ---
Introduction & the SHIB Asset
This is one very coin whose development and the launch came as y conquered. Many feel that this was the replacement for Dogecoin when it was sometime in August 2020. The developer of this coin called himself a nobody and there was no need to unmask his identity irrespective of the success of this token, hence the pseudonym he used "Ryoshi". The symbol of this token is the image of a dog which was seen to attract and inspire so many and hence the investment therein.
It has so many attractive investment opportunities to its side with the familiarization of some influencers like Elon Musk and Vitalik Buterin whose tweets and media hype brought about so price uptrend. Sometimes in September 2021, the US largest Crypto exchange platform listed the SHIB Asset which gave her an incremental 40% of its price value. This followed with other listings observed in other top exchange platforms like the Giottus exchange, Bitstamp exchange, Korbit, etc, that gave it some added value.
The uniqueness of this project and asset is that it drives the Shiba movement which has in turn brought about the Shiba Inu into the NFT world. This has so far brought massive investment through this channel to its asset. Also is the local catch-up points/conventions are done annually to bring inclusiveness among all SHIB users. It has also implemented token burns, and we know that the sole aim of token burn is to reduce excess supply in the market and create a little scarcity which in turn increases the value of its asset.
This asset can be found and traded in the following exchanges; Binance exchange, Coinbase Exchange, KuCoin, Gate.io, Huobi Global, FTX, Kraken, etc.
---
Trade Analysis of the SHIB INU (SHIB)
I will make this trade Analysis from the coinmarketcap site where the asset SHIB was searched for. From the information available for. the asset (SHIB) now, SHIB price value is $0.00002407 with a negative variance of price changes of 3.29% in the last 24hours. It has a Market Cap of $13,215,721,985 with negative changes of 3.29% over the last 24hours.

Volume trade in the last 24 hours is $905,530,088 which also shows that volume traded in the last 24 hours also dropped by 9.97%. The circulating supply for SHIB as of the time of the report is 549,063,280,000 SHIB with a total supply of 589,735,030,408,333. These negative changes show the volatility of the market under this period as evident in the loss of value in BTC.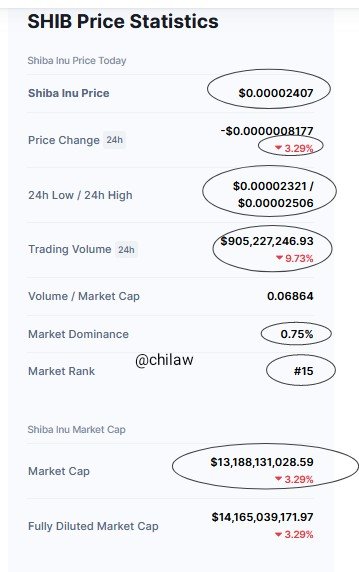 So far the 24hours price peak and low are seen to be $0.00002506 and $0.00002321. Market Dominance which overly shows the impact of an asset relative to the overall performance of cryptocurrency is 0.75% for SHIB. It currently has a market ranking of #15 based on the amount of volume traded as captured in the coinmarketcap site.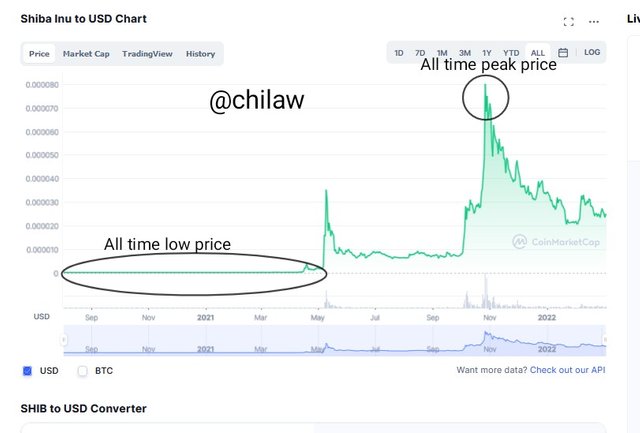 Also, price action since the launch of SHIB relative to its performance is shown in this screenshot indicating where the price peaked and as well as in its low. The price peaked on 27/20/2022 with $0.00008 and $39.05B as volume traded. The low price was captured until 13/2/2021 with $0.00000016 and $13.3M of volume traded.
---
SHIB Asset Technical Analysis
In this case, I will be using the tradingview site where I will illustrate indicators represented on the chart analysis.
I used the two MA indicators representing the short MA as well as the Long MA. This is to enable me to get the readings very well and also the volume indicator to help confirm the volume of trades or activities wherein.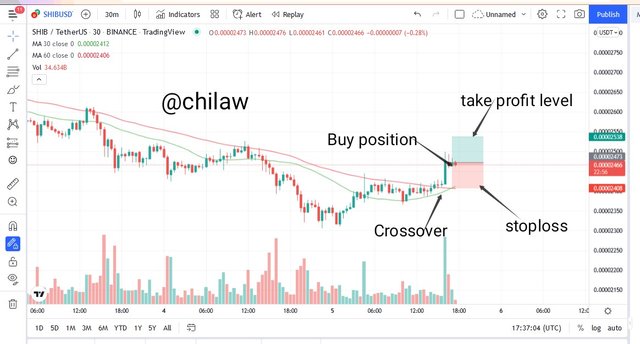 Also from the chart analysis, we can see that the short MA green line crosses above the Long MA Red indicator line. This simply shows that a bullish movement is eminent just as observed from trend action. This is also confirmatory to the volume indicator showing a huge volume of activities ongoing.
No doubt, I will be making my BUY position immediately to enable me to sell off when the price appreciates reasonably to take profit.
Find below details of Buy activities
Market/Buy Price: 0.00002475
Stoploss: 0.00002408
Take profit: 0.00002538
Total Asset Used in Trade: 19.99998000 USDT
Total Asset gained from Spot trade: 808080 SHIB
Fee charges: 0.00003636 BNB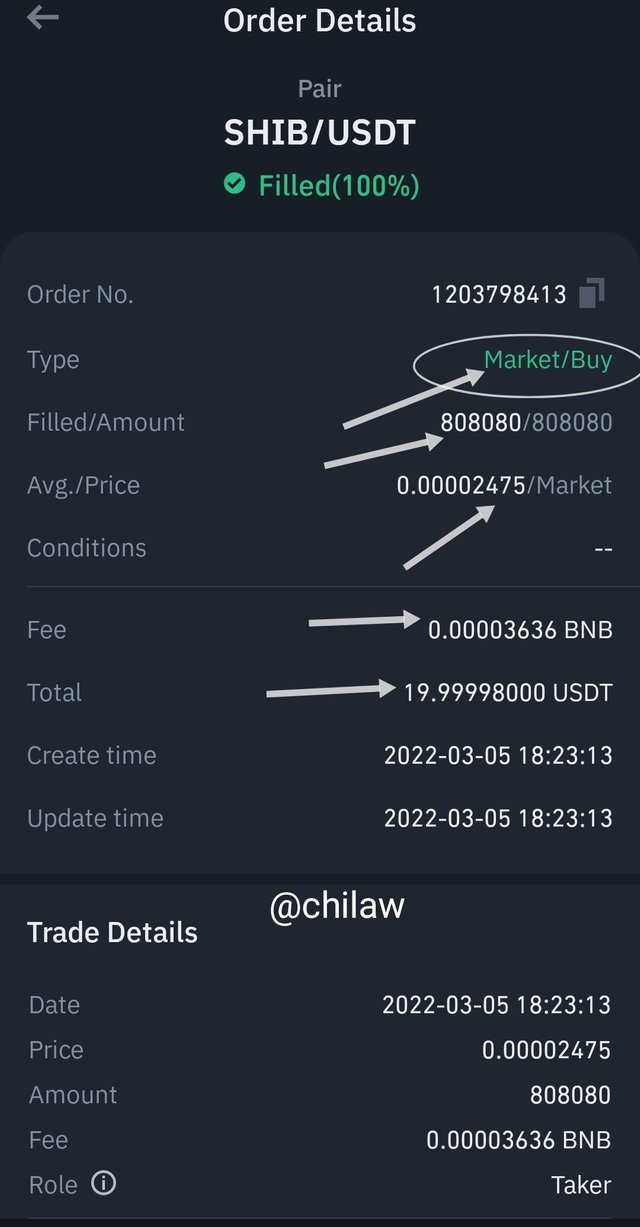 Find below details of Sell Activities.
This was done bearing in mind that I need to make a profit when a trade goes my way but when against my trade, the stop loss is also in use.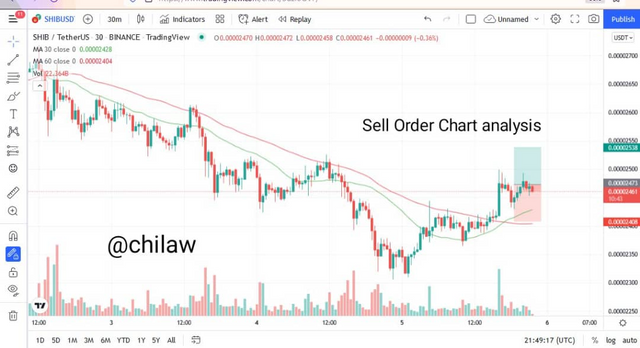 Market/Sell Price: 0.00002461
Total Asset Used in Trade: 808080
Total Asset gained from Spot trade: 19.88684880 USDT
Fee charges: 0.00003874 BNB
Profit or Loss from Trade: -$0.11129512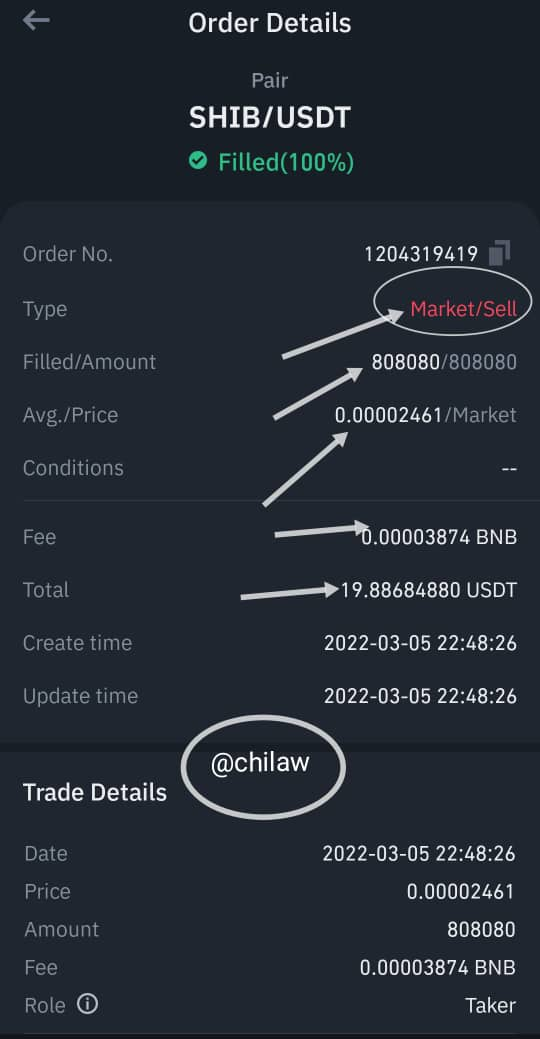 ---
Recommendations/ Conclusions
No doubt that the SHIB token has been that rugged penny cryptocurrency that has stood tarried through our clime despite the anticipated project failure envisaged for her project. Given the fact that it is a penny cryptocurrency whose value is still below one dollar, it is advised that traders can hold Assets for long-term projects. A larger amount of its value can be acquired and resold when prices surge upward for short-term investors. Its project and white paper have some form of progressive and developmental strides wherein everyone is carried along for inclusiveness.
Thank you Professor @fredquantum. I am glad to join your team.
Written by @chilaw